Loughborough AGS Show, 2014
At last it had stopped raining, and so although I left my Gloucestershire home under leaden skies, there was the promise of better weather later on. A very bright, breezy day followed, enticing visitors in good numbers but causing difficulties for the several show photographers stationed outdoors.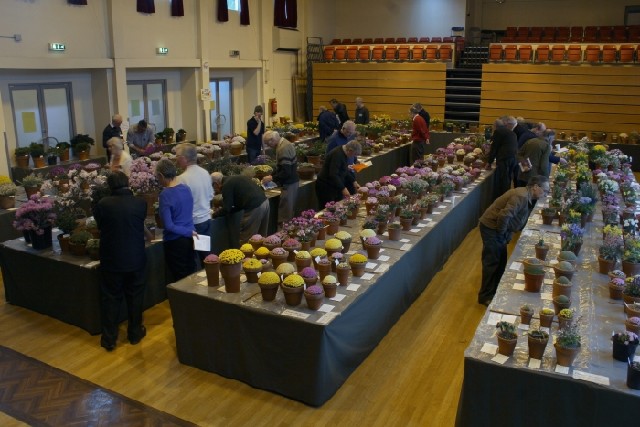 After last year's disappointment, when the show was cancelled at very short notice due to a gas leak, I was very much looking forward to what, for me, is one of the most enjoyable horticultural events of the year. I know that there are problems with the venue but these are greatly outweighed by the buzz and general ambience on the day. It is the first show where exhibitors from southern England can meet their counterparts from the north. This gives rise to some keen but friendly rivalry and an array of excellent plants on the benches.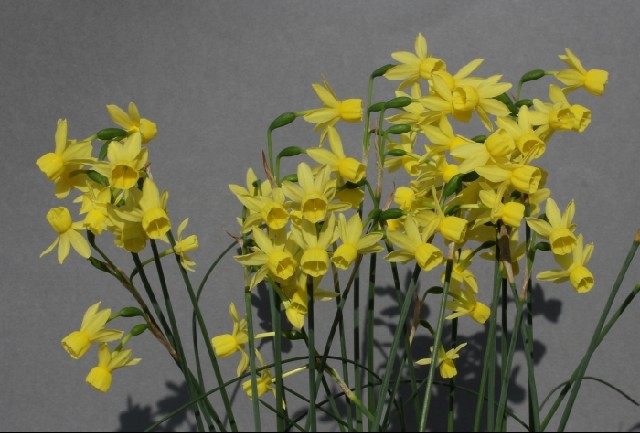 Bob and Rannveig Wallis continued their run of show hall successes with Certificates of Merit for Fritillaria gibbosa and Narcissus cantabricus var. petunioides x triandrus [left], both in the class for six plants raised from seed by the exhibitor. These and other entries such as a three-pan made up of the seldom seen, northern Iranian Hyacinthus litwinowii, the distinguished Lebanese Tulipa lownei in a large-flowered form and a commendably abundant pale blue froth of Scilla monanthos, to which some stocks provisionally identified as S. ingridiae should now be assigned, contributed to their recapture of the Charnwood Forest Trophy for most points in the Open Section.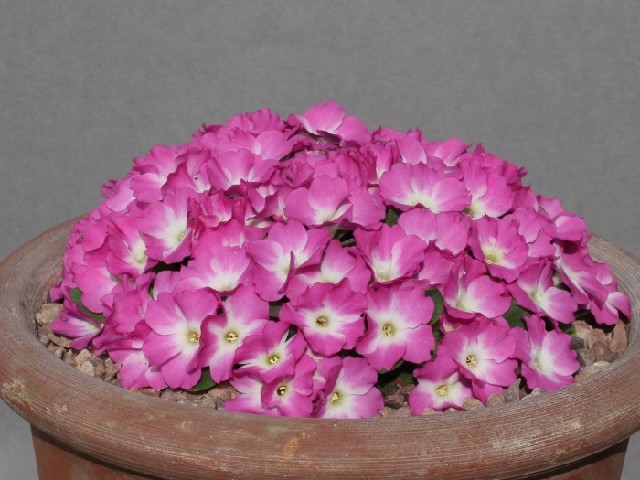 However, they did not have things entirely their own way in the seed classes, with (for example) Brian Burrow winning the keenly contested three-pan class. He has been very productive since the late 1970s in raising new selections and hybrids of Primula allionii. Here were some of his most recent ones which, if this exhibit was anything to go by, have a very promising future. At a show where several of the foremost growers of this species brought along their finest plants, he was awarded a Certificate of Merit for one of his earlier raisings, the white-eyed, deep rose pink-petalled P.a. 'Judy Burrow'.
Yet despite the excellence of this and several other seedlings, he did not collect the Richard Regan Trophy for the best plant in 19cm pot. Geoff Rollinson claimed victory here with a superb exhibit of P. a. 'Pinkie', so vigorous that some old showgoers could scarcely believe that it was the same rather weakly plant raised by Ken Wooster in 1951 ('a true, clear pink with no trace of lavender… the flower shape is reminiscent of a Dionysia and [the petals have] a wax-like appearance', wrote expert on the species Margaret Earle). It has a deserved reputation for being very tricky to grow to any size, and although there were fanciful suggestions that a plant of similar size could be achieved within a decade, nobody could cite a comparable specimen countrywide, past or present.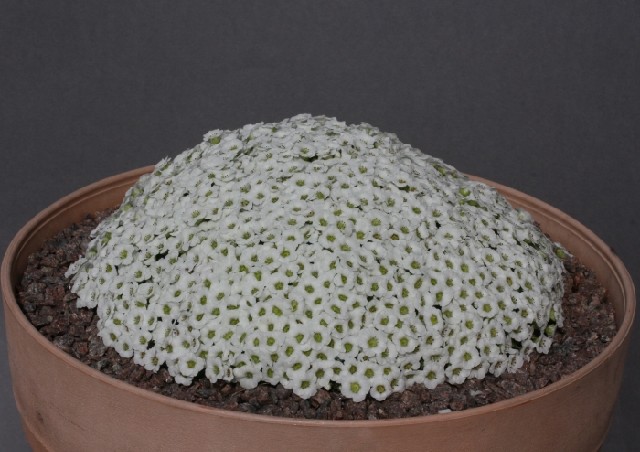 We normally expect to see what almost amounts to a glut of superb saxifragas at this show. But it was generally felt that to date this had been a less than vintage year for Porphyrion ('kabschia' in part) members of the genus, after an unusually mild January. Fortunately for Peter Hood his plant of Saxifraga 'Coolock Gem' bucked the trend with an excellent dome of white flowers. Raised by Jim Almond (who was present, doubling-up as show photographer) and named after one of his daughters, it reminded those who need a prompt of what a first class clone this has proven. With competition from just one rival, it was duly awarded the Saxifraga Group Salver as best of the genus on show.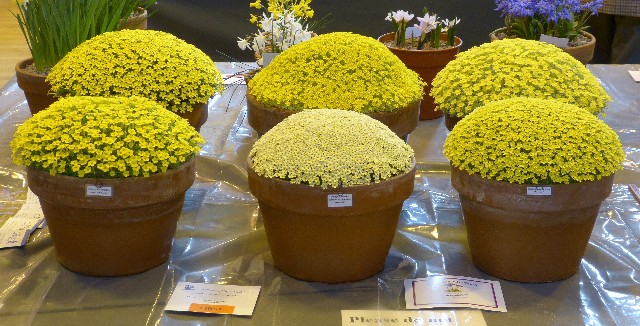 Along with Primula and Saxifraga, Dionysia exhibits are often particularly abundant and diverse at the Loughborough spring show. The genus has kept you reporter busy for many years, and although fewer were evident this time, a collection of large yellow cushions, representing mature examples of several species, won for Paul and Gill Ranson an otherwise uncontested large six-pan and an AGS Medal. They also went on to pick up a medal of this order for their small six-pan exhibit.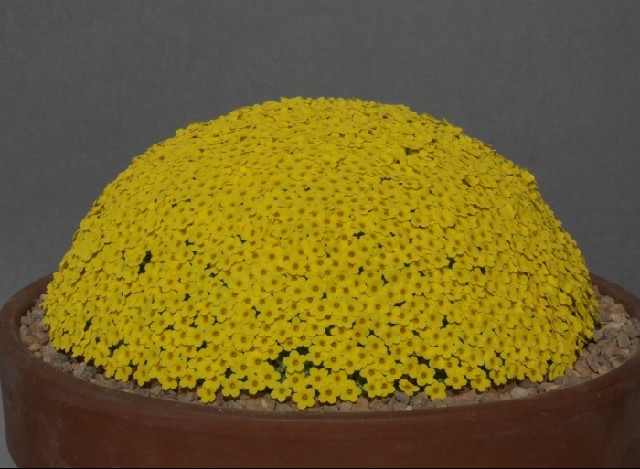 Their finest example of the genus overall was surely D. 'Inka Gold', although the Ione Hecker Trophy (awarded to the best pan of Primulaceae) went instead to Alan and Janet Cooke's D. 'Bernd Wetzel'. In recent years we have seen a plethora of Dionysia hybrids on the show bench. It is surprising that, to date, only one (arguably two) are recorded as having D. tapetodes as the seed parent. Raised by Harry Jans in 1994, it is likely that the other parent is D. aretioides but this is not certain. A challenging plant to grow really well, it is easy to keep going but tends to be rather loose in habit. No such problems here though, for this exhibit formed a perfect, firm dome, completely covered with flowers, that was in contention for the premier award.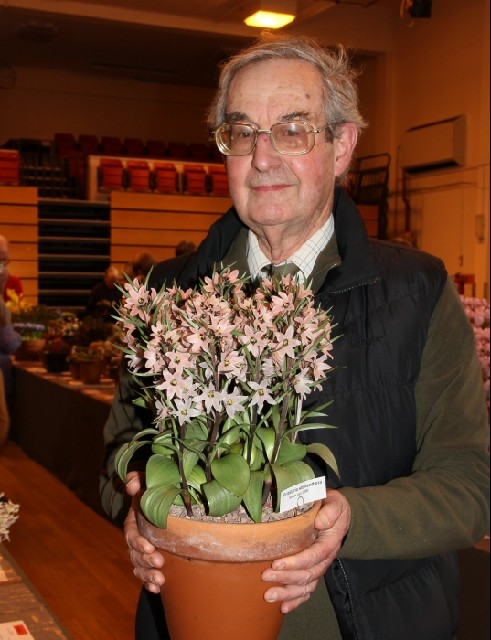 That went instead, having first beaten off a challenge from Mike Chadwick's 30+ potful of Narcissus alpestris to win Royal Bank of Scotland Award for the best pan of bulbous plant, to George Elder's superb Fritillaria stenanthera. It has been many years since I (or anyone else present) has been treated to a clump anything even approaching as good. (Ed. Rannveig Wallis asked him afterwards what he had done to achieve such spectacular results. 'I followed your advice and gave it plenty of water from late winter onwards', he replied, to which she incredulously responded, 'Seedlings apart, we always keep our stock on the dryish side until growth is well under way: but not any more'.)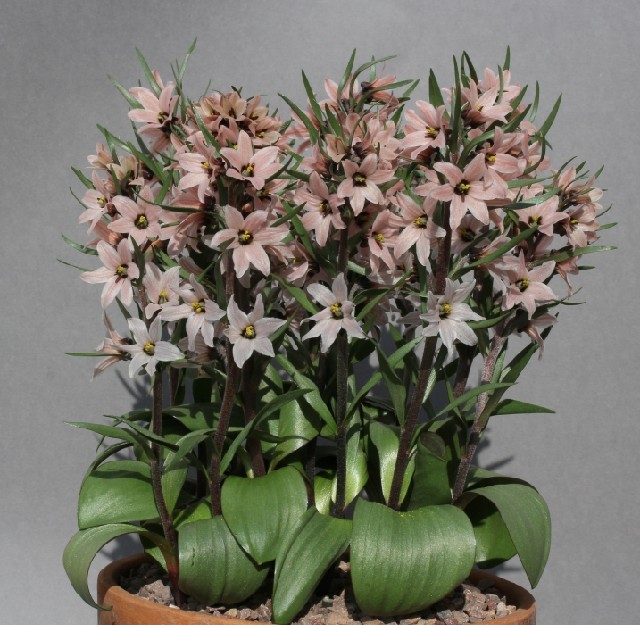 The plants exhibited had been grown on from an Archibald seed list offering sown in 2001 (the October 2000 list offered material from a rarely-accessed locality, Balkh in north-central Afghanistan) in a mixture of four parts John Innes no.3, one part grit and one part sand. Repotting takes place every two years and water is given liberally once growth gets underway in spring, as often as every other day in mild, breezy spells. Discontinue this regime as soon as the shoots start to wither in late spring: no further direct watering is required throughout the summer (though some expert growers keep the sand plunge barely damp at depth). Not always regarded as the most exciting member of the sophisticated Rhinopetalum subgenus, this floriferous clump was astonishing.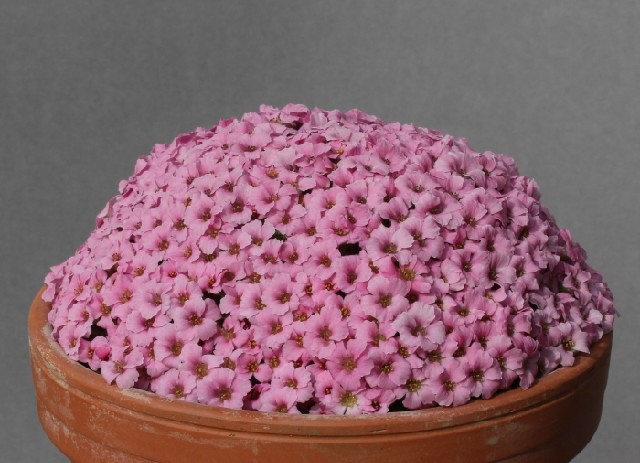 The premier award in the Intermediate Section went to Tony Stanley's accomplished example of the Saxifraga x poluanglica selection 'Maria Callas' [left], while the Beacon Trophy for most points in the Novice Section went to Neil Tyers, whose Primula allionii 'Viscountess Byng' (another rather tricky clone to keep in good health) gave promise for future show bench appearances.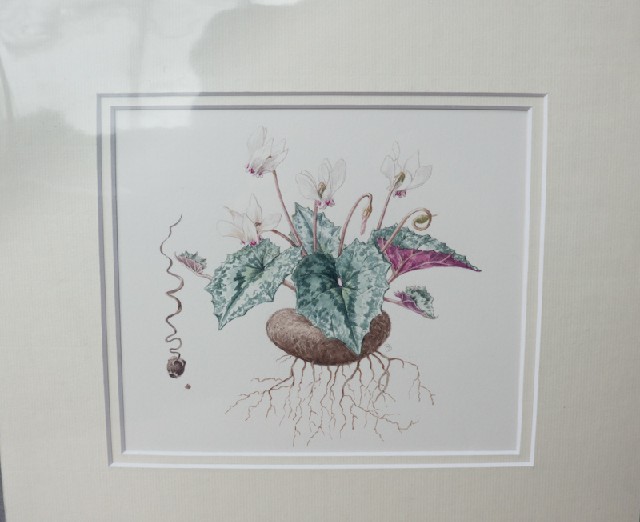 Finally, as is usual, the Artistic Section was well supported. Kath Baker carried off the Thorpe Acre Trophy for most points, her meticulously crafted terrestrial orchids of particular note, whereas Peggy Dawe received a Certificate of Merit for her painting of Cyclamen cyprium, the intricately-patterned leaves of which were captured in meticulous detail.
I would also like to thank Neil Hubbard, Martin Rogerson and their team for all the hard work they put in, not only on the day but for weeks beforehand in preparation. Please keep it going!
Author: Eric Jarrett
Photographers: Jim Almond and Don Peace