London AGS show, 2011
The AGS's London Show, with its grand setting in the Royal Horticultural Society's Lindley Hall and the large number of visitors who attend over the two days, must be considered to be our flagship event. Yet while it attracts the great and the good of the horticultural world, many regular exhibitors stay away. There are two main reasons for a reluctance to participate. First, the cost of doing so, which often entails the Congestion Charge, high parking fees and overnight accommodation. Second, the atmospheric conditions in the hall, where a build-up of heat and humidity can distress alpine plants.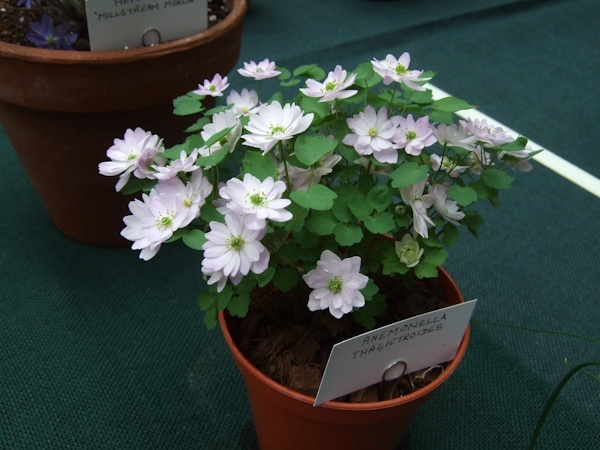 And so it proved. A pot of the yellow form of Iris suaveolens (syn. mellita), staged as part of a three-pan exhibit in the Novice Section on Monday evening, had fallen victim to overnight warmth, with most of the
flowers withered before judging commenced on Tuesday morning. Luckily the exhibitor, Audrey Dart (Henfield), had a perky Anemonella thalictroides in reserve, and went on to win the section.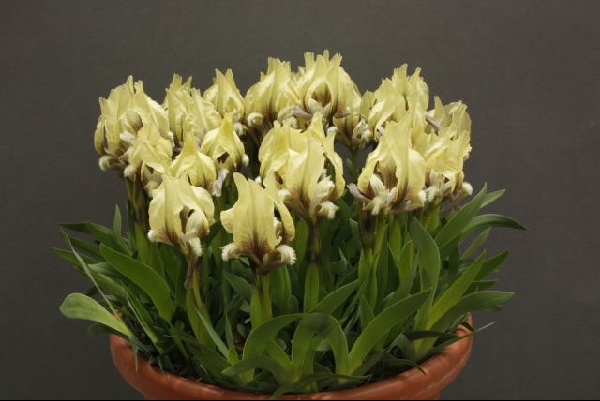 Another, larger pot of Iris suaveolens was also staged, this time as part of a very handsome, Sewell Medal winning six-pan entry in Class 1 from Cecilia Coller (Norwich). It suffered, too, on the second day of the show, with Cecilia having to remove several of the 50 or so flowers. It was, however, in superb condition during judging and was awarded the Farrer Medal. Iris suaveolens, at just 15 cm tall, is one of the shortest bearded irises and is native to Turkey and the Balkans. It can have purple or yellow flowers, or a merging of both to produce brownish shades. This potful started life several years ago as three rhizomes given to Cecilia by Bob and Rannveig Wallis. It is hardy, requires free-draining soil, and does best in full sun. As with all bearded irises, the rhizomes need to be exposed at the soil surface to promote flowering.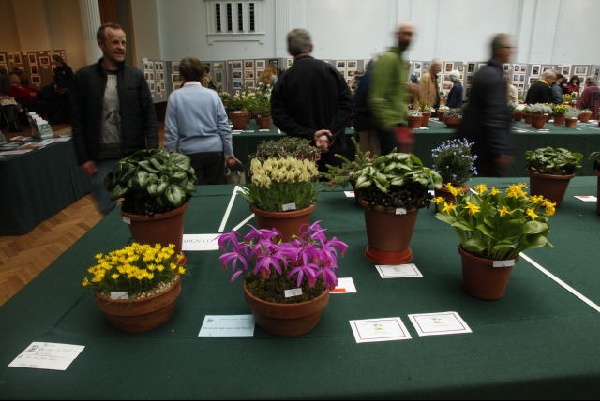 Cecilia's six-pan also included two Chinese Asarum species – A. delavayi and A. maximum – and splendid pans of Ipheion sellowianum, Pleione Bandai-san gx and Erythronium tuolumnense 'Spindlestone'. In fact of the 221 plants entered in the Open Section, 68 were put on the benches by Cecilia. Both of the asarums in her six-pan exhibit were awarded Certificates of Merit, and she also took first place in Class 29 (three pans native to any one continent) with another three pots of Asarum – A. maximum, A. splendens and A. campaniflorum – all native to Asia.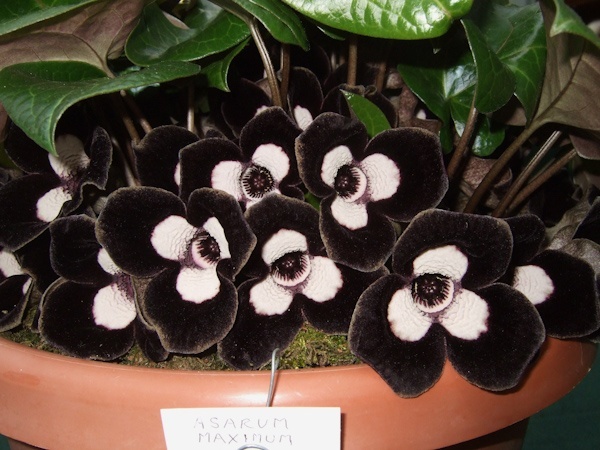 These so-called wild gingers are striking plants, with unusual flowers borne at soil level under a canopy of large, glossy leaves. Asarum maximum (shown) is particularly alluring, with its panda-like blooms. The plants are most commonly found in the moist, humus-rich soils of woodland habitats in North America, Asia and Europe, and spread by underground rhizomes. Most species are evergreen although even these can lose their leaves in extreme winter cold. The common name 'wild ginger' refers to the fact that the stems and roots have a spicy odour similar to that of culinary ginger. Culinary ginger is not, however, an Asarum, instead belonging in the Zingiberaceae or true ginger family, while wild gingers are members of the Aristolochiaceae or pipe-vine family.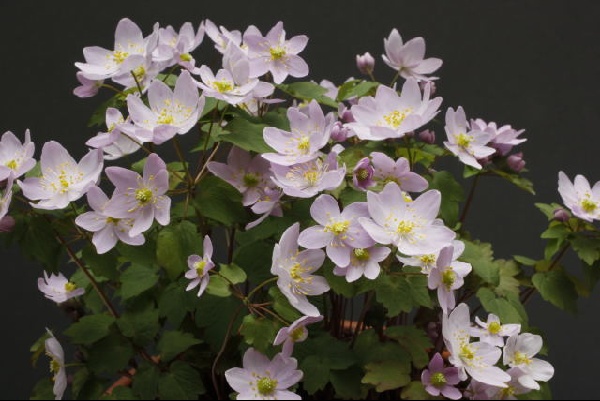 Cecilia showed many other beautiful plants, including a pink Anemonella thalictroides that won the Audrey Bartholomew Memorial Spoon for the best plant from North America. She also brought along various fritillaries, irises, pleiones and an admirable pot of the fleeetingly in flower Sanguinaria canadensis f. multiplex 'Plena', the brilliant fully double white flowers unfolding soon after judging and attracting much attention from show visitors.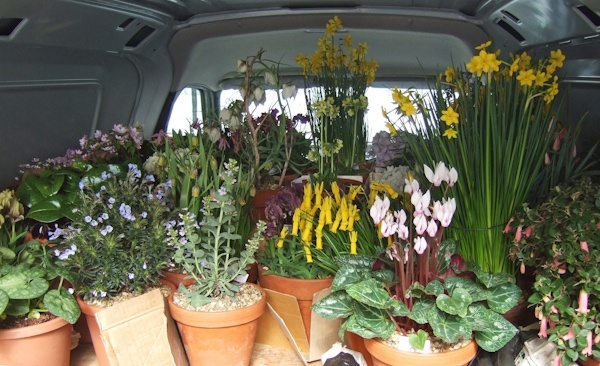 All of these were brought to London from Norwich in the back of her air-conditioned Ford Escort van with the help, as always, of her husband Mervyn. A shelving system built into the van enables them to transport so many plants and assure their arrival at shows in good condition (see the pictures on the Members' On-Line Discussion section, on the thread AGSShows). Had the trophies been presented at this Show (the London trophies are instead handed over at the AGM), she would have needed another van to take them home. Cecilia, despite her obvious prowess as a grower, does admit to having weaknesses. She says she has little success with dionysias and other temperamental cushion plants.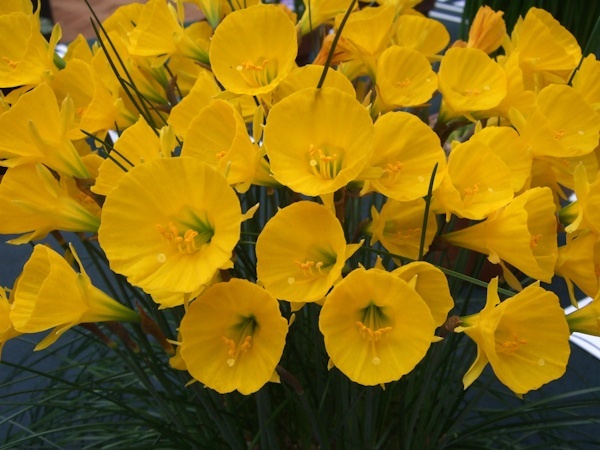 Ray Drew (Laindon) also brought many fine plants to the Show, includinga fabulous pot of Narcissus bulbocodium. This, too, was suffering by the second day, with several blooms shrivelling. Dwarf narcissi grown in pots have had a tough time this winter, with many growers reporting leaves browned by frost and plants failing to flower.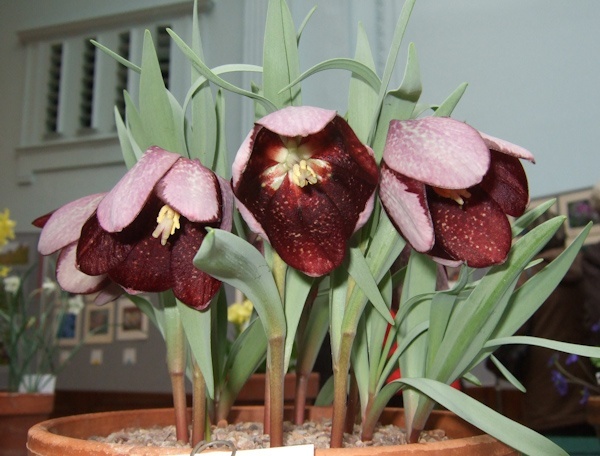 In Class 71 (three pans of Fritillaria, distinct), Peter Erskine (Petersfield) took third place behind Cecilia Coller and Joy Bishop, but his entry was perhaps the most interesting. He showed Fritillaria tubiformis (shown) and Fritillaria tubiformis subsp. moggridgei, and a plant that emerged as a chance seedling in 2005, a cross between the two. According to Peter, the two parent plants occupy different territories in the wild, so never get the chance to cross-pollinate naturally, which made this brownish-coloured offspring's appearance a rare treat. It is the disproportionately large blooms on short stems that are the striking feature of these plants. They require a sharply drained compost, kept moist in the spring and almost dry in summer.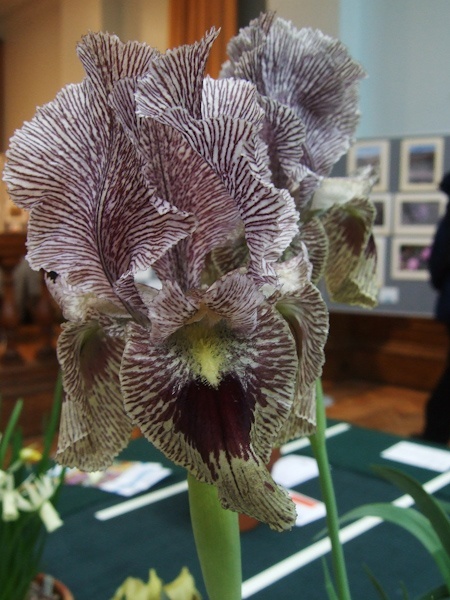 Iris sari subsp. manissadjianii is another plant in which the foliage is dwarfed by large flowers. Joy Bishop (Lightwater) showed a pot of six stems of this Oncocyclus iris, three in bloom and three buds waiting to unfold, the white flowers exquisitely marked with maroon.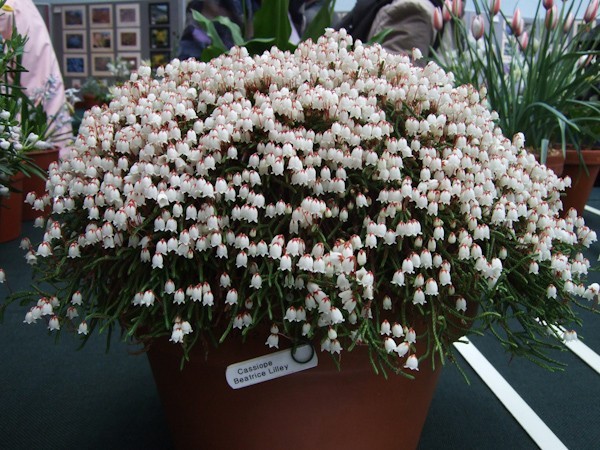 Richard Clements (Pershore) won the George Gable Memorial Trophy for the best pan of Ericaceae with a glorious specimen of Cassiope 'Beatrice Lilley', its rich green whipcord foliage smothered under a thick carpet of hundreds of tiny white bell-shaped flowers.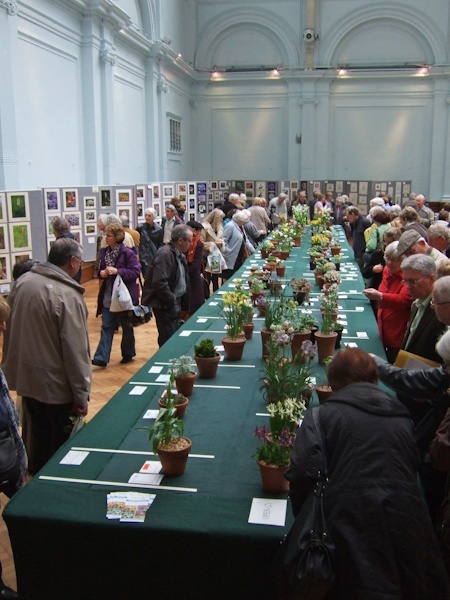 The extensive photographic and artistic display was much admired by visitors, and show secretary Jon Evans and his band of helpers did a superb organisational job over the two days, even watering and deadheading plants as required. This show is a wonderful opportunity for the AGS to promote itself in the capital. If the RHS could do something to improve the air-conditioning in the hall, and perhaps some sort of plant collection and delivery system was set up for exhibitors (plants can already be sent from the Pershore headquarters), many more would consider putting their prize specimens on this historical stage.
John Fitzpatrick