London AGS show, 2010
Exhibitors braved the grumpiness of traffic wardens, exorbitant congestion charges, threat of a transport strike and quite possibly even straggling Easter bunnies to support this London show, the second one so ably organised by Jon Evans. But it has to be said that although there was a pleasing range of material on offer, standards –especially in the large Open Section – were generally not exceptional.
This was reflected in the absence of both a Farrer Medal plant and best Ericaceae. Best in Show went to Lee & Julie Martin for a beautifully grown, if rather plain-Jane, Lebanese form of Fritillaria hermonis,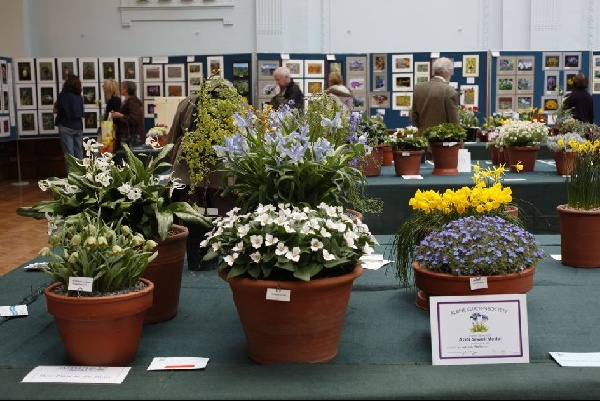 this was part of their submission (the only entry) to the large 6-pan Open, which earned them the Sewell Medal; I particularly liked their Alkanna aucheriana. Disappointingly, there were no entries for the 6-pan Open bulbous plant class.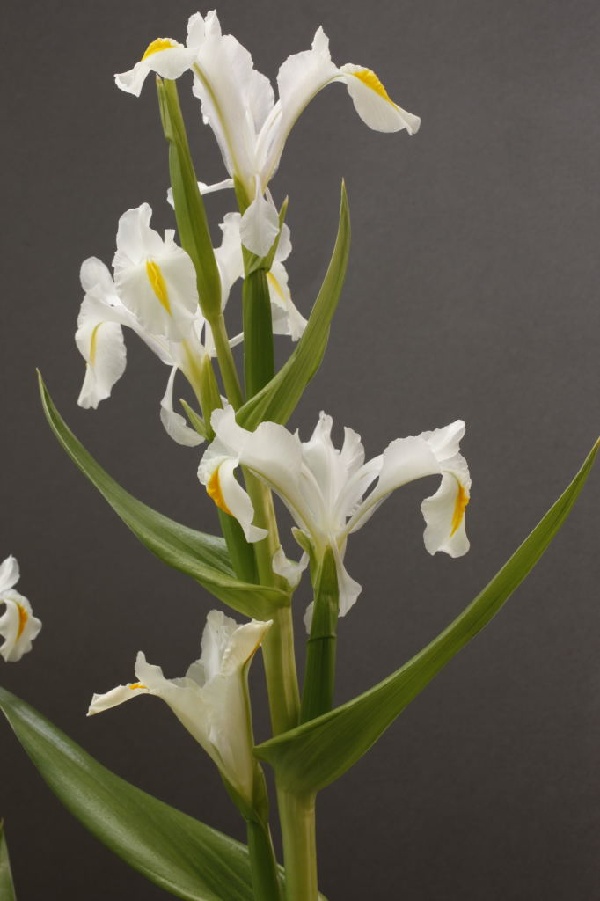 The protracted winter was certainly partly to blame: irises of Section Oncocyclus were completely absent this season although there were some good junos on offer, including a fine pot of Iris magnifica 'Virginity' (pictured left) shown by Colin Rogers, who also won the Henry Hammer Cup in the Novice Section,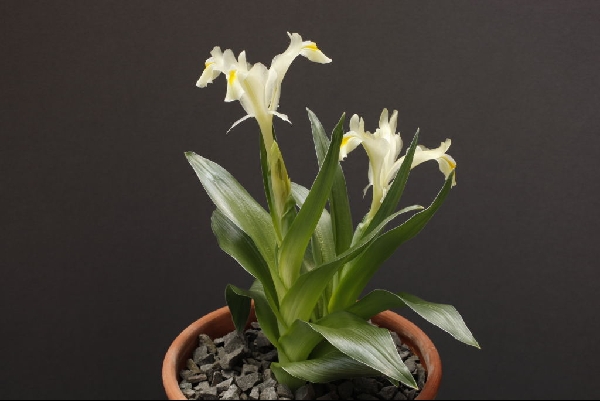 another was the recently described I. pseudocapnoides (pictured right), from an area centred on the Chimgan range of W. Tien-Shan (Colin & Elaine Barr) and very rare I. hippolyti – albeit a poor colour form – from the Nuratau range, and Mt. Kotcha in the Kyzyl Kum desert (Lee & Julie Martin). All three of these junos are Uzbek endemics, the latter two species members of the Orchioides group.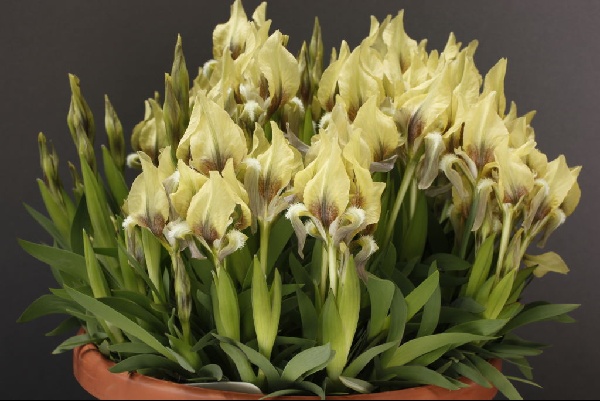 With a pleasant whiff of lemon-meringue pie, the dwarf bearded Iris suaveolens – in both its purple- and yellow-flowered phase – was a popular choice, appearing in a number of classes; Cecilia Coller's compact and flower-laden specimen earned her a Certificate of Merit.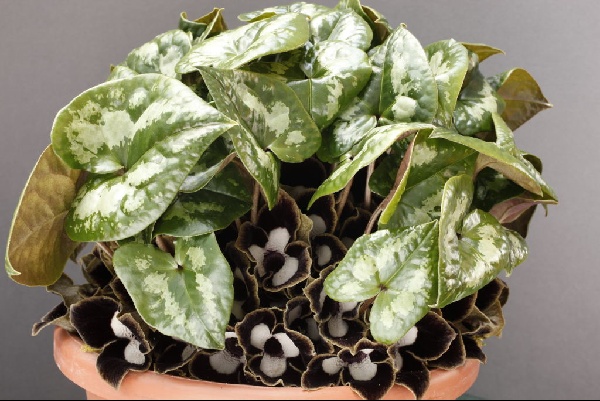 This heroic exhibitor (who also came away with the Mooney Cup and Anna Griffith Memorial Trophy) received her 2nd certificate for a fine pan of Asarum maximum.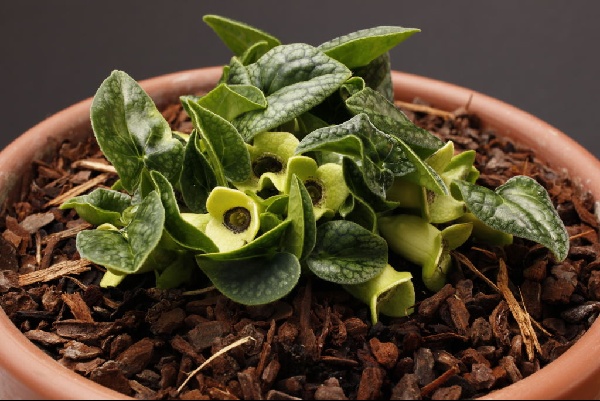 I have an inordinate fondness (puzzling to some) for this genus and, in the small Open 6-pan class (again, only the one entry), Cecilia demonstrated that she is as skilled with Japanese asarums as she is with the relatively quick-growing Chinese species, in a nicely balanced display which included the rare and more demanding Asarum trigynum 'Album'.
This class, which earned her the Royal Bank of Scotland Trophy, also contained what was for me the best orchid of the show: Pleione formosana 'Snow Bunting' – pure white but with lemon-yellow tonsils.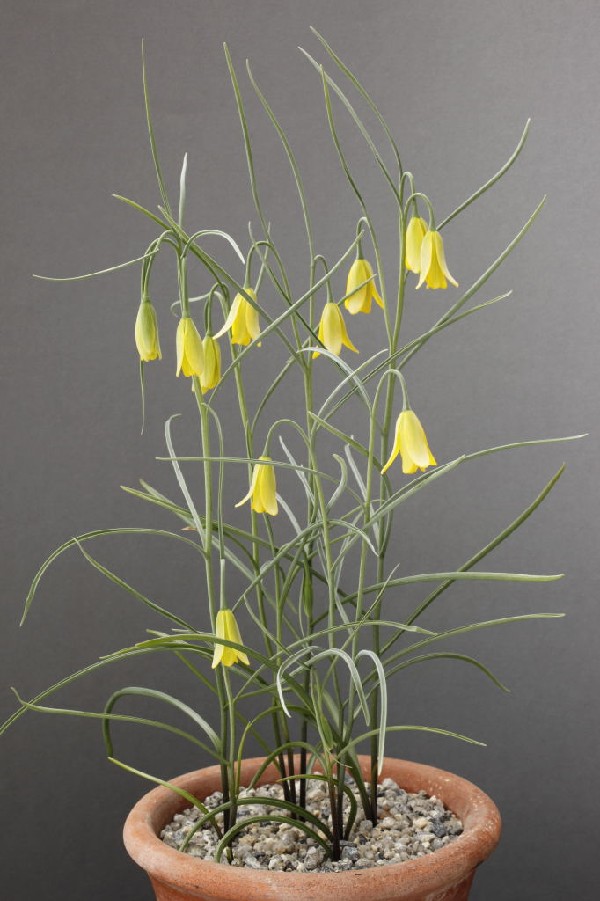 I was impressed with Peter Erskine's trio of Fritillaria conica, F. forbesii (which gained a Certificate of merit - pictured left) and F. yuminensis in the small Open 3-pan. Often, fritillarias at AGS shows look as if they survived the journey only with the aid of steroids and/or deep-fried Mars bars; Peter's group were exceedingly fresh-looking and in character.
One used to see fine erythroniums at this show, but the only display of real note this year was a group of 6 (Class 50) by Ray Drew although, among the more delicate species and hybrids, 'Eirene' (a rather cabbage-like Erythronium oregonum x tuolumnense hybrid) looked somewhat out of place: like a sumo-wrestler at a ballet class. Thankfully it is slow to increase (like its seed parent).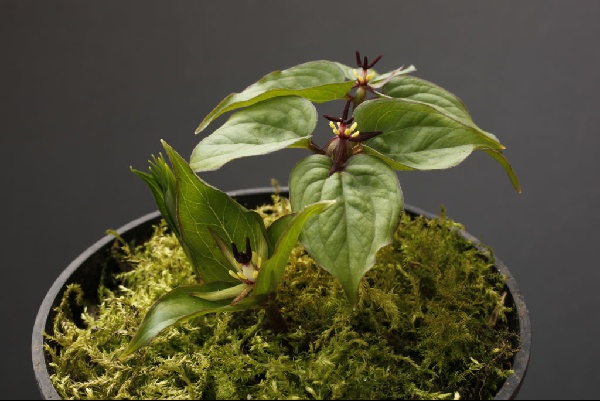 However, in a New or Rare-in-cultivation class Ray's trio included one of my all-time favourite woodlanders: the unassuming Trillidium govanianum (right) , from Kashmir & W. Himalaya, as well as S. China's Asarum heterotropoides var. mandshuricum.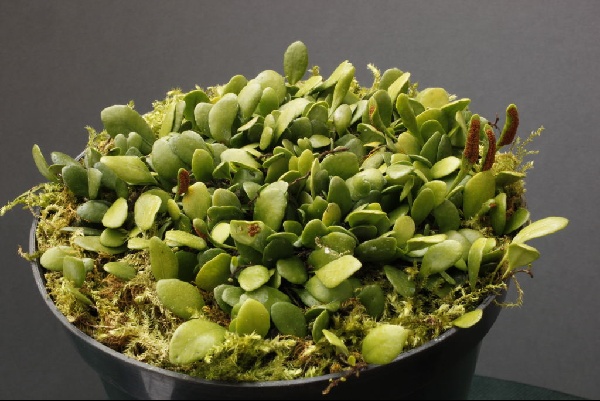 And I thought his pan of Lemmaphyllum microphyllum (Polypodiaceae) – with its succulent, rounded-to-ovate entire fronds and more elongated, erect fertile ones – the best individual in some poorly supported fern classes. The species is widespread in E. Asia, creeping around on mossy rocks and tree-trunks.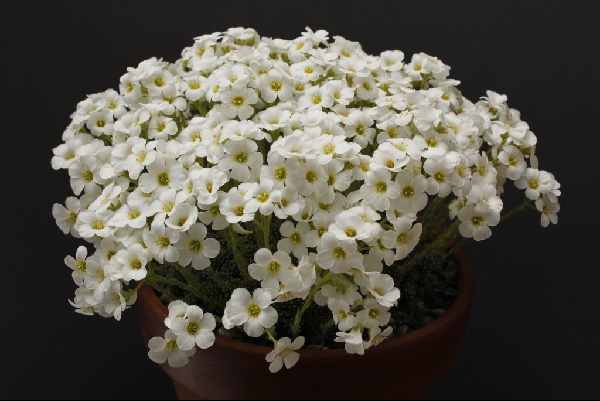 In Class 4, David Hoare treated us to a splendid assortment of 12 Porophyllum saxifragas (getting that many to exhibition standard is no mean feat) whilst elsewhere I also admired his pure white Saxifrage 'Allendale Frost' (Saxifraga 'Sorrento' x S. diapensioides),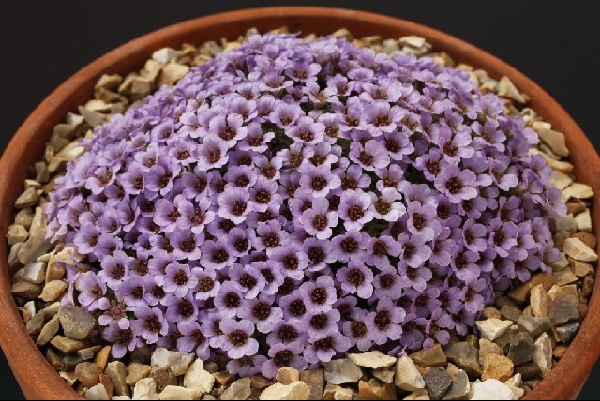 ......... although it came second to a more cushion-forming if grubby-lilac 'Allendale Beau' from Cecilia Coller.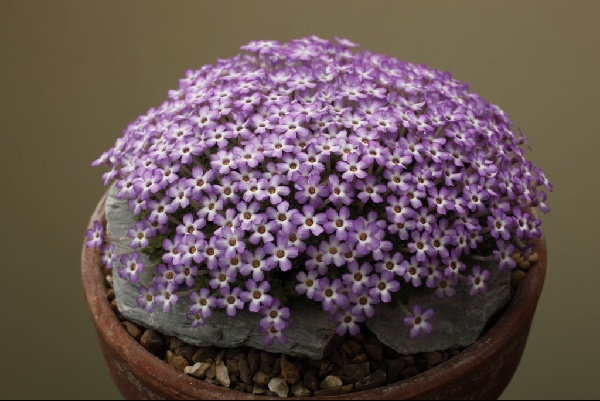 Another staple for a spring show is, of course, Primula Section Auricula; the ivory-white 'Broadwell Milkmaid' (raised by Joe Elliott) proved as popular as ever and deservedly so. Amongst the sparse entries for classic cushion plants was a superb Androsace vandellii – in bud – from Lee & Julie Martin; a full-flowered and neatly presented little Dionysia bryoides (pictured above) earned Anne Vale a well-deserved 1st in an Intermediate class; and Peter Erskine showed the challenging-to-grow and seldom exhibited Chinese Androsace alashensis.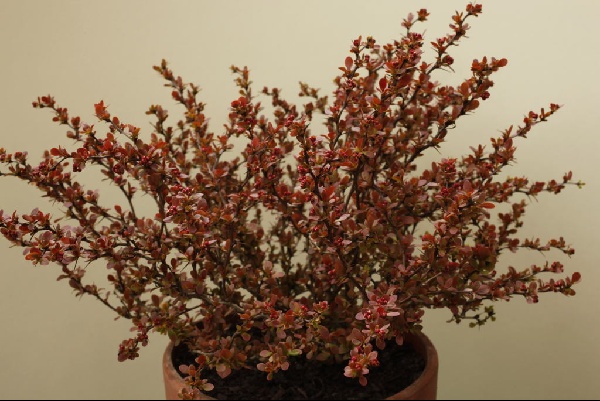 Good shrubs included a perky Berberis thunbergii 'Admiration' (1st in an Intermediate class for foliage effect, from Tony Hale, who was also winner of the Tomlinson Tankard);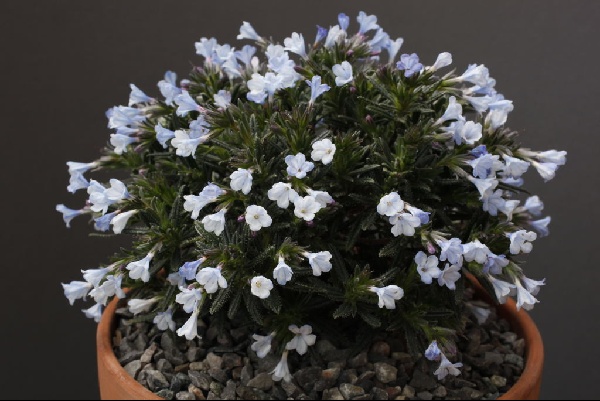 elsewhere Lee & Julie Martin provided a stunning Lithodora zahnii 'Azure Ness' (pictured) and immaculate Chamaecyparis obtuse 'Bambi'; whilst Cecilia Coller's 3-pan entry – the only one – in Large Open included a well-trained Auzzie Correa pulchella, which has proven surprisingly hardy in her cold-house.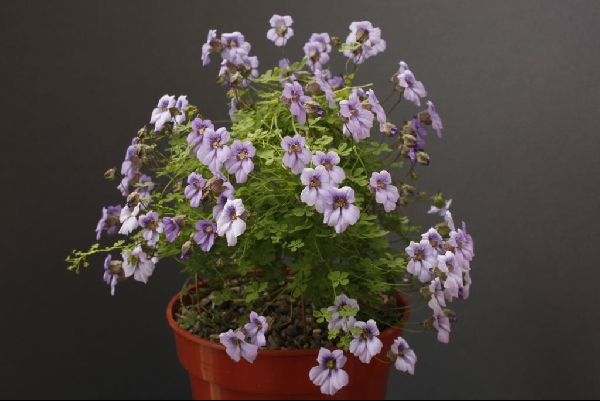 In the same Open Section – under Plants native to the Americas – Jon Evans's trio of genus Tropaeolum included the most handsome burnt-orange T. rhomboideum, but he was up against Joy Bishop's contrasting group (which came 1st) of Tropaeolum hookerianum subsp. austropurpureum (pictured), Claytonia megarrhiza var. nivalis and the simple-flowered wild form of Sanguinaria canadensis – a nightmare to exhibit as its petals will immediately drop if a passing gnat breaks wind.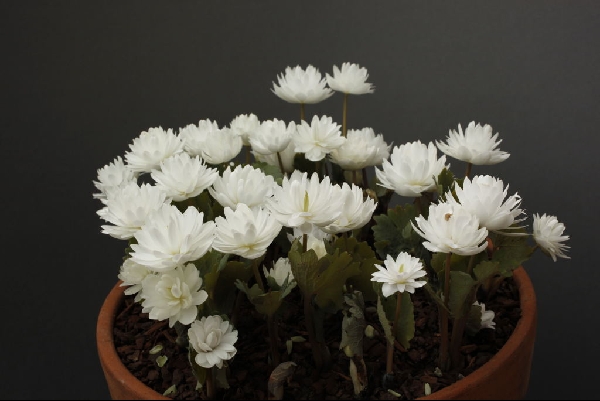 Cecilia Coller gained the Audrey Bartholomew Memorial Spoon for the best plant from N. America with the longer-lasting S. canadensis 'Flore Pleno' (probably better known as 'Multiplex').
In an unchallenged 3-pan Ranunculaceae class she also showed delightful white and pink single-flowered forms of the delicate Anemonella thalictroides, along with Clematis columbiana var. tenuiloba. It was Lee & Julie Martin who provided that old favourite, 'Oscar Schoaf' – double form of the very same Anemonella species.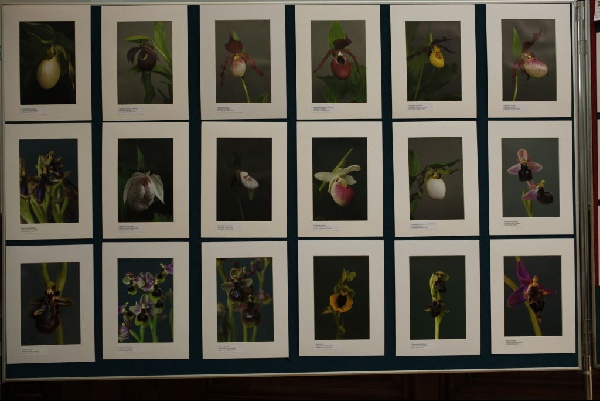 The London Show always has a strong Artistic Section. Jon Evans most certainly deserved the Large Gold Award for his superb, non-competitive exhibit entitled Alpines in Close-up: a ravishing range of species beautifully lit and photographed. He also came away with the Dawson Trophy. Of the other photographic exhibitors, Martin & Anna-Liisa produced sensational images, in a number of classes, of Argentinian alpines in nature (never easy when you are exhausted, hungry and battling against wind, biting insects and rough terrain); their Viola auricolor was especially memorable.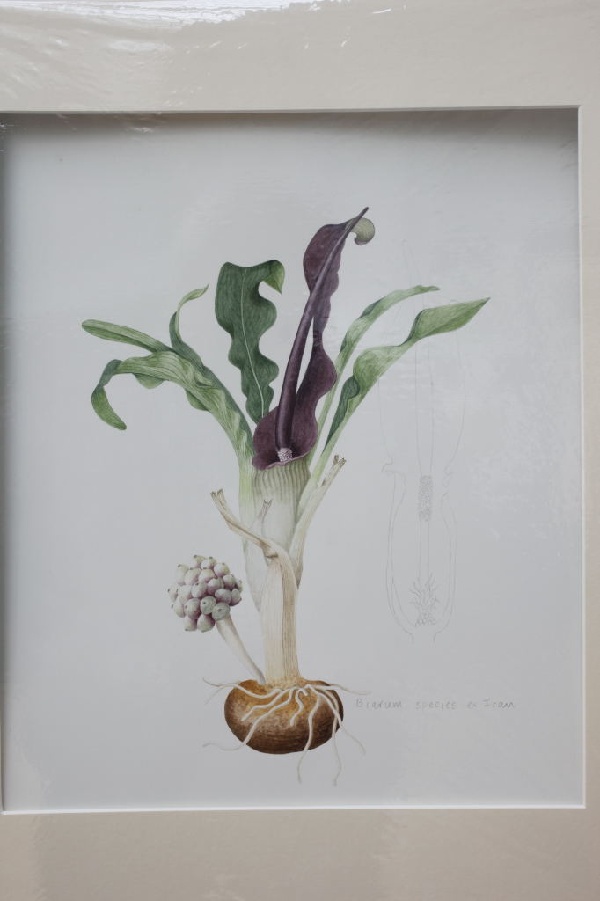 Among the paintings, I especially enjoyed Caroline Jackson-Houlsto's work and Rannveig Wallis's three watercolour/line-drawing studies of Iranian Araceae (the unidentified Biarum sp. gained her the Florence Baker Award).
Finally, the Muriel Hodgman Art Award went to Jean Morris, who does fine needlework; naturally, I would be drawn to her 3 studies of irises (accurate representations of Iris iberica subsp. elegantissima, I. narbutii & I. fosteriana) although Cyclamen purpurascens was an especially delicate interpretation.
Tony Hall