London AGS Show, 2015
It was with great relief, after all the perceived problems of a show at Vincent Square on London Marathon Day, that I stood on the steps in the Lindley Hall and admired a great spread of colour: not just the show bench exhibits but additionally the rainbow effect created by the tremendous Artistic Sections, both competitive and non-competitive, and further enhanced by a carefully thought-out and grouped, massed bank of alpine plants staged by staff from RHS Wisley. This was quite rightly awarded a Gold Medal, while a Large Gold went to Jon Evans' very informative display of close-up pictures of alpine and woodland plants, an object lesson in this branch of photography. To add to the overall effect, one of the nursery stands (Jacques Amand International) managed to stage an eye-catching display of red and yellow Crown Imperial fritillarias.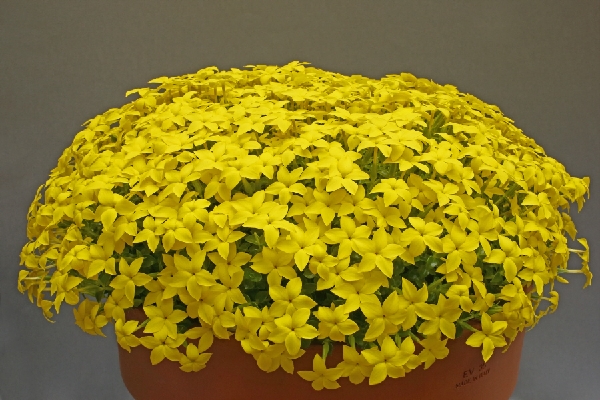 The plant show, admittedly to a slight degree diminished in numbers due to illness on the part of three major competitors, nevertheless contained many plants of superb quality. There was little problem in finding a Farrer Medal plant (four plants were on the shortlist). Tim Lever's great golden dome of Sebaea thomasii, meticulously dead-headed shortly before judging commenced, absolutely glowed with good health. Looking at it reminded me of Kath Dryden's dictum – she always said she could pick out the Farrer plant as it was carried in to the show! This Drakensberg gentian relative has been written up time and again previously, so I'll not go in to further detail.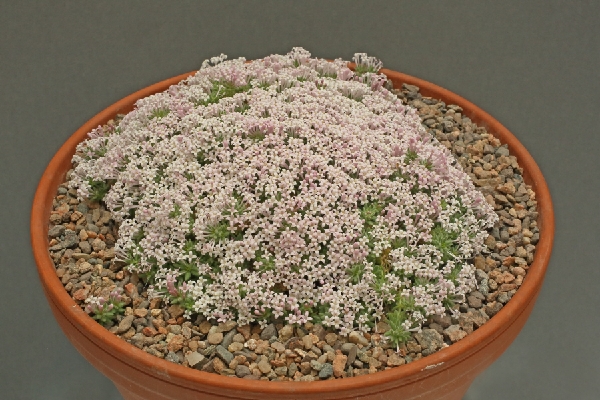 Also covered in flower was an unusually compact, grey-green foliaged mat of southern Greek Asperula arcadiensis, its delicate fairy pinkness almost the antithesis of the robust aforementioned Farrer plant. Housed in a shallow pan, it demonstrated that there are other means of keeping it in character other than planting it in a tufa crevice. Martin and Anna-Liisa Sheader also exhibited a very striking, bluish-purple legume rejoicing in the name of Oxytropis hailorensis subsp. chawrensis [below].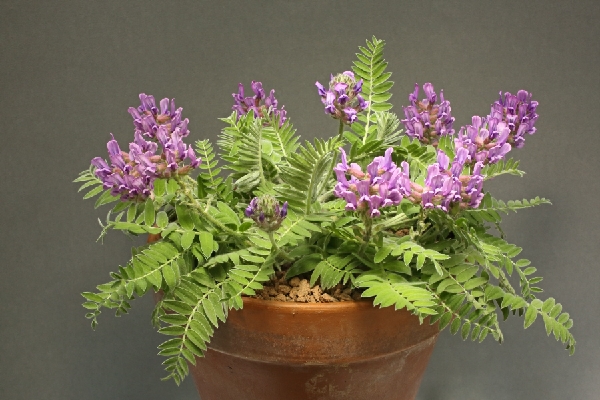 This grows in Siberia on the Russian/Chinese Siberian, restricted to sandy soils in a small area around Lake Khanka. This is at a deceptively low altitude of 70m, where it experiences summer temperatures of at most 21°C with winter temperatures as low as -19°C, so to be able to cultivate this plant, let alone bring it to exhibition standard, is some achievement. Originally raised from seed 20 years ago, its descendants respond well to a well-drained compost, kept dryish in winter. It sounds so simple!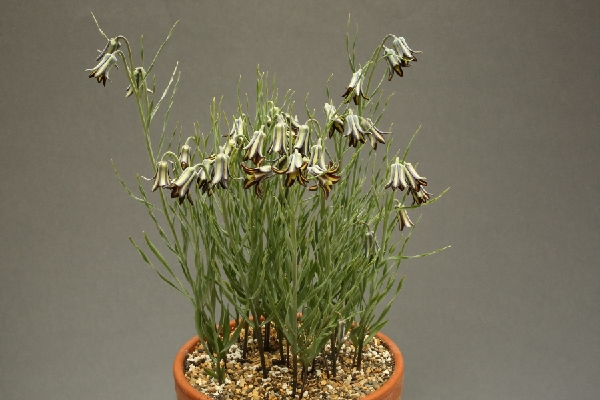 A remarkable pan of Fritillaria assyriaca subsp. melananthera shown by Peter Furneaux of Hatfield won admiring glances, not necessarily for its outstanding beauty but for the evenness of the flower spikes and their abundance. As expected of this taxon, the flowers dangled elegantly from their pedicels with narrow tepals, their exteriors striped greenish and blackish, overlaid by a soft bloom. Coming from a Mediterranean type climate in southern Turkey, this will require considerable care with regard to its watering, and most certainly a dry summer dormancy.
A rather easier plant to satisfy is the damp-loving Jersey Orchid, Anacamptis laxiflora, happy if supplied with a considerable amount of water when in growth. It comes from a much wider geographical range than the previously mentioned plants and, therefore, should be much easier to grow, preferring wet grassland and meadows throughout central and south-eastern Europe and even the Middle East. The elegant spikes of rich deep purple stood out on the show bench, but then the exhibitor, Barry Tattersall, is an acknowledged expert when it comes to growing hardy and more or less hardy Orchidaceae, whether from Europe, North America, China or even South Africa.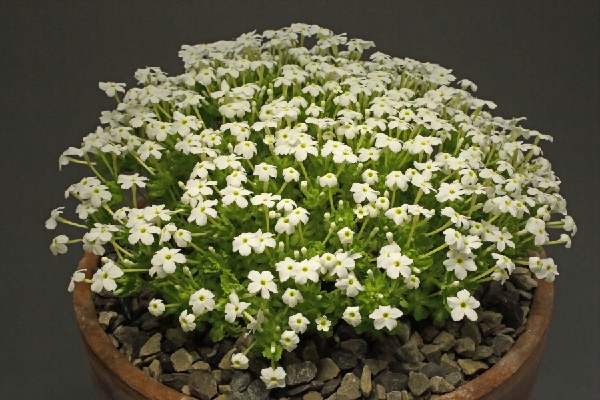 Equally expert, in a different field, are Paul and Gill Ranson, who contributed many and varied exhibits of Dionysia species and hybrids. Their eye-catching pan of Dionysia involucrata 'Gothenburg White', was a superb specimen of an avowedly challenging plant, recipient of a Certificate of Merit.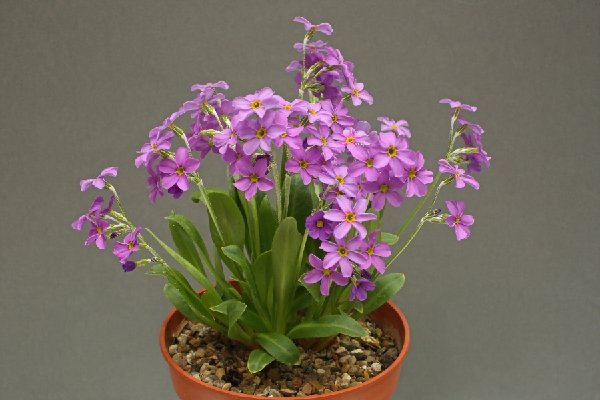 In her enforced absence through illness, onetime London Show Secretary and long-time supporter of Joy Bishop was awarded a Certificate for a fine plant of Primula ellisiae – a New Mexico species introduced to cultivation a century ago, and quite frequently seen on AGS Show benches some 20 years ago when seed collections were fairly frequent. This is a comment that indicates the age of both the exhibitor and the reporter! These days less common plant on the show bench, Joy presented it in immaculate form. She says that it is comparatively easy to grow. I rest my case.
Author: Mary Randall
Photographer: Doug Joyce