London AGS Show, 2014
What a difference a year makes! On a typically bright alpine morning (the Thames-level location notwithstanding) the first stand-alone, one-day, Sunday London Show was staged in the RHS Lindley Hall together with a programme of four lectures for attendees to enjoy ‒ as the audiences did in force, necessitating further rows of seats ‒ from start to finish. Memories of the slightly difficult to police, later-on verging on the unruly 2013 London Show surely encouraged the show organisers to attempt this very successful triple-first in 2014.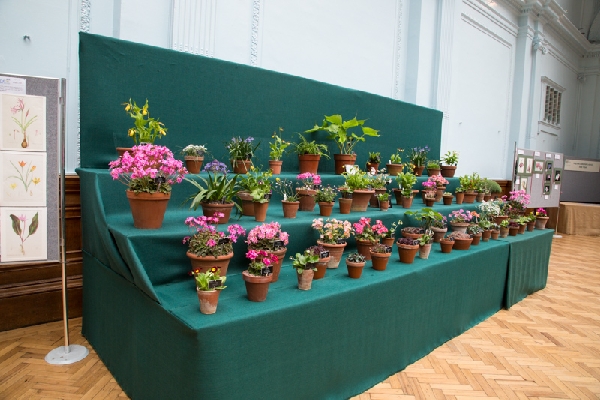 By 9.15 the hall was abuzz with anticipation; show benches were filled with over 300 colourful plants from new, old and returning exhibitors who travelled from as far away as Carmarthen, Chester, Newcastle, Southampton and Wolverhampton. The display boards framing the whole were decorated with paintings, drawings, photographs and embroidery of an equally high standard, providing a very welcome backdrop for the plants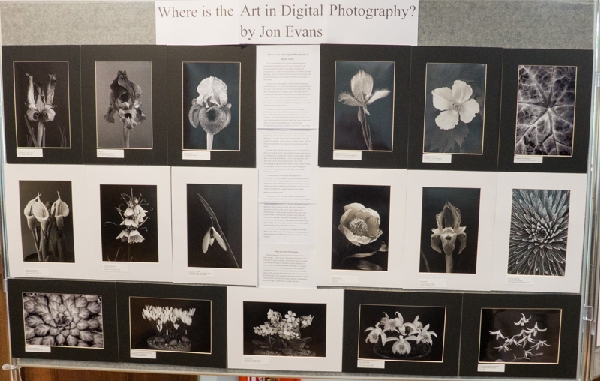 Sam Gare welcomed visitors with a small display of large paintings of mountains. Jon Evans, as well as organising the show, produced a fascinating photographic exhibit debating 'Where is the art in digital photography?', focusing his admirably diverse selections on the decisions a photographer is obliged to make while photographing flowers and processing the images, while questioning whether these choices are made solely for artistic reasons. This educational exhibit was of the highest quality and earned him a Large Gold Award. RHS Wisley Alpine Department complemented the show benches with a 'Display of Alpine Plants' [above], meticulously staged on several tiers at the back of the hall, that won a Silver Award overall, and a Certificate of Merit for a fine plant of Cypripedium parviflorum.
Nurseries from Devon, Cornwall and Wiltshire, along with RHS regular Jacques Amand International, together with an AGS Plant Stall (another first at the London Show) ably supplemented the plants on the benches and did a brisk trade throughout the day: most had more or less sold out by close of play. The AGS manned a comprehensive book stall and the RHS Lindley Library exhibited a variety of works from their historically unrivalled reserve of alpine books; both the AGS and the RHS also ran well put-together information stands.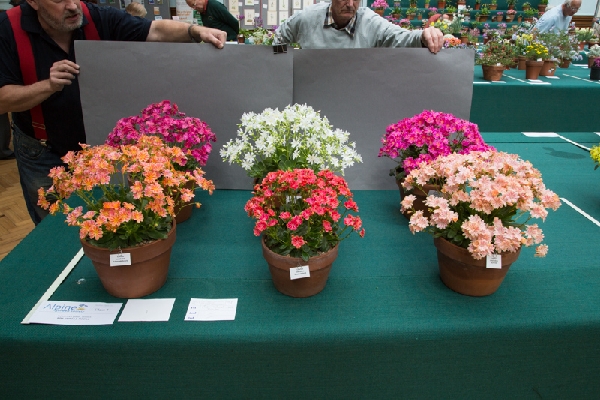 Judging was completed ahead of schedule and the public and members supported the event in their many hundreds throughout. This is hardly the most populous part of Westminster at the weekend, and the encouragingly high turn-out came as a very pleasant surprise, despite the several hundred tickets sold in advance. Congratulations to all who worked so hard to make it such an enjoyable day out and a resounding success for this RHS/AGS venture.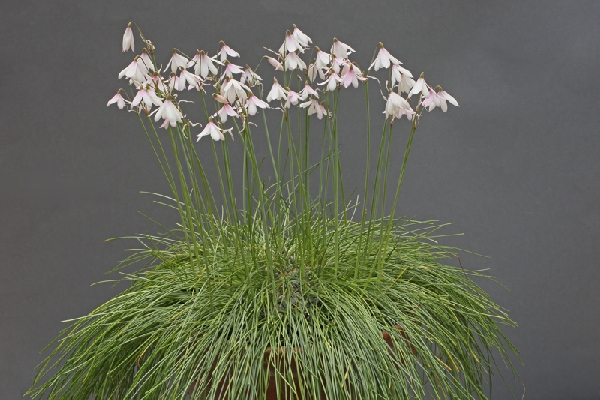 The Farrer Medal was awarded to Acis trichophylla (pink form), a choice member of this southern Spaniard rarely seen on the show bench, and difficult to flower well, or even at all. First seen a fortnight previously at the Midland Show, it was one of six first-rate pans of bulbous plants grown by Bob & Rannveig Wallis that won them the Frank Waley Cup.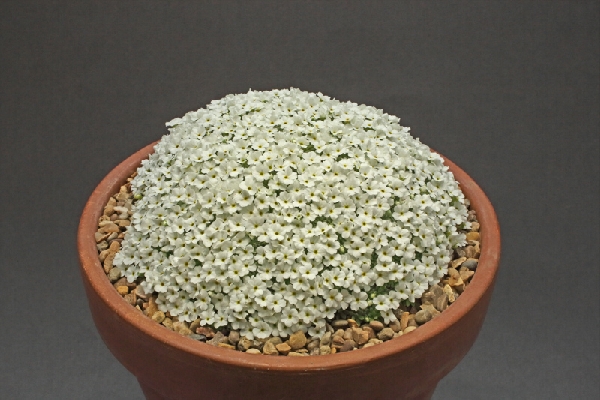 Alan & Janet Cook were awarded an RHS Sewell Medal for a large six-pan of rock plants distinct, mounting a colourful display of Lewisia cotyledon cultivars in a range of different colours [above]. They also exhibited a fine plant of Androsace vandellii froom one of its Pyrenean localities, Nuria in northernmost Spain, a more classical, single cushion presentation than the highly original ensemble, now well established in their slanting, slate-supported, shorn-off pot presentation, devised by Alan Newton.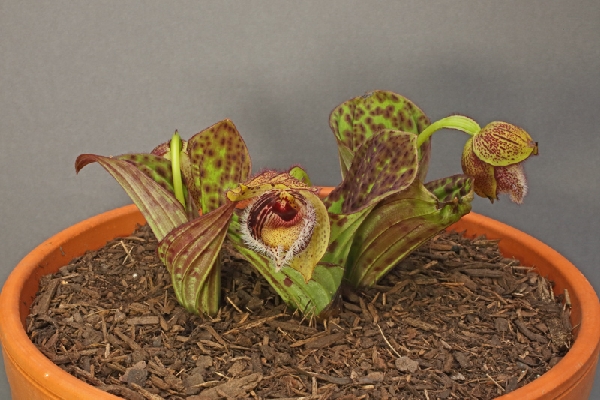 Colin & Elaine Barr's Cypripedium fargesii was exceptional specimen, grown on from a single nose for 15 years in 80% pumice of varying grades and 20% composted bark. This is the first time it has produced a trio of flowers. It is grown outside on a raised bed, shaded from the end of April, given occasional feeds with dilute orchid fertiliser, and covered in late autumn, and was awarded a unanimous Certificate of Merit.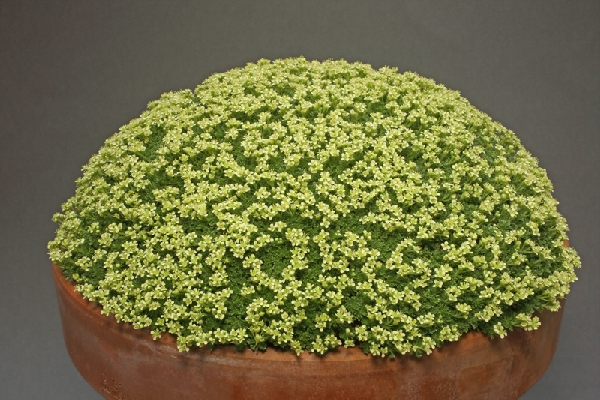 Anna & Martin Sheader had a very successful day. Not only did they win the Dawson Trophy for the most first prize points in the Photographic Section but they also received two Certificates of Merit, the first for a mature, well-flowered plant of Lepidium nanum that also won the Audrey Bartholomew Trophy for best North American plant.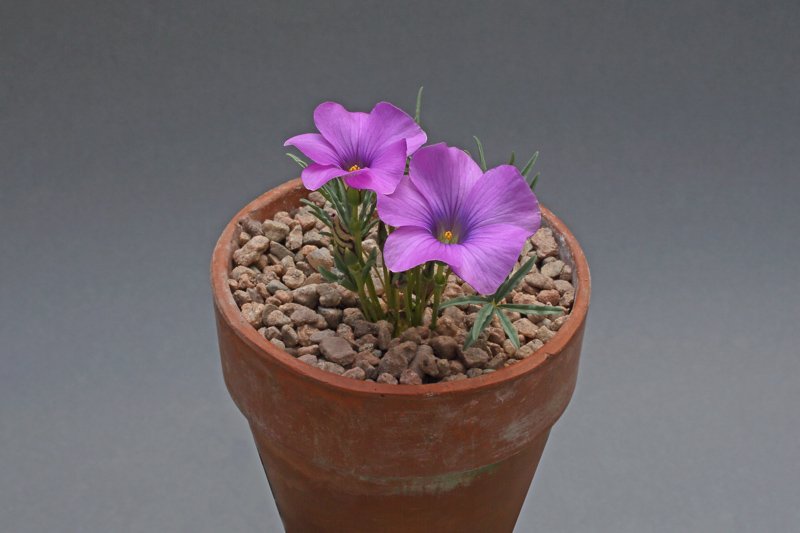 The second was for six colour photographs taken in the wild in Patagonia but it was their plant of Oxalis laciniata 'Miradores de Darwin' from Argentina's southerly Santa Cruz province that took my eye. This is a recently introduced form from a restricted area of sand flats around the estuary of the Rio Deseado on the Atlantic coast, far to the east of the Stag River populations first known from Ruth Tweedie's collections, dating from 1955. It has large leaves and especially large, deep-pink, funnel-shaped flowers, differing from any other forms in cultivation. It had been planted about 5 cm down in sandy, open compost and, although gradually responding to careful cultivation, is proving more challenging than these earlier introductions.
A small, well-flowered plant of Androsace squarrosula gained a first prize for Gill & Paul Ranson for this introduction from the Kunlun Shan, north of the Tibetan Plateau, where it grows in fine scree and grassland between 3,200-4,200m. They grow it in a mix of 60% 1-5mm grit, 20% JI2 and 20% perlite; the plant is kept in an outside frame and covered during heavy rain.
A mature pan planted as a miniature garden by Michael Sullivan displayed an interesting collection of silver saxifrages that promised plenty of flower in the weeks to come but, given that these were inter-planted with ferns and small willows, offered plenty of interest throughout the year. Along with Brian Sulman and Colin Rogers, he was one of the main competitors in the Intermediate Section, though it was Brian who pipped the others to the post, winning the Tomlinson Tankard for the most points in this Section.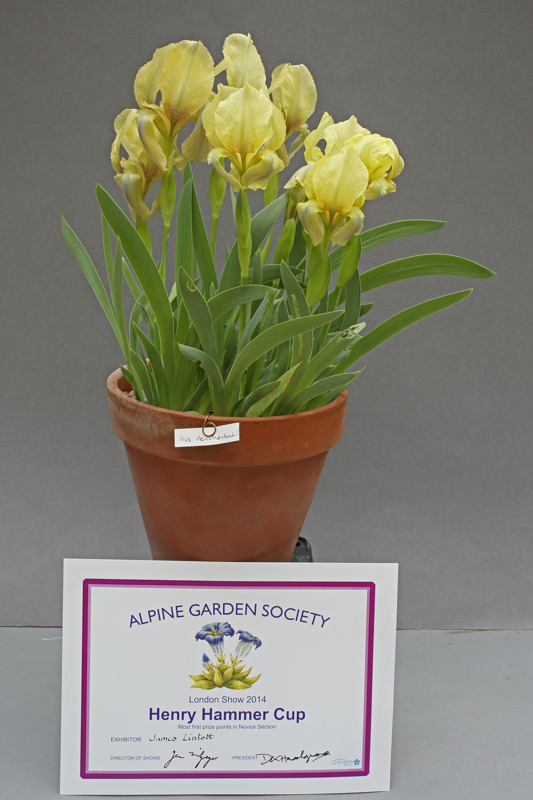 James Lintott from Guildford produced some excellent plants in the Novice Section including a fine six inch pot of Iris reichenbachii, a handsome plant of Primula marginata and a large silver Saxifraga rosette that cumulatively won him the Henry Hammer Cup.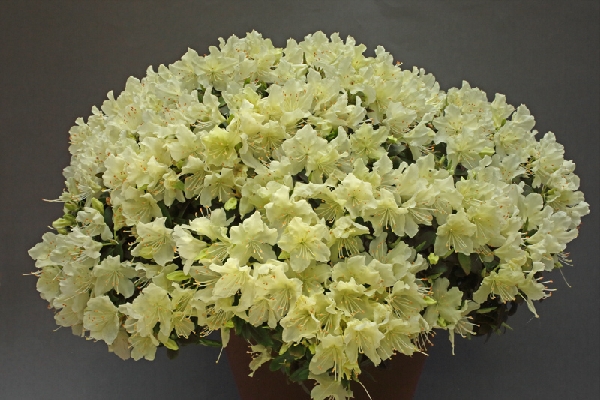 As always, Cecilia Coller exhibited many excellent plants in the Open Section, taking the Mooney Cup for the most first prize points, along with the George Gable Memorial Trophy for Rhododendron keiskei var ozawae 'Yaku Fairy' for the best pan of Ericaceae. Among the other plants she exhibited was a fine pan of Pleione formosana 'Snow Bunting' and an interesting large pan of Sempervivum with all its babies attached (normally these are removed, but she wanted to show how the plant comports itself at this time of the year).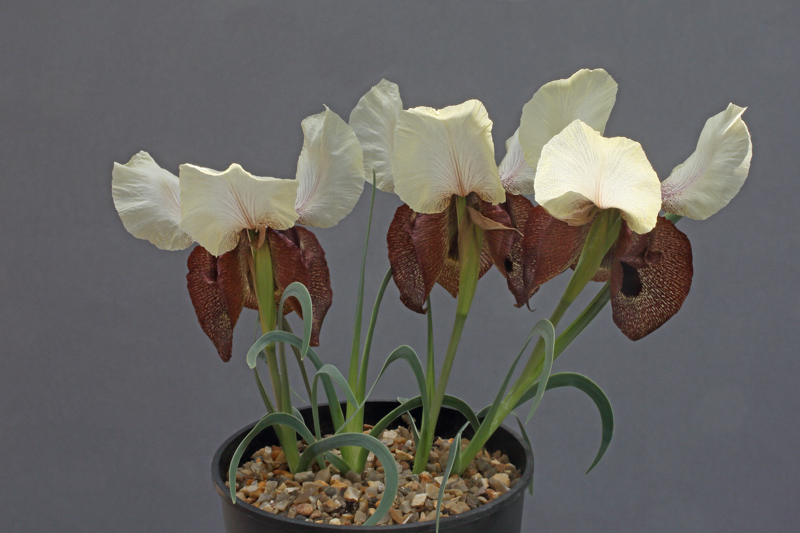 A highlight of the show for me was the array of Oncocyclus and other irises, so difficult to grow and show yet seen at their very best; a day or two later and they would have been past their peak. Ray Drew staged a representative three-pan including Iris barnumiae, I. paradoxa subsp. choschab x barnumiae forma urmiensis and the reverse cross. He also exhibited a superb pan of Iris iberica subsp. elegantissima.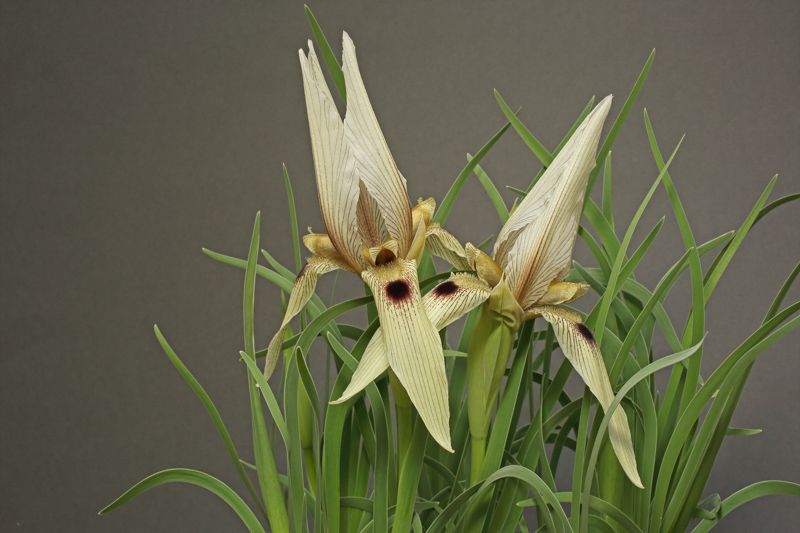 From the opposite side of the kingdom, Bob & Rannveig Wallis brought a remarkable collection from Carmarthen including a fine, deep coloured form of Iris reichenbachii grown from Scottish Rock Garden Club Seed sown in 1979, one of six choice bulbs including the seldom previously exhibited Iris acutiloba subsp. longipetala [left], I. korolkowii, Iris timofejewii – this iris is from a colder region and so goes dormant and requires less water - and the Farrer Medal Acis.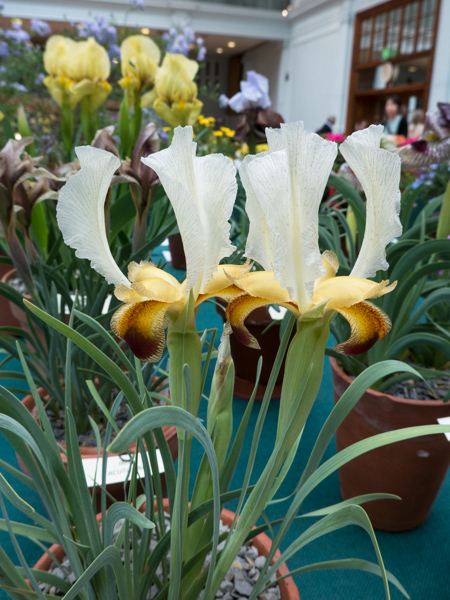 In the 19cm six-pan class, they struck again, a similarly diverse, Oncocyclus in-the-main offering comprising Iris sprengeri, I. sari; I. iberica subsp. iberica, I. paradoxa var. mirabilis x urmiensis, I. reichenbachii (Albanian stock) [below] and I. acutiloba. Oncocyclus irises inhabit steppe climatic zones with very harsh winters and often long dry and hot summers. They range from Israel through Turkey and into eastern Iran and the Caucasus. In the UK they will only grow in a greenhouse where watering can be controlled. Shallow planting is recommended, topped with grit only, and if pot grown then for preference use long toms. Water the plants in late October, and then again, carefully, when the new shoots emerge. Keep in a deep sand plunge that is kept moist, water only on demand and be vigilant for greenfly, which should be sprayed, not squashed. Keep dryish in summer when the plants are more or less dormant.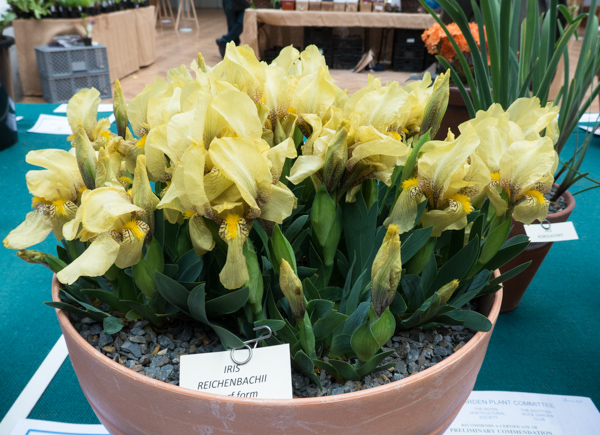 Iris section (bearded or pogon iris) species are from areas of Europe and western Asia with a moister summer. Most will grow happily in a sunny spot outside in free-draining soil, the dwarfer ones happy enough if pot-grown for exhibition purposes. They are easy from seed and require full sun, a free-draining soil and regular repotting, every other year when mature. Kept moving when small, they are easy to divide, set seed well and need water throughout the year. Voracious feeders, they respond well to half-strength Tomato fertiliser liquid feeding every two weeks in growing season.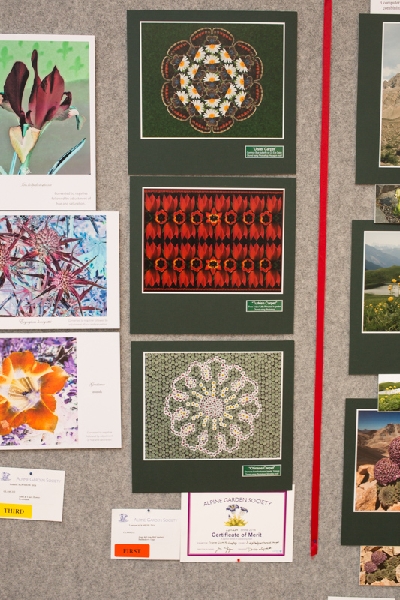 As always the standard of Art and Photography at the London Show was excellent, I have already mentioned the award given to Martin & Anna Sheader, but it would be remiss not to report on an excellent trio exhibited by Joan & Liam McCaughey. Each photograph was created by arranging components of an original image to form three designs. One for an Ulster Carpet, a second for a Turkish Carpet and the third for a Chinese Carpet, this exhibit was also awarded a Certificate of Merit. Caroline Jackson-Houlston entered a series of delightful, delicate water colour paintings (one of them only completed in the early hours of the day of the show), including a superb interpretation of Cypripedium 'Parville', which won her the Florence Baker Award for the best painting or drawing [below].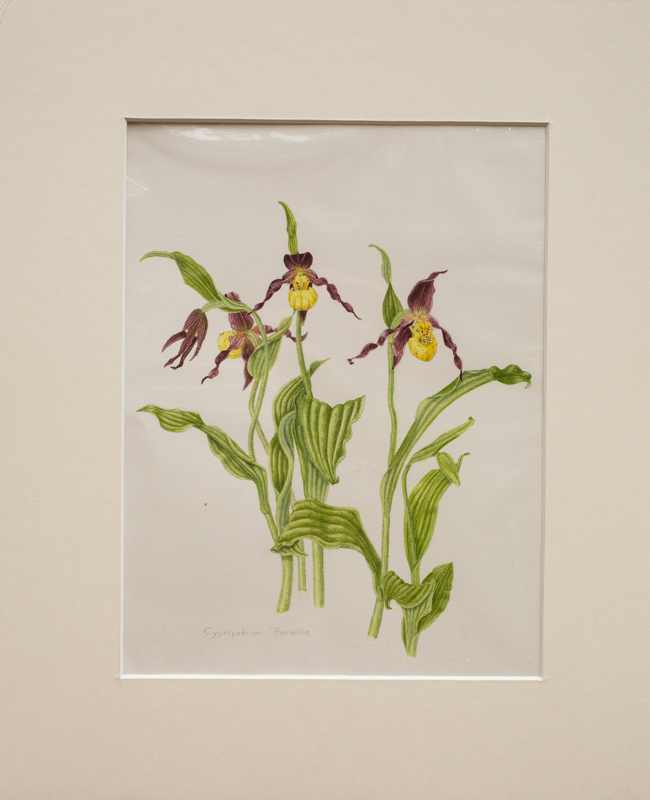 I have scarcely done justice to the range of plants, photographs and paintings on display, but Doug Joyce's photos of the trophy winners and Jon Evans' selection and full report of the day on the AGS website discussion pages will fill in the gaps and surely whet the appetite of all those who stayed at home and missed an alpine day to remember. Put the London Show 2015 in your diary as a 'must do' and trust that everyone will once again pull out the stops to make this an unmissable annual event. Well done everyone, and thanks!
Author: Val Lee
Photographer: Doug Joyce and Jon Evans