London AGS Show, 2012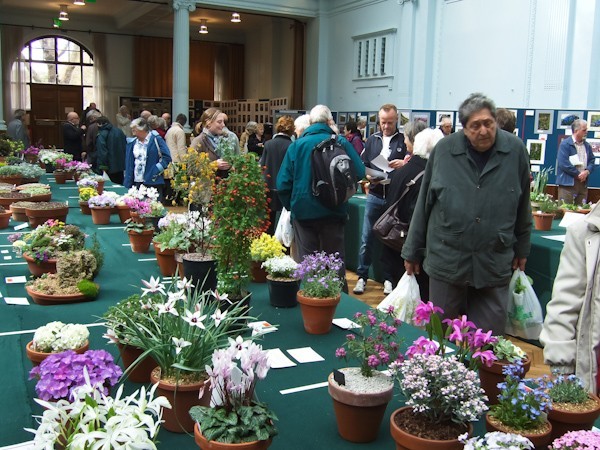 The AGS London Show, despite the understandable reluctance of many regular exhibitors to bring their plants into the capital, is an essential fixture in our calendar. In the grand setting of the RHS Lindley Hall, thousands of visitors are made aware of the Alpine Garden Society and encounter plants that perhaps they have never seen or heard of before. Is it a coincidence that the phone lines at Pershore were busy with new members in the days after the show? I think not.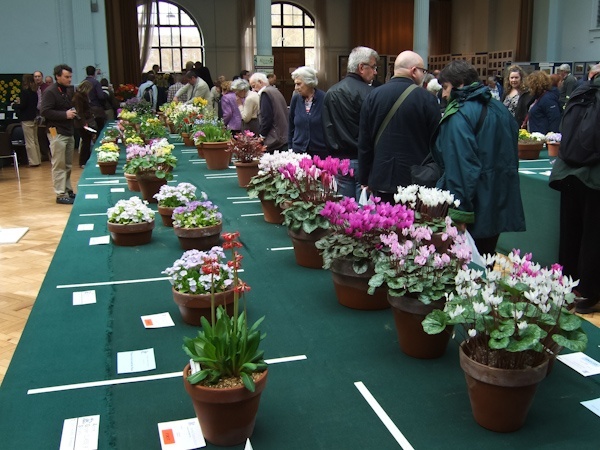 It was feared this year that Cecilia Coller, a stalwart London exhibitor, might be unable to attend, so Show Secretary Jon Evans and Director of Shows Ray Drew redoubled their efforts to bring in plants from members who would not normally be at London. Particularly striking on the benches were the many exemplary Cyclamen staged by Ian Robertson and Martyn Denney. Tulips were also more in evidence than is usual at this show, indicating the forwardness of the season.
As it turned out, Cecilia was able to exhibit in typically exemplary fashion, and her vanload of 60-plus plants meant that visitors were treated to what Ray justifiably described as the best London show for many years. Indeed, bar the prizes for the Novice, Intermediate and Artistic Sections, she swept the board.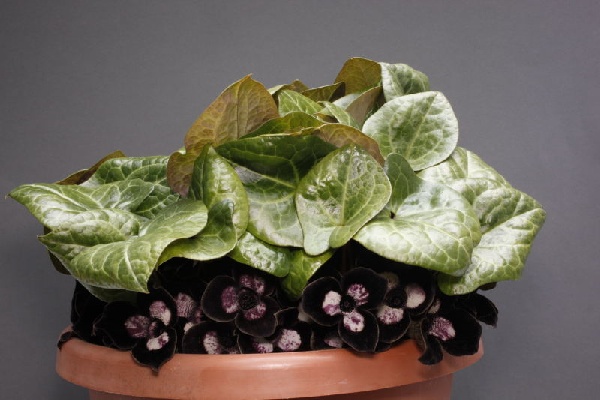 Her Farrer Medal for Asarum maximum completed a hat-trick - she won the honour with the same species at this show in 2006 and 2007. The plant on the bench this time, as part of an entry in class 29 (three pans native to one continent), was not the same as the much more variegated specimen that had won previously. This year's winner, with its flamboyant black and white flowers tucked discreetly under a canopy of large, leathery leaves, attracted much admiration from visitors. I find, though, that AGS members divide into two camps over this Chinese woodlander – they either love it or hate it. It gets my vote.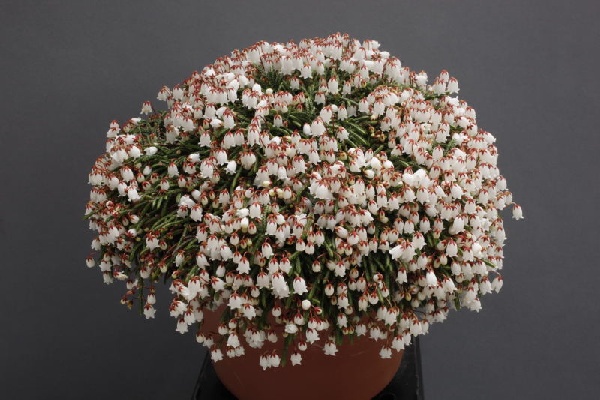 Also heading back to Norwich with Cecilia were the George Gable Memorial Trophy for the best pan of Ericaceae (Cassiope lycopodioides) and the Audrey Bartholomew Memorial Spoon for the best plant from North America (Sanguinaria canadensis f. multiplex 'Plena'). Home for both plants is Cecilia's peat bed, though the Cassiope is afforded the luxury of a pot, which remains plunged in the bed all year unless frost threatens the buds in spring.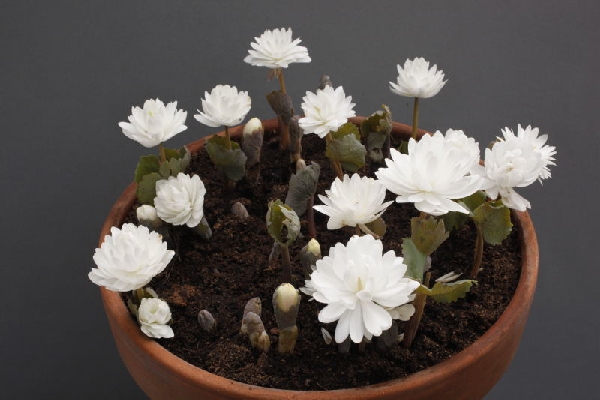 The Sanguinaria, dug up yet again for its outing to London, staged an encore of its flourish at this show last year when the flowers opened on the first day. Given that the brilliant white blooms last for barely a couple of days, how does Cecilia get the timing so precise, given that we have had two very different winters? 'It's just luck,' she claims. Hmm.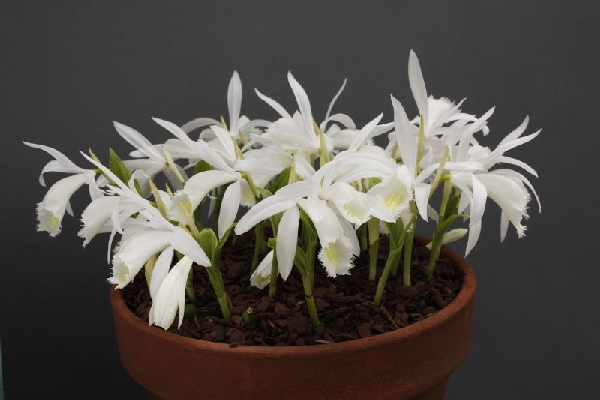 Cecilia was awarded two Certificates of Merit, the first for a gleaming pan of Pleione formosana 'Snow Bunting'. It made up part of her large six-pan entry, which also included a yellow Iris suaveolens, Iris babadagica, Androsace sempervivoides, Pleione Bandai-San and another pot of Asarum maximum. The pan of 'Snow Bunting' started life as a single pseudobulb obtained from Ian Butterfield's nursery in Buckinghamshire. Cecilia grows it in a basic orchid compost, bought from a garden centre. After flowering it spends summer outside under a north-facing wall and is fed occasionally with Tomorite. It is brought under cover when the leaves die back in November and repotted in December. From January it resides under a bench in an alpine house until flowering commences.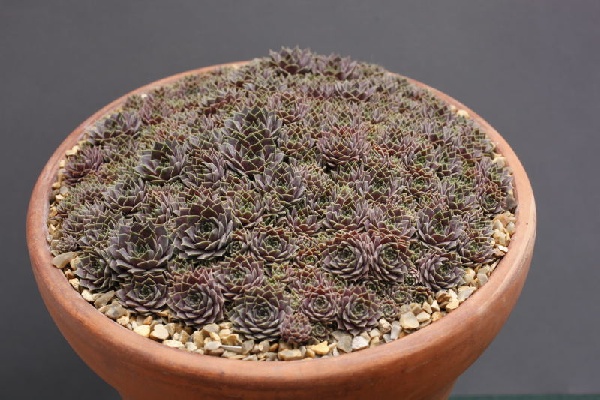 Her second Certificate of Merit went to an immaculate pan of Sempervivum erythraeum. Unusual in this genus for its understated velvety grey-green leaves tinged with pink and for being slower than most to bulk up, this Bulgarian species spends most of its time in an alpine house to prevent birds from pecking the rosettes and to avoid the compost becoming too soggy. Unlike most of its brethren, it will not tolerate winter wet, and should be taken under glass in the winter months.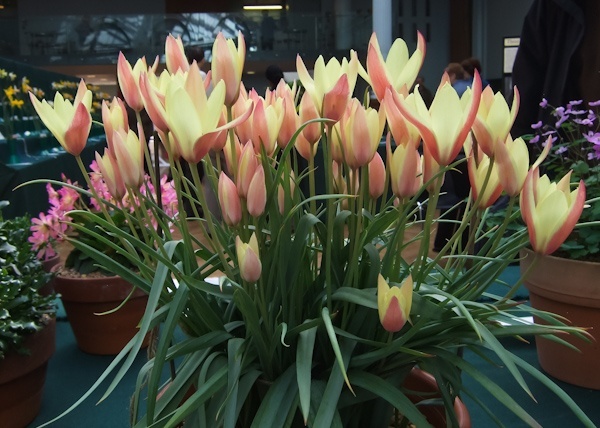 Cecilia also exhibited two pans of the Asian native Tulipa clusiana [right]. She is convinced that she is growing the species pure and simple rather than one of its variants. A pot of the taller T. clusiana 'Lady Jane' staged by Jon Evans [below] provided a useful comparison. Cecilia's tulips are grown in a mix of equal parts of John Innes no. 2 and grit, with a little added leaf-mould. The bulbs are allowed to dry out in summer after the foliage has died back and are repotted in November.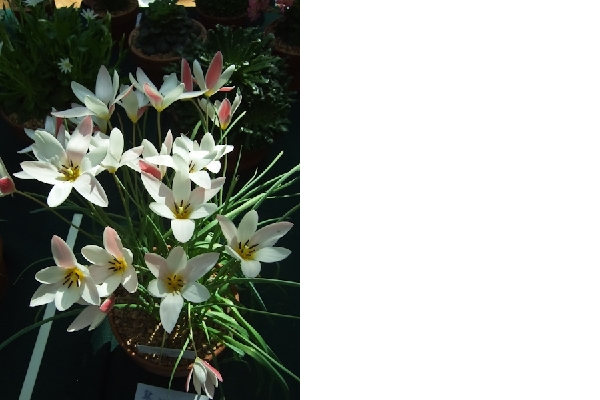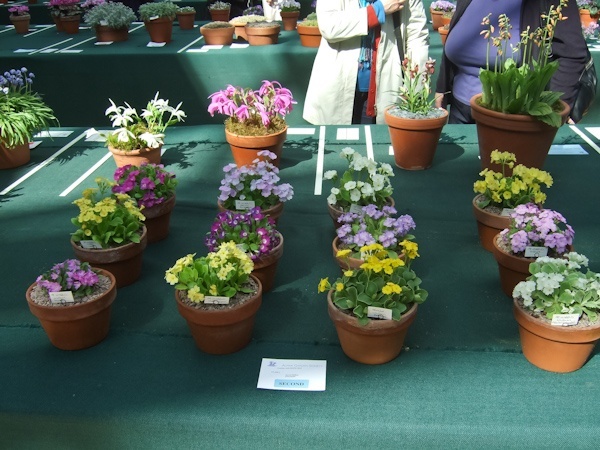 Class four at London offers exhibitors the only chance in the AGS show calendar to stage a 12-pan entry, components of which must belong to one genus or family. Two determined souls made the effort, but the judges decreed reluctantly that neither was worthy of a first place. David Philbey was awarded second place for a colourful selection of European Primula hybrids, sabotaged by the overnight warmth of the hall, for all that they had been uniformly in prime condition 24 hours beforehand. Clive Dart's 12 lewisias, only half of which had just started to flower, were placed third. He received some consolation by picking up the Tomlinson Tankard for the most first prize points in the Intermediate Section.
In the Novice Section, young exhibitor Andrew Ward took the aggregate with plants that included Lewisia tweedyi 'Alba' and a diminutive specimen of Iris reichenbachii, a native of the Balkans and northern Greece. Andrew, a keen grower of irises and crocuses, is building up his stock of plants and shows much promise for the future.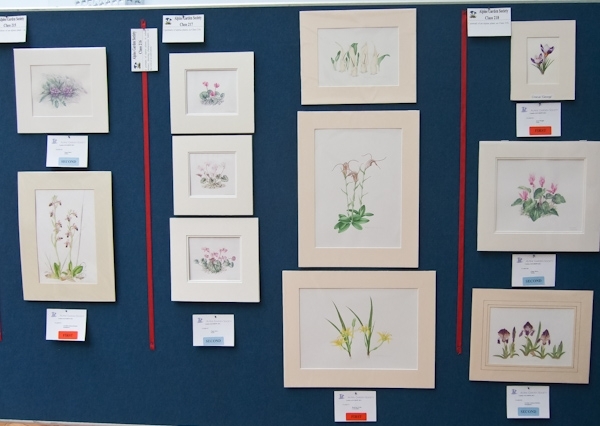 The Artistic Section yet again provided a magnificent backdrop to the show benches. The Muriel Hodgman Art Award for the most first prize points for paintings, drawings and embroidery went to Jean Morris, whose needlework exhibits included three beautifully realised fritillaries and an exquisite rendering of Sempervivum calcareum 'Guillaumes'. The Florence Baker Award for the best botanical illustration was won by Rannveig Wallis for a delicate watercolour depicting Muscari macrocarpum. And Jon Evans was rewarded for his hard graft in staging this show with the Dawson Trophy for the most first prize points for photographic exhibits.
We should all be grateful to Jon and his team of helpers for keeping this show on the road. It is an important vehicle for promoting the AGS and deserves to be well supported by exhibitors.
John Fitzpatrick