Kent Show, 2005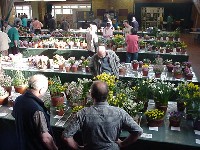 Winter had seemed to be going on and on until about four days prior to the show when we were rushed into summer. There are few days when a show could be held outdoors, and this was one such rare occasion. The sun shone and lifted the spirits. Indeed the show hall filled with superb plants had a similar effect.
Narcissus, fritillaries, dionysias and primulas provided the main rainbow of colour, with other individual gems extending the interest.
Section C was boosted by the plants of Tony Kirkland, a first time exhibitor. Tony has been growing dionysias for a number of years and the time and quality of flowering this March encouraged him to exhibit. One of his plants which took my eye was Dionysia 'Lycaena' (archibaldii x curviflora). To achieve this degree of excellence is not easy. Tony's dionysias are grown in clay pots plunged in sand in a very airy alpine house. The compost is based on JI with added grit, vermiculite and Perlite. He is always prepared to experiment with compost. There is no watering directly into the pots. The sand plunge is kept moist – never being allowed to dry out and this past winter the plunge has been kept more moist with watering increased as soon as buds are visible. This has resulted in very even flowering, the best he has ever achieved. Each pot is given a quarter turn once a week. The result is a totally uniform and prize-winning plant. I hope we will all see Tony's plants on the show bench again.
If I had to choose just one plant to write about, it would be Fritillaria striata. The bulbs had been grown from seed collected by John Andrews in 1992 in the Greenhorn Mountains, Kern Co., California. It was described in the field notes as 'an adobe clay plant'. Here it is grown in a very gritty compost in a clay pot plunged in sand, in a cold house. It is shy to flower and it would seem that bulbs which flower one year take a year or two to build up strength to flower again. The flowers are graceful hanging recurved bells, mainly white with delicate grey/pink striations. If extra points could be awarded for perfume then this plant would score well; it has the sweetest perfume of any fritillary. 
Dionysia 'Lycaena' Tony Kirkland,  Fritillaria striata John Kemp
Jane Leeds