Kent Autumn AGS Show, 2016
Some parts of the British Isles have enjoyed a vintage autumn, and this, the last of the season's shows, took place on a brilliantly sunny day: the weather could hardly have been better. While bewitched by the fairy lights decorating some of the door frames (must have been to do with an activity at the school in whose hall the event took place), bothered by the painted faces of one or two female participants (Halloween was at the time still nine days away) and bewildered by certain of the judging decisions reached, I was greatly impressed by the overall display, seemingly spontaneous but in fact underpinned by the arm-twisting and enterprise of new show secretary Adrian Cooper.
Held almost a week later than the final 2015 show, this was a welcome chance for some rarely-exhibited plants that perform at the tail-end of autumn and on into the winter to take the stage, which they did in some numbers, often with aplomb. Particularly, RHS Wisley staff are to be congratulated on their efforts both on the show benches and also, on the right as you entered the competition area, in staging a very colourful, diverse display of seldom-exhibited plants, in which species of Petrocosmea and South Africans (Oxalis in especial diversity) were a revelation.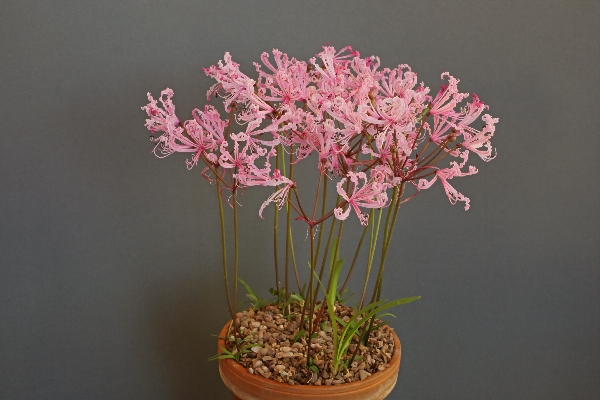 An abundantly-flowered, dwarfish form of Nerine humilis from Piekenierskloof (close to Citrusdal, in the Cedarberg Mts: there's a mountain resort where you can stay in comfort nowadays) received a Certificate of Merit, its stems only c. 20cm tall, the darkish green leaves held more or less flat against the topdressing. Several pairs of larger, paler, more upright leaves signified the infiltration of a ninja-Nerine that must have either seeded in or secreted itself in the reinvigorated potting compost: these have by now been extirpated. Annual repotting is not required; indeed, the bulbs flower better if allowed to become somewhat crowded and root-restricted.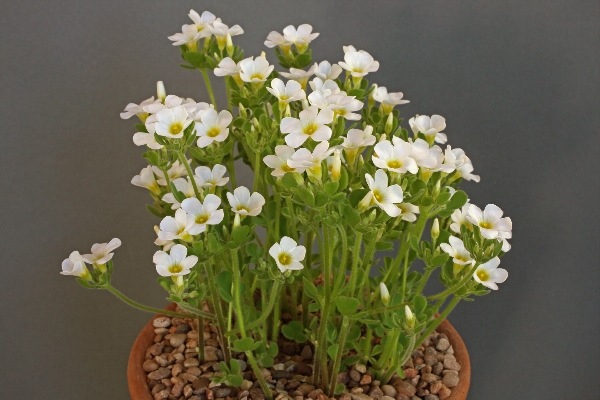 The South African Oxalis species selected derived from Namibia and the Northern Cape (centred on Namaqualand) to the south-western Cape: they often continue blooming right through to Christmas. As seen, Oxalis ambigua was around 20cm tall, upright, and with buttercup-sized white flowers emerging from the upper axils of the shoots, these clad with silkily-hairy leaves. Native to Namaqualand and the Gifberg, it can also be yellow, cream or salmon-coloured: as with various other species, its coloration incorporates a span of options. So too with the larger-flowered but virtually mat-forming O. pulchella var. tomentosa, which formed a low, pubescent mound liberally spangled with larger, warm salmon blooms: like most of its kin, it favours sandy slopes and flats, at altitudes of no more than c. 450m in this case.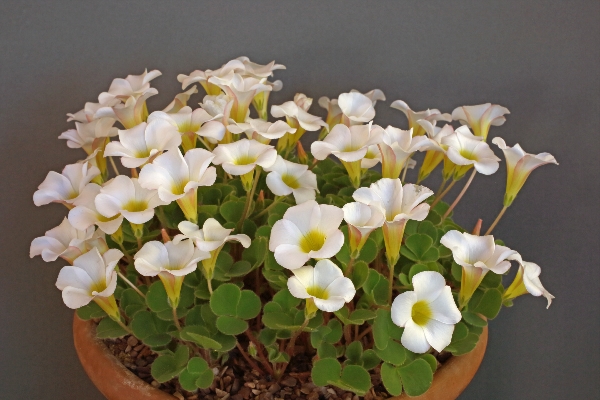 Tom King deployed a large pan of the even larger-flowered O. purpurea 'Alba' (several white forms are known, so the cultivar name might be open to question) in the large Open Section. Widely distributed from Namaqualand to southern parts of the Western Cape, east of Cape Town, its voluptuous, egg yolk yellow-throated funnels seduced the judging trio to , who took a punt and plumped for the 'Love me tender' option. (For many years, yellow-flowered exhibits labelled "O. purpurea 'Ken Aslet" have featured at the autumn shows: this has now been re-assigned to O. melanosticta and was shown by several exhibitors.)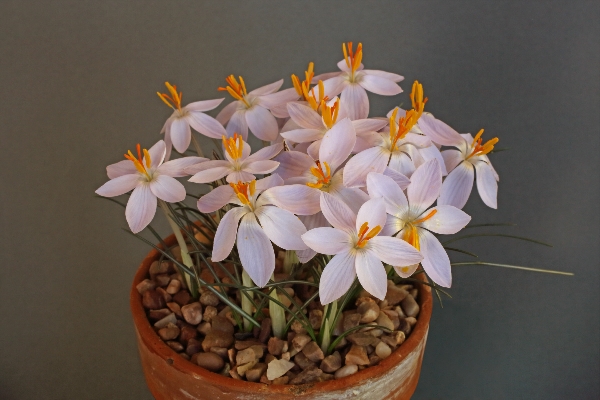 Tom's RHS colleague Sarah Carlton went one better with her Balearic endemic Crocus cambessedesii, not seen at an AGS Show for many a year but here pert and pretty as could be, so that it won the very crowded class for one pan bulbous plant in the small Open Section and in addition earned the Wisley contingent a second Certificate of Merit. Odd that there wasn't a class for one pan of Crocus (or at the very least one pan Iridaceae) in either pan size category – the more so at this time of the year, on top of which the Crocus Award was up for grabs: this will be rectified in next year's schedule. Has there ever been a more diverse, spectacular and substantial combined entry of autumn crocuses at an AGS Show? I counted at least 23 taxa, some of these shown in differing forms to boot, all revelling in the sunshine that flooded a comfortably well-ventilated hall, allowing them to flaunt their blooms without overdoing things and splaying their segments to the point of inversion.
As at the Loughborough Show, three weeks earlier, Alan Furness struck home with a pristine grouping of Crocus banaticus 'Snowdrift' (only half open at the start of judging but the sun's rays reached it with five minutes to spare and every single flower unfurled to perfection): he expressed slight surprise at its Farrer Medal accolade, making you wonder if he simply enjoys a long drive – it's a 600 mile round-trip to Sutton Valence from his Hexham abode. The proportional representation of albino forms of autumnal species greatly outstrips their spring counterparts: one correspondent suggested, tongue in cheek, that 'Once you've seen one white Crocus, you have seen them all', clearly not true when it comes to the two elements of Alan's autumnal whitewash. (He also showed a similarly large pan of C. goulimyi, raised from a January 2001 sowing of SRGC Distribution seed.)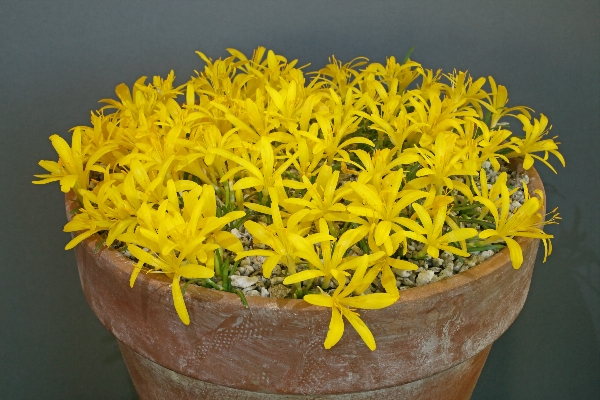 Ian Robertson, who brought with him a bonanza of crocuses, came closest in the Farrer Medal stakes with an astonishing potful of Sternbergia greuteriana, a true miniature as shown, forming a brilliant yellow mantle just a few centimetres above the grit, the profuse, small flowers narrow of segment and unlike any of its sister species.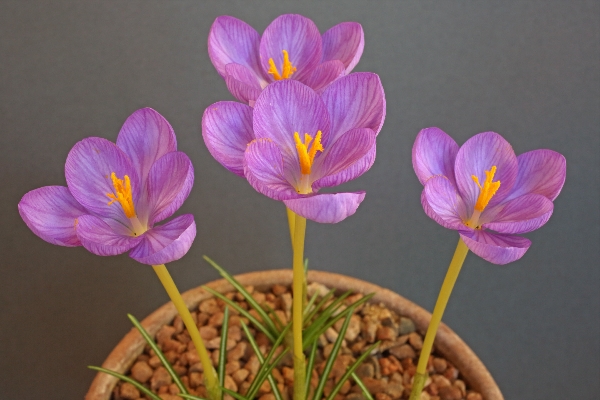 It too received a Certificate of Merit, as did his Crocus nerimaniae, a black-barbed narrow endemic from Turkey's south-western Aydin Province, only discovered in 2000 and from mixed oak/pine woodland at 450-700m over serpentinite. It has the marked advantage (for exhibiting purposes) of not opening its flowers as widely as those of closely-allied C. wattiorum (restricted to the Tahtali Dag and wiped out in its type locality by the construction of a road and petrol filling station: just as well that it has been relocated higher up the mountain). This was also shown in the same new and rare in cultivation trio (and had collapsed its flowers, as pre-ordained) along with a selection of C. goulimyi found in the easternmost Peloponnese, 'Agia Sofia' [right], whose flowers are much darker lilac than usual, and deeply veined/feathered.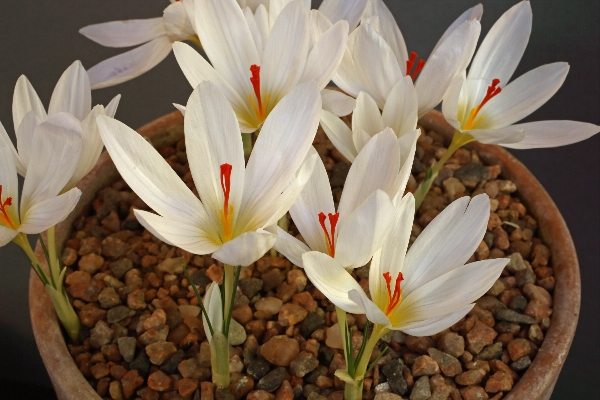 He further unleashed a bonanza of other crocuses in both splits of the Open Section, these including several very well-filled groupings of C. banaticus 'Snowdrift' (with taller perianth tubes than the Farrer Medal clump, a consequence of having been kept under cover); C. niveus (the large pan sown in September 2003; an opulent selection in a smaller pot dating from four years later); C. laevigatus and a white form of this, sown in July 2003, that had been in flower almost a week, unusually for this late-blooming species; red-styled C. asumaniae (sown in September 2006) [left] and a late-running C. hadriaticus, one of the few species seen at all four autumn shows.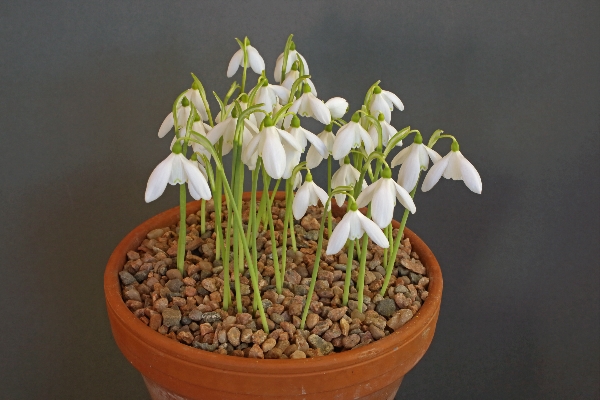 One memorable grouping, further testimony to his extensive seed-sowing endeavours, brought together what looked to all intents and purposes like the aforementioned C. banaticus 'Snowdrift' save for its deep lilac colour (the seed had indeed been taken from this and sown in August 2009: back-crossing should guarantee second generation white forms), a compact, attractive in both foliage and flower Cyclamen graecum subsp. candicum, now in its eight year, and a short-stemmed, appealingly 'chunky' clone of Galanthus peshmenii, the inners faintly marked this year at their tips, but on several previous occasions pure white. This received the Keith Moorhouse Trophy for the best exhibit in a pan not exceeding 19cm, giving the genus, in tandem with Crocus, a prominence not witnessed at any previous autumn show.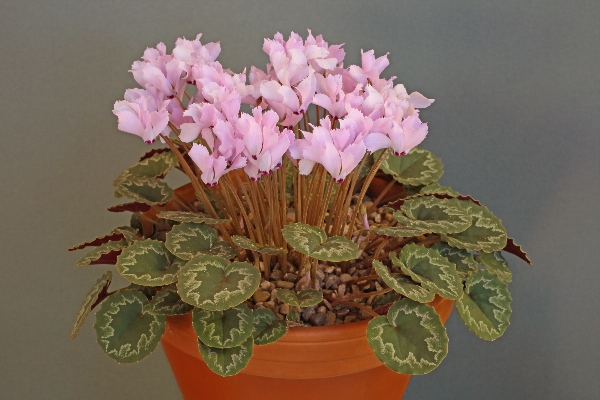 For the purposes of balance, it should be added that the Saunders Award for the best Cyclamen went to Bob & Rannveig's much-travelled C. maritimum (which had received the Farrer Medal a fortnight earlier and had scarcely been back home to Wales in the interim: nor had its owners), while Don Peace's equally well-travelled C. mirabile (sown July 2004) [left] received the Halstead Trophy: the right man but, in my view, the wrong plant, for he had at least two superior contenders, one of them rendered inadmissible, having received a puzzling third place because it 'looked like a clone'. In a seed-raised class not specifying that variation should be demonstrated, surely the selection of an excellent, apparently vigorous seedling and its careful nurturing/bulking up should attract points, not forfeit them?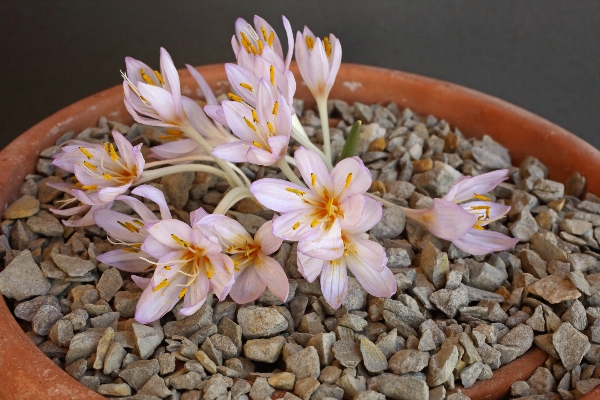 As a footnote, there was a scattering of colchicums (rather late in the year for these, even if a few bloom until December in their native countries), perhaps the smallest also the most noteworthy, for it was surely a newcomer to our shows, despite being described nearly 60 years ago, and introduced to cultivation by Bob & Rannveig Wallis in the 1990s. Colchicum antilibanoticum is a waif-like miniature, named for its occurrences around Mt Hermon, but much more widely distributed, in Syria, the Lebanon, Jordan and Israel, as far south as Eilat (as such making it one of the most southerly-occurring species). One of the smallest exhibits in the show, it attracted a disproportionate but deserved degree of attention, delighting and surprising even those expert on the genus with its unexpected, understated entrée.
Author: Robert Rolfe
Photographer: Doug Joyce