Kent AGS Show, 2007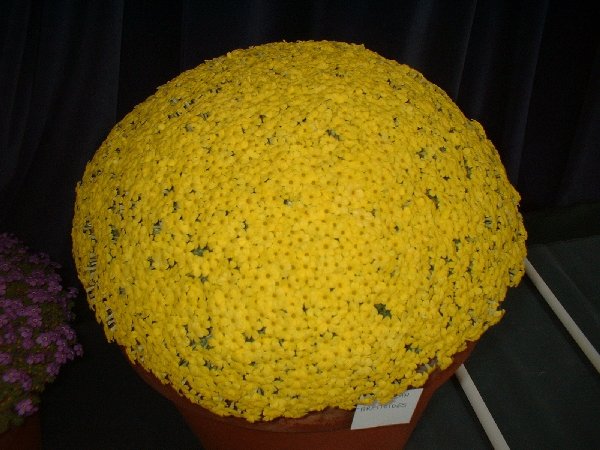 Once again, the Kent Show provided a varied mix of interesting plants including good examples of narcissus, iris, crocus, dionysia, primula, orchid and hepatica. The range of dionysias was perhaps down on previous years, but there were some excellent examples on show, including a 36cm pan of D. aretioides forming an immaculate yellow dome, shown by Nigel Fuller. The same exhibitor benched a well-flowered 19cm pan of the dionysia hybrid 'Chris Grey-Wilson', an impressive large-flowered deep-pink form. Yet another well-grown and attractive dionysia on show was 'Yellowstone', a Kammerlander hybrid exhibited by Hans Kaupert; this hybrid has rounded flowers of deep rich yellow.
Fritillaries were also down on previous years, but there were several large pots of rhinopetalums.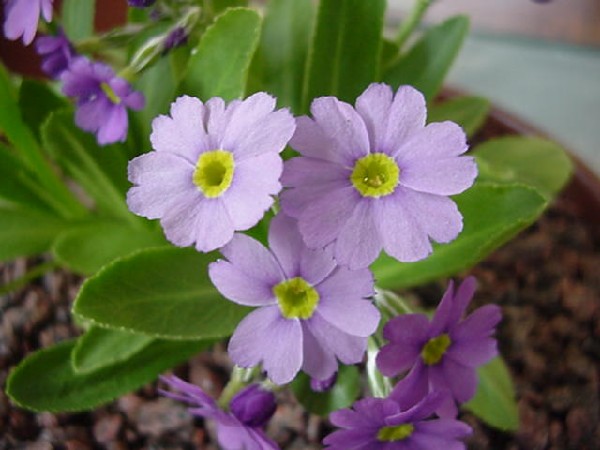 Although most of the primulas on show were flowering a bit patchily, a 36cm pan of the primula hybrid 'Clarence Elliott' completely covered its foliage with its large bluish and very fresh looking flowers. This contrasted in scale with the 'best plant in Section B', Primula ellisiae shown by Tony Jenkins. This attractive N. American species can be a challenge to grow to any size; the plant shown had six flower stems carrying neat pink-purple flowers above the foliage.
There were a number of interesting orchids on show. These always pay close examination, and I particularly liked the small-flowered intricately-patterned species. Shown by Barry Tattersall, Anacampsis syriaca is such a species, with deep maroon purple flowers and a broad white-edged pink lip.
A plant that attracted a lot of interest was Gladiolus uysiae which received a Certificate of Merit. This dwarf gladiolus, found on clay flats in the Bokkeveld Mountains and in W Karoo (S. Africa) has fascinating elongate flowers in shades of muted purple and yellow, with an exquisite scent, said to resemble violets.
There were a number of candidates put forward for the top plant award, from which an excellent pot of Erythronium multiscapodium (syn. cliftonii) was selected for the Farrer Medal. Shown by Bob and Rannveig Wallace, the mature plant covered its marbled leaves with a mass of fresh creamy white lemon-centred flowers.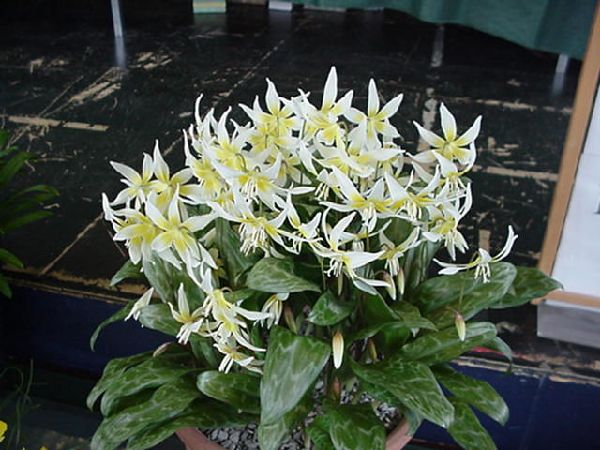 Martin Sheader