Kent AGS Show, 2006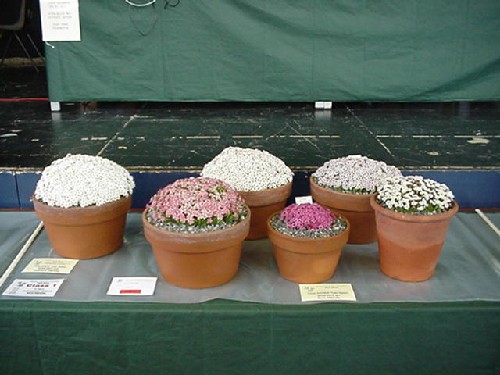 The journey to the show was not particularly inspiring. Grey leaden skies and a lazy wind straight from Siberia. We were experiencing the coldest winter for at least ten years. Gardens we passed that had on previous occasions sported the delights of Magnolia and Narcissus in flower could only offer the odd clump of Snowdrops.
The bitter winds made everyone make for the exhibition halls as quickly as possible and the transformation once inside was remarkable. All the benching was well covered with plants, although I am informed that the numbers were down on previous years, this was in no way evident. Saxifragas jostled with Fritillaria and Narcissus for space and there was colour everywhere. The cold weather had had an advantage as many plants that had been long over in previous year made their appearance at this show. I, for one, cannot remember a Kent show where there had been so many good exhibits of Snowdrops.
As usual with this show section C was good, slightly less in number due to the reduced classes but very high in quality. My eye was taken by Dionysia 'Emmely' MK9402/1 this hybrid, seed from D. archibaldii, has a justifiable reputation for laxness in growth. This combined with the fact that it does not always flower freely has meant that its appearances on the show bench have been few. This was not evident in this exhibit; tightness in growth enabled the plant to well fill its 19cms pot and prolific flowering made a complete dome of colour. Justifiably it won its class and then proceeded to pick up the award for the best plant in section C.
Of the three Cretian species of Chionodoxa that are exhibited C.albescens is at least the most uncommon. I was therefore delighted to find a well filled pot of this charming species as part of the three pan exhibit in Class 66. Delicate white flowers with pale blue tips to the petals faced up at you as you passed, invitingly suggesting that you take a closer look. Grown in free draining compost with annual repotting, the pan exhibited had taken several years to build up from only two bulbs. In an unfashionable Genus it will be interesting to try to grow this specie in the open unprotected.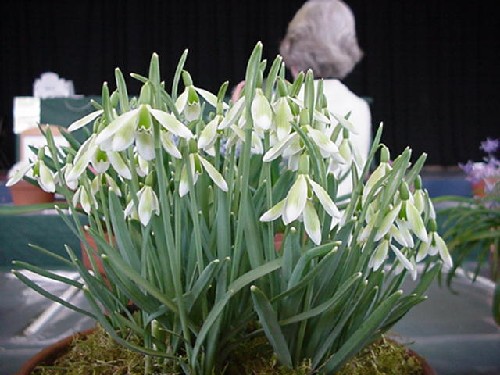 I cannot remember a Kent Show where there were so many good pans of snowdrops. Certainly an indication of the lateness of the season. The winner of class24 Galanthus virescens received many a covetous glance. This specie has the reputation for being a little tricky in cultivation. To achieve a 25 cms potfull in perfect condition was a creditable achievement. Even some of the non Galanthophiles were impressed.
Eric Jarrett