Kent AGS Show, 2016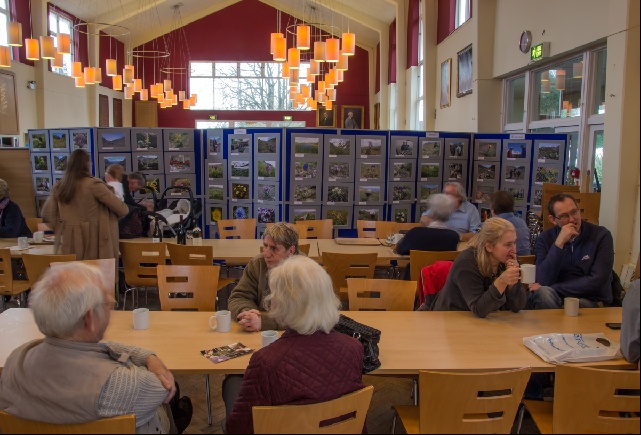 It is always with trepidation that one approaches a new show venue. Promises of abundant car-parking, attractive grounds and good food are the advertising 'hook' for seemingly every gardening event held around the country. Fortunately all these claims were fully justified at the newly-located spring Kent show, held in the grounds of Sutton Valence School, which offered worthy National Garden Scheme status, three very adequate car parks and a 'pop-up' café of high quality. Not only a new home but a new show secretary in Adrian Cooper, filling the very big boots left by David Hoare (who lurked tactfully in the background to field any problems).
'It's been a funny season' has been an overused but nonetheless apposite statement this year. A show normally associated with huge, ice cream cornet-like dionysias and Cyclamen in abundance had few of these, and as such the plants seen were often those that one typically associates with a later date. Not exclusively, however, for there were excellent plants that bucked this trend.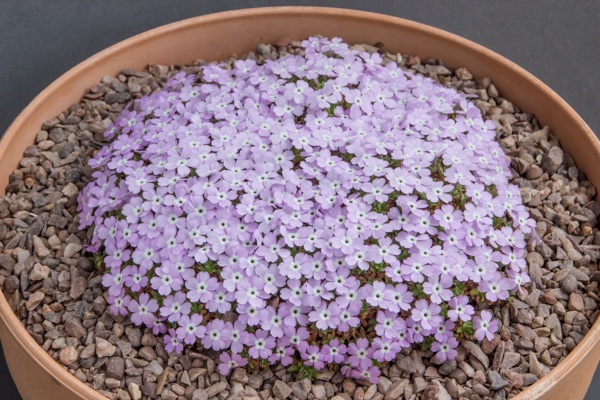 Firstly a superb Dionysia viscidula (GW-H1305), shown by Joy Bishop, which was awarded a Certificate of Merit. The plant was received as a small cutting back in 2004. Joy grows this and her other dionysias in a mix of equal parts J.I. no. 3/sand/grit and vermiculite in plastic pots, placed on capillary matting which is kept evenly moist throughout the growing season.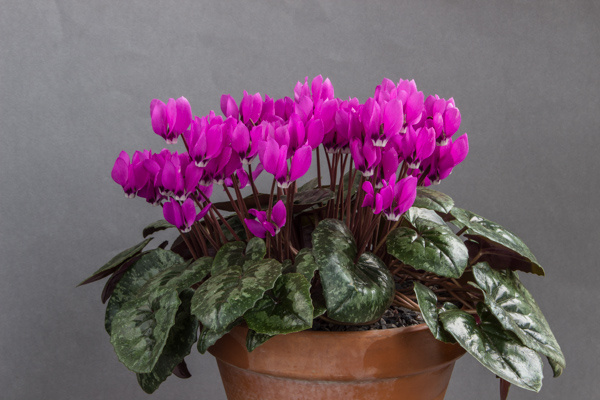 The David Wisdom Trophy, for the best pan of Primulaceae, went to the other notable exception, a superb Cyclamen pseudibericum shown by Lee and Julie Martin. Having intensely glossy leaves, akin to the form once known as 'Van Tubergen's var', the shiny foliage beautifully set off the large, white nosed, dark pink flowers, whose scent was light but very pleasant. Lee grows this plant in a compost of 2 parts loam/ 2 parts leaf-mould/ 1½ parts grit and ½ part perlite. Repotted every three or four years, and left sitting on damp sand during the growing season, while in leaf it receives occasional doses of liquid fertiliser.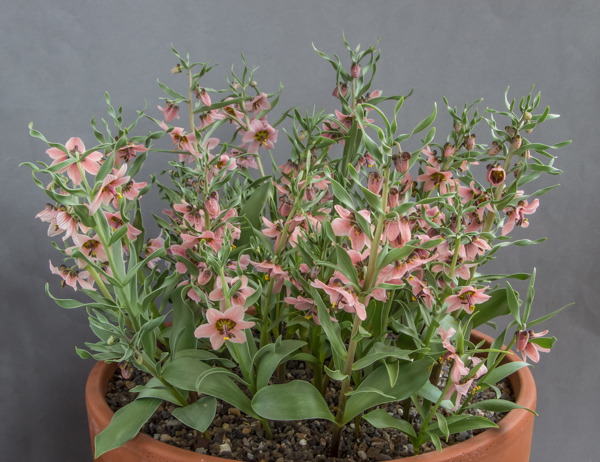 Two other exhibits were awarded Certificates of Merit. A massive potful of Fritillaria gibbosa, with over 20 flowering stems, all in peak condition, was shown by John Kemp. No stranger to AGS awards, this belongs to the complicated Rhinopetalum group, among which the main diagnostic feature is the two lower leaves, which are much larger and wider than those which grow above them – well that's the diagnostic at the moment! The beautiful pink, outward-facing flowers, exceptionally up to 15 per spike, are borne amongst the ever decreasingly sized but ever increasingly twisted foliage.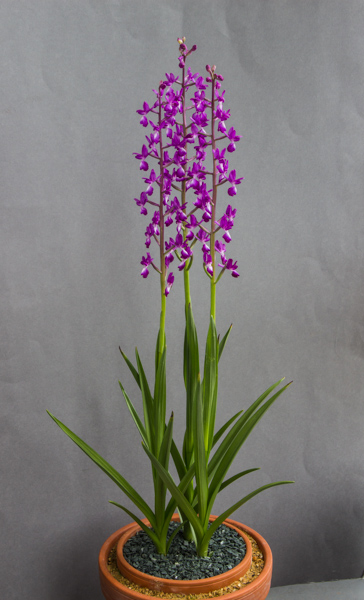 The second Certificate was given to a statuesque three-stemmed stand of Anacamptis laxiflora, shown by Barry Tattersall. Barry has been growing and showing top-class orchids for more years than he would care to remember and has developed his own formula for growing them. He collects mole-hill soil from chalky areas to which he adds 'Cat-litter' and John Innes no. 2 in equal amounts. The Anacamptis, often a marsh-dweller, is never dried off and gets repotted every year. Barry also showed a delightful pan of Serapias neglecta – in fact he had two clones on the bench at this show, the finest with slightly larger, eponymously named 'tongues' or more correctly labella. A very short-growing clone that usually doubles itself each year, it thrives in a compost similar to the above but strictly without the chalk content: an 'acid' soil is de rigeur for this genus.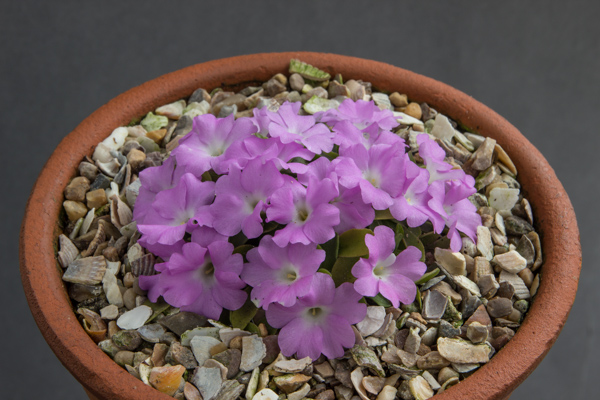 The Novice Section had its say as well, a nice plant of Primula allionii 'Kath Dryden' receiving the Invicta Trophy for the best plant in the section. This, coupled with other exhibits, gave Rosemary Hillyar the highest number of points, securing the Sastre Trophy.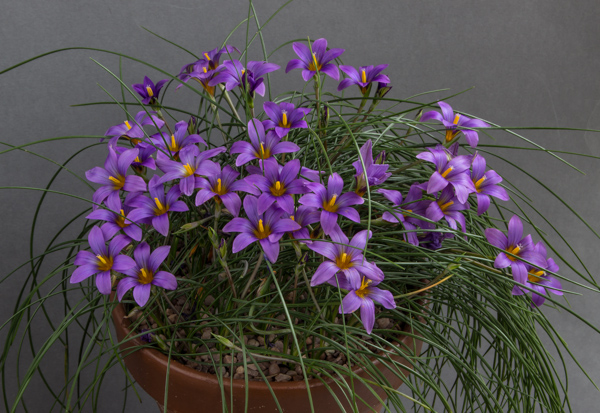 Bulbs play a large part in supplying both beauty and interest at all AGS shows. In the Intermediate Section a local exhibitor, John Millen, showed a number of very well grown plants, with what was labelled Romulea species (but was identified as R. bulbocodium by a majority consensus) outstanding. It received the Longfield Trophy for the best plant in this section. The individual flowers are fleeting in the extreme, but there were easily enough replacements to make up for those faded blooms that had been very deftly removed prior to judging: John tells me that the clump is in peak performance for around a week due to its abundant successional flowering.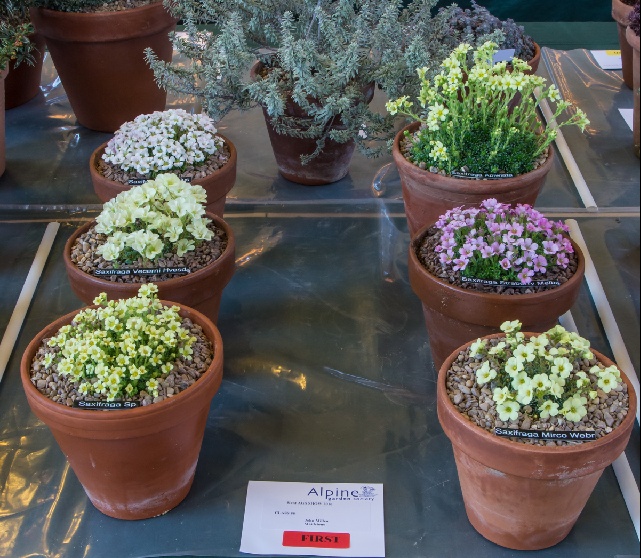 Coming from the Mediterranean region of Europe, where it is sometimes known as the 'Sand Crocus', this species demonstrates its ties with various Iridaceae cousins in its liking for an open substrate. John grows this ephemeral beauty in equal parts John Innes no. 2, leaf-mould and general purpose compost, blended and then added to equal parts of grit, creating a very open, free-draining compost. As the flowers start to fade watering ceases, and isn't resumed until the autumn, the pot spending summer under a greenhouse bench. Like Rosemary, he too won a section aggregate prize (in this case the Jean Elliott Trophy) and, for good measure, an AGS spoon for a victory in the corresponding six-pan class.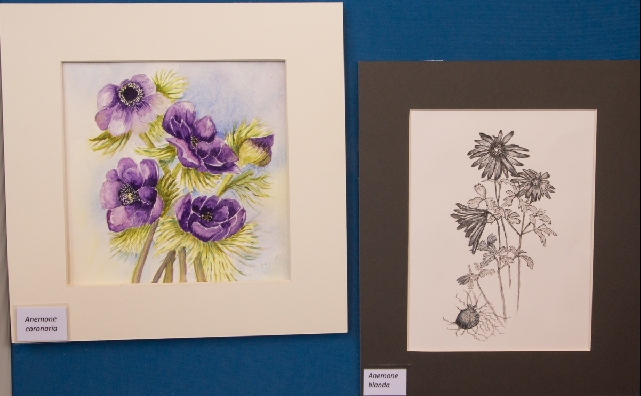 The Artistic Section at AGS Shows has been greatly reduced to just three outings each year but while the number of entries was noticeably lower than in previous years, their high quality was still very apparent. Jean Morris was in her element in the Open Section and was awarded the Rosemary Powis Trophy for the most first prize points.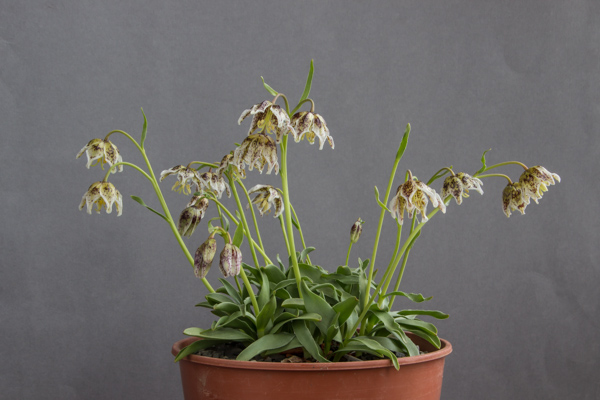 Bob and Rannveig Wallis supplied the big-hitters at the show this year. The best plant in a 19cm pot, fiercely contested by six plants, was eventually awarded to their impressive pan of Fritillaria purdyi, grown from seed sown – and its issue grown-on – in Seramis. The pot receives a dose of seaweed-based tomato fertiliser with every watering (the beauty of Seramis is that it holds just enough moisture for the roots to access but not too much to cause damping-off and associated problems, with the added bonus that the pot is 'as light as a feather').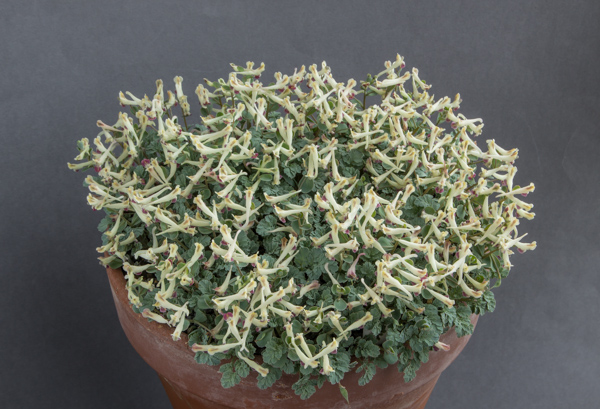 They also provided the star of the show, a very well cultivated plant (note, plant, not several corms in the same pot) of Corydalis darwasica that received the Farrer Memorial Medal. Acquired as a smallish corm in 1990 and grown on to its present size in a mix of equal parts John Innes no. 2 and sand, it is given a prolonged dry period lasting until about six weeks before Christmas, when the first watering of the season is administered. This inhibits early leafing, so that flowering occurs while the foliage is still quite short. Otherwise, the typically poor light levels British winters and fluctuating temperatures cause premature growth that soon etiolates, leading to an untidy appearance. Bob and Rannveig also went on to win the Bluebell Hill Trophy for the Open Section aggregate. With no six-pan entries to swell the points total, they had to do it the hard way.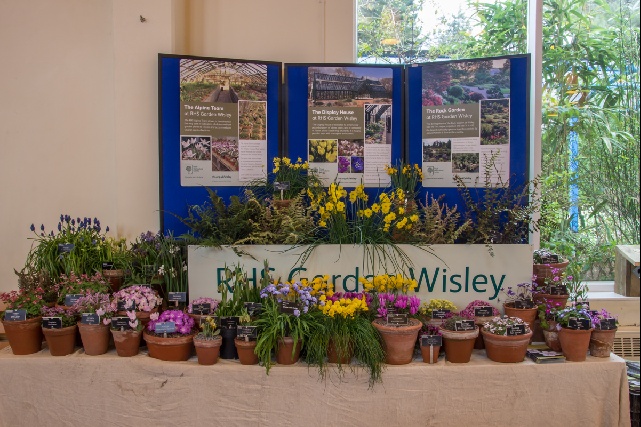 It's always pleasing to see horticultural institutions taking the time to attend our shows and put on displays representative of their speciality. We were lucky enough to have representatives from the RHS Gardens at Wisley put on a fine display of seasonal alpine plants and bulbs. It received a very well-deserved Gold Award. Limited by the amount of space allocated, they showcased a select number of genera, with useful information supplied in the form of a backdrop and handouts.
Things bode well for the autumn Kent show, to be held in the same venue, run by the same team, supplying the great British gardening public with another much appreciated oasis of horticultural excellence in this quiet part of the Garden of England.
Author: Ray Drew
Photographer: Jon Evans