Kent AGS Show, 2012
The weather in the weeks prior to the show this year was predominantly mild, following a short cold spell. In response some plants in many gardens and greenhouses countrywide flowered rather patchily. However, during staging as the benches gradually filled wit creditable exhibits, it quickly became apparent that at least some exhibitors had produced the goods, with a wide range of species exhibited, though numbers of dionysias and saxifrages were noticeably down.
The Kent Show provides a chance to fill from various nurserymen those gaps left by plants that have succumbed over winter and at times during the day there was a veritable 'feeding frenzy' in the sales area.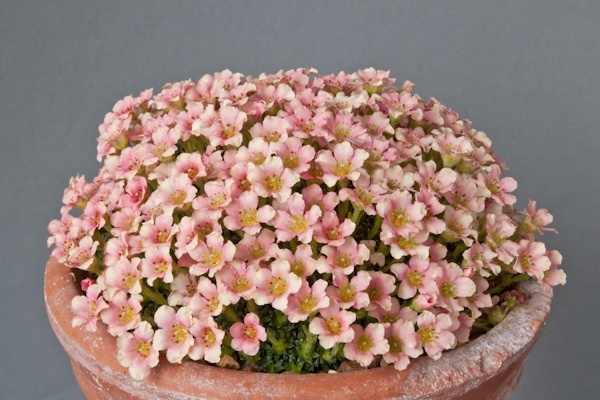 It was good to see so many exhibitors in the Novice and Intermediate sections. John Millen was awarded the Invicta Trophy for the best plant in the Novice Section. His Saxifraga'Peach Melba' had grown rapidly over four years to fill a 19cm pot. Grown in a 60:40 mix of sand and leaf-mould, it had been kept outside until the flower buds started to open, whereupon it had been brought into the greenhouse to flower.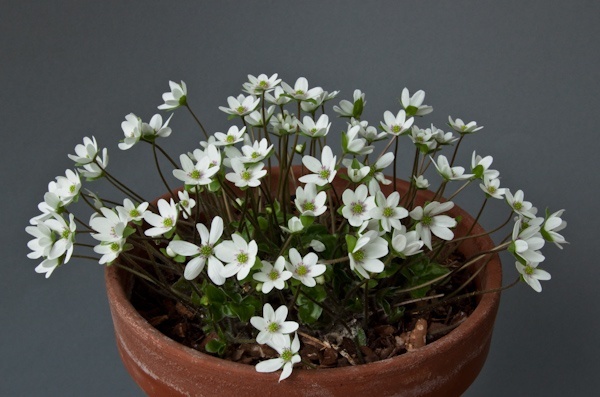 In the Intermediate Section, a well-flowered pan of Hepatica nobilis var. japonica gained the Longfield Trophy for Peter Jacob. This is a woodland plant that will grow well in suitable spots in the garden as well as in containers. Peter grows his plant in a mix of equal parts grit, JI2 and fine bark and he prefers not repot every year. The appearance of the plant can be greatly improved for exhibition by carefully removing the old leaves once it comes into growth in spring. The new, small, glossy leaves provide an attractive foil for the opening flowers.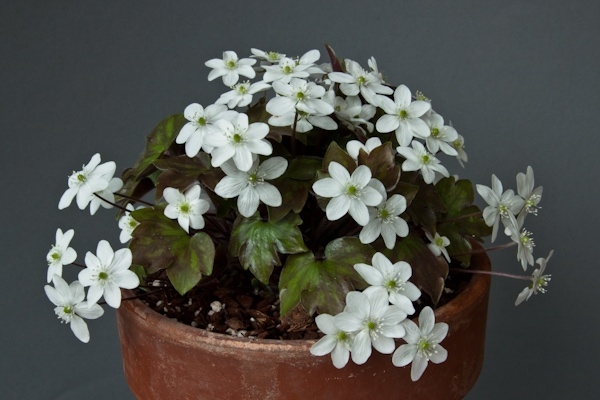 Another interesting hepatica, H. yamatutai, shown Rosina Abbis, was awarded a Certificate of Merit. This western Chinese introduction is somewhat similar to H. henryi but has distinctive notched foliage. It, and in most winters has an extremely long flowering period, from just after Christmas through until almost Easter. It further benefits from the addition dolomite to the compost.
George Elder exhibited an interesting group of South African bulbs including the rather elegant Geissorhiza inaequalis. This is a species found on rocky slopes, growing in heavy clay in winter rainfall areas. Seed obtained from Silverhills was sown in 2011 and grown on in a mix of equal parts JI2, perlite and sand – very different from its clayey substrate in nature. A comparable tolerance of different conditions in cultivation seems to be true for many species. G. inaequalis is summer-dormant, dying down shortly after flowering. Corms produce numerous cormlets, which grow rapidly to flowering size.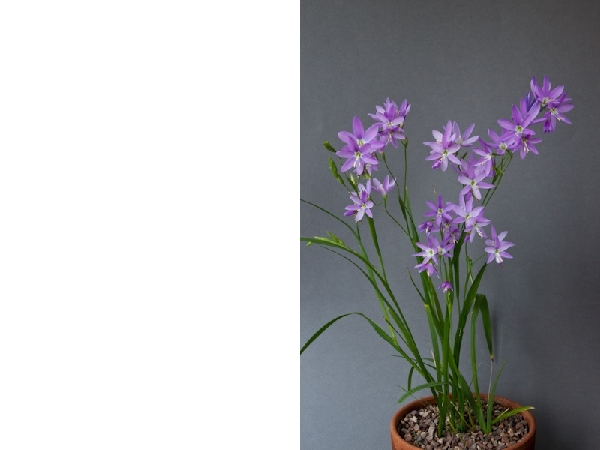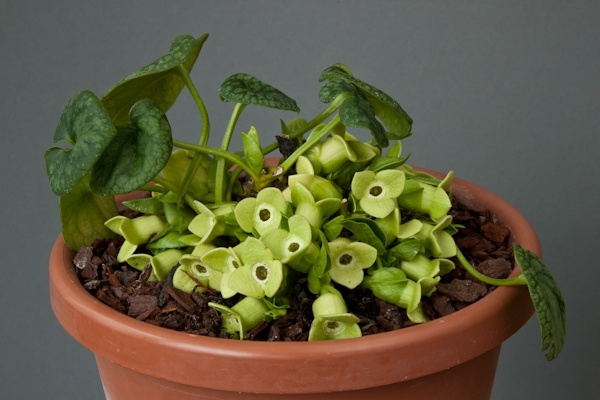 Cecilia Coller has had greater success than most in cultivating asarums. One species in particular, Asarum trigynum f. album, always attracts comment and attention when she brings it to a show and, in addition to being part of a successful six-pan class, was awarded a Certificate of Merit. In comparison to most of the other species in the genus, this is much more compact, and this year was flowering extraordinarily well, with far more flowers than in previous years. Cecilia grows her asarums in a leaf-mould-based compost; all such plants are kept under the bench in the greenhouse. Old leaves are removed in spring and new leaves appear towards the end of, and after flowering.
Kent has consistently been the show to visit in order to see exemplary dionysias and, although numbers were down a little this year, there were some interesting plants exhibited. Eric Jarret's Dioysia 'Inka Gold' was exhibited in Class 13 and received a Certificate of Merit. This really outstanding variety with flowers the colour of free-range egg yolks is a Michael Kammerlander introduction, representing D. odora x tapetodes. Eric's growing method for dionysias is well-documented; an extremely gritty (80% grit) compost and summer shading are essential.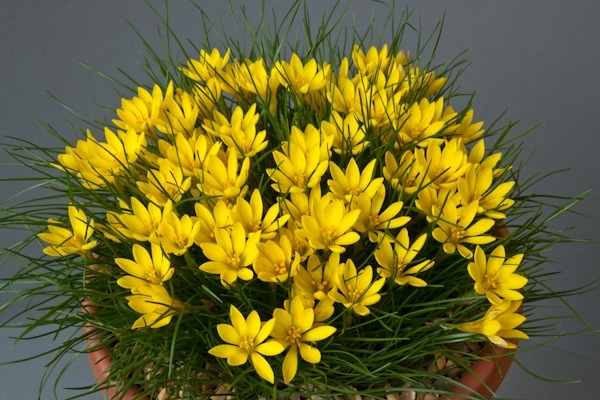 A South American (but not Andean) bulb, Ipheion sellowianum, requires careful management to get to the show bench in perfect condition and even then has a stubborn knack of closing its flowers just before the judges approach. This is a plant which should not be allowed to dry out completely, even when dormant, otherwise flowering the following year will be uneven and patchy. It also requires full light once it comes into growth and flowers. Cecilia Coller exhibited a well-flowered 19cm pot – even so, the flowers closed by mid-afternoon!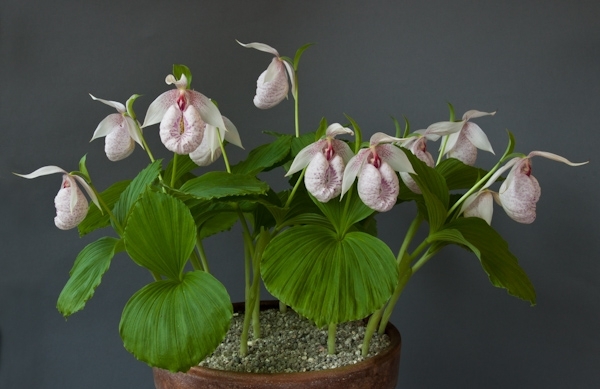 The Farrer Medal was awarded to Ian Robertson for a large pan of Cypripedium formosanum. This was an impressive exhibit with flowers all at their peak of perfection. Ian uses a 'synthetic' compost of equal parts of Seramis, grit and perlite and repots every three years. The award plant, ten years old, had year after year been stood outside from the end of May through to September. In winter it is kept under the staging in a frost-free greenhouse and then started into growth in January, after when it is fed using quarter-strength Maxicrop liquid feed.
Martin Sheader