Kent AGS Show, 2011
The spring equinox, the day when officially winter turns to spring, was the day after the show. Surely it was not unreasonable to expect that we were due some good weather after the winter that we have all had. Unfortunately nature had its own ideas, and the day of the show dawned very cold with a hard frost. After scraping the ice off the car we were on our way - very carefully, as most of the roads had not received any salt treatment and were slippery. Fortunately, on arrival at the show, the sun had melted most of the ice and continued to shine throughout the afternoon, making it a perfect alpine day.
At every show there are plants that dominate due to the number and quality of the exhibits. In earlier shows it had been the Primula, particularly the various P. allionii. They were here, of course, but this day belonged to the Dionysia, with rows of perfectly grown and flowered plants.
The number of Dionysia hybrids has increased to a level where they outnumber the species by orders of magnitude. It is somewhat surprising that the widely grown D. tapetodes has produced very few so far. Many years ago a plant raised by John Dixon was shown, looking to all like a good form of D. curviflora. This was raised from seed obtained from D. tapetodes and is sadly no longer in cultivation.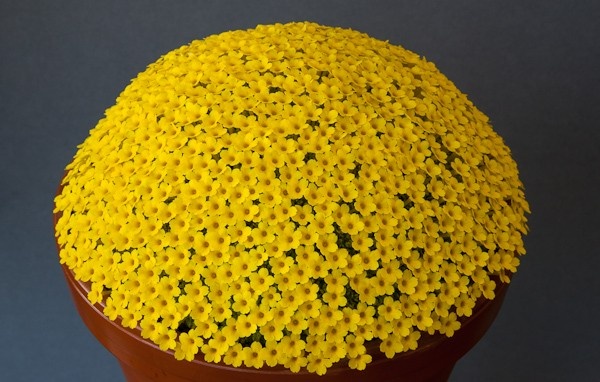 Dionysia 'Bernd Wetzel', originally raised in 1994 by Harry Jans in the Netherlands and exhibited by Alan and Janet Cook, was awarded a Certificate of Merit. Hybrid Dionysias are often dismissed as easy by some. The plant in question has been around for many years but is very difficult to grow to the standard shown here.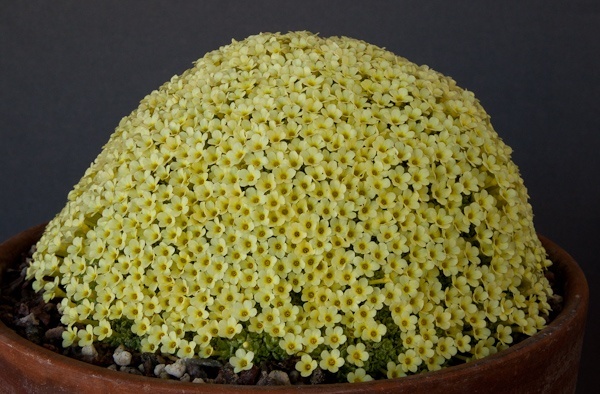 The other Dionysia worth singling out was an F2 hybrid raised by Michael Kammerlander under his number MK01397/2 and named later as 'Selene'. Looking similar to a large-flowered tapetodes but with beautiful pale creamy yellow flowers, the plant has been grown for many years in a typical Dionysia compost comprising of at least 70% aggregate and 25% JI No. 2 by Hans Kaupert, and well deserved its first place in Class 15.
We are all well accustomed to seeing reticulate Iris at our shows, but one that makes all too rare an appearance is the very difficult but beautiful Iris pamphylica, exhibited by Colin and Elaine Barr. Originating from Southern Turkey at 700-850m in margins of pine forests and scrub, this exhibit appeared to be perfectly happy in its long-tom pot in a very free-draining compost. The plant was duly awarded a Certificate of Merit.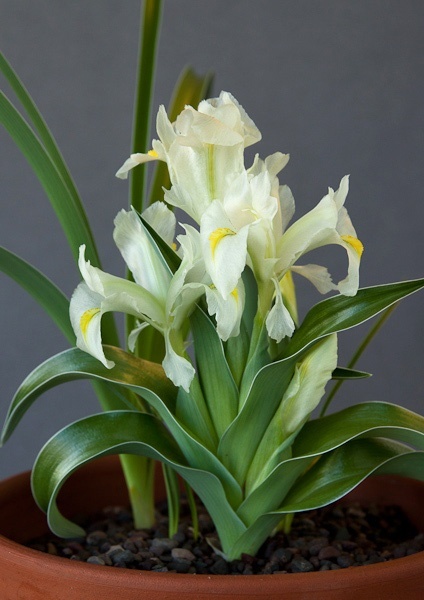 While on the subject of Iris, mention must be made of the same exhibitors' Iris caucasica ssp. turcica White Form. Seed was obtained from Jim Archibald under his number 585.609 but is believed to be from an original collection by Michael Kammerlander from N & NE Turkey (ex KKPS93-33). Some doubt was expressed as to the validity of the naming as closer examination revealed decidedly scabrous margins to the leaves. If this doubt proves to be correct, then the plant should be assigned to ssp. caucasica. The robust growth shown on the exhibit indicated the possibility that this may also be a hybrid. Whatever the truth turns out to be, it was a very wonderful and interesting exhibit, well deserving of another Certificate of Merit.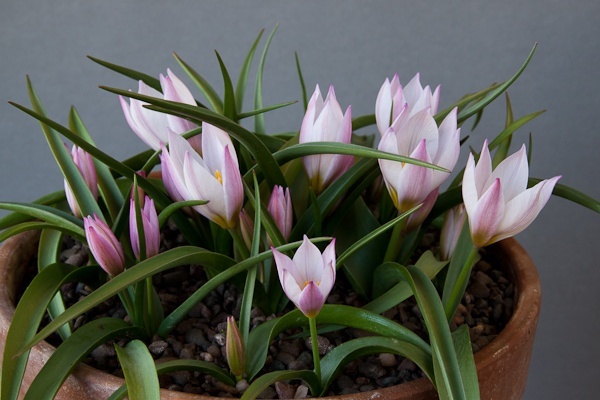 The positively charming Tulipa cretica is well known and regularly exhibited at our early shows. A form that grows on Mount Dikti is, for many, much improved on the usual type. Unfortunately, unlike the usual type, it does not increase vegetatively, or at least does so very slowly. The plant exhibited by Ian Robertson had at least seven fully open flowers with several buds to follow. It must have taken many years to achieve this and fully deserved its first prize.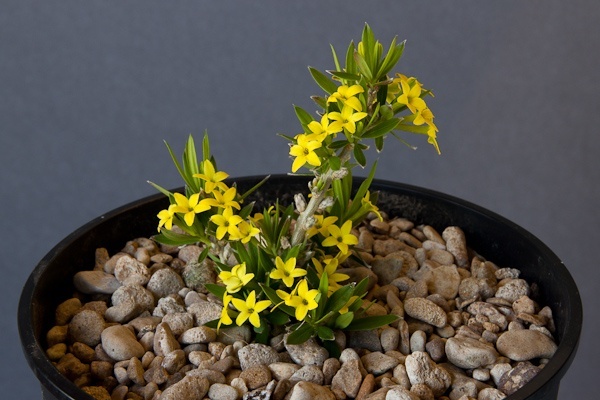 Any new species of Daphne is worth investigating and Robin White's D. modesta looked very promising indeed. Native to Western Sichuan and Yunnan and growing on open rocky slopes at 2,000-2,900m, it seems to have taken to cultivation readily as the exhibit was in flower after only one season's growth. It is a deciduous species that requires alpine house or frame conditions because it needs to be kept dry during the winter. Propagation may be possible from seed or cuttings. The five perianth lobes originally placed the species in the genus Wikstroemia.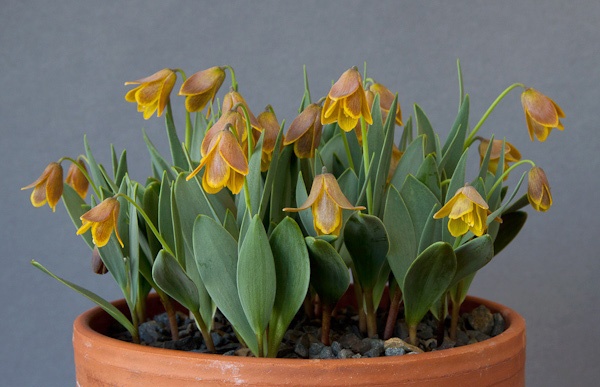 There is almost always one plant seen at a show that everyone wants to take home. This show was no exception, with Bob and Rannveig Wallis's Fritillaria carica attracting much admiration. A variable species with regards to flower colour and size, it is usually seen in its yellow form. It formed part of their small three-pan exhibit, which easily won Class 71. The yellow remained as the primary colour on the interior of the bell but on the outside it was overlaid with brown, giving a most unusual overall effect of a tawny colour. At only 10cm high it was the tallest plant in their exhibit but a perfect example of what an alpine bulb should be.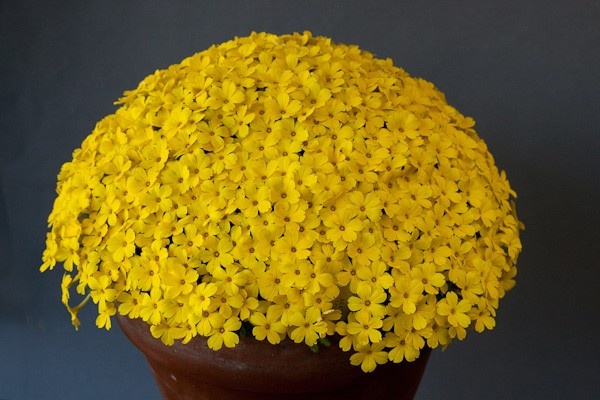 It is always of interest to check on the progress of our newer exhibitors as they work their way through the sections, and Peter Jacobs' plant of Dionysia aretioides 'Susan Hale' indicated that we will soon be meeting him in the open section. It is an interesting clone with large flowers with a slight reflexing of the petals, which adds to the attraction. It was beautifully grown and a justifiable winner of the Longfield Trophy for best plant in the intermediate section.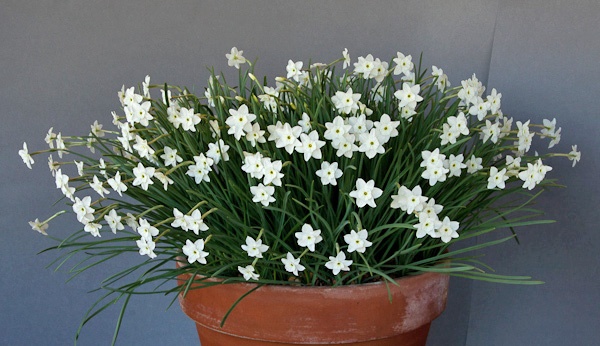 The Farrer Medal winner was a surprise. Not that any shock was due to the plant itself ; a 20-year-old pot of Narcissus watieri in perfect condition must always be in contention. Neither was the exhibitor someone unaccustomed to receiving this accolade. No, it was just that Nigel Fuller is more used to winning with cushion plants, particularly Dionysia, which has been his speciality for many years. Nigel had for a long time wanted to win a Farrer with a bulb just to prove to himself that he could do it, so bulb growers beware. His tip for growing this plant in the south of England is to keep it in a very cool, open-sided frame in full light. It is repotted annually in JI No.2 (40%) and grit (60%), no later than July as the roots start growing early. The pot is never allowed to dry out during the summer months.
The show drew to its conclusion and a great many very happy people made their various ways home. Many thanks are due to David Hoare and his ever-diminishing team of helpers, without whom the show would not happen. The thing I never understand is why so many people enjoy the shows but so few offer to assist in organising them.
Eric Jarrett