Kent AGS Show, 2010
After the cold start to the year exhibits had been somewhat down in the early shows but spring must have finally arrived as the entries at Kent were well up on last year. On entry to the Show Hall it was a colourful sight to see numerous large domes of saxifragas and dionysias already on display early in the morning, as well as the smaller pans in the 19cm classes filling their allotted benches, no gaps in the ranks this weekend. There was a fairly even mix of spring plants on display, saxifragas and dionysias more numerous than primulas this year. The bulbous plants were there too, irids and fritillarias outnumbering the narcissi ; the latter are also late in the garden this year.
The large six pan class was won by David Hoare with very large pans of saxifragas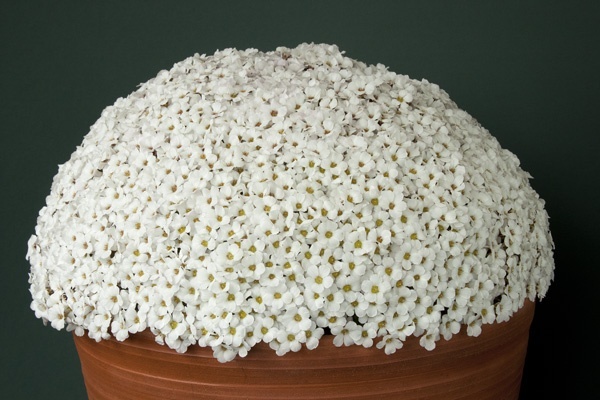 one of which, Tenerife, was awarded a certificate of merit, it was one of the two runners up for the Farrer Medal.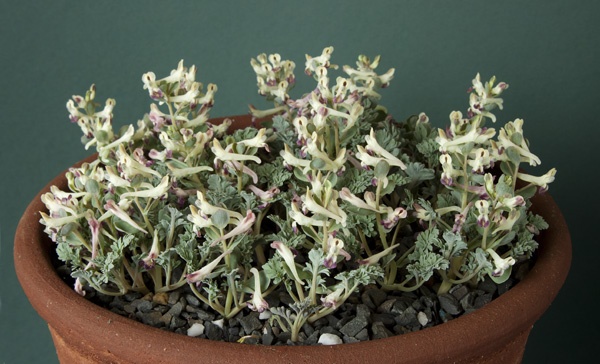 The other runner up, also receiveing a certificate of merit, was a pan of Corydalis darwasica was so compact and floriferous plant that it had obviously enjoyed the cold start to the year, as well as the skilled attention of Bob and Rannveig Wallis who staged this and several other prize specimens, mainly of Corydalis and spring bulbs, thus accruing most first prize points in the Open Section and winning the Bluebell Trophy.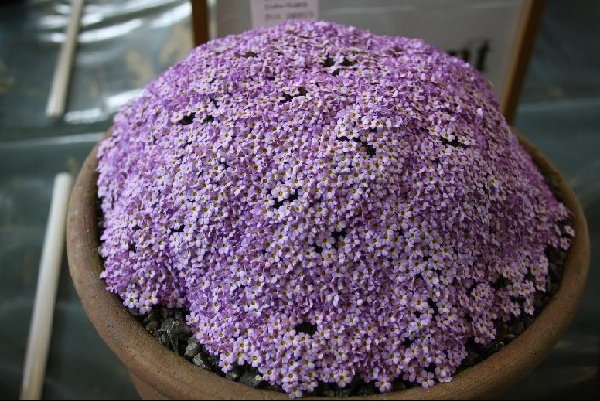 The Farrer Medal for the best plant in the show was chosen from three plants all worthy of this accolade and was awarded to a substantial plant of Dionysia curviflora, evenly covered in flowers. A few years ago a 15cm plant of D. curviflora would have been considered a large one, now Nigel Fuller brought along one twice that size and in full flower.
The small six pan class in the Open Section had three entries, each containing an interesting and wide array of species. The AGS Medal was won by Paul and Gill Ranson with pans of red Hepatica japonica, Callianthemum anemonoides, pink Cyclamen coum, pewter leaf group, two yellow dionysias, D. tomeanum and D. tapetoides and Primula allionii variety 'Aries Violet'.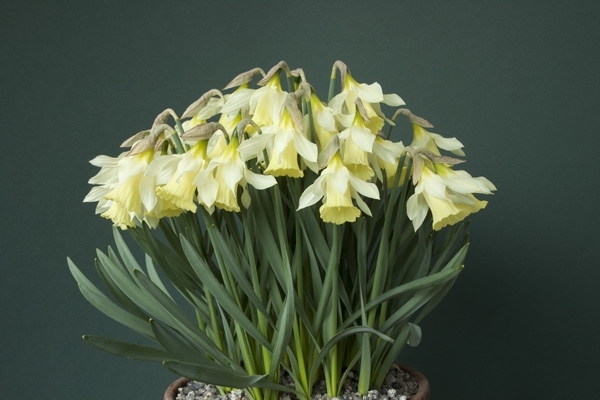 The best plant in the 19cm pot (Northdown Trophy) was to be found in this class (48), a pan full of creamy white Narcissus alpestris grown by Ian Robertson.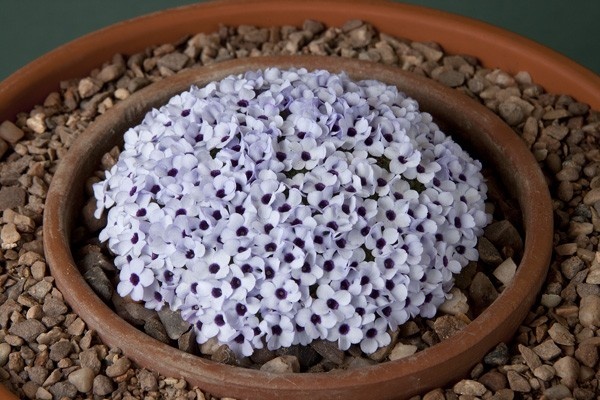 The best plant in the seed sown classes, which is awarded the AGS Seed Distribution Award, was raised and exhibited by John Dixon, Dionysia afghanica, a lovely colour form of this temperamental species The dark eyes of its substantial flowers were deep purple blue giving its pale petals a slightly bluish tinge.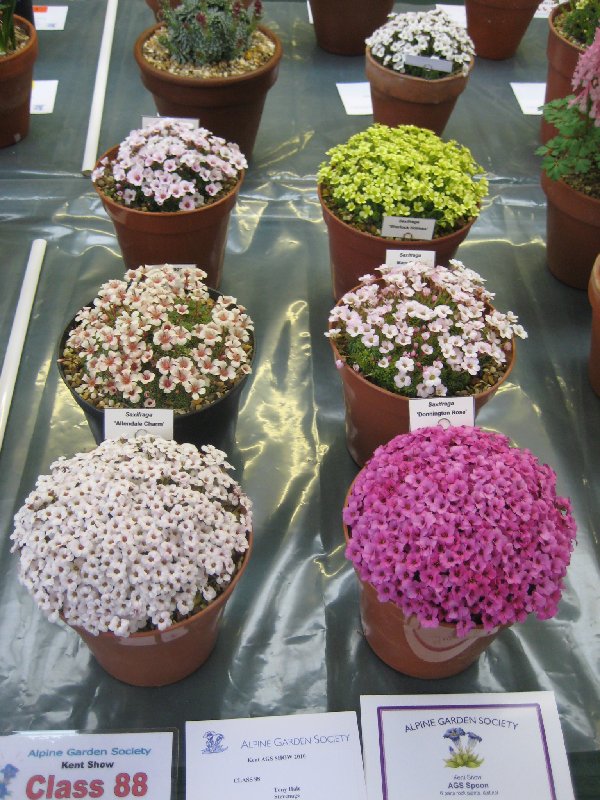 Tony Hale was on a winning streak, his entry in class 88 , six rock plants distinct, won him a AGS Spoon as well as helping him to accrue most first prize points in the Intermediate Section and winning the Jean Elliott Trophy.
The Longfield Trophy, awarded for the best plant in the Intermediate Section, went to Tecophilea cyanocrocus leichtlinii benched by Peter Jacob.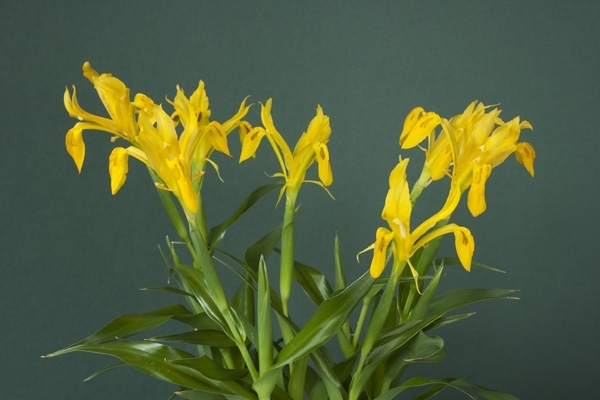 The Invicta Trophy for the best plant in the Novice Section was anything but a novice achievement. The judges unanimously voted Colin Rogers's splendid pan of Iris bucharica 'Sanglok', a muted yellow, dare I call it mustard coloured, cultivar.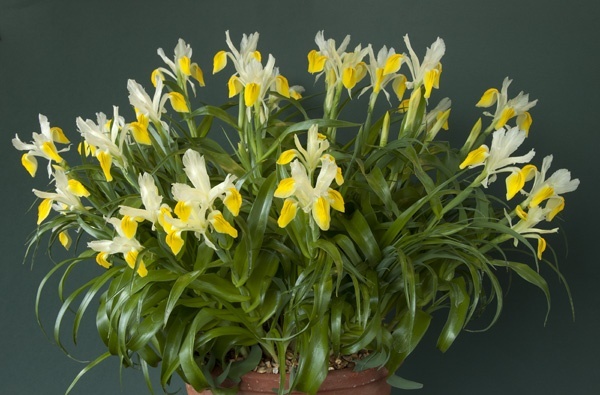 A certificate of merit was awarded to a magnificient plant of Iris bucharica, shown by Kit Strange
Another certificate of merit was awarded to the rarely seen Oresitrophe rupifraga, shown by Robin White of Blackthorn Nursery.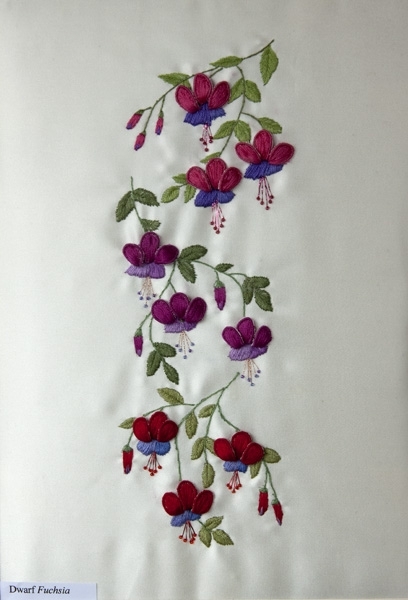 The Artistic Section has was well supported with a wide range of images of plants in the wild, in cultivation, manipulated images, needlework and paintings. This piece of needlework of a dwarf Fuschia was awarded a certificate of merit, shown by Jean Morris
All credit must be given to David and his sturdy team of assistants for organising the show so apparently effortlessly. The number of plants benched was large, many of pans in the Open Section were heavyweight and there were quite a number of late entries to deal with and fit on the bench.
Anna-Liisa Sheader