Kendal AGS/SRGC Show, 2016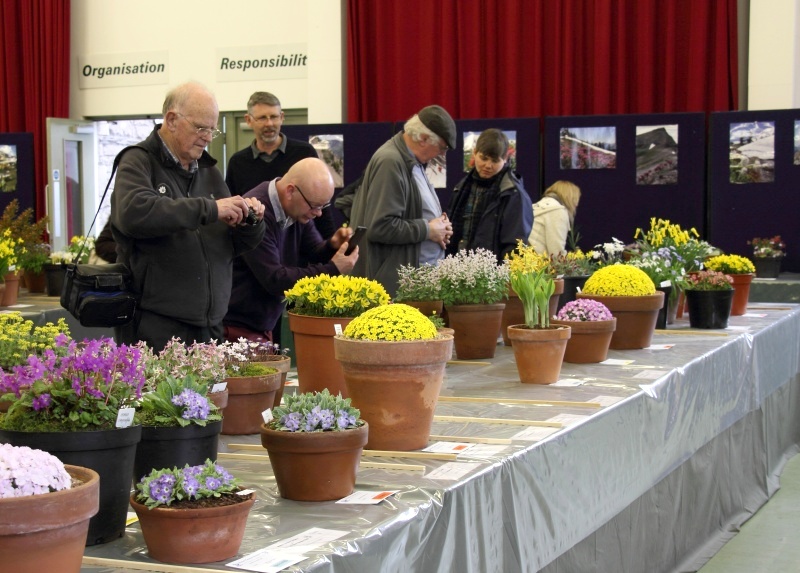 The benches weren't exactly creaking but an excellent entry of plants from 62 exhibitors ensured that the public were suitably entertained. They came in good numbers once again, ensuring that Kendal remains one of the most popular shows on the circuit. Numerous images of alpine plants lined the perimeter of the show, courtesy of photographers from the local (North Lancashire) group, providing the perfect backdrop for the plants.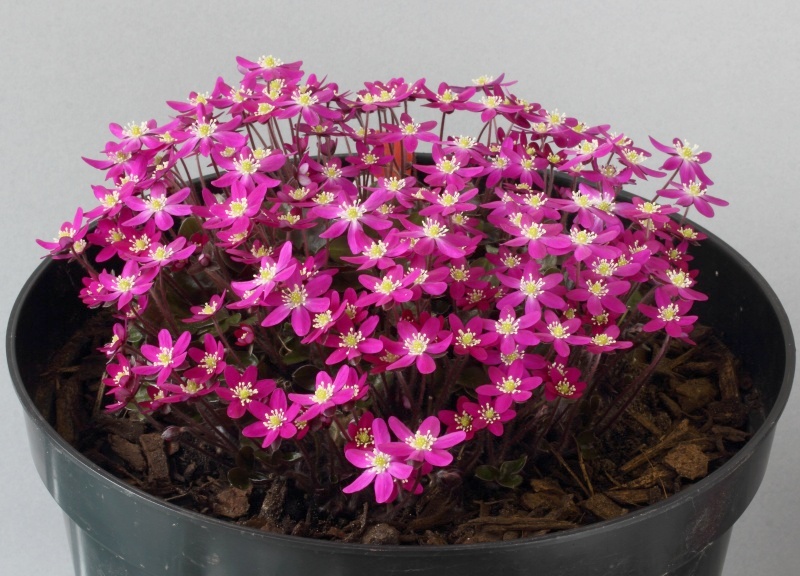 The premier award – a Farrer medal this year under AGS rules - went to a well flowered pan of Hepatica nobilis var. japonica 'Gyousei' shown by Brian and Shelagh Smethurst. The plant had been passed to them some four years previously and is clearly now in very capable hands, grown in a shaded frame for the late spring through to autumn period.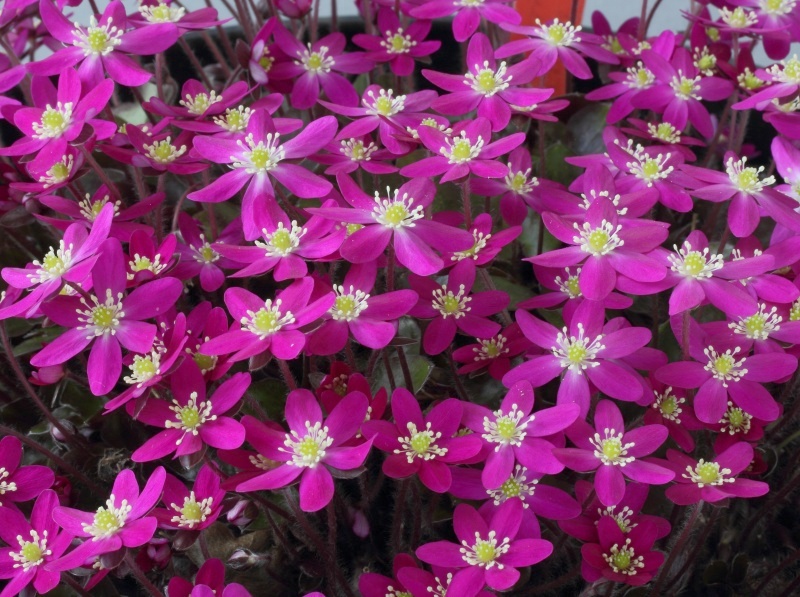 A friable mix of John Innes no. 3, leaf-mould, bark and grit is used when repotting. The timing of this operation is a movable feast for the genus, with September the preferred month. The pan then resides in the alpine house until flowering, with an annual, late winter addition of a blood, fish and bonemeal topdressing helping to ensure the generous display of flowers.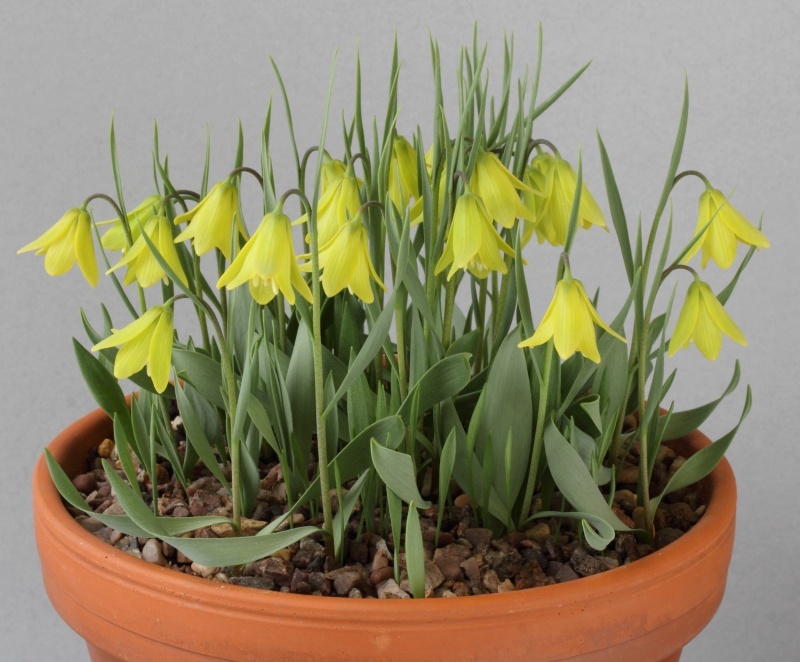 Don Peace was the clear winner of the Hollet Trophy after all the first prize points in the Open Section were aggregated. Success in the small six-pan AGS medal class provides a useful bounty of points in this respect and his entry contained some noteworthy plants. These included an attractive clone of Fritillaria carica [below] which was voted the best plant in a 19cm pot and received the Duncan Lowe award. Don acquired his initial stock, comprising a few bulbs, over 10 years ago and it has bulked up well over the years from rice grains, which are freely produced annually. The Dutch grower he obtained them from called the stock 'Mike Salmon's yellow' but this may be just a personal reference. Don's standard Fritillaria regime is deployed: viz. a compost of two parts John Innes no. 3 to one part grit. Generously watered when in full growth, the pot is later allowed to dry out as soon as the foliage starts to go over. The compost is kept dry until repotting takes place in early September, when the pot is returned to a moist plunge. This allows sufficient moisture to pass through the sides of the clay pot and initiate root growth. The pot itself is not watered until top growth is apparent in late winter.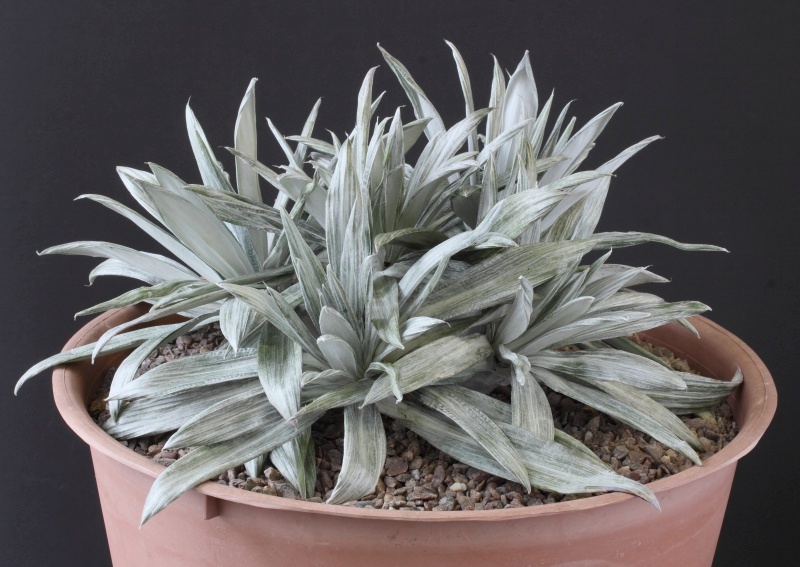 The Kirby Cup, awarded to the best foliage plant in the show, went to a large pan of Celmisia semi-cordata grown by Alan Furness in his customary accomplished manner. With in excess of 40 species and forms growing unprotected in his Northumberland garden, there is no shortage of show contenders. Potted plants fare best in an open plunge all year, protection only provided at flowering time if the plant is destined for the show bench. The plunge is sited in an open, well-lit and breezy aspect (they dislike shade). With their deep root system, celmisias benefit from large pots or long toms and a compost of 50% loam, 20% composted bark and 30% coarse grit is advocated. A trio of other Celmisias (C. monroi, C. gracilenta and C. sessiliflora) was also awarded first prize in the class for three rock plants, all requiring the same cultural conditions. The educational information provided was surely a source of inspiration to exhibitors and public alike.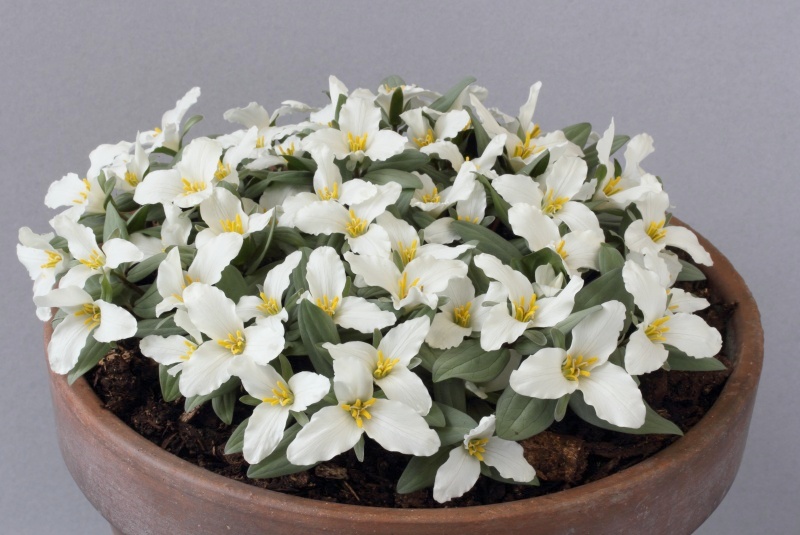 I singled out two eye-catching plants from the large Open Section. There is no rapid means of fast-tracking Trillium nivale up to large pan size. Increase is inevitably slow, especially during the early years. Barry Winter was gifted a single tuber in 2008 and then progressed through a succession of small pots. Alpine house treatment and a potting mix of two parts grit, two parts John Innes no. 2 plus one part sand and one part leaf-mould, were the recipe for steady increase. At last year's Kendal 2015 show it filled a 19cm pan and thereafter a move into a larger container served notice that contention for major honours beckoned. A Certificate of Merit was duly awarded.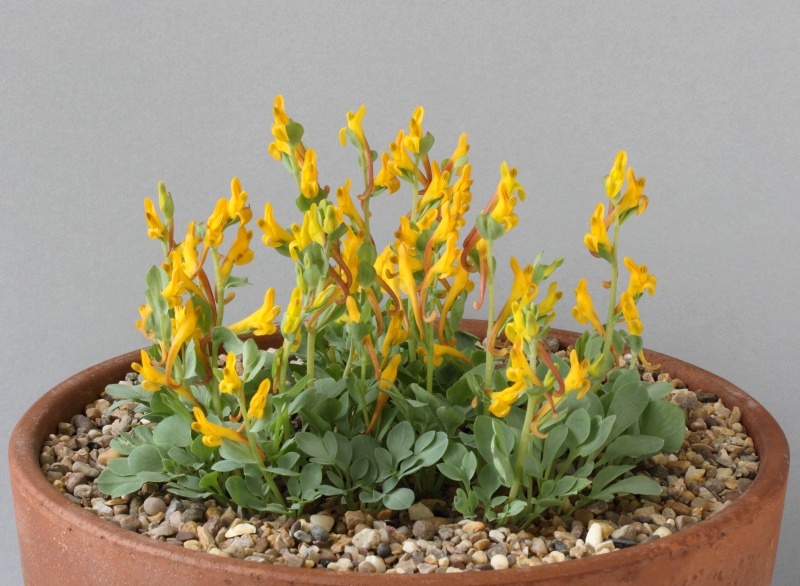 Peter Hood brought a similar-sized pan of Corydalis sewerzowii sporting compact stems of attractive, long-spurred golden yellow flowers but (unlike the above plant) this specimen was less than three years old. Five seeds had been obtained courtesy of a friend (Brian Whitton), sown in June 2013 using a 12cm pot. They all germinated and were grown on in the same container, keeping them barely moist during the summer through to the end of October 2015. No losses were incurred and the five tubers, which had grown up to 3cm in diameter, were transferred to a deep plastic pot. Top growth was observed during December and flower development was apparent the following month. Subsequently, cold weather allowed steady development of further flowers, none of which had gone over. A regime of placing the pot outdoors in good light created a display completely in character and a Certificate of Merit beckoned.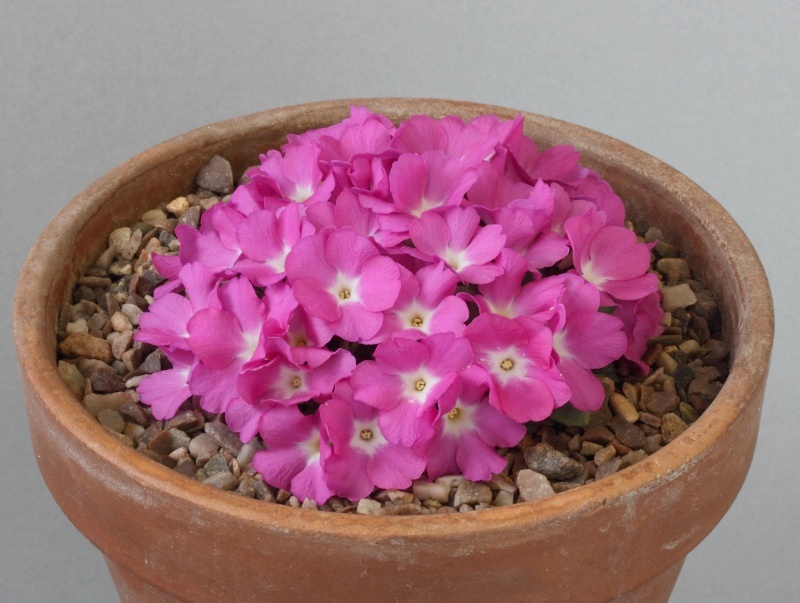 Brian Burrow's extensive breeding programme of Primula allionii forms continues to yield exciting new clones. While these are generously passed around among other growers, Brian can be depended upon to bring along perfectly presented examples of his own work. Primula allionii 'William Burrow' was raised from the parents P. allionii 'Alan Burrow' (85/5/3) and P. allionii 'Evelyn Burrow' (81/16/1). The latter is surely one of the best deep pinks to emerge, a thrum with a clean white centre and a neat habit, the flowers effortlessly and neatly forming a perfect coverage.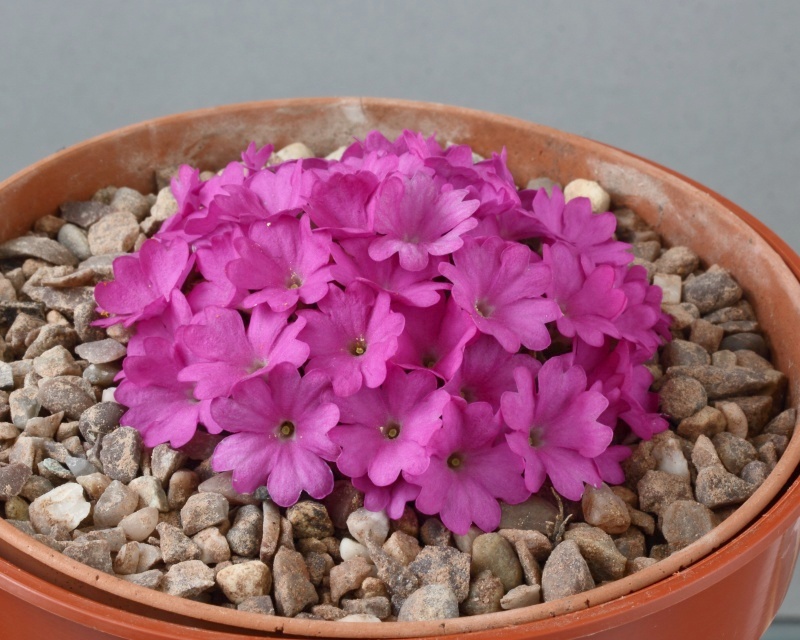 P. allionii BB 09/48/1 ('Mathew Evans a numbered seedling) featured much smaller, dark flowered pin-eyed flowers with just the merest hint of white forming a tiny star at the base of the petals. The petals flared wide open with barely any overlap, displaying a pleasing texture. Brian uses a routine mix of 60% grit, 20% composted bark plus 20% John Innes no. 1, effectively serving the demands of these plants.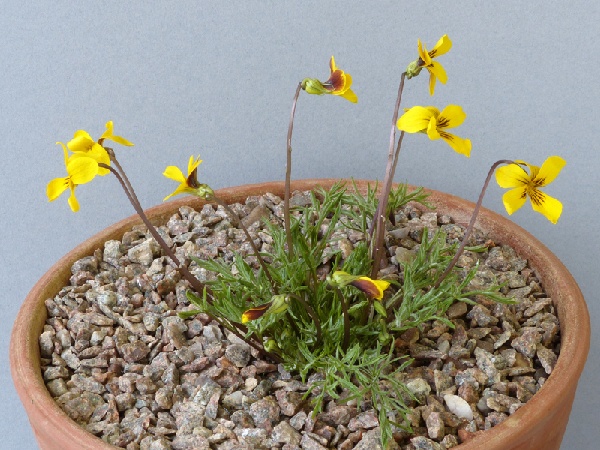 Viola douglasii is a charming, small-flowered woodland plant from Oregon and California, rarely encountered at shows. The fine specimen exhibited by George Young was selected from second generation seedlings, the original plant derived from wild-collected seed. The key to success is avoidance of disturbance to the roots at all costs: seedlings are raised in individual pots, thus avoiding the hazard of pricking out! The plant eventually produces masses of deeply delving roots which need ample accommodation and the use of 'long toms' is advised.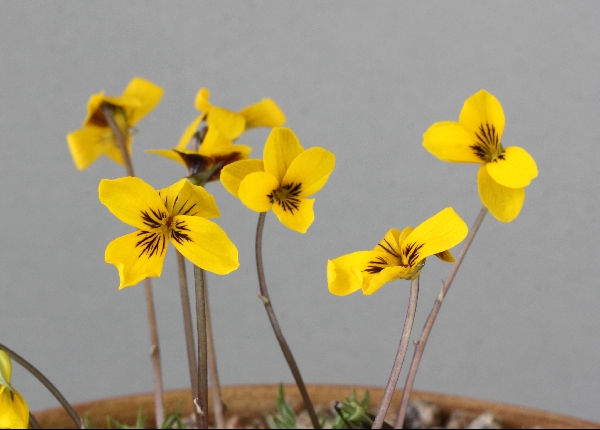 While carrying the substantial 19cm long tom pot exhibit to be photographed, I discovered roots emerging from the drainage hole, by way of confirmation. The recent prolonged cold spell has been ideal for this species which can emerge far too early in a mild winter. Grown in an alpine house plunge all year round, a growing mix of John Innes no. 2, grit and leaf-mould has proven suitable to keep the plant in character. One minor warning – when happy it can become a plunge weed!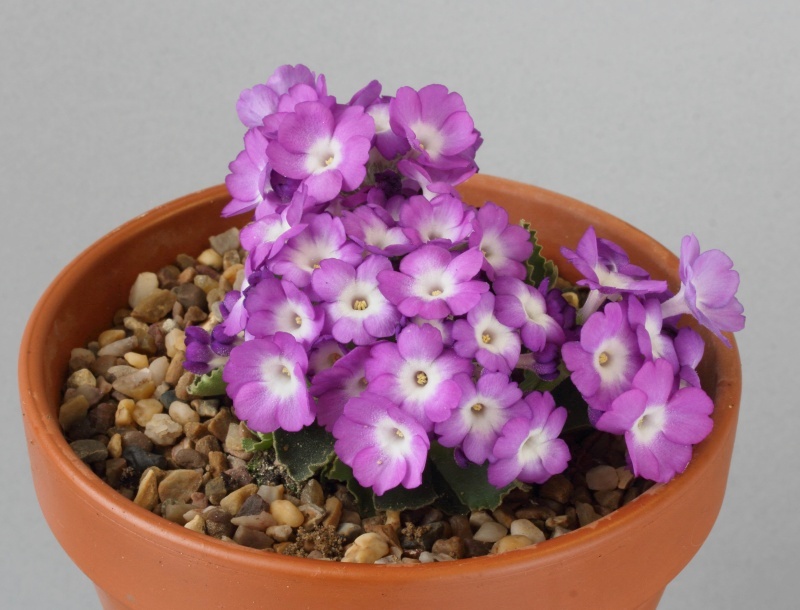 The Michael Roberts Memorial Trophy was awarded for the most first prize points in the Intermediate Section and was won by Lawrence Peet. Primula 'Joan Hughes' was one of several plants that helped him secure this.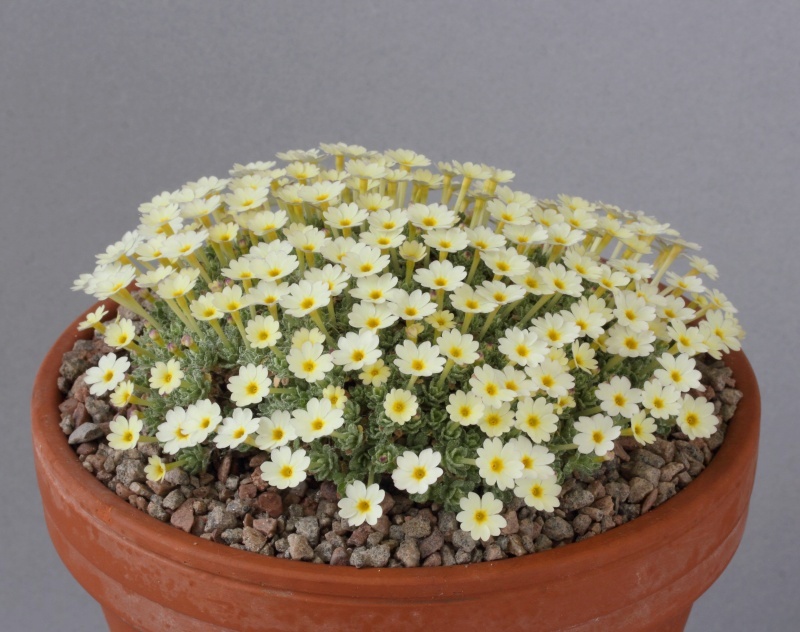 David Morris wrested the Reginald Kaye Trophy for the most first prize points in the Novice Section with a range of good plants, his favourite of which was Dionysia 'Tess'. A small plant obtained from Aberconwy Nursery five years previously had been potted on annually to reach its current 19cm size, under alpine house conditions. A mix of roughly equal parts loam-based compost, sand, grit, vermiculite and composted bark, together with a careful watering regime, had clearly kept this plant happy. As most growers will testify, Botrytis is an ever present threat and in particular, the past winter had been particularly problematic. However, by maximising natural ventilation, this plant had been relatively unaffected.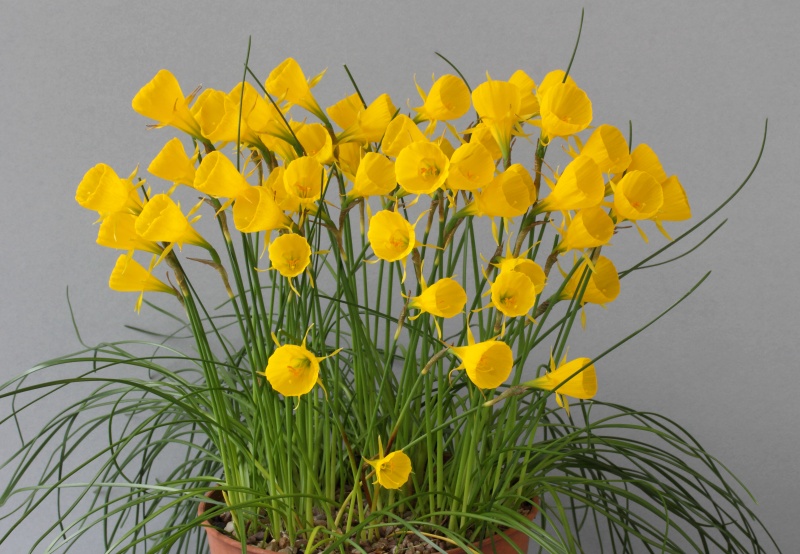 The David Mowle Trophy for the best bulbous plant in the Intermediate (2) and Novice Sections went to a fine pan of Narcissus bulbocodium grown by David and Liz Livermore. Their success hadn't come quickly, however, and it had taken a 10 year period for the initial gift of five bulbs to multiply into trophy-winning numbers and – more importantly flowering size! They resorted to a regular Chempak 4 supplementary liquid feed and a fine crop of flowers was duly produced. The pot spends the whole year unprotected outside, apart from during periods of heavy rain, when the shelter of a porch is provided.
With settled cold conditions set to continue, will the next Saturday's East Lancashire Show be a re-run of Kendal? A juno Iris (I. svetlanae), staged at Carleon by Ivor Betteridge, was still looking in fine fettle at Kendal, four weeks later!
Author: Jim Almond
Photographers: Jim Almond and Don Peace