Kendal AGS/SRGC Show, 2015
For the second year in succession, the public came in droves to enjoy the alpine delights on offer at the recently relocated Kendal Show. Plant sales, a well-entered Artistic Section and numerous fine exhibits kept everyone occupied! Spring seems to have been a long time coming but despite the cold wind, temperatures had slowly risen and the wide range of primulas, saxifrages, hepaticas and bulbous plants were testimony to this. It was a splendid mix of the familiar, some newcomers and a few plants little-seen in recent years.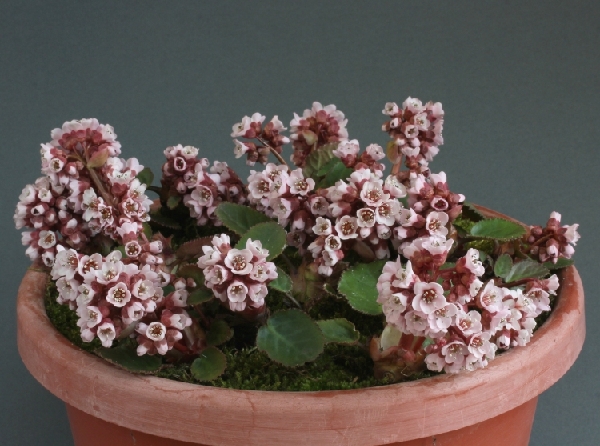 A case in point was Bergenia ciliata 'Patricia Furness' which has remained tucked up in the Northumberland garden of Alan Furness for some years now, due to its early flowering habit in milder winters. This delightful clone, which is notable for its diminutive stature, deep pink stems and calyces, is surely the best of its kind. Alan simply lifts and pots up a plant from the garden if flower bud production seems likely to synchronise with a show. The flowers and emerging leaves are vulnerable to frost (affected plants will subsequently recover) so protection is essential prior to a show. It has proved to be a reliable plant otherwise, best planted in dappled shade, where extra protection from trees and shrubs is provided.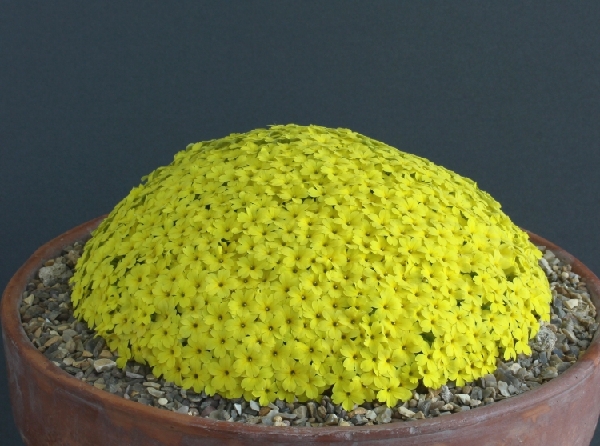 Dionysia aretioides is one of those familiar alpine house plants that growers 'cut their teeth on' before seeking out more challenging species. It is, however, an exemplary species to persevere with and, when well grown well, likely to be in the hunt for honours. The large yellow dome exhibited by Frank and Barbara Hoyle was awarded the Forrest Medal. This seems to becoming a habit for them, following on from their success the previous year and even sweeter in that this particular clone was raised from their own seed. Grown in a standard Dionysia mix, a long soak of the pan in water during January provides a wake-up call for the flower buds, which had clearly responded magnificently!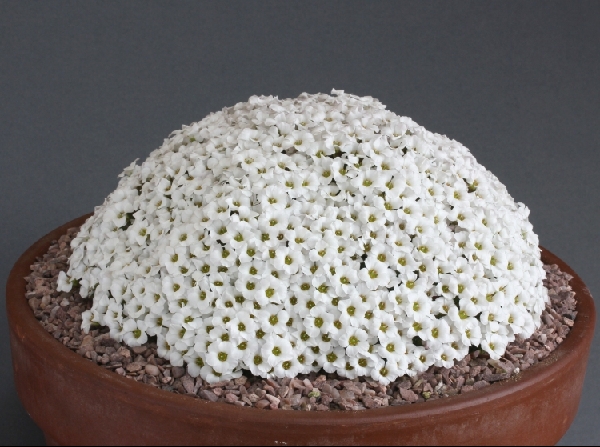 Saxifraga 'Allendale Ghost', (S. ramsarica SEP 549 x S. poluniniana) reliably produces good coverage of the cushion with its abundant pure white flowers. Tommy Anderson has specialised in the genus for many years to good effect but it still requires patience and skill to deliver a perfect pan to Certificate of Merit standard. The annual repot with a mix of two parts John Innes no. 1, two parts grit, one part perlite and one part sharp sand is used to keep the plant in good health and vigour. An occasional feed of weak tomato fertiliser appears to do no harm where flower production is concerned.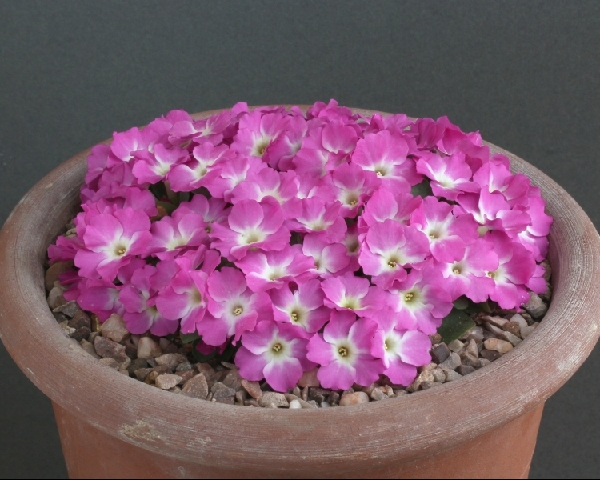 The Primula allionii classes are amongst the most keenly contested at this time of year with many of the forms and cultivars having superficially similar flowers. How refreshing to see a form which is instantly recognisable. Primula allionii 'Judy Burrow', raised and shown by Brian Burrow, ticks all the boxes for exemplars of this species. It is not at all miffy, has a medium speed of growth and routinely covers its cushion with flowers. With each petal having a white flash at the edge, you have something really special indeed. It remains one of Brian's favourites too, grown in his routine mix of 60% grit, 20% composted bark plus 20% John Innes no. 1. With young plants, plastic pots (3-5") are best but for larger specimens, clay pots are recommended. Brian stands these on moist grit all year round.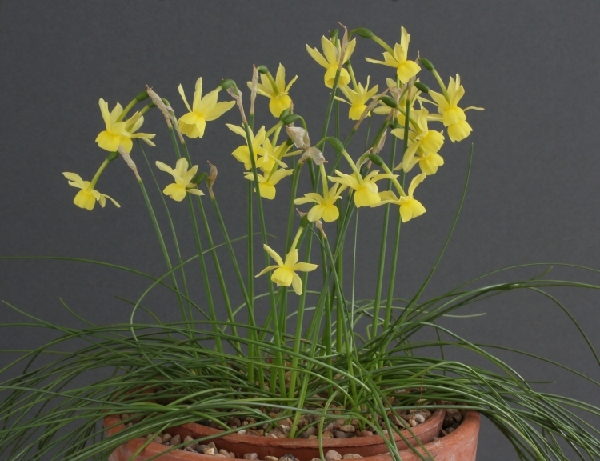 Anne Wright can always be relied upon to bring some well-grown and novel Narcissus to the spring shows and this occasion was no exception. Standing proud among the many diminutive offerings on the bench, Narcissus x incurvicericus caught my eye for its elegance and poise. It is a natural hybrid between N. fernandesii and N. triandrus (as subsp. pallidulus), bearing 1-3 lemon yellow flowers per stem, each with a long tube, a short parallel-sided corona and a backswept perianth tube. It grows to about 20-25cm high, the flowers rising erect above the lax leaves.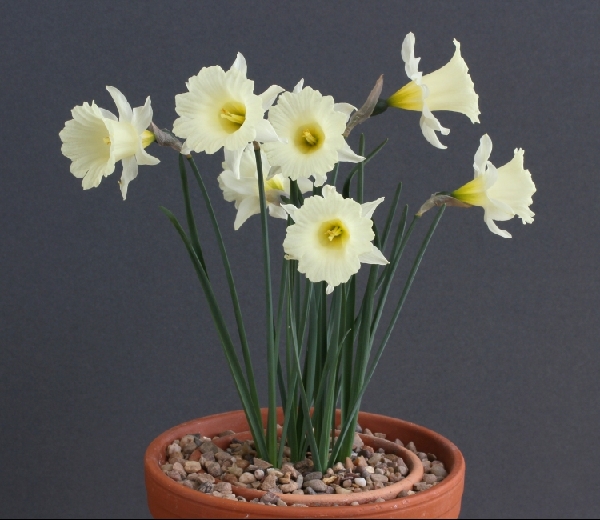 One of the most striking exhibits at the show, however, was her Narcissus 'Trumpet Voluntary' (awaiting confirmation and registration of its provisional name). Whether you love it or hate it (it does divide opinion!) it is difficult to ignore and the word flamboyant springs to mind. Raised from AGS exchange seed of Narcissus eugeniae in 2001/2 it was one of two seedlings that appeared. The first flowering revealed a creamy white flower with a fancy, flanged corona. Growing to about 20cm it has proved to be a sterile hybrid, the other parent unknown. The name was chosen after the baroque music – Trumpet Voluntary – it is all about the trumpet and a volunteer (rogue) seedling. How appropriate! Both dwarf daffodils are readily grown in Anne's bulb house, in her usual open bulb compost, dried off in the summer and repotted every year.
The Duncan Lowe award for the best plant in a 19cm pot was awarded to a fine specimen of Fritillaria gibbosa shown by Cyril Lafong. This was raised from seed sown in September 2004 that germinated later that year and was pricked out during dormancy in the summer of 2006. Since that time, it has been repotted annually in a clay pot during November, using a very gritty compost (equal parts of John Innes no. 3 and 4mm grit); the bulbs are then immediately watered in. Grown in a sand plunge in the alpine house, the pots are given full sun and, once the leaves appear, a half-strength high potash feed once every week or fortnight. After flowering, once the leaves begin to yellow, water is withdrawn completely and dormancy, the pot is kept under the staging unwatered until repotting time.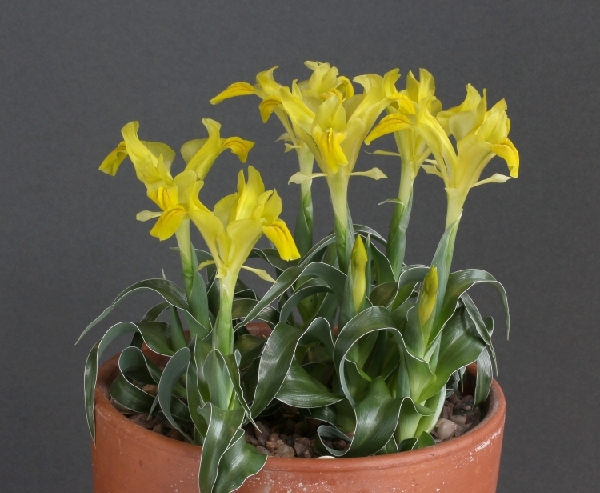 A further Certificate of Merit was awarded to another excellent bulbous plant shown by Ivor Betteridge. His specimen of Iris svetlanae began life as a single bulb from Paul Christian. Ivor's cultivation regime religiously follows the gospel according to Tony Hall. The AGS Bulletin of September 1998 (vol. 66, no. 3) makes compelling reading. A key strategy deployed at the autumn repotting time is to ensure the roots of the bulbs are encased in a very gritty John Innes no. 3/grit mix; 100% grit is then used to top up the pot and ensure free drainage around the crown. Juno Iris are greedy feeders and high potash liquid food is also used throughout the growing season to promote flowers for the following season.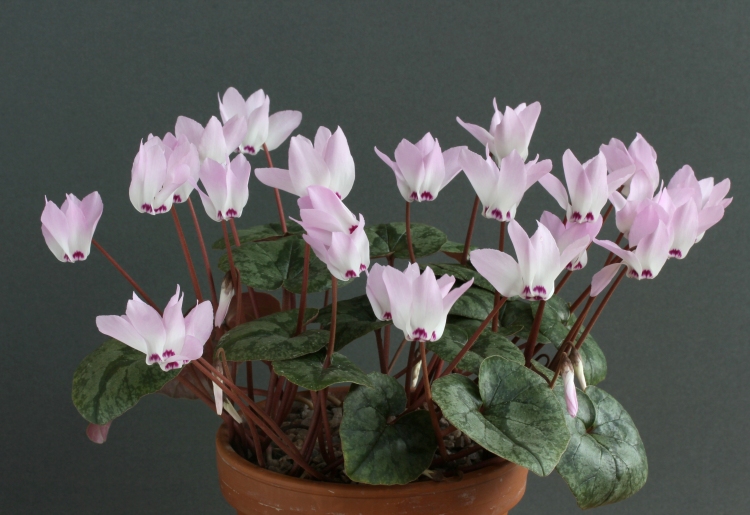 Bob Worsley took the Michael Roberts Memorial Trophy for the most first prize points in the Intermediate section plus the David Mowle Trophy for the best bulbous plant in the Intermediate and Novice sections. Under SRGC rules, it was possible to consider his Cyclamen libanoticum for this new award. He finds this species requires less watering than others he grows and enjoys conditions optimal for a Hepatica collection. Supplementary high potash liquid feeding is carried out throughout the growing season, a practise many successful exhibitors appear to have in common.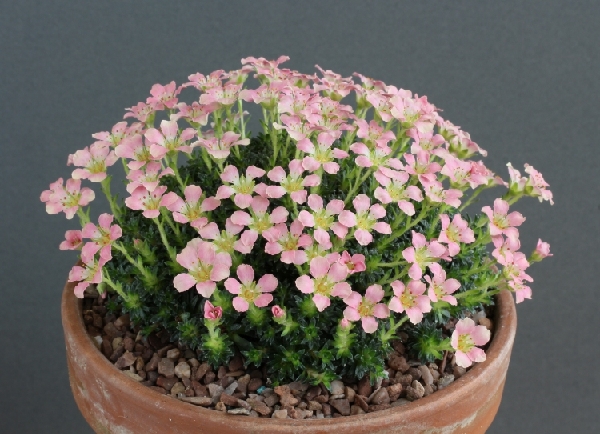 A 'well done' too for David Morris, taking the Reginald Kaye Trophy for most first prize points in the Novice Section. Also, Ann Kitchen was awarded a Gold Award for her display of 'Orchids of South Lakeland'. This venue in only its second year continues to draw in the crowds. There were in fact over 300 non-members through the door. In truth it was a bit of a scrum at times, trying to remove exhibits for the purposes of photography. But long may this minor inconvenience continue! [Photo: David Morris' Saxifraga 'Peach Melba']
Author: Jim Almond
Photographer: Jim Almond