Kendal AGS/SRGC Show, 2014
Exhibitors reliably make considerable efforts to support a new Show, so that the secretary, Alan Oatway, was able to welcome a large number of visitors who travelled from many parts of the British Isles. In particular, a notable clutch of leading Scottish growers rallied to support this joint AGS/SRGC Show. The fact that Kendal is an hour's drive closer to the border than Blackpool may not have gone unnoticed.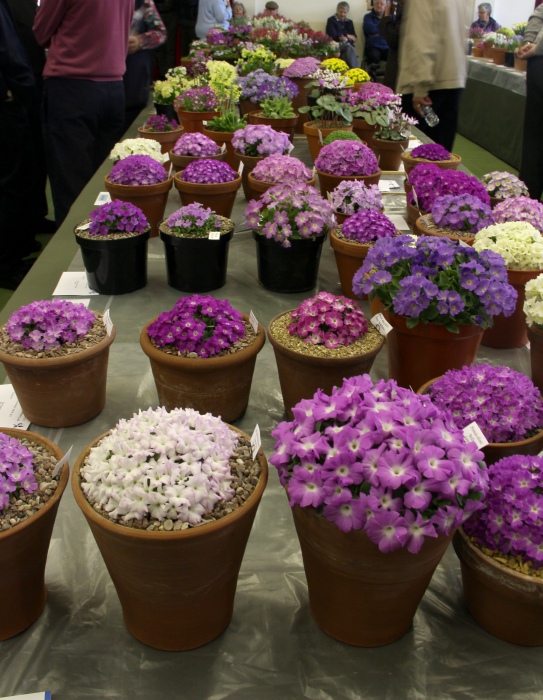 Concerns have been expressed that many shows have suffered poor attendance figures from the general public in recent years, to the detriment of recruitment, local and national budgets, and to the displeasure of our supporters from the trade. It seems likely that there are two main drivers which influence attendance; local publicity, and the location of the Show. After all, a visit to a Show is a 'day out', and such events are far more likely to enjoy support when situated in a congenial location. As a pleasant small town with many tourist facilities on the edge of the Lake District, Kendal ticks many such boxes, and it was clear that the Show Committee had worked hard to attract local support. It is good news that both the shows I have attended so far this year (Loughborough and Kendal) have been graced by large entries of a very high standard, and have also welcomed large numbers of visitors.
Every new show encounters various problems, but most had been overcome efficiently. Exhibitors' parking in a very convenient 'inner sanctum' was keenly contested by women hockey players at one stage, unnecessarily so for there is ample parking elsewhere on site.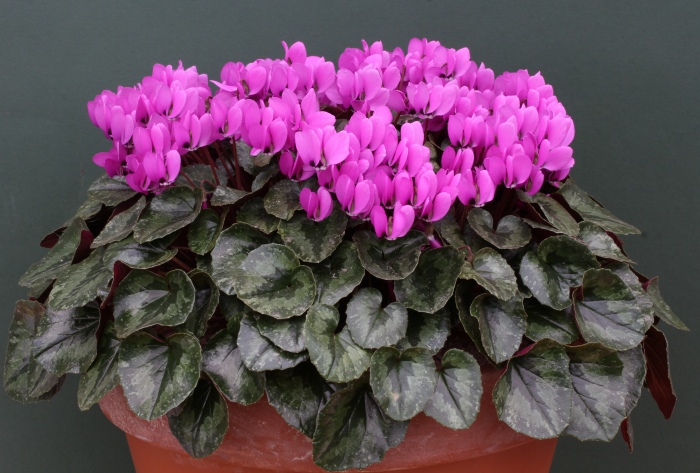 The Farrer Medal went to Frank Hoyle for the finest example of Cyclamen pseudibericum I have ever witnessed on a show bench. This mound-forming example, with a growth-habit reminiscent of a magnified C. coum, originated from the renowned stable of Mike & Christine Brown who had transferred its ownership six years previously, issuing the instruction that it should continue to be exhibited. Three years ago, after it had received a Certificate of Merit, it was transferred to its final home, at the pot-size limit for exhibition (36 cm diameter).
The corm rests on a compost of sterilised garden soil and bracken mould and is top-dressed with grit and perlite. As the leaves start to appear in winter it is fed with a dilute solution of seaweed extract: the first flowers open in February. During this period it is kept frost-free, under cold glass. The display can remain in prime condition for a number of weeks as successive flowers open. As the foliage dies down in late spring, the pot is placed under the bench in a cool spot, and direct watering is mostly withheld, but the plunge is kept just moist.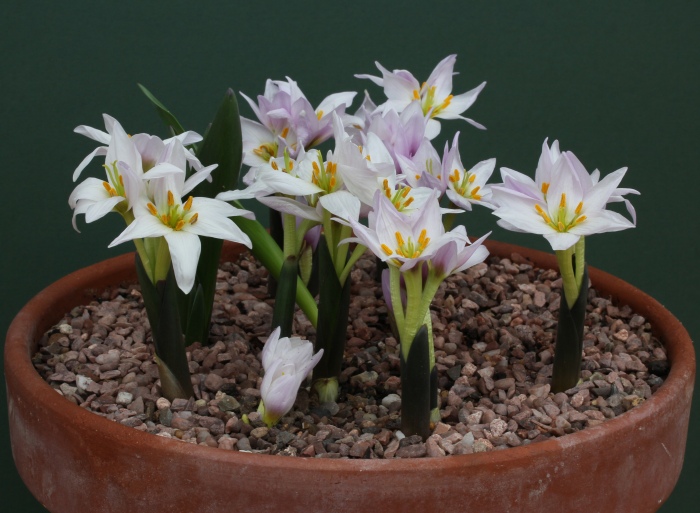 Colchicum szovitsii is one of the finest of the dwarf spring-flowering species, and is notably variable. Diane Clement grows several forms, keeping her favourite panfuls in a domestic refrigerator from November to February, so that they delay flowering until the show season. Once in growth, all are given plenty of water, as befits a snowmelt-blooming species. Post-flowering they are gradually dried out, before repotting takes place in September. At flowering, the dark leaden sheaths contrast very efectively with the pink, fading to white, clusters of 2-4 flowers.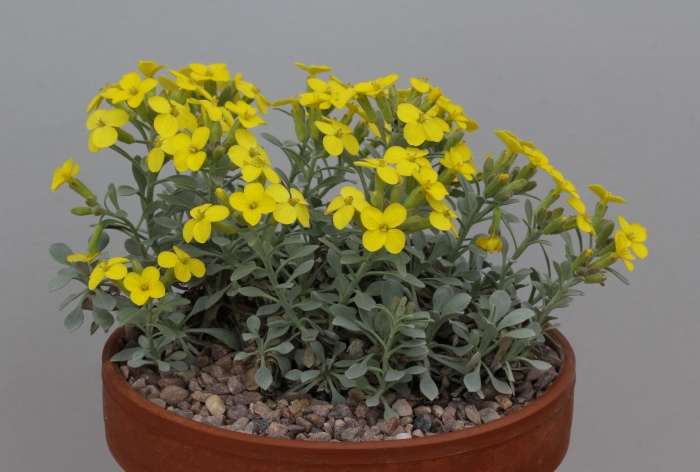 Like the more familiar Degenia velebitica (which it resembles quite closely), Fibigia triquetra is a silver-leaved, lemon-flowered member of the Brassicaceae from limestone crevices in Croatia's Dalmatian coast range. In seed, its true allegiance is shown by the flat, oval, grey-green fruits. Ivor Bettridge received a propagant as a gift from Rod & Shirley Johnson two years previously, and has nurtured what is palpably an attractive exhibit, flowering earlier than most of its relatives.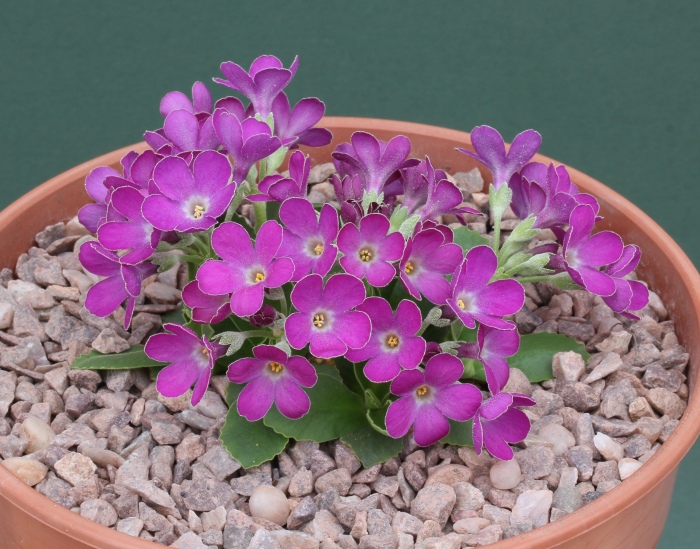 Primula 'Ellen Page' is notably distinct at a time of year when we are rather overwhelmed by European Primula hybrids. The dusky plum-purple flowers have a very narrow pale rim and no 'eye'. A gift from Dave Philbey, this seedling of 'Beamish', crossed with a P. x pubescens clone, has no P. allionii in its ancestry, which Brian Burrow finds useful at these early Shows.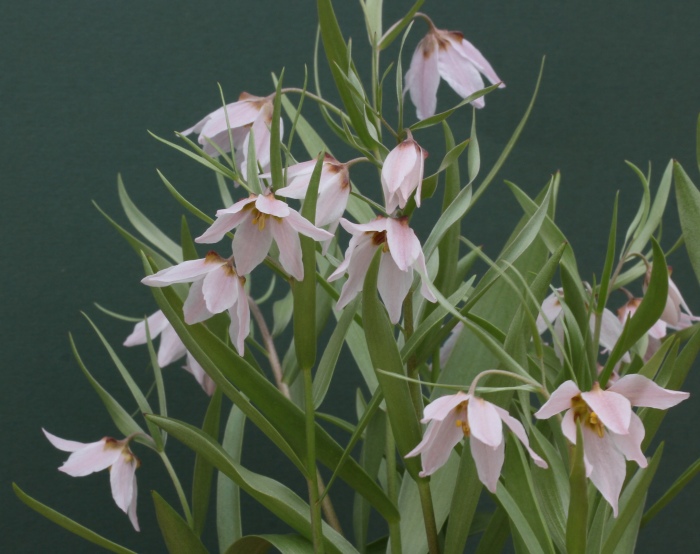 A more recent hybrid has been raised by Don Peace. He has been experimenting with Fritillaria hybridisation for some years, this being a genus in which hybrids are relatively little-known. A pan of F. ariana x bucharica was flowering for the first time from seed sown in 2007, and the many seedlings were both surprisingly uniform, and plainly intermediate between the two attractive parents. Don has four potfuls of this cross, so we may hope that it will receive some limited distribution in years to come. It was shown as part of a fine exhibit of three fritillarias, all grown from seed, the others being F. carica and F. aurea.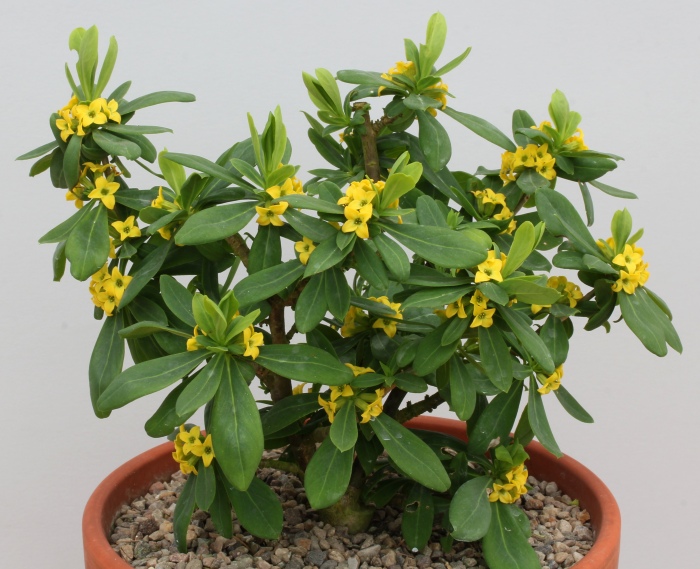 Yellow daphnes are very fashionable, particularly the Chinese species. The early-flowering D. jezoensis comes from woodlands in northern Japan however, and has been scarce, but ever-present in cultivation since its introduction by Hugo Money-Coutts 50 years ago. Cyril Lafong says that it has the alarming habit of defoliating in the summer, when it must be kept cool and moist. Seed is sometimes set, but most available plants have been raised from grafts, for which scion material is produced only sparingly.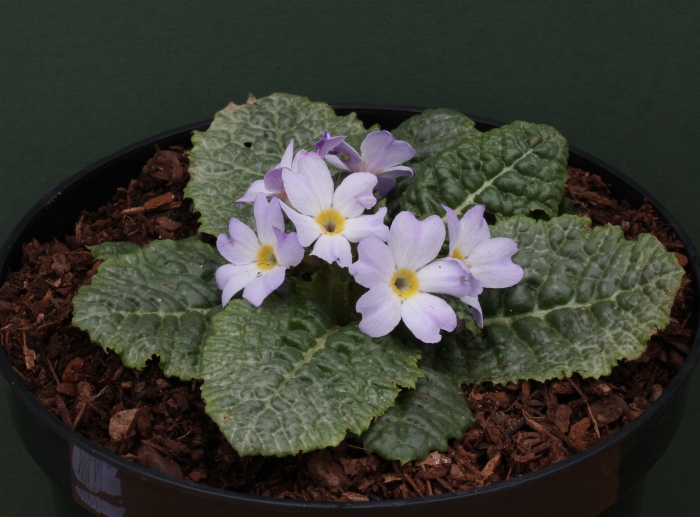 Mystery surrounds the correct identity of two primulas shown by the Edinburgh-based nurseryman David Rankin. Originating from material sourced at 3,800m by Mikinori Ogisu on the Bao Xing Shan in Sichuan, these garden-raised seedlings showed some variability in flower colour, the most striking being a deep blue-purple. The leathery, round leaves are strongly bullate and hairless above. Clearly a member of the tender Section Davidii, these are not P. davidii as shown, but do not seem to answer the description of any known species. Their closest relative may be P. epilosa from the nearby Emei Shan, which has been equated with P. odontocalyx, but may be distinct: that species, although similar, has paler less leathery leaves.
Author: John Richards
Photographer: Jim Almond