Harlow Carr AGS Show, 2016
In 2015, best in show at two of the four autumn fixtures went to a Cyclamen. The year before, the genus made a clean sweep at all four. It's easy to see why this should be the case: they flower for weeks on end and (if really well grown) profusely; they have a dedicated following, with a specialist society devoted to their cause; corms upwards of 20 years old adorn various exhibitors' collections and demonstrate relentless improvement; charm, elegance and perfection of flower and often foliage too are their hallmarks.
But just as novelist Jeanette Winterson observed that 'oranges are not the only fruit', equally it is true that many first-rate autumn-flowering plants other than Cyclamen are eminently suitable for rock gardens and the alpine house. The last two shows of the season, held in a bipartite hall with picture windows overlooking the resplendently autumn-tinted RHS Garden at Harlow Carr, and a week later down in Kent at Sutton Valence, both hammered home this point.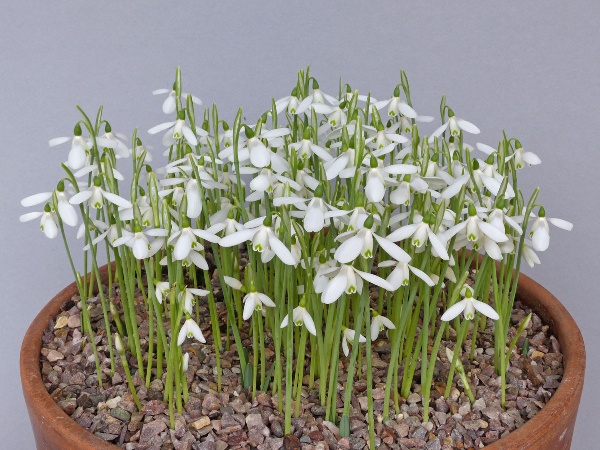 It is almost 20 years since Bob & Rannveig Wallis staged a Farrer Medal-winning stand of Galanthus peshmenii (it had only been described three years earlier, in 1994) at the onetime Horsham Show. Since then the apotheosis of the genus in cultivation has come upon us – although who can say when and if a tipping point will ever be reached, for the number of cultivars swells every year, their prices, in a few examples, having reached truly ludicrous levels? One can appreciate why some galanthophiles of long-standing proudly proclaim that they have never paid for a single bulb, having built-up their collections through swaps and via friendships alone.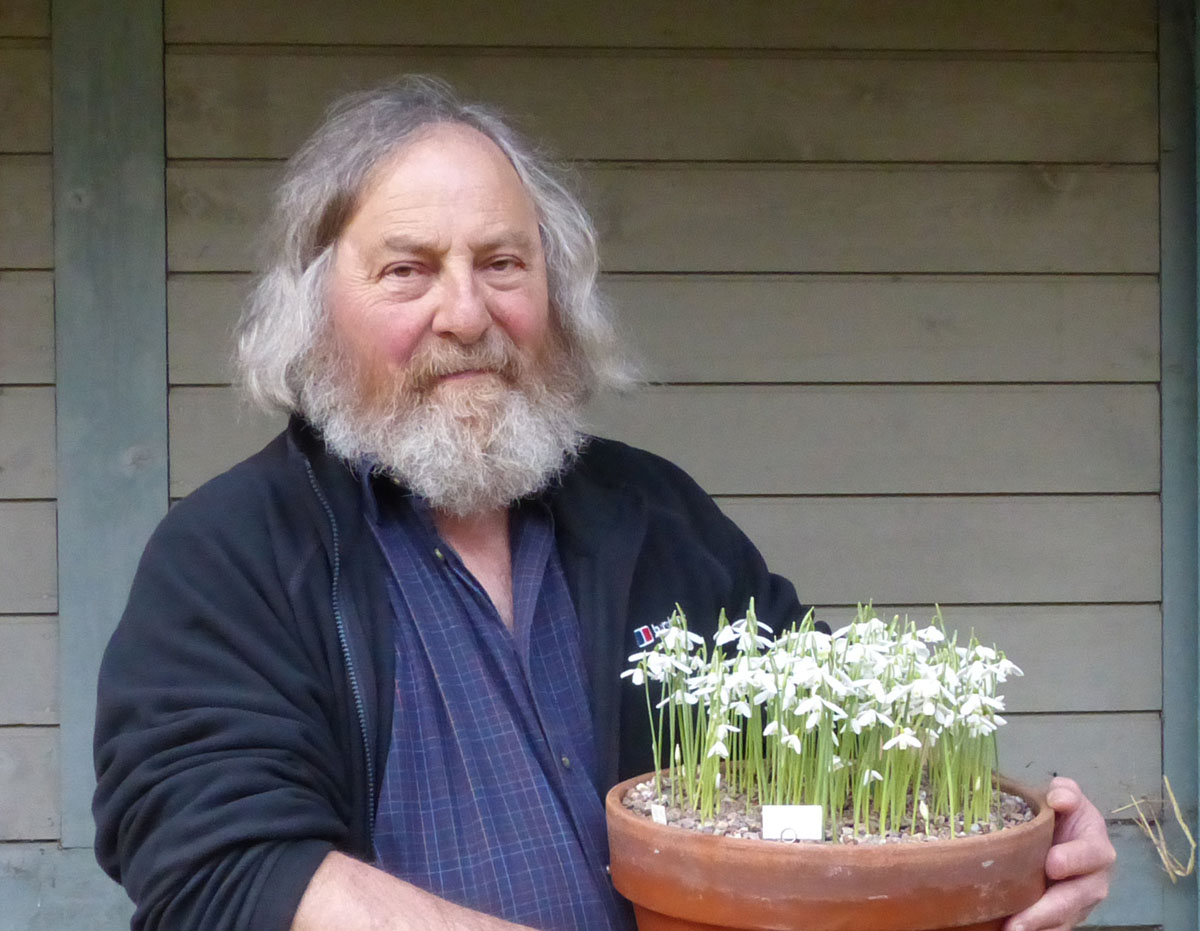 Cultivation of the very few autumnal snowdrops is a speciality within a speciality and one can safely say that Ian Kidman's truly dazzling panful of G. peshmenii was far and away the finest of its sort ever exhibited, abundantly bloomed in a manner more typical of the vernal species, and particularly resplendent late on in the afternoon, when bathed in a shaft of sepia-tinted sunshine. He received a few bulbs from Rod & Jane Leeds, who in turn had been given this clearly vigorous, free-flowering form by Michael Baron (with others, it is quite possible to pot up a cluster of good-sized bulbs in late summer yet find that they flower spasmodically). Ian had liberally doused his sizeable clump from the emergence of the first few spathes, and advises that this helps to kick-start a generous flowering. He had also made well-filled packets of dormant bulbs available, cheaply, on a plant stall only a week earlier: the uptake was feeble, whereas one imagines a stampede would have resulted at Harlow Carr!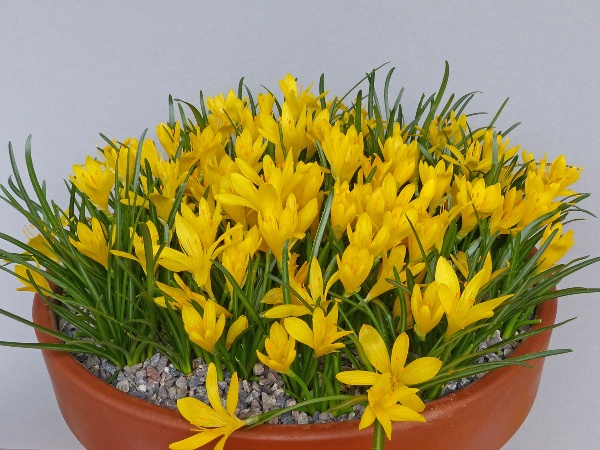 Both its rivals were brought all the way from Sussex by Lee & Julie Martin, who received the North of England Horticultural Society's Cup (the Open Section aggregate award) for their troubles. Their Sternbergia greuteriana, received from Kath Dryden as three bulbs long ago, had sideways-displayed flowers, the scapes turned almost at right angles – a typical character of this Cretan dwarf, though the size and overall shape brought to mind S. sicula – not everyone is convinced that S. greuteriana a 'good' taxon, and this was an the borderline example, leading to the 'fudge' suggestion a cultivar name should be apportioned without any specific epithet, leaving its precise affinities to one side.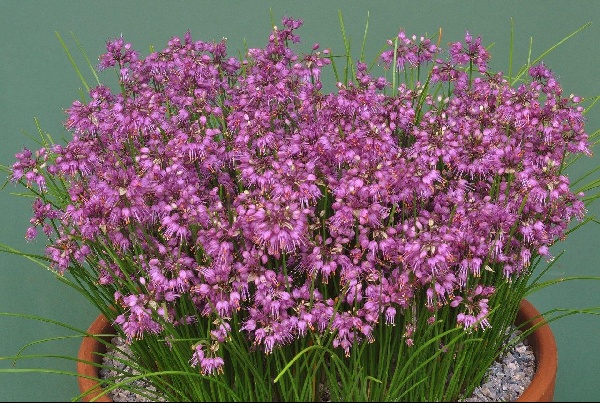 The Martins also entered a tremendous clump of the Japanese/Korean Allium thunbergii, superior in numbers, uniformity and condition to any I've witnessed over the past 40 or more years. In the way of these things, its runner-up status was largely a matter of preference, and down to the misfortune of encountering another better-than-ever-before contender. Long after the majority of dryland, NW American, western and Central Asian ornamental onions have set seed, a subsect of Chinese and Japanese counterparts takes centre stage, and delicately usher in the autumn in shades from near blue to rose-purple (an ivory white form, distributed by Jack Elliott, endures from the 1990s, and was entered the following week at the Kent Show by Ian Sharpe). An exception, the Cretan A. callimischon subsp. haemostictum has smaller, cup-shaped and upturned flowers in shuttlecock umbels of up to 25 individuals, dull pinkish but dark-spotted: Ian Instone showed two good panfuls, at the upper end of the teh 5-30cm height range.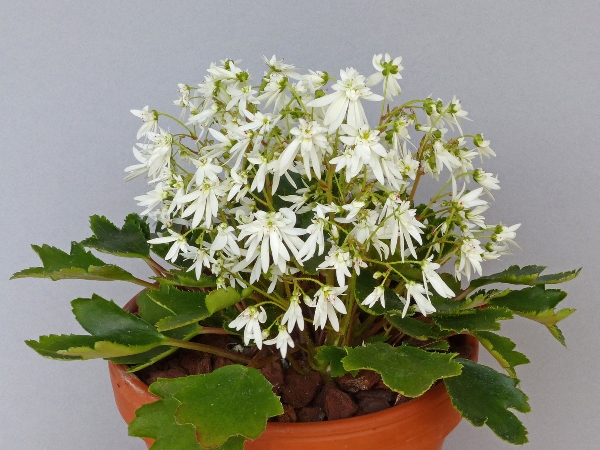 The majority of plants (certainly flowering ones) at the autumn shows are from southern Europe and the Mediterranean through to Greece or Turkey, though with some notable exceptions, just four more of them paraded here.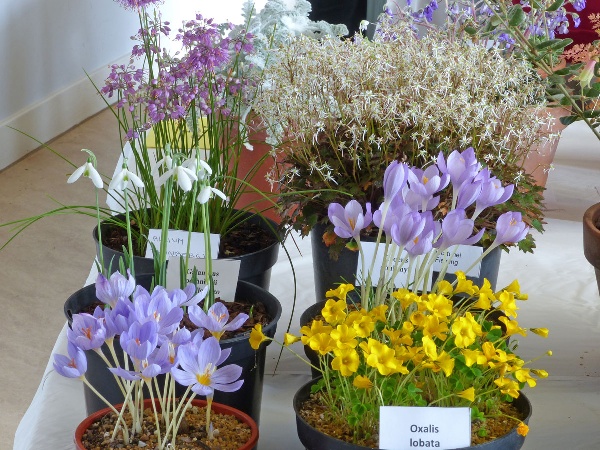 Mark Childerhouse is best known for his springtime exhibits of immaculate 'kabschia' saxifrages, but brought along a very smart, semi-double clone of Section Irregulares Saxifraga fortunei, 'Shiranami' [above], considerably showier than the more typical 'Mount Nachi'-type miniatures that helped Alan Newton to win the E.B. Anderson Prize for his Open Section small six-pan entry [left]. It flowers a fortnight or more before the bulk of the nowadays numerous other cultivars, some of these optimistically entered elsewhere in early bud.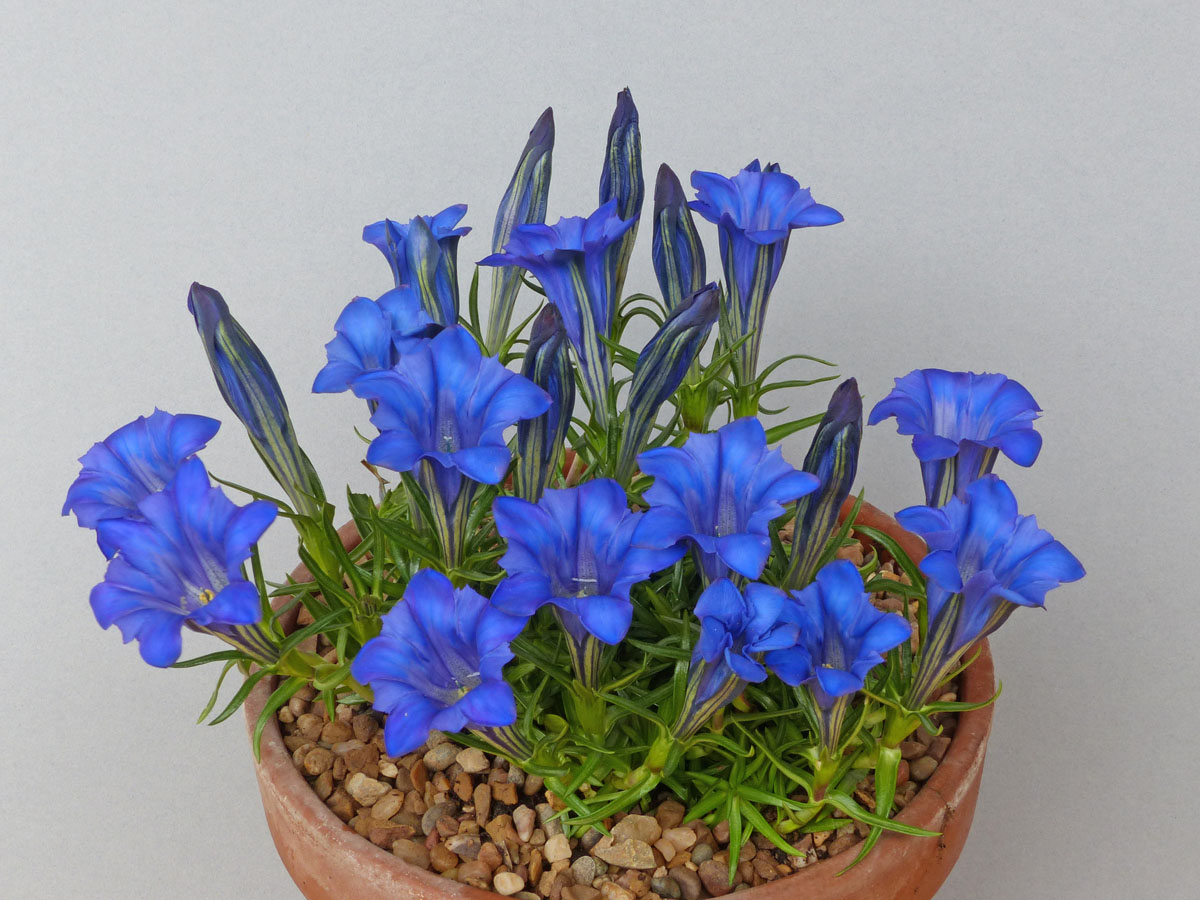 Alan has been exhibiting for many years, whereas another north country exhibitor, newcomer Dennis Brennan from Washington, received the West Riding Plate (best plant in the |Novice Section) with a very compact and floriferous Gentiana sino-ornata – or one of its many hybrids, more likely.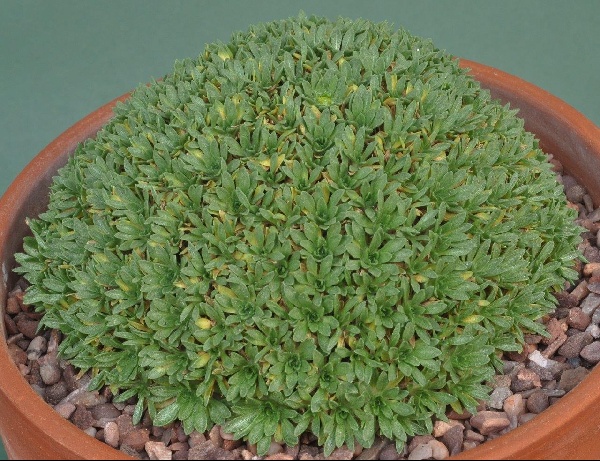 In the cushion plant classes, Trevor Whitaker's 2008 raising of Hymenoxys lapidicola from an Alplains listing was in stonkingly good condition, and trounced the dionysias, androsaces and benthamiellas that usually claim first prize. The seed had been gathered at 2,485m in Uintah County, Utah at the type locality. Housed in a deep, black 'growers pot', evidently it flowers abundantly every spring, as hinted at by the flower buds already in place.
Steve Walters, best known for his first-rate Cyclamen entries, has diversified in a minor way and turned to South Africa. A fortnight earlier his Eucomis vandermerwei received the Minera Trophy at Loughborough: this time he pushed the boundaries further still with a small hummock of Conophytum (Opthalmophyllum) praesectum, one of the 'stone plants' that often camouflage themselves by mimicking the colour of the rock type they inhabit. This, from the Pofadder area of the Cape, growing at 1,000-1,150m and as such reasonable cold hardy to c. -7C, would certainly perish outdoors in the average British garden, being summer dormant and accustomed to a very low rainfall (simply mist when it is resting and water frugally at other times). Steve has a friend who specialises in such plants and reports that his greenhouse is at its most colourful in the autumn. Already Delosperma in variety have been accepted into the fold (some occur at considerably higher altitudes), so this and other very borderline alpine members of the Aizoaceae might come in on their coat-tails. The small, typical 'mesembryanthemum' flowers, delicate pink in this phase, can also be white through to purple.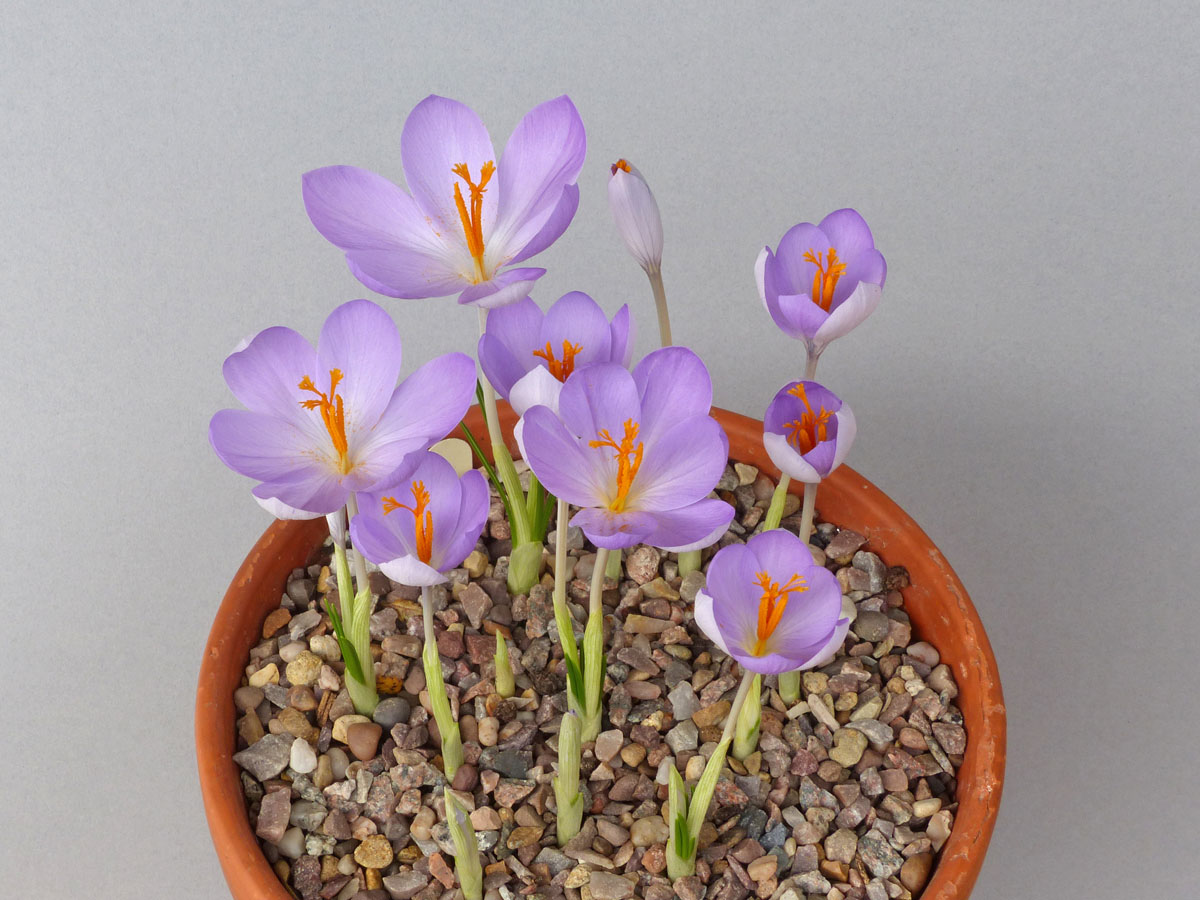 Back to the Mediterranean and those countries with at least a coast fringing that sea, moving steadily west I start off with Don Peace's Iberian/North African Crocus serotinus subsp. salzmannii, in its typical lilac persona rather than the white 'El Torcal' (also present). A number of accessions are maintained in specialist collections such as at Edinburgh RBG (where I had seen it just three days earlier): what a shame that more aren't exhibited.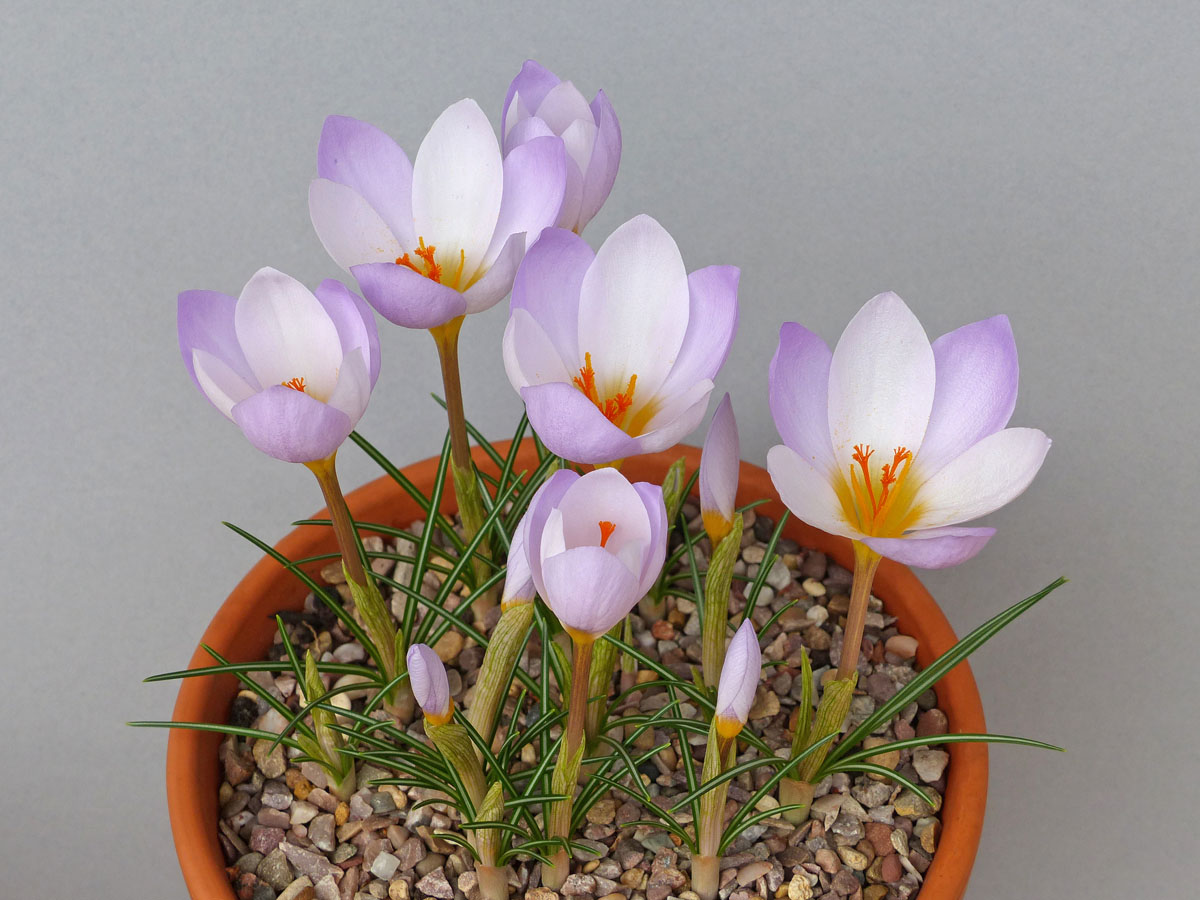 Don also received a Certificate of Merit for a bicoloured form of the more usually pure white, southern Greek C. niveus, sown in January 1996 and remarkably uniform (another pan, dating from 2005, had larger still flowers).
Cyclamen rohlfsianum, from northern Libya, is another plant of debatable hardiness, though exhibitors such as Ivor Betteridge have grown it in alpine house conditions for decades. Ivor is the fortunate possessor of a plant that has exquisitely marked leaves, which he has used to breed a succession of seedlings that leaf early and have very short pedicels, the cluster of flowers appearing only a few centimetres above the topdressing. These date from an October 2006 raising and are only now demonstrating their superior qualities: the hallmarks of any accomplished exhibitor are tenacity, attention to detail, enterprise… and patience!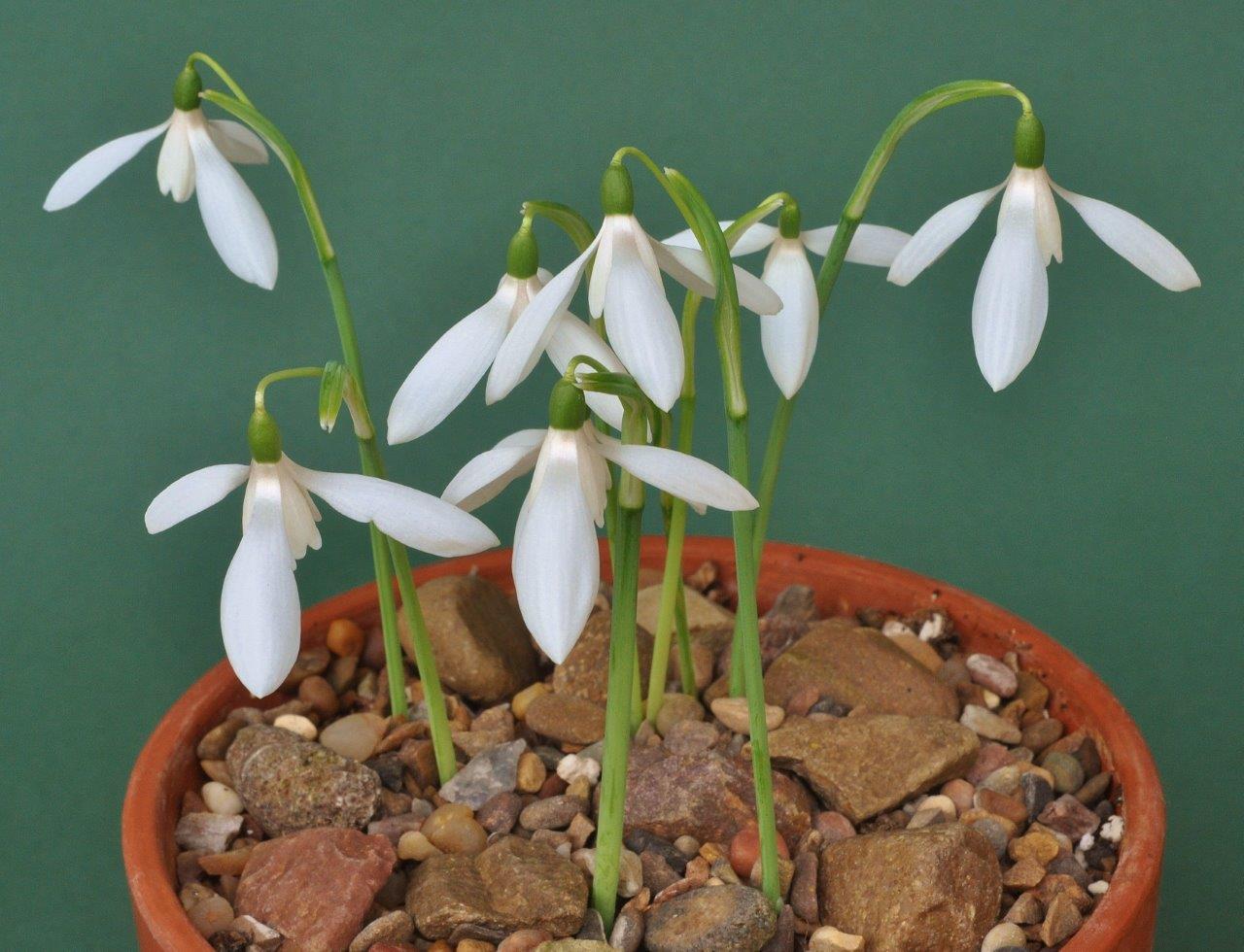 Anne Wright was also exhibiting Cyclamen: her three-pan entry of C. mirabile 'Tilebarn Nicholas, C. m. 'Tilebarn Anne' – no relation – and an attractive pink form only narrowly missed out on a first prize in one of the show's most heavily-contested classes. In a single pan class where the competition was equally cut throat, her immaculate Galanthus reginae-olgae 'Blanc de Chine' beat two other well-flowered examples of the species and a range of other dwarf bulbs. Raised by Joe Sharman, and still a rarity (she sold a few this year, so there were rather fewer flowers than on its previous appearance, at an SRGC Discussion Weekend), it was even dwarfer (but larger-flowered) than Ian Kidman's Turkish counterpart, and in some years is pure white, whereas in others very pale green spots add a ghostly presence to the inners. Artistically tricked-out (every pebble and small rock had been deployed with precision, the largest of them around the bases of the seven stems), it outclassed more floriferous but less orderly rivals with its neat, demure precision.
Author: Robert Rolfe
Photographers: Robert Rolfe and Don Peace