Harlow Carr AGS Show, 2015
While I've been to Harrogate from time to time over the past 40 years, I hadn't re-visited the nearby, nowadays RHS-managed Harlow Carr Garden in all that span, since I was a teenager. Three things to register: sizeable (and ongoing) investment combined with long-term, first-rate horticultural practise have made this one of northern England's finest gardens; the place heaves with visitors ('It's always like this', my taxi driver assured me); and the Bramall Learning Centre, completed five years ago and a five minute stroll from the main entrance, is a pretty-much perfect venue for an AGS autumn show, with an exhibitors' car park close to the rear entrance, the plant sales (thronged for much of the day) and main entry a level down on this sloping site, with a staircase and lift much used by the visitors, many of them not paid-up AGS members, who came to admire a very creditable display.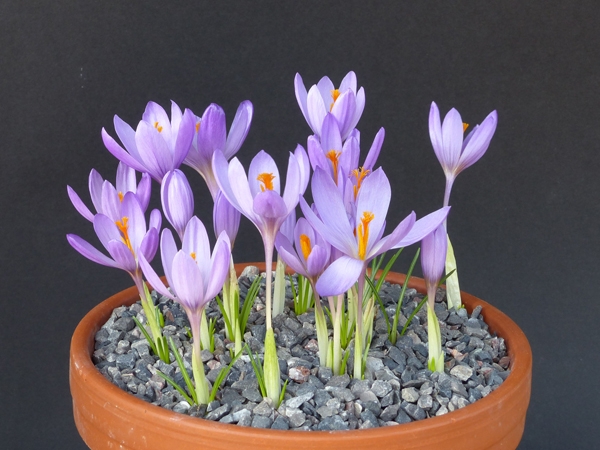 For the first time I can recall since the 1983 Summer North Show (held in Huddersfield a mere 32 years ago), the display was divided between more than one room – two here, with tremendous panoramic views from the picture windows over the mature woodland that acts as a diverting vista, glowing in every autumnal shade conceivable on an at first misty, by mid-morning nigh-perfect mid-October day. True, it was a little cramped, with the show benches quite closely packed and the passages between them sometimes clogged – but how encouraging to see so many appreciative attendees, who didn't appear to mind the occasional queuing necessitated in the least and thoroughly enjoyed themselves.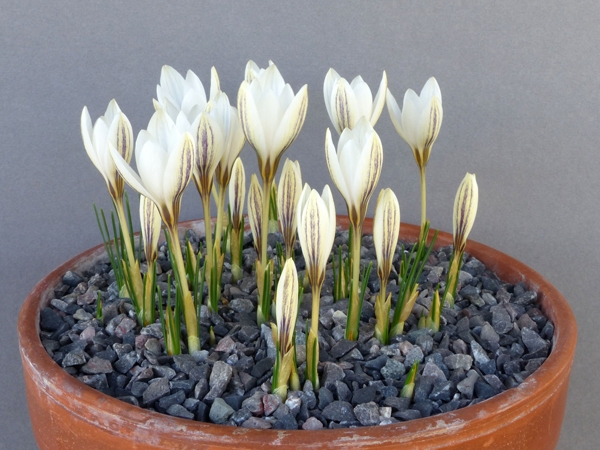 A very few plants had been hawked to all of the four autumn shows, testament to their staying power and the disparate, dogged attendances of their owners: others appeared for the first time and were in their brief, glorious prime. Lee & Julie Martin were easily the furthest-flung exhibitors, from coastal Sussex, and although Julie murmured that their crocuses objected to journeying beyond the orbit of the M25 motorway (on a long journey, cool and sunless conditions are helpful for such plants), they nonetheless staged several very handsome exhibits of these, with bluish Crocus serotinus subsp. clusii [above] from an October sowing some years ago, complemented in a three-pan entry by an elegantly feathered-on-its-exteriors Peloponnese C. biflorus subsp. melantherus, recipient of the Mr & Mrs W.H. Nortcliffe Memorial Trophy against very strong competition.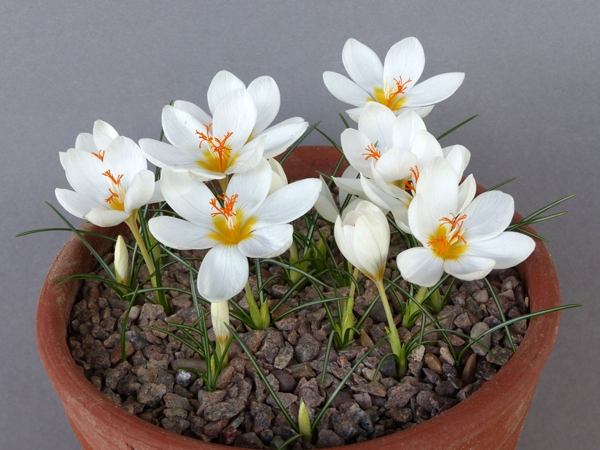 From the other end of the country, Alan Furness presented an immaculate 19 cm potful of white, yellow-throated C. boryi, noteworthy in that it had been built up from seed sown in January 2009 but was very even indeed (Lee & Julie showed a pronouncedly, exteriorly 'feathered' variant in two other classes, sown the same year but in June, as soon as the capsules dehisced). This species gets as far north as Corfu, whereas its sometime, southern Peloponnese congener C. niveus has a more restricted distribution and only climbs to half the former's 1,500m maximum altitude. Much more substantial in dimension and in texture, the flowers are hoist on perianth tubes up to around 18cm tall – yet the ones shown were much less lofty – and much earlier-appearing than those for anyone else present. Last year, at Loughborough and almost a fortnight earlier, several exhibitors showed this species in its prime: this time round the buds had barely emerged and indeed, as I write on the day that the clocks have gone back at the end of October's third week, the flowers here have yet to emerge. 'The timing is much the same as in the wild, this autumn', much-experienced scrutineer of the Greek flora John Richards reminded those present.
The Taýgetos Mts, also in the Peloponnese, have long been celebrated for their rich, often endemic flora, and it is from the Langada valley that very likely Galanthus reginae-olgae 'Anmarie Kee' was sourced. Czech expeditioner Vlastimil Pilous has offered seed from this locality, and I'm indebted to snowdrop sleuth extraordinaire Matt Bishop for contacting Jim Kee in Delaware to confirm both the spelling (at least two other versions have been touted, neither correct) and the source. It's named for Jim's wife, and was selected on account of its green-tipped outers, not in the least apparent in the floriferous panful shown by Anne Wright, who had straightaway twin-scaled the couple of bulbs received. The offspring, already double-nosed and producing up to five flowers atop 18cm stems per grouping, showed their vigour but not their true colours, which might (or might not) re-establish themselves once the propagules reach full maturity.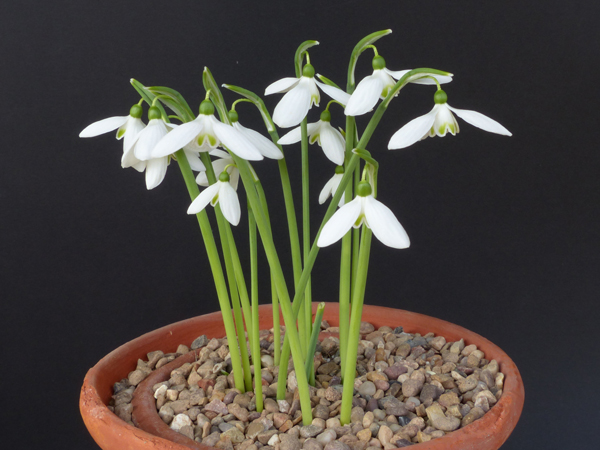 Anne, who has a keen interest in these seemingly out of season heralds, also exhibited Melvyn Jope's selection 'Eleni', with broader segments and paler, yellowish-green inner markings. Other selections such as 'Blanc de Chine' had come and gone several weeks earlier: these were in their prime. And at close quarters, they exuded the authentic scent of earliest spring.
All but one of the plants discussed so far is of Greek origin. I fear that the layout of the two halls, with elements of the Open and Intermediate Sections assigned to both, though logical, was (to someone who had arrived only 15 minutes before judging commenced, as such too late to reconnoitre thoroughly) initially all Greek to me. In my defence, various of the plants in the Intermediate Section were as good as the very best in the Open category (bluntly, the converse was equally true occasionally), so before I got into full swing, one, maybe two exhibits were far more generously judged than they deserved. Truly, I won't do that again!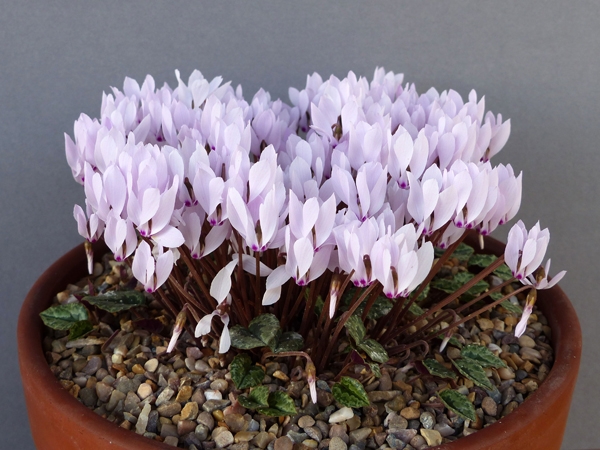 Steve Walters, who had a sizeable entry of Cyclamen in the main (and one dwarf Eucomis, I noted), served up a tour de force and was very much in contention for the Farrer Medal (five possibilities on offer) with a truly remarkable Cyclamen cilicium [left], one of the very best seen for many a year, with a shock of close-packed, pale pink and purple-nosed flowers that exuded a heady scent and had shed little if any pollen, demonstrating that they were in their prime. Its Certificate of Merit, richly deserved, was in effect a consolation prize: one hopes to see it reappear, to be rewarded at the highest level next year or the one after that. Rather difficult to select from his other numerous plants on show, though an elegant, pinkish-flowered and pewter-surrounded, dark green Christmas-tree-hearted-in-leaf C. mirabile (sown September 2003) received the Colin Field Memorial Trophy for the best plant grown from seed by the exhibitor. Or you might have had your attention diverted by his C. hederifolium f. albiflorum 'Tilebarn Shirley', pure white of flower and with a strident central white zone, margined-dark green leaf configuration; an almost artificial combination demonstrating one extreme of this extraordinarily mutable species, also shown by others with flowers through to deep crimson, leaves in every facet from slender and elongated through to multi-patterned and deeply incised, and (the same exhibitor again) light pink in bloom, intricately likeable-in-leaf Bowles's Apollo Group.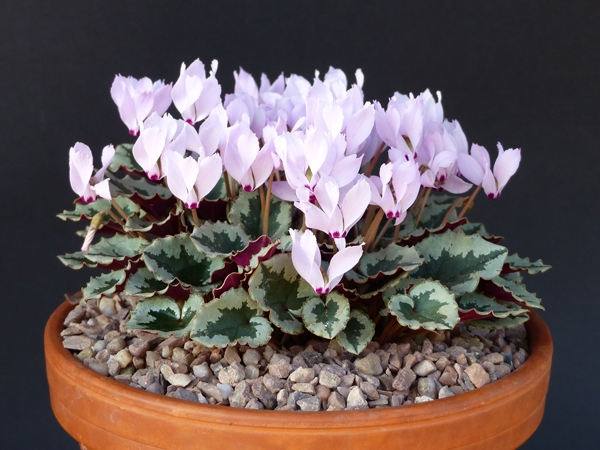 The far bench in the second hall had a particularly floriferous array of crocuses, Oxalis, Saxifraga fortunei named forms and dozens of Cyclamen. Ivor Betteridge, who had a good day with his array of entries, had an especially well-furnished Cyclamen mirabile 'Tilebarn Nicholas' [right] (a contender for the best plant in a 19cm pot), while Anne Vale's C. hederifolium f. albiflorum was the most abundantly-flowered and had fewest dislodged 'shuttlecocks' in the keenly contested class for one pan of this species' group, this wording allowing the entry of closely-related C. africanum, C. confusum and C. crassifolium.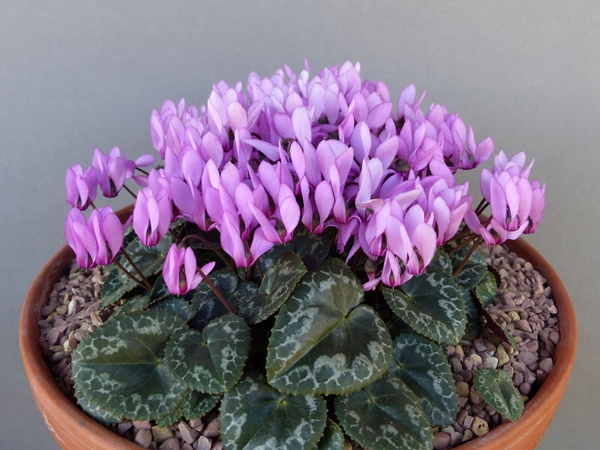 Mike & Christine Brown (not present at the show) have chosen well when handing over some of their best plants, and just as a mighty C. pseudibericum impressed the judges back in March, seven months later a plant of C. colchicum that had been theirs at the outset was awarded a Farrer Medal (a first for this species). The original intention had been to provide seed for Dave Riley, but for several years it declined to provide any. Then, when the promise was close to being fulfilled, Christine tidily snipped off the impending crop, unaware of her husband's designs. Whereupon Mike made a phone call, saying 'You might as well drive down the motorway and collect the plant'.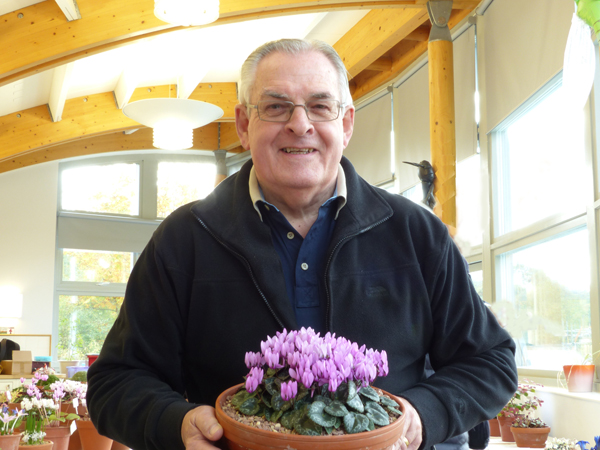 The tuber has been repotted several times since then, the pan used shallower than most Cyclamen growers favour (which made it much easier to carry it over to the table where Medal candidates were assessed) but self-evidently to its occupants liking. There was some suggestion that a cultivar name should be applied, yet this was an orthodox example of this until recently little-grown species, with quietly attractive, silvery-grey patterned leaves and an abundance of rosy-purple flowers, carried on short pedicels so that they just cleared the foliage. (Seemingly only a plain-leaved selection, 'Deidre', has been christened: another female Christian name to remember along with Helena, Anmarie, Eleni, Shirley and all the rest honouring friends and spouses.)
Author: Robert Rolfe
Photographers: Don Peace and Robert Rolfe