East Lancashire Show, 2005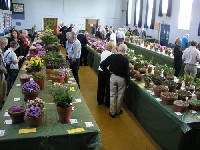 The cold snap finally came to an end and the sun shone brightly over East Lancs show, which had certainly benefited from rising temperatures, taking exhibit numbers back to normal levels. The promise shown by Arcterica nana 'Redshanks' at Blackpool the previous week was justified and a Farrer medal duly followed. Medal hunters battled it out in the small six pan class, where four top quality exhibits gave the judges an agonising time before a winner emerged! Primula allionii forms and hybrids dominated the benches with the well known P. allionii 'Clarence Elliott' most abundant but there were numerous lesser known forms to admire. P allionii  'Eveline Burrow', 'Rosemary' and 'Blush' will certainly be sought after in years to come. Multiple stagings of Primula vulgaris brightened up section C and provided the best plant from the novice section. Saxifrages were amongst the main contenders for honours and superb exhibits of Saxifraga 'Lismore Gem' plus Saxifraga 'Coolock Gem' were both awarded certificates of merit.
Corydalis species were pre-eminent amongst the Fumariaceae classes and the best plant in section B, Corydalis lydica was matched only by the stunning and closely related C. oppositifolia ssp kurdica.
The bulbous classes showed incredible variety with Iris rosenbachiana, Iphieon dialystemon and Ornithogalum lanceolatum standing against a backdrop of dwarf Narcissus where an amazing Narcissus cyclamineus was still ranked 'number one'!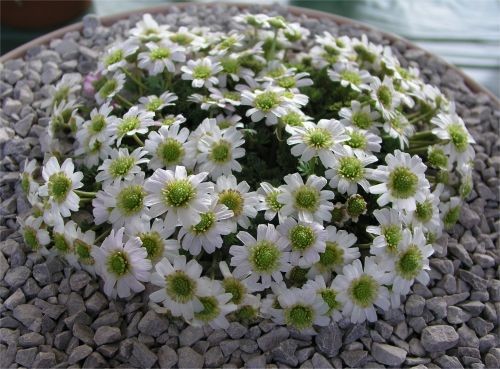 The memory of Jim Lever, synonymous with the event was endorsed by the inaugural award of a Trophy for the best pan of Ranunculaceae and whilst Hepaticas in various shades were notable, Callianthemum anemonoides  (left) came through. I'm sure Jim would have smiled and thought 'not a bad show after all!'
Jim Almond