East Lancashire Show, 2010
It had to happen! A week of mild Spring weather had finally arrived in the run up to East Lancashire show. Entry phone lines had jammed due to overload and specially reinforced benches laid on – a BIG show was in prospect…..
Whitworth Civic Hall on show day was literally bursting at the seams with a riot of colour and alpine splendour! There was still evidence of the long freeze with some late Winter 'specials' hanging on but Saxifraga, Primula and Corydalis to mention just three genera provided the backbone of a memorable display.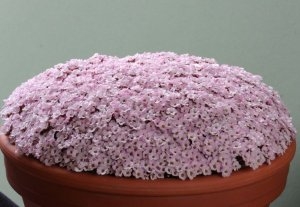 The large Saxifrage class was on top form in the Farrer medal stakes and biceps truly rippled whilst likely candidates were assembled. The eventual recipient was a perfect flattened dome of Saxifraga 'Mary Golds' - a memorable maiden Farrer for Mark Childerhouse!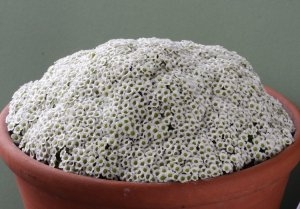 The huge white snowball of Saxifraga 'Coolock Gem' shown by Geoff Rollinson had been edged out in the photo finish but well deserved the award of a Certificate of Merit.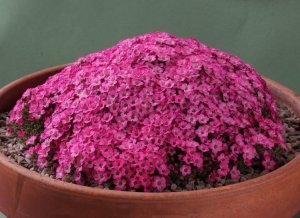 Proving that no-one grows thoroughbreds of the Coolock stable quite like Geoff, an immense offering of Saxifraga 'Coolock Kate' was also certificated! Winter attention to botrytis is the key to success with both of these Saxes but with 'Kate' in particular and infected rosettes are immediately removed and affected areas treated with green sulphur.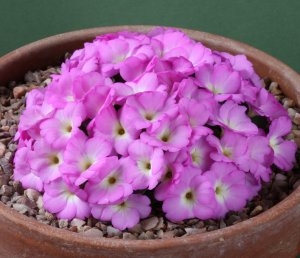 There were two keenly contested small six pan classes, Ian Kidman added to his medal collection and Brian Burrow demonstrated his prowess as a prolific breeder and selector of Primula allionii forms with an impressive seed raised sextet of this species. Primula allionii 'Steven Burrow' (shown left), a seedling from a plant resulting from a cross between P. allionii JF9128 (wild origin) and a seedling from Crowsley Var was much admired amongst a three pan offering from the same exhibitor.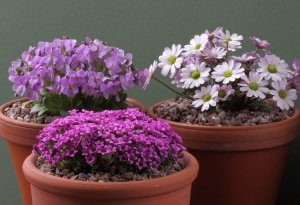 The Leander Trophy for the best three pan exhibit in a 19cm pan was destined to remain the property of Don Peace however for the next twelve months however with a top class trio. These were individually superb exhibits too, comprising Callianthemum anemonoides, Viola jooi and Saxifraga oppositifolia.
The novice section was well supported and reaping the benefit of coaching from local growers, Tony Taziker had absorbed the wisdom and nurtured a young 'thumb' of Dionysia viscidula x freitagii to show size. Subsequently potted on and kept in perfect health. a unanimous verdict and the Booker Trophy for best in section was his just reward.
A creditable 78 plants were staged in the intermediate section and a super pan of Callianthemum kernerianum came to the fore when recommendations were sought. Disaster nearly struck when the mass of downy grey buds nestling on the surface had almost been mistaken for botrytis during late winter! Untouched and now unfurled, the benefits of the 'great outdoors' - a plant in perfect character were plain for all to see.
Ranunculaceae are well represented during early Spring and despite a strong showing from some fine Callianthemums, Dave Riley's well flowered 19cm pan of Pulsatilla vernalis, with even more flowers than the 2009 exhibit, coasted to the Jim Lever trophy (best pan of Ranunculaceae).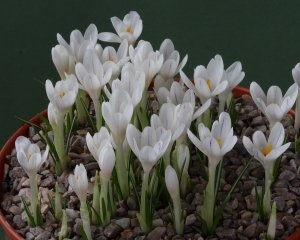 Patience is a virtue they say and bulb growers need it by the sackful! The only foolproof (and most economical) way to create a real show stopper is to work a single bulb up to pan-filling quantities. The small-flowered selections of Crocus vernus subsp. albiflorus, a widespread snowmelt plant, chiefly from the Alps, can be white, lilac, or even dark purple. Some good clumps (pictured is Robert Rolfe's plant) were seen at the Show, one of known provenance that had been patiently worked up from a single corm. Two or even three flowers are produced by each corm - goblet-forming white tepals, one form with a delicate median lilac streak. This version has grown well in a sandy, gritty loam that is never dried out, but is kept rather damp from the autumn onwards, then soaked when the shoots emerge, normally in mid-February, though this year not until the first days of March.
The striking selection Crocus heuffelianus 'Carpathian Wonder' had received similar patient care since the acquisition of a single corm seven years earlier! Timing is everything when showing is concerned – not a single flower had opened two days earlier!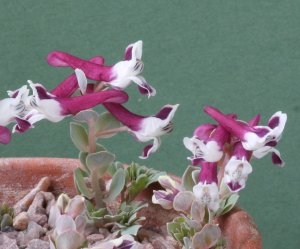 One of the smallest exhibits on view was the diminutive cross of Corydalis darwasica x nariniana gaining the red sticker in the 'rare in cultivation' class. Despite setbacks and near total loss, Eric Rainford maintains a hold on the cultivation of this little gem – long may it persist!
Congratulations to the aggregate winners: Ivor Betteridge (Open), Margaret Pickering (Intermediate) and Norman Davies (Novice), the 73 exhibitors who staged 502 plants and Carol Kellett plus team who ensured the day was a total success.
Jim Almond - report and images