East Lancashire AGS Show, 2008
'When God had finished the stars and whirl of coloured suns
He turned His mind from big things to fashion little ones;
Beautiful tiny things ( like daisies )He made, and then
He made the comical ones……………………' F.W.Harvey 1888 – 1957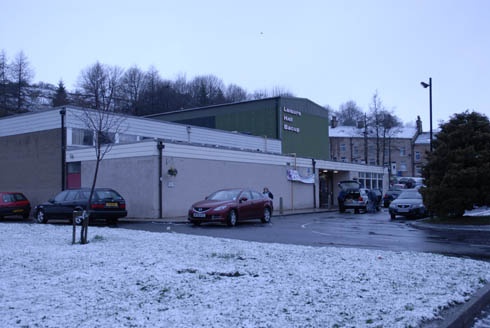 Bacup sits in deep folds on the western fringes of the Pennines its streams and rivers feeding down through narrow valleys lined with the old mills of industrial Lancashire their chimneys fingering the skies which, on this April Saturday morning, were gently depositing a covering of fresh snow on the summits and a layer of slush on the streets below. Nothing daunted by yet another journey in appalling weather hardy folk from both sides of the mountain chain had set up their 'beautiful, tiny things' on the long benches of the Bacup Leisure Hall darkened by snow clouds which the low-output electric bulbs fought to overcome.
Escaping from the chill wind and damp outside into the hall, exuding warmth and friendship, visitors could see at a glance the wonderful rainbow of colour from primula, rhododendron, corydalis and many others that combined to make any journey across the wintry countryside worthwhile. Those rigours brought about by the climate were soon forgotten as each found interest amongst the plants that had drawn them here and. as is usual at such gatherings, found plenty to ponder as certain decisions of judgment conflicted with their own.
Open section contained 263 entries from 45 exhibitors from which the judges selected a large pan of Sebaea thomasii as the best in show.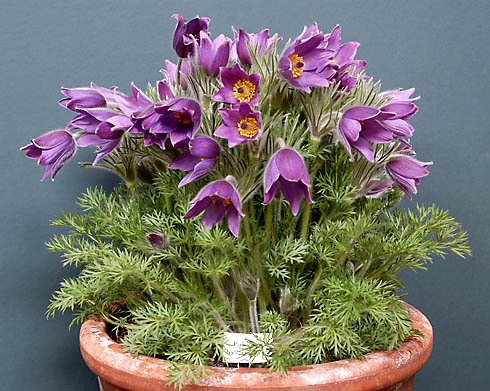 A massive weighty 'chimney pot' of a pot held a superb specimen of Pulsatilla vulgaris for which, surely, the exhibitor should have taken out additional health insurance and the usual cushions of Dionysia Saxifraga and Androsacae were all there to be admired.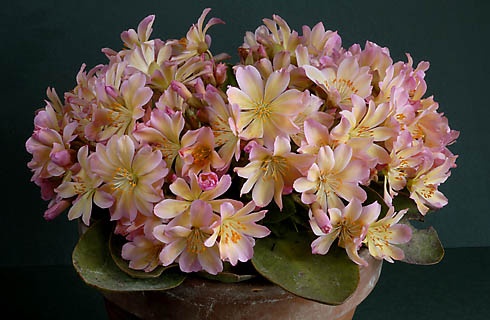 In section B, 81 entries from 14 exhibitors produced a Lewisia tweedyi with rich, pinky-peach blooms in perfect condition together with several good examples of Anemonella and primula,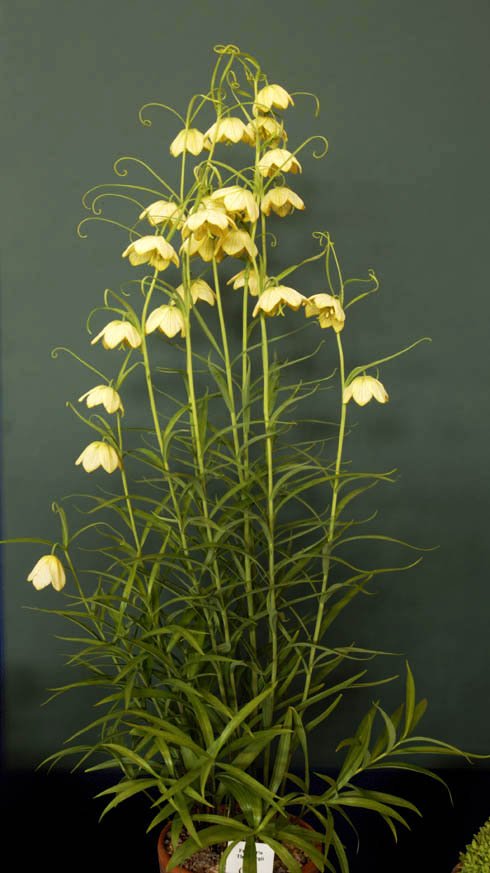 whilst, a well-supported, Section C had the best example of Fritillaria thunbergii in the whole show, a specimen of some ten or so stems each holding aloft the creamy white bells of this scrambling Chinese species.
Coping admirably with the odd joke about life 'in't north' the organisers had turned a dark day into a bright one providing excellent refreshments, pie and peas, of course, a grand opportunity to buy from the trade stalls attending and a truly welcoming and friendly atmosphere. They are to be congratulated. As to the ,comical ones' that Harvey mentions…….well you know the shows.
Peter Cunnington