East Lancashire AGS Show, 2006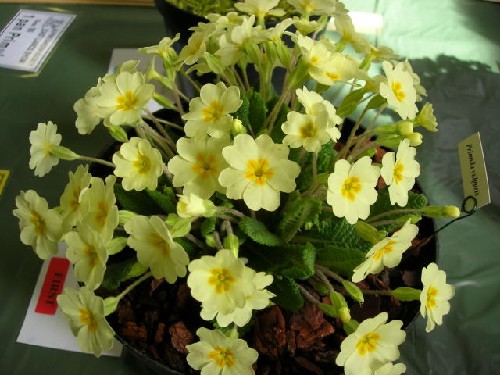 With a number of significant exhibitors and their plants not yet out of winter hibernation and several barely so it was not surprising that the show was smaller than usual. Nevertheless the quality of those plants on show was a reminder a gloomy and cold winter finally was in retreat.
Although Asiatic primulas are more of a struggle to grow well these days (Scotland might still be an exception) it was gratifying to see a top class pan of Primula x`Tantallon` showing off a large posy of many dozens of its violet blue flowers. This hybrid ( P. nana x P. bhutanica ) was raised by Henry and Margaret Taylor in 1977, and if grown well shows little of the virus problems that can afflict many of the Asiatic hybrids. Challenging that particular primula for sheer flower power were four pots of the primrose, P. vulgaris , all from the same exhibitor, and one of  them deservedly winning the Merlewood Trophy for the best plant in section B.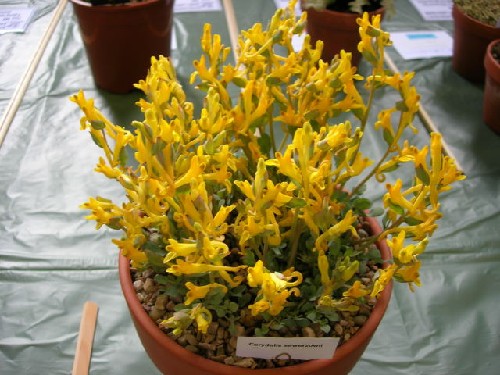 Corydalis were a significant feature of the show and included two closely related yellow flowered species; C. sewezowie with bold upright racemes of golden yellow flowers and C.aitchisonii subsp aitchisonii with its laxer lemon yellow flowers.Other interesting exhibits included Corydalis lydica, C. darwasica,and C. erdelii, all from the more continental and drier parts of Turkey,Uzbekistan,Kazakhstan and into the Pamir and Altai mountain ranges of Central Asia.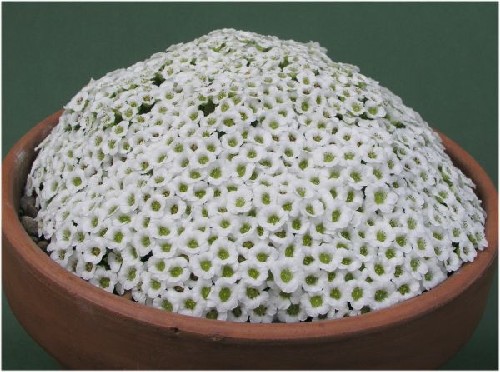 Saxifrages are always prominent in our March shows and the past colder winter seems to have encourage many to flower more uniformly than in recent years. It was the various hybrids that took the greater share of the first prizes and S. `Coolock Gem` ( white flowered ) and S. ` Coolock Kate` ( a luminous pink bi- colour) seem to be the current `must haves` among many growers. Both of these forms were raised by Jim Almond from the same seed pod eight years ago. It is also worth noting that in the small open section class for one pan saxifrage that three good entries of saxifrage species,viz S. burserana, S. dinnikii, and S. oppositifolia were left completely out of the reckoning, suggesting the need for a saxifrage species class.
Attractive entries of Fritillaria aurea and F. carica, together with a small, but beautiful, ethereal,light blue Pulsatilla `Budapest` ( still a widely used but invalid name ) and a single flowered magenta/ pink Hepatica nobilis `Gyousei` ( winner of the Jim Lever Memorial Trophy for the best pan of Ranunculaceae complete this brief show sketch.
Alan Furness