East Lancashire AGS Show, 2016
Driving into Whitworth on Saturday, I encountered three fat and healthy-looking sheep, running across the road in front of me – a sign perhaps that we were no longer in Greater Manchester, but instead an East Lancashire Pennine town. On to the civic hall, where exhibitors received a real welcome from the healthy-looking members of the East Lancs. Group. (It wouldn't do to suggest that the other adjective above was applicable to any of them!)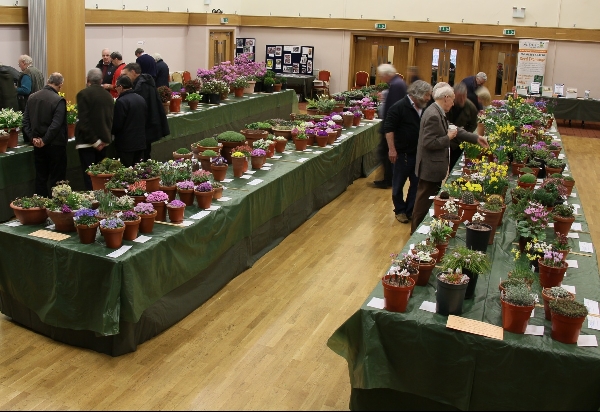 The benches were encouragingly full; we had almost completely recovered from the early season difficulties caused by a cool, sunless summer, a very mild, wet winter and a cold early spring. Admittedly a few of the main genera, Saxifraga and Dionysia especially, were still in short supply, but in most classes it was business as usual.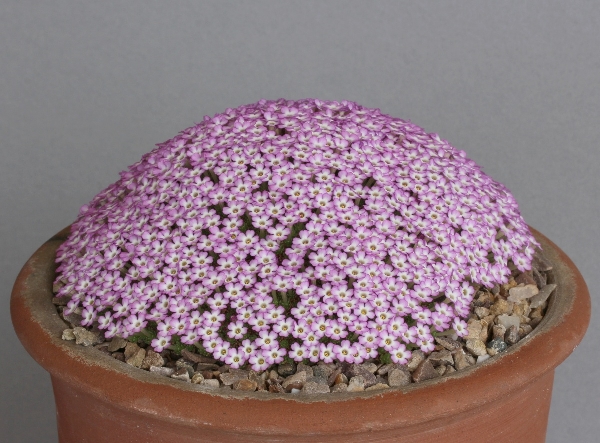 One grower did not seem to have heard that it has been difficult to muster show-worthy dionysias, for he brought along almost all of those entered in the Open Section. This is someone who grows only the more challenging species, and prefers to raise them from his own seed. At this show, he contributed Dionysia freitagii, D. lamingtoni, and several examples of D. bryoides. Derek Pickard's plants, familiar at the March shows especially, are mostly grown in distinctive long tom pots to facilitate a longer root run. It is easy to forget what a feat it is to maintain such plants year after year. Derek is patient and, importantly, meticulous when it comes to even the smallest details. The judges recognised his achievement by awarding the Farrer Medal to his finest plant of Dionysia bryoides [left], grown from seed sown in November 2003.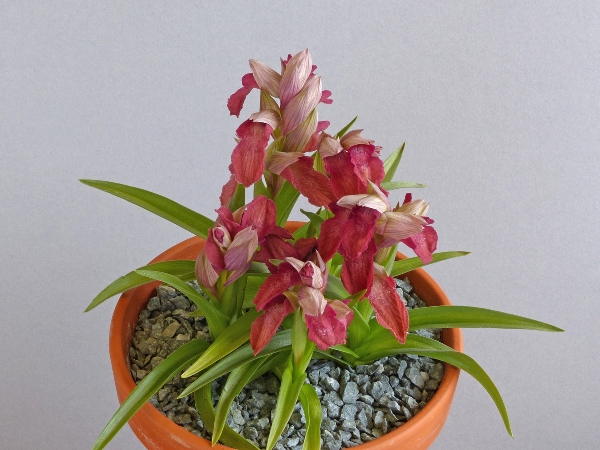 One of the great joys of the AGS is members such as Derek, who specialise in one genus, and grow plants to a standard most of us only achieve in our dreams. Another specialist whose plants draw admiration at show after show is Barry Tattersall. He brings an enterprising range of hardy orchids to show after show, most of them essentially Mediterranean plants, and many were quite short-stemmed. Perhaps the most dramatic was Serapias neglecta with an abundance of large flowers. This is a winter-green orchid that dies back shortly after flowering and should be kept dry throughout the summer. This species grows in Corsica, Sardinia, parts of the French Riviera and other Mediterranean locations.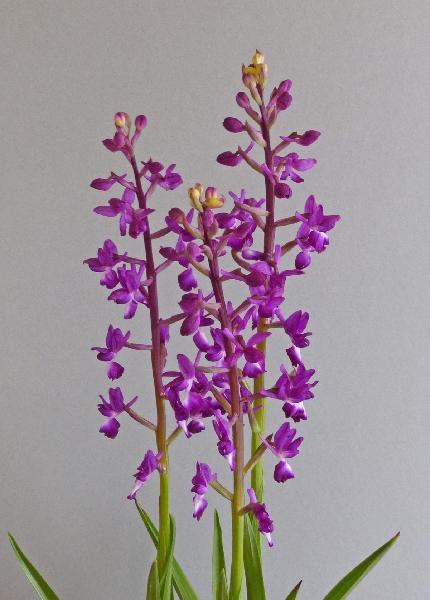 Barry's three sturdy spikes of Anacamptis laxiflora from Barry Tattersall were very imposing. Looking a bit like the closely-related Anacamptis morio, or perhaps Orchis mascula, they were taller still than most examples of these species and had the flowers spaced out, as suggested by the specific epithet. The species is mainly Mediterranean, but extends northwards through France and into Switzerland. It is a rare, marginal British native, being found on Jersey and Guernsey – there are also old (nineteenth century) records from County Durham, but these were probably casual introductions. It grows in wet places, and Barry often stands his plant in water in spring and early summer. Typically it breaks its summer dormancy quite early in the autumn.
These days it is quite easy to obtain such orchids that have been grown from seed, though their rearing remains largely a specialist task that takes place in a situation more like a laboratory than a potting shed. Barry usually sources his plants from Heinrich Beyrle (Stadtbergen, Germany).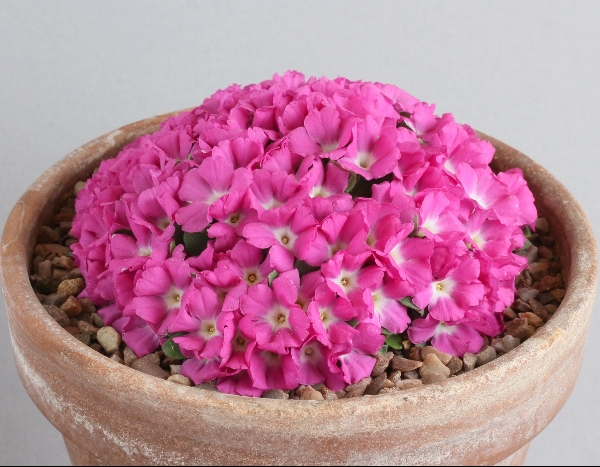 Another regular feature of latter-day early spring shows has been the selections of Primula allionii raised by Brian Burrow. Starting from deliberately chosen parents, Brian has been breeding, growing and ruthlessly selecting the best of their progeny: anything considered below standard is rejected. The process has continued with naming, propagating and distributing, so that fairly mature plants are now appearing on the show bench. Brian's plants are mostly quite distinctive, with flat, broad, well-formed petals, strong, uniform colours, and a (often) clearly distinct eye, as with his thrum P. allionii 'Francis Burrow' (BB 03/5/1).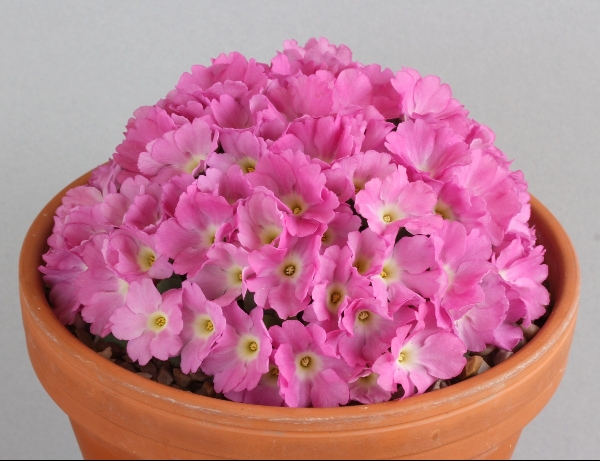 The class for three 19cm pans of Primula allionii attracted four entries, and of the twelve plants, no less than seven were Brian's seedlings. His entry was placed first, after close scrutiny, and the Leander Trophy, given to the best small three-pan exhibit in the show, came his way. But the most dramatic colours were displayed by two selections within Geoff Rollinson's trio. P. allionii BB07/19/2 [left] is a strong sugar pink colour, not universally liked, whereas P. allionii 'Rosemary Burrow' drew admiring glances from everyone and is rich violet with, unusually, no 'eye'.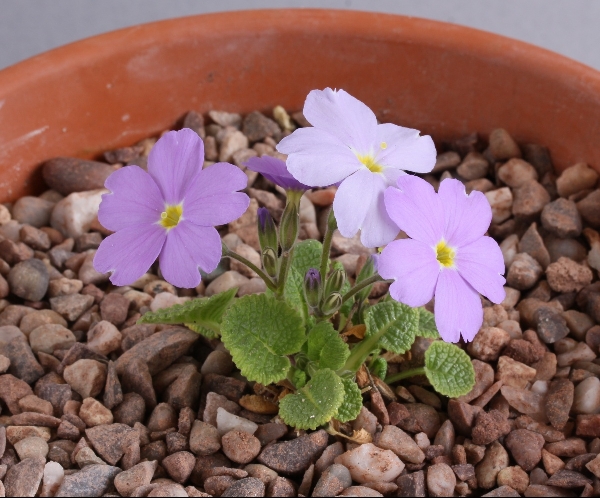 When I first started attending AGS shows, nearly 30 years ago, fine and healthy plants of Primula renifolia were occasionally shown from Dieter Zschummel's introduction. Even then, only a few people were succeeding, but to the casual observer, it seemed secure in cultivation. Then it appeared fitfully in the 'rare' classes, as very few plants were left in cultivation. And then there were none. Now, a small plant, bearing just three flowers, from Geoff Rollinson, (who always had particular success with this species) marks its return: it had been passed to him at this show in 2015, a representative of a 2011 seed collection made by Gothenburg Botanic Garden.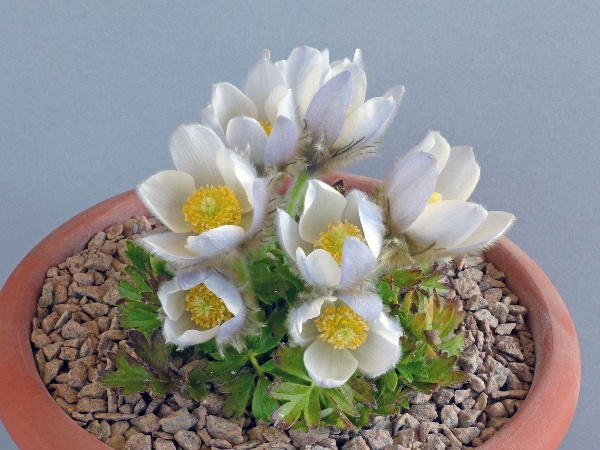 A plant reminding us of spring in the Alps, Ian & Maria Leslie's the Pulsatilla vernalis offered up a compact cluster of pristine goblets. Quite an old plant, grown from seed collected near Arosa in the western Alps at least 15 years ago, its seven flowers had rushed into bloom in response to a recent mild spell in their North Wales garden. IN general flowering can be erratic in cultivated plants, for all that prodigious efforts are very occasionally recorded.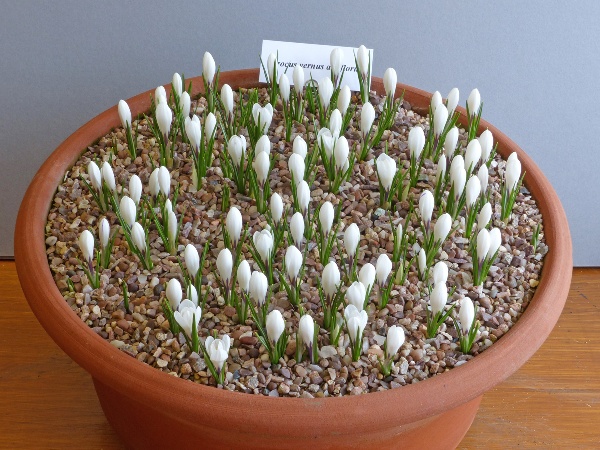 Another plant that brought back for me memories of the European Alps Vic Aspland's pan of Crocus albiflorus. He had set the corms naturalistically, not as a conventionally pot of show crocuses, closely grouped, for in Vic's mind it was important not to make the grouping too even. It is surprising how hard it is not to plant them in straight lines! Perhaps the only difference from the plants found in snowmelt flushes was that there were no purple flowers among them; when I have seen them, about one plant in ten has been purple. But Vic's plants were all grown from a single corm, rescued 26 years ago from a building site at a ski resort. It seems the judges were suspicious it might have been bought as a packet of bulbs from a sale table! Vic normally grows it in a covered sand plunge. This winter, thanks to Storm Desmond, it occupied an uncovered sand plunge, and looked all the better for it.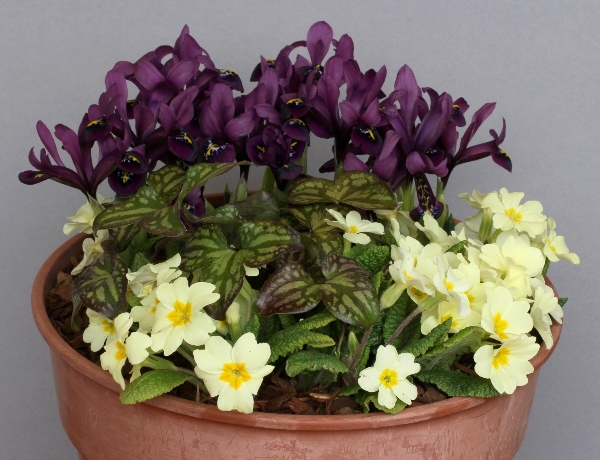 One distinctive feature of the East Lancashire Show is the class for one pan containing three rock plants for colour effect, in both flower and foliage, the winner accorded the Allanson Trophy. This can be newly potted-up and is a class for the sort of colourful pots you might assemble to put next to your front door; not so much about rarity as impact. Diane Clement has regularly won this class, and this year's winning entry included Primula vulgaris (a weed in Diane's garden), Hepatica nobilis var. pyrenaica 'David Boyd', and Iris 'George'. Diane has named the hepatica after David Boyd as she received it as a gift from him. It has light blue flowers and beautifully marked leaves, which survive over winter looking healthy (it was as a foliage plant that Diane used it in this entry). A fitting tribute to a generous and cheerful man, who came to alpine shows having previously shown dahlias, and who flooded the benches with numerous Cyclamen, Hepatica and sundry other entries. He passed away last year after a long and brave fight.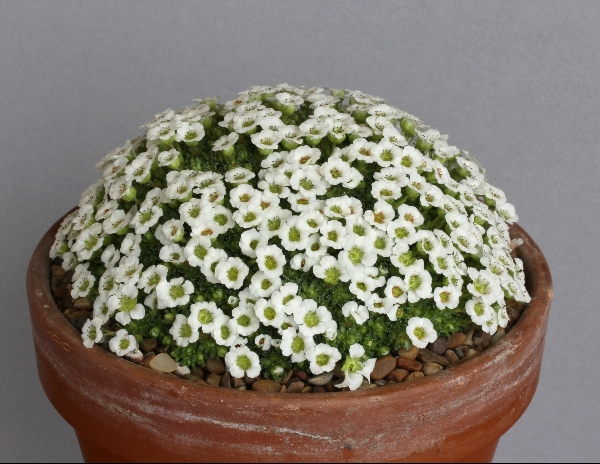 Once again, Don Peace won the aggregate trophy in the Open Section and as such retained the Grainger Trophy: one wonders who is ever going to stop him. Perhaps we should look to the Intermediate and Novice ranks for a potential successor. David Morris won both the Novice Aggregate Trophy and the Intermediate Trophy, so is clearly in a hurry – a most remarkable achievement. Actually, the Intermediate Section victor was a close-run thing with a number of exhibitors in contention for the aggregate prize. David also won the Booker Trophy for the best plant in the Novice section with Saxifraga 'Coolock Gem', Jim Almond's landmark raising that makes such an excellent show plant. We look forward to this and others giving David many more years' success.
Finally, out to the sales tables, where members and nurserymen were selling little pots of joy and of hope, mostly at ridiculously low prices. Will it go in the garden? Or in a trough? Will it be potted up for the show bench and maybe even one day receive a Farrer Medal (we can dream!) Or maybe it will sit unloved with all the other plants we don't know what to do with. And can I cut off the price tag, before my wife sees it?
One stand stood out for a number of reasons. Ryan Forshaw's stall (Grow your Ideas) sold not only plants, but also accessories for oriental gardens. He had entered a garden using shells and gravel in the miniature gardens class. But on his stall was the most glorious miniature oriental garden. Whatever you may think of miniature gardens as competitive classes – the subject is controversial – the public love them and it is very encouraging to see new and imaginative uses of alpine plants.

But this is only part of the story. Ryan is paralysed from the neck down, and needs twenty-four hour a day care. His ideas are carried out by his carers. His stall was being manned by his support worker, Kevin Price and one of his carers, Bea Hayes. Congratulations to them for this work, clearly beyond the call of duty. And above all, congratulations to Ryan for his ability to be constructive when most of us would just feel sorry for ourselves.
Author: Peter Hood
Photographers: Jim Almond and Don Peace