East Lancashire AGS Show, 2015
The morning following the solar eclipse dawned bright and fine, without the often seen hint of snow on the hills surrounding the venue. Indeed, those travelling up or down the narrow valley of the River Spodden in which Whitworth sits would have thought that the sun was feeling extraordinarily pleased with itself as it lit up the slopes, its rays reflecting off the slowly-turning turbines of the Coal Clough wind farm over to the west. The hall is provided with most of the facilities that help to make a Show attractive both to exhibitors and visitors: a reasonable car park not too far away from the exhibition hall (which itself is adequately illuminated) and an excellent rest area for those who need a bit of shut-eye after an early start from home. If the area set aside for plant nurseries was larger ‒ only three could be accommodated ‒ then all would be hunky-dory.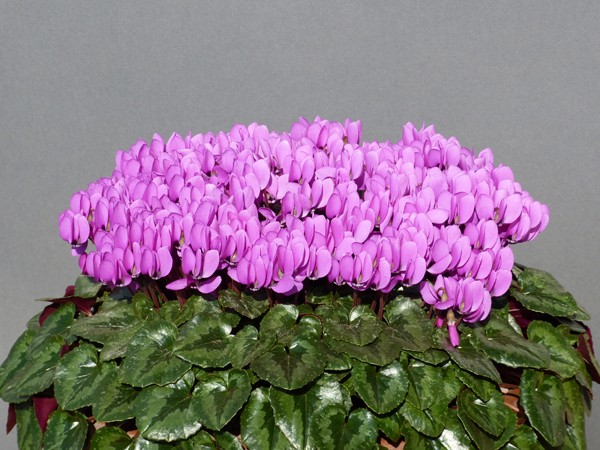 A first glance at the show benches confirmed that this was going to be a good year, for there were great mounds of yellow Dionysia aretioides, pink-garlanded rhododendrons, yellow, purple and white primulas in, red and mauve Corydalis species, white-flowered trilliums and green cushions of every size. Frank & Barbara Hoyle received the Farrer Medal for an immaculate Cyclamen pseudibericum. Add to this colourscape the dark brown of chocolate cakes, buff-coloured scones and cream slices of cake that the catering department arranged and you will find that it was indeed a glorious event. Congratulations must go to those whose work led to such an extravaganza, providing a truly great alpine spectacle.
Attempting to select less than a dozen exhibits to describe from the 511 plants exhibited by 61 exhibitors is always likely to prove tricky. But this is the task for all show reporters if the blue pencil of editorship is to be restricted to a minimum.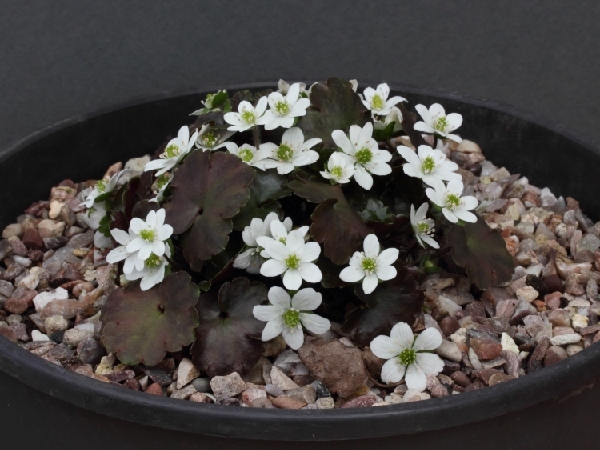 Hepaticas were much in evidence and there were one or two of the Asian species on display. From China comes Hepatica henryi, a small-flowered plant when compared with the European H. nobilis but not without charm. Named for Augustine Henry, an Irish medic stationed in Hubei Province during the late nineteenth century, it was first described by Daniel Oliver as Anemone henryi and transferred to the genus Hepatica in 1927. Oliver found it at around 1,400m in forests and on grassy slopes. Purchased three years ago, Diane Clement's plant had been kept in a pot, although given a site with adequate protection from extremes of temperature, it will survive in the open. It needs a woodland soil rich in leaf-mould and well-drained. Exposure to late winter sunshine encourages flowering; thereafter shade is essential.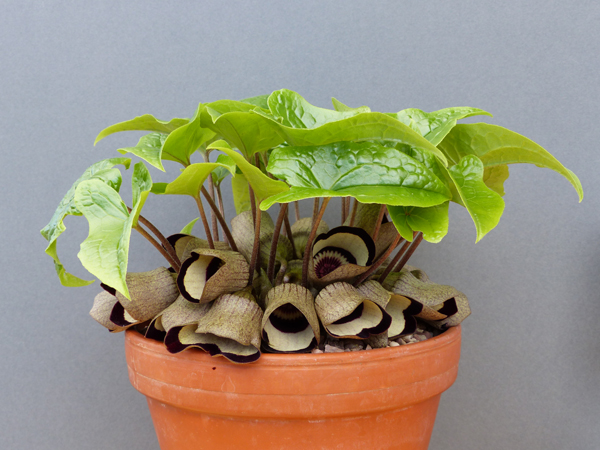 Naturally-occurring woodland plants, not unnaturally, require similar composts. For example another 'Chinaman', Jim & Wilma Wright's Asarum campaniforme, is given much the same compost as the Hepatica. Like all its relatives in the Dutchman's pipe family (Aristolochiaceae) it is a Marmite plant and, mixing metaphors, not everyone's cup of tea. However for those who like the weird it fits the bill wonderfully. Few can resist the remark that it looks a bit sinister, its concentric-ringed flowers of brown and cream hugging the ground beneath arrow-shaped, bright green leaves. The way it presents its flowers might lead one to suppose that it is slug-pollinated and this may well be the case but protecting the developing foliage from the little blighters is crucial to the plants wellbeing. The husband and wife team who presented the specimen on display said that they neglected it most of the year. But its pristine appearance suggested otherwise. 'We keep it under cover, feed it when we think about it and let Nature do the rest', they modestly explained.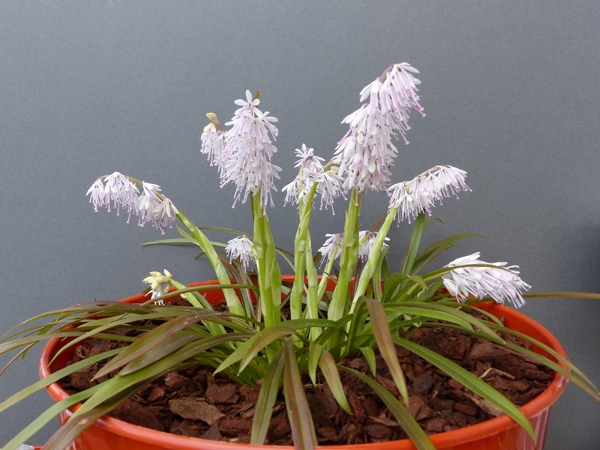 In recent years two species of Ypsilandra have made regular show bench appearances, the larger, white-flowered Y. thibetica and the smaller Y. cavalieri. The latter typically has narrower leaves and pink-flushed flowers with purple anthers, these features tending to make for a daintier plant. Diane Clement's well-grown specimen had a surprising number of flowers, given the somewhat sparse foliage. Paul Cavalier was one of many intrepid Jesuits priests sent out to China by the Society of Jesus with the express purpose of converting Buddhists to Christianity. Like many of his predecessors he had a rough time of it. Following a career change to rice exporter, he met an untimely death at the hand of one of his staff (the hand carried a knife that dealt the fatal blow). Yet another woodlander requiring soil rich in organic matter, the plant exhibited had seen little sunlight, having being kept in a shaded cold frame throughout the year, with regular high potash feeds administered when in active growth. Beware, adult vine weevils will chew the leaf margins.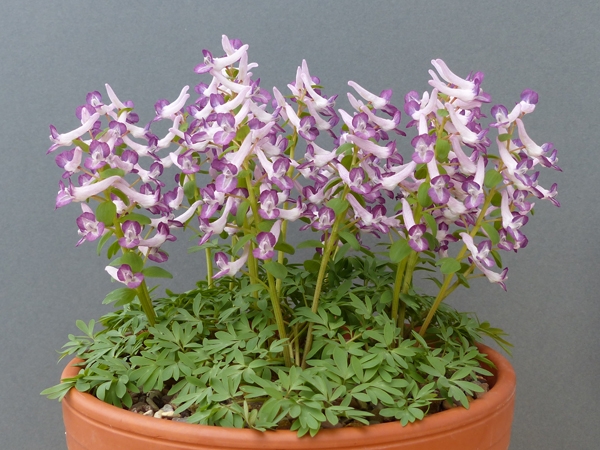 Corydalis popped up in a great number of classes, most being expressions of Corydalis solida which was used as the pollen parent in order to create a fine hybrid. The raiser, Don Peace, mentioned that a good, red-flowered form had spontaneously lent its genes to C. kuznetzovii to produce an as yet unnamed cross. Like many of its section this will propagate quite easily by division of its tubers, a process that occurs quite naturally. Two corky, irregularly-shaped replacement tubers are formed most years: division is best conducted when repotting in the autumn, replanting in a well-drained, gritty medium.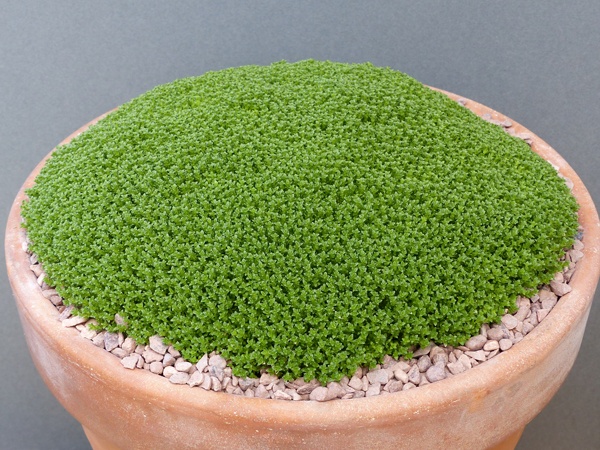 Getting away from flowers for a moment, let us consider cushions or, in this particular case mats. Arenaria alfacarensis is a rather superior Sandwort, at least when not in flower, and Barry Winter's made a neat contribution to the 36cm class for cushions in the Open Section. Often given as a synonym of A. lithops, it had here formed not exactly a plump cushion, more a flattened, post television-watching cushion, its bright green foliage catching the eye. Once known as Arenaria tetraquetra var. hutrei, this is now a defunct name for a plant that references the small town of Alfacar, a few miles from Granada in the Sierra de la Alfaguana, south-eastern Spain, where it grows on dry limestone as part of the scrub flora. Here it moulds itself to the rocks in the manner of the antipodean 'vegetable sheep'. It is best given an extremely free draining compost with added limestone, little in the way of nutrients and, of course, as much sun as the British climate will provide.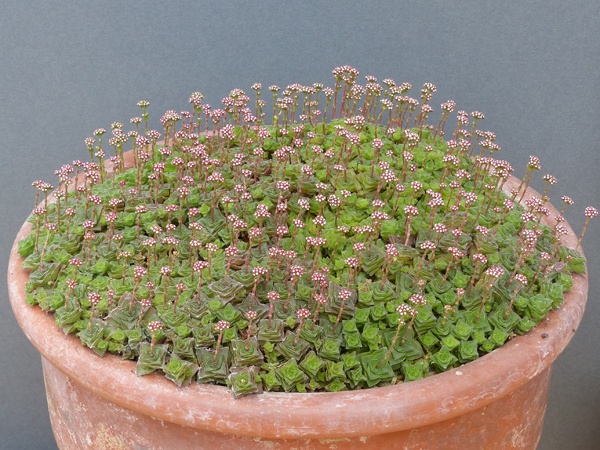 One may be forgiven for wondering if the Japanese art of Origami is based on the foliage of Crassula socialis, such is the precision of the leaf arrangements in this rare, Red Book South African, known from only four localities in the Eastern Cape. The epithet is Latin for clustered, social or companionable and refers to the configuration of rosettes. A large pan of this interesting plant looks good in the foliage classes but at this show Barry Winter sensibly entered into the Crassulaceae class. The specimen carried an abundance of short stems topped with tiny balls of pink budded flowers. Yet is the leaves that fascinate, each carefully folded so that the rosette forms a near-perfect 1 centimetre square, one set of four set askew the ones below, building over time to a stack of five or more.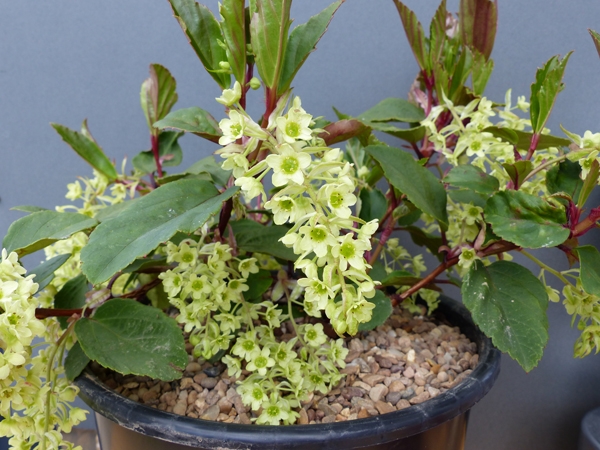 Of the few shrubs on show, the standout example was a flowering currant from western China introduced by E.H. Wilson. Superficially like its commonly-planted North American relation Ribes sanguineum, R. laurifolium is a much lower-growing plant with large dark green leaves on red-purple stems. John Savage exhibited the more attractively-flowered male form, its creamy-green flowers showing well against the leaves. The variety 'Mrs Amy Doncaster' was selected because of its larger flower panicles. When grown in the open it prefers a little deciduous shade. This helps to keep off the worst winter frosts but for those living in a known frost pocket, a more sheltered position still is a wise precaution.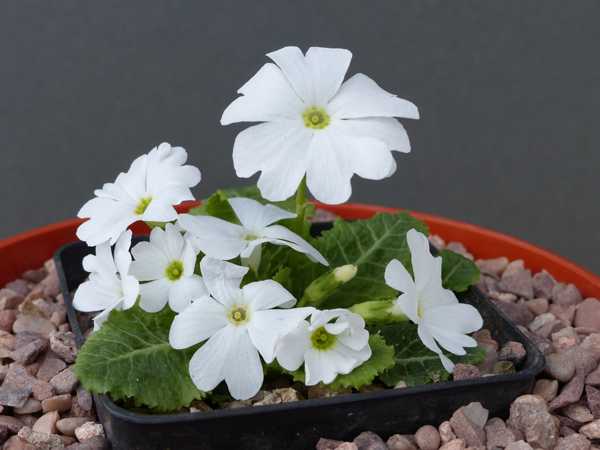 Those who like a bit of mystery will have noted a small, white-flowered plant in the class for rock plants new in cultivation. Dave Riley had also shown it at the week before at Kendal, labelled Primula aff. odontocalyx. Although that identity was refuted, a precise identity was not settled on: taxonomy often takes some time to reach an unchallenged conclusion. Introduced by Jens Neilsen Chongching (Wushan) on the banks of the Yangzte, it may be doubtfully hardy but should do well under cover in a shady frame without heat. Potted in composted bark, grit and perlite with a slow release fertiliser to sustain it, and never permitted to dry out, this may settle down and add to the number of distinguished Asiatic species in cultivation. Apparently it increases by runners, or more accurately 'crawlers' and so this makes possible its wider disemination. Could it possibly be Primula tongolensis? It has notched petal lobes (which P. odontocalyx does not have). We shall see.
Author: Peter Cunnington
Photographers: Don Peace and Jim Almond