East Cheshire AGS Show, 2010
Some warmer weather prior to the show had ensured that a superb range of plants in flower and foliage were seen on the bench at East Cheshire. Large plants of Trilliums, Saxifragas and Lewisias were brought into the show hall - some causing considerable difficulties in transferring such large and heavy pots from car boot to show bench.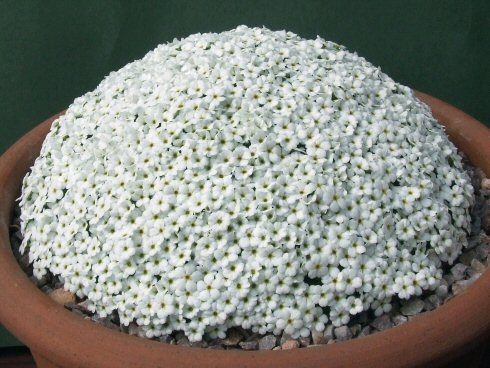 Geoff Rollinson demonstrated his excellence in growing Androsace, with his pan of Androsace cylindrica x hirtella winning the G F Smith Trophy for the best pan of Androsace and the Farrer medal for best plant in the show (his 30th, an incredible achievement). The perfectly grown tight cushion plant with an even coverage of flowers was superbly grown to the exceptionally high standard we expect and always see from Geoff.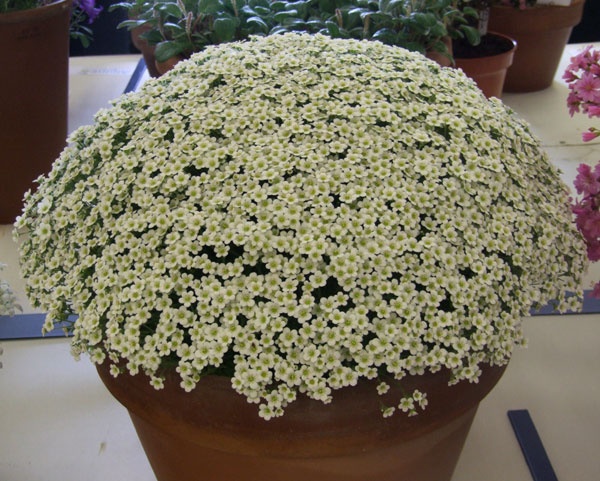 This year has repeated the previous year's success for Saxifraga growers. One of those growers is Mark Childerhouse who has shown some excellent pots of Saxifraga earlier this year winning a Certificate of Merit, AGS medal and his first Farrer medal. By the time of East Cheshire show in early May, the kabscias have finished flowering and the mossy Saxifraga pubescens 'Snowcap' takes over as sax of the week - several pots on the bench, Mark's being the largest and best was awarded a Certificate of Merit and a First Class Certificate from the Joint Rock Committee.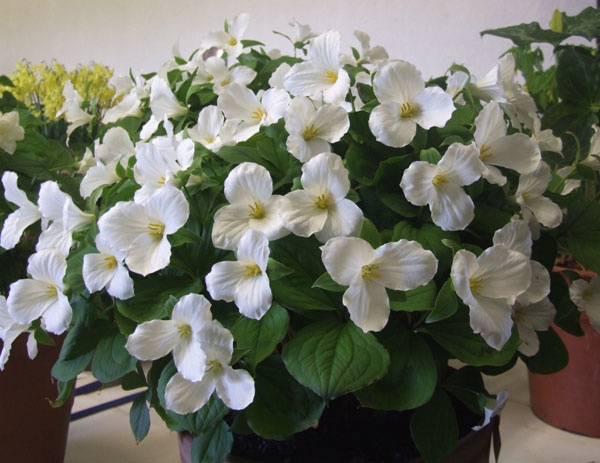 The class for one pan from North America class was won by a large pot of Trillium grandiflorum exhibited by Chris Lilley and this was also awarded a Certificate of Merit. Chris reckoned the plant to be at least 20 years old. It was very well flowered and in superb condition.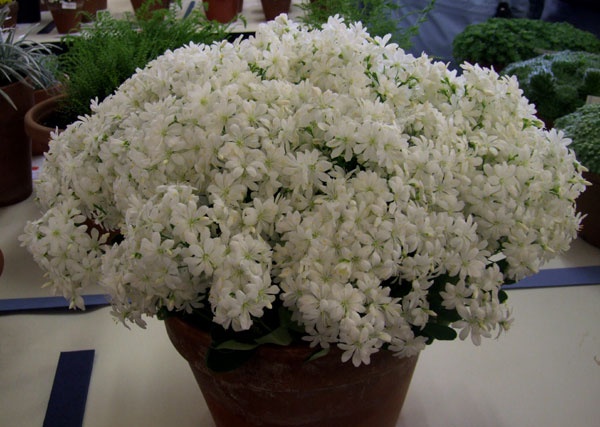 Another Certificate of Merit was awarded to Alan Keay for a large white Lewisia cotyledon 'Alba'
which won Class 3. This plant was bought from Ashwood Nursery about seven years ago as an ex-stock plant previously used for seed production. Alan stands the pot in a tray in a greenhouse and is watered and occasionally fed via the tray. It has only been repotted once by the present owner as this is a tricky task to undertake for such a large plant.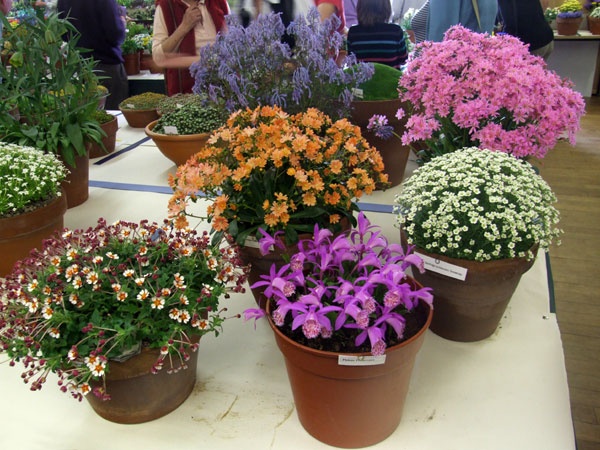 To enter a six pan class you need to have a large collection of plants to be able to select six plants on the show day which must all in excellent condition. An AGS medal is only awarded in a six-pan class if the entry is voted for by a majority of all the judges. Barry Winter was successful in winning an AGS medal for a colourful entry in the large six pan with Corydalis flexuosa 'Purple Leaf' (labelled as the synonymous 'Blue Dragon'), Zaluzianskya 'Orange Eye', Pleione formosana, Saxifraga pubescens 'Snowcap' and two pots of Lewisia cotyledon in pink and orange.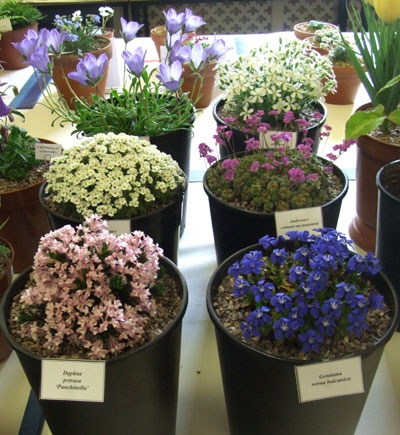 The small six-pan class and an AGS medal were won by Lionel Clarkson including Gentiana verna ssp balcanica, Campanula biebersteiniana, Silene araratica, Androsace villosa ssp taurica, Androsace robusta ssp purpurea and Daphne petraea 'Punchinello' a selection from Peter Erskine unusually with inner flower lobes light pink and the outer ones dark pink.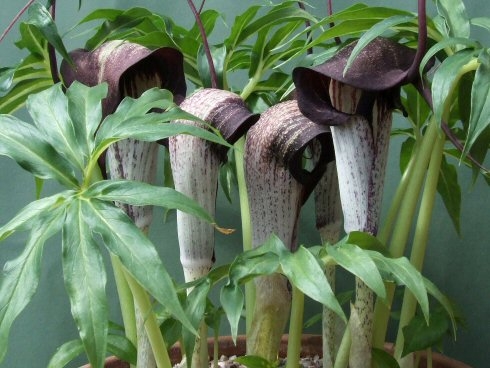 Tony Lee showed a pot of Arisaema thunbergii subsp urashima which won the best pan from Asia class. The main difference between subspecies urashima and subspecies thunbergii is the structure of the appendix, which in subspecies thunbergii has a rough, spongy structure to the white section of the appendix, which in the type it has a smooth surface. Tony bought one tuber about four years ago and bulked up from offsets to the current pot of five. He keeps it indoors in winter to keep it dry and pots it on every couple of years.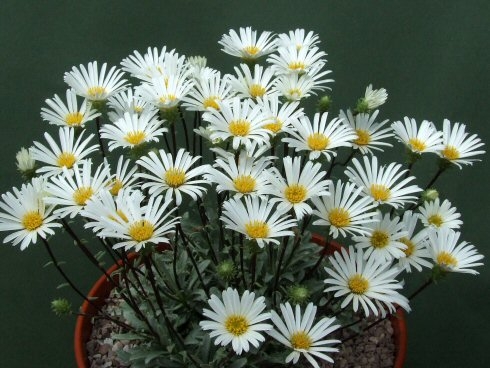 An attractive pot of Celmisia angustifolia was shown by Dave Riley. He grows it in a mixture of Cambark fine, John Innes No 3, grit and vermiculite and keeps it in an open frame all summer and covered in winter. It has survived lows of -18C this winter and flowered better than usual, possibly due to the cold killing off greenfly, to which it can be a martyr.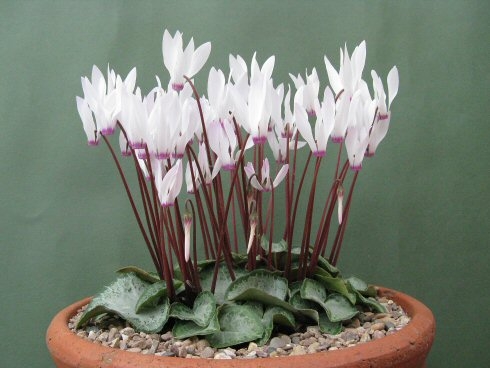 Ivor Betteridge won the Cheshire Challenge cup for the most first prize points in the Open Section, with an eclectic range of plants, including flowering plants, foliage plants, ferns and a conifer. My personal favourite of those was a Cyclamen persicum with excellent silver foliage and good flower quality.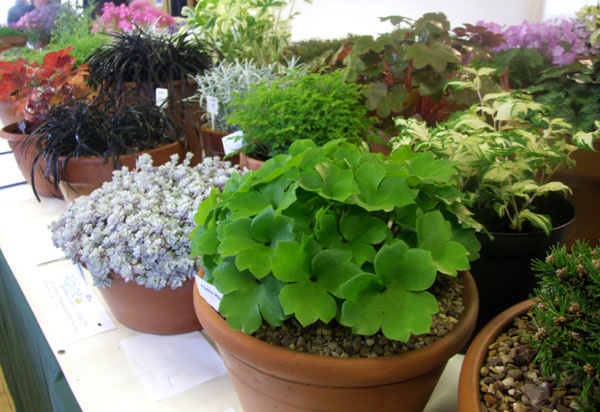 His entry in the large 3 pan foliage comprised Hepatica 'Millstream Merlin' (earning its keep as a foliage plant at mid-season shows as well as an excellent plant in flower earlier in the season), Cyclamen rohlfsianum with well marked leaves and Disporum smithii 'Rick' which has attractive variegated foliage. The plant was originally bought with the name 'Riele' which has now been assumed to be a misreading by a nursery of a handwritten label 'Rick' although the incorrect name perpetuates in nursery lists and websites.
The attractions of an AGS show entice many of us to travel long distances on Saturdays, but the long distance award this week went to the three exhibitors who had travelled from the Dublin area to the East Cheshire show - George Sevastopulo, Billy Moore and Liam Byrne, the latter two were among the top prize winners the previous week at the Dublin Show.
Diane Clement. (Images:- Diane Clement and Don P