East Anglia AGS Show, 2007
The chilly start and overcast sky were a welcome relief from the relentless heat and lack of rain leading up to the East Anglia show, and although the venue was unchanged, the date had been brought forward to the beginning of the month, whereas in previous years it was towards the end of May.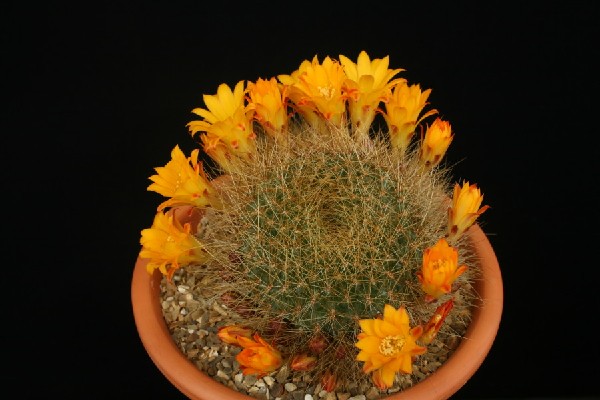 With a long period of challenging weather and an earlier show, it was heartening to see the colour and variety of exhibits on the show bench, and included this time as they grow under the same trying conditions as their better- known alpine cousins were several species of cacti, most of which were in flower.
One three-pan exhibit grown from seed was represented by the genusRebutia, and included the yellow-flowered Rebutia masoneri (subgen R. argentina ) with its star-shaped , golden flowers in the shape of a crown on a barrel-shaped stem covered with fawn-coloured spines. Rebutias are notable exhibition plants as they flower well on relatively young growth. The high-alpine Mammillarias were also on show, demonstrating their covering of dense, woolly hairs for insulation against the cold.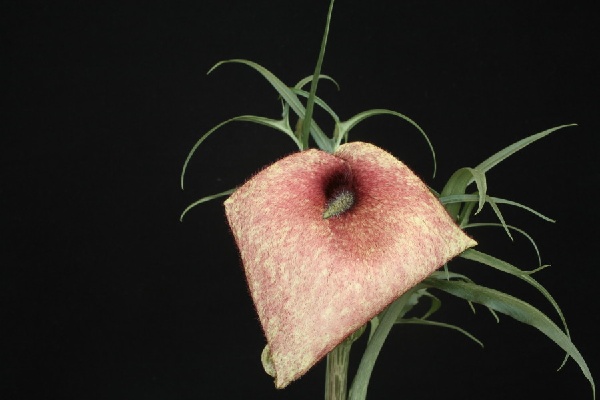 Potentially the smelliest plant was a specimen of Dracunculus muscivorus (left), with a recently-opened reddish spathe that I am reliably informed would really stink the following day. (fortunately?!) Amongst the new or rare plants were Spiranthes sinensis var. amoena with vivid pink marks on the delicate white petals, and Primula maximowiczii ? var. flaviflora with intriguing green flowers instead of the bright red of the species.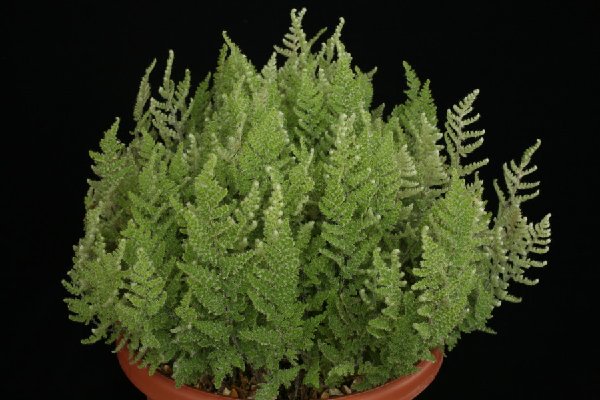 The award for the best fern was won by a pristine pan of Cheilanthes wootonii (rigth) showing all its silver and apple-green new foliage, and shown by the same exhibitor was a well-grown pan of Verbascum dumulosum with many spikes of lemon-yellow flowers A first for this reporter was the inter-generic hybrid x Ramberlea, a gesneriad with attributes from both parents and a plant grown from seed,Trophaeastrum sp. which appears to have the same habit of growth as Tropaeolum, but the flowers were completely spurless.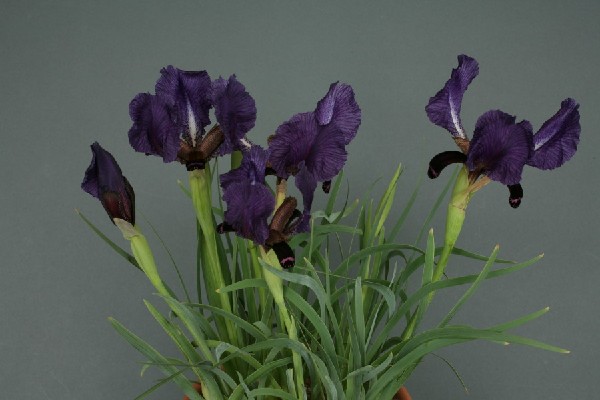 The bulbous classes were well represented and included Allium peninsulare (the judgely huddle concluded that this plant was likely to be A. acuminatum) with bright pink flowers, and the award for the best bulbous plant was won by Iris paradoxa x I. paradoxa var. choshab (left) ( here again an iris authority found it was likely to be Iris paradoxa). Considering that last year this show was uncertain to continue, it was indeed a credit to all those whose hard work made it possible.
Rebutia masoneri, Harold Webb; Spiranthes sinensis var. amoena, Primula maximowiczii ? var. flaviflora, Ray Drew; Dracunculus muscivorus, Cheilanthes wootonii, Verbascum dumulosum, Cecelia Coller; Trophaeastrum sp. Rosemary Wilson, xRamberlea, Mike Smith; Iris paradoxa, Jean Rich.
Angie Yourston