East Anglia AGS Show, 2016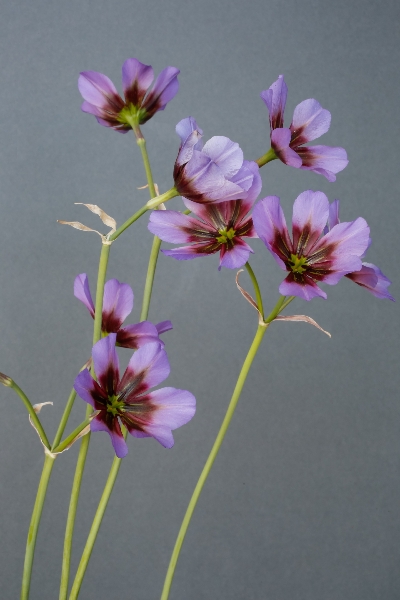 Prunus 'Kanzan', that commonly-planted and none too subtle flowering cherry, was in full bloom along the drive leading to Wymondham High School, a sure sign that summer was near. There were similar hints on the show benches, from Cecilia Coller's Leucocoryne purpurea F&W 9547 [right] to other South Americans such as Keith & Rachel Lever's normally June/July flowering Sarmienta repens (Old World gesneriads were oddly almost absent, with Peter Farkasch's Ramonda serbica a distinguished exception).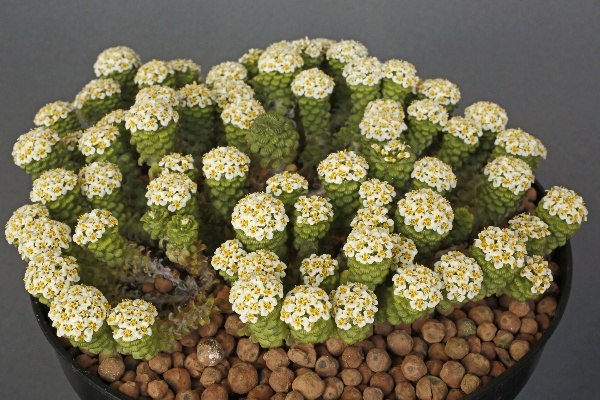 Their son Tim remained in North Wales, looking after the nursery, but sent along a remarkably compact Nassauvia lagascae subsp. lagascae, grown alongside his collection of dionysias and watered with similar caution. Normally it sprawls in cultivation and is short-lived, but by decapitating the shoots as the flowers wane, and providing a combination of a sparse compost and full light, a much more satisfactory outcome had been achieved, marked by a Certificate of Merit.
Suggestions that this was a 'superior' clone were probably wide of the mark: the difference between a superlatively-grown and an indifferently-grown plant can deceive. By way of evidence I cite another of Cecilia's exhibits, Sedum humifusum, now filling a 33cm half pot and capped with a solid mass of rich yellow, near sessile stars, while others in the same class were either in bud (but clearly not destined to approach this display) or with only a scattering of flowers. Given that this species is so easy to root from detached shoots, I very much doubt that many exhibitors trouble to raise new stock from seed: the majority of plants represent just one clone.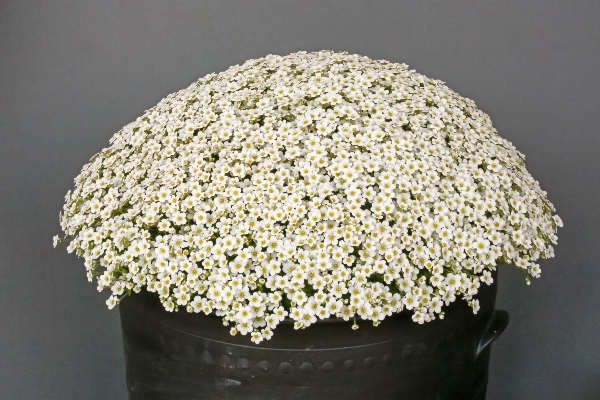 This is certainly the case with Saxifraga pubescens 'Snowcap' (though again a first-time visitor might have thought otherwise, looking at much smaller, modestly-covered rival entries), for long the most popular member of the 'mossy' brigade. Alan & Janet Cook's Farrer Medal-winning example (that's two on the trot: they had similar success at Exeter the previous weekend) was of the order that it takes at least 10 years to attain. Perversely, a few exhibitors admired the black plastic pot's unusual, recessed hand-grips (making the container easier to transport than any others of such size) almost as much as the spectacular floral extravaganza.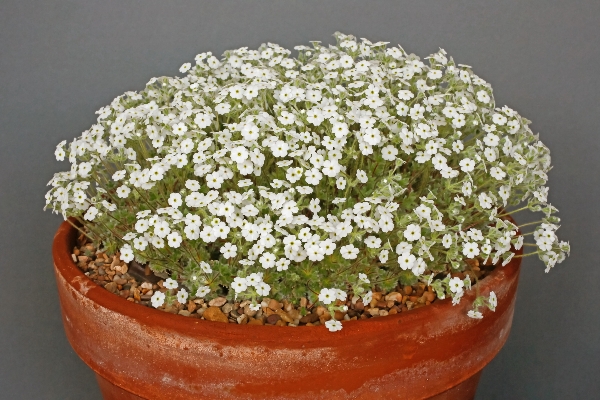 The Cook's clearly have a penchant for white-flowered mounds and also staged a lovely, substantial cushion of Androsace robusta subsp. robusta, from an introduction said to be traceable to a Nepalese locality (normally it comes from drier parts of the western Himalayas). This was especially delicate with smallish, densely hairy rosettes already sprouting stolons aplenty, though this was only apparent at the margins, for the mat had an even covering of c. 5cm stems bearing umbels of 3-5 flat-faced, yellow-eyed white flowers, outward-facing in the main and on spoke-like pedicels to 5mm long.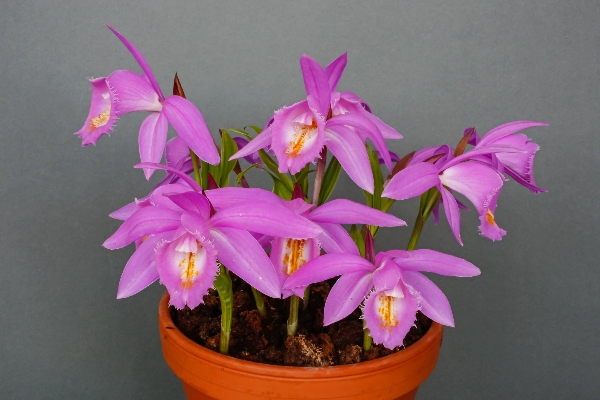 Don Peace's plants of the same taxon had larger, chubbier rosettes and were altogether more condensed, the flowers (with much shorter pedicels) larger and with slightly flounced petals, their centres as often pink as yellow, connoting their age. The smaller of his two plants contributed to his six-pan (small Open Section) win, where the most eye-catching of the group was an expensive (if bought outright, rather than increased by the owner over the years, as here) clump of Pleione Ueli Wachernagel gx., representing the hybrid P. aurita x formosanum and in this case closer to the former in appearance. Clones such as 'Pearl' are white with a very faint mauve flush; this was a likeable lilac-mauve and appears to be unnamed.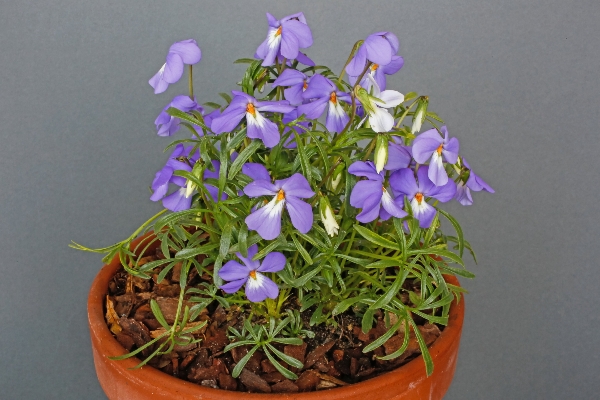 Pleiones were also to be seen in the well-entered Intermediate Section, though it was Audrey Dart's Viola pedata [right] (a concolorous version, slightly paler than the aforementioned pleione) that won her the Suffolk Trophy for best plant in flower therein. She had other good entries, such as Hepatica nobilis ex 'Cremar' (probably crossed with var. pyrenaica in view of its strikingly marbled leaves, Pelargonium-like with reference to the mother plant), but had to cede the Ken Aslet Trophy – for most aggregate points in the Section – to peter Hardy, among whose plants a mature, beautifully-shaped and furnished Pinus mugo 'Minikin' was exemplary.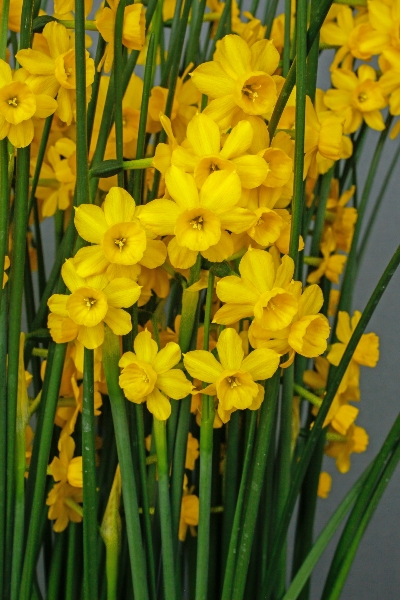 Admiring the hepatica with fellow judge Diane Clement, I enquired why she hadn't brought along any of her plants, despite having a substantial collection. 'They're all in seed', she explained, before going on to say that in the past she had shown them at this stage, cunningly burying the fruiting stems under the bark topdressing, but that this wasn't very satisfactory. Instead she had a range of exhibits grown from seed (and won the three-pan class for such plants with Trillium grandiflorum bicoloured form (sown September 2005), a good selection of Lewisia cotyledon f. alba (sown September 2008) and a winsome dwarf form of Arisaema amurense ex. Sakhalin (obtained from the Arisaema L website seed list and sown in January 2008). Another victory in a three-pan class (though not from her own seedlings) came with Tulipa linifolia Batalinii Group 'Bronze Charm', a white form of Muscari aucheri, and one of two extremely well-bloomed, bolt upright clumps of Narcissus willkommii [left] marking the tail-end of the daffodil season.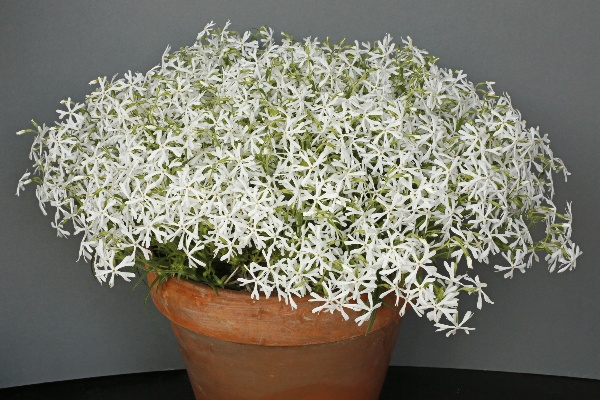 By contrast, Chris Lilley's large pan of taller N. jonquilla had reacted badly to the warmth and the length of its early morning journey, the upright flowering stems near-horizontal just before judging time. As such it had to be replaced in his AGS Medal entry, which included a very large pan of Trillium grandiflorum (the largest division of his 2011 Conference Show medal-winning clump, though he had another of almost equal size that took first place in the one bulbous plant class) and a billowing snowy mound of Phlox bifida 'Alba' [right], at its very peak, that was awarded a Certificate of Merit. Four years old, it had not been trimmed back after flowering in previous years (the usual course of action) but was nevertheless as compact and vigorous as could be wished. In common with a large-flowered form of brilliant yellow Anemone ranunculoides in the same group, it is seldom grown in a pot but can make a very handsome exhibit; indeed, the phlox was runner-up in the Farrer Medal voting.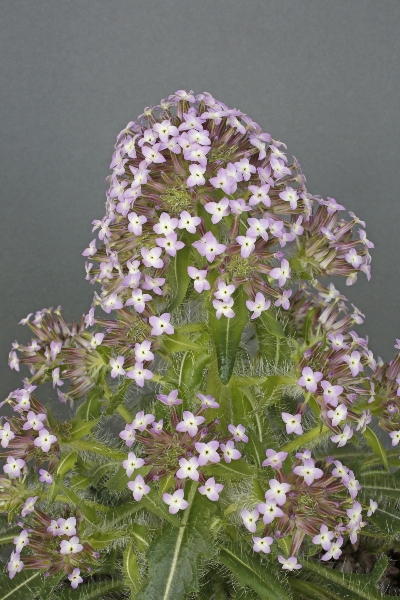 A smaller plant of the trillium (also from Chris's original plant but with nine flowers rather than the 60 in the case of the block from which it was chipped) was included in the present writer's three-pan entry, its other components surely the most tongue-twistingly named of all the plants in the hall. Allium shelkovnikovii 'Sarejn' (the species commemorates the famous Russian botanist Alexander Shelkovnikovii and was described in 1927) and Tchihatchewia isatidea [left] (named for another distinguished Russian, the aristocratic Pierre de Tchihatchev, who was a politician and a geologist to boot) might sound outlandish, though I much prefer both appellations to the dreadfully-christened Ethel Gooch Road, a very short distance from the show hall.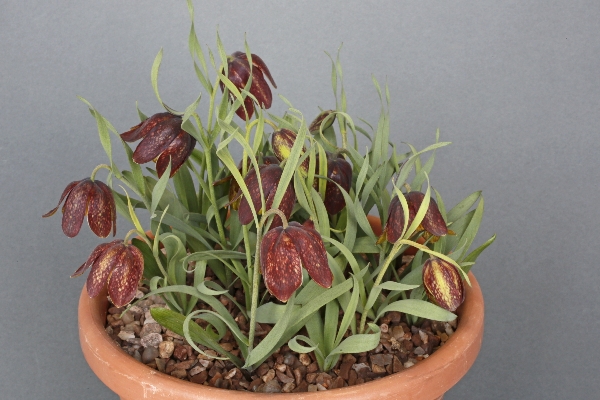 Mention is made of the Count's crucifer not only because it hasn't been exhibited for many years (I had three at the show and three others still in bud at home) but also to emphasise its strong, cloying 'perfume', overpowering on a warm day such as was otherwise enjoyed at Wymondham. Another of my exhibits, the northern Greek Fritillaria epirotica, is less sweetly but equally unpleasantly pungent under these conditions: thank heavens that the air conditioning was turned on full in the car all the way home!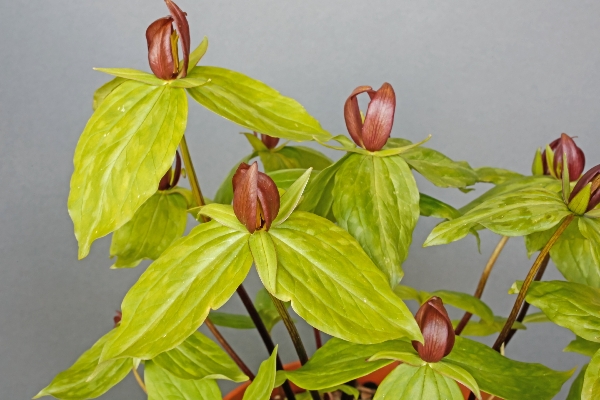 I conclude this report by considering just three more plants, the first of them also exuding a scent that will not appeal to all. Ian Instone brought along several trilliums that he had raised from seed provided by renowned British expert on the genus Carl Denton. His established clump of Trillium sessile (from a 1998 sowing) had around a dozen beetroot-stained stems, the 'leaves' (bracts) faintly mottled and the small flowers maroon but not noticeably scented, for all that Fred & Roberta Case in their 1997 book Trilliums note: 'Flower odour pungent, spicy in fresh flowers'.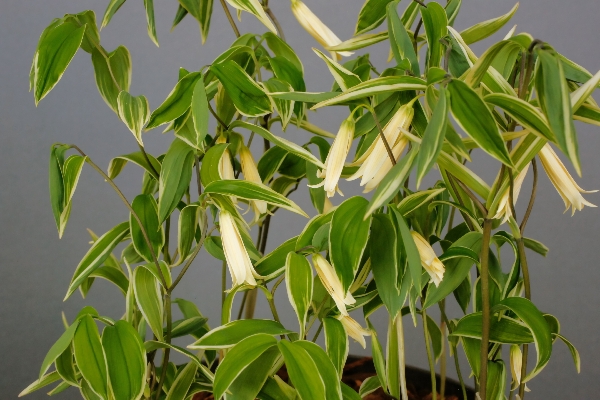 Another woodlander from the eastern United States, Uvularia caroliniana [right], was shown in a variegated form just 12cm tall and with narrow cream bells by Ivor Betteridge. The contrast was sensitively highlighted by deployment of a finely-grade bark topdressing to throw into relief the complexities of the coloration. Some will feel that such cultivars come close to flouting Shows Handbook rule 14, which cautions against 'over-selected' forms. But these were often originally wildlings, expressing the natural variation that typifies forms of Lewisia cotyledon (everything from white to blood-red was on show), certain irises, hepaticas and many others. Ivor also exhibited a lovely double form of Anemone apennina, akin to some Japanese hepaticas in its complex flowers, held clear of the flat-leaved parsley-like leaves. Certainly it was widely admired by visitors, endorsing the sentiments expressed by Elizabeth Strangman (from whose onetime Kentish nursery it was distributed: 'The slow and oh-so-scarce fully double form. Perfectly formed flowers in subtle shades of pale blue, with mauve and green shading'.
Author: Robert Rolfe
Photographer: Doug Joyce