East Anglia AGS Show, 2014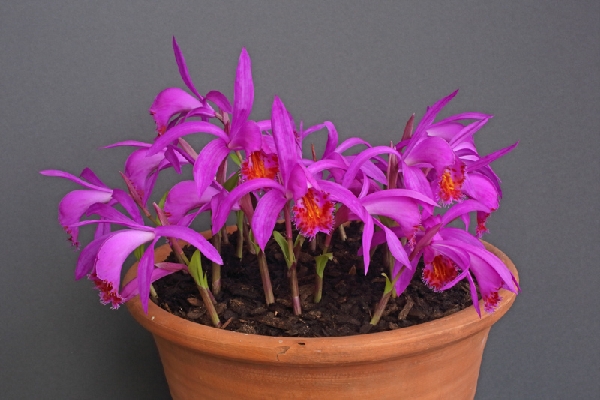 This show routinely attracts a wide array of excellent exhibits selected from late spring/early summer flowering genera such as Dianthus, mingling with woodlanders and the first of the campanulas. This year's event maintained this tradition with a display that reflected the transition from spring towards summer through its impressive diversity of plants, as exemplified in the unusual but popular class for a quartet of rock plants, distinct, two in flower, two shown for foliage effect, which attracted nine entries, with scarcely any of the plants repeated from one exhibit to another. Cecilia Coller's winning entry contributed to her accrual of most first prize points in the Open Section, marked by the award of The Norfolk Trophy, which yet again appropriately remains in the home county of this exhibitor, who also won it in 2013, 2012, 2011… (the list continues). Another of her plants, Pleione Stromboli gx 'Fireball', displayed flowers of such an intense and vivid purple colour above the black bark topdressing that the effect was dazzling, verging on the surreal.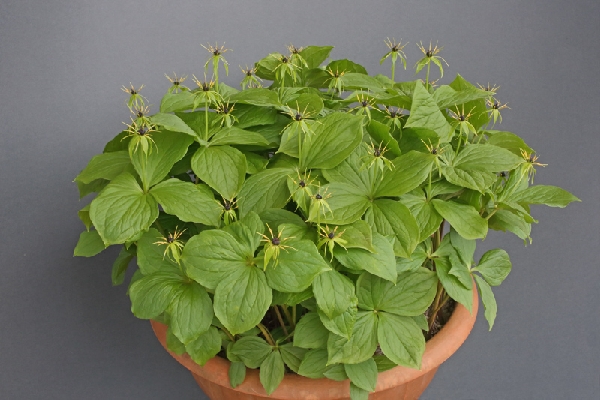 Appropriately for the show location, pans of Paris quadrifolia (the Herb Paris, found in certain bosky East Anglian locales) made an appearance. Ian Instone's large pan gained a Certificate of Merit, underlining the sophisticated, elegant appeal of this none too easy to establish indicator of ancient woodland, which can hold its own even when pitched against various of the more exotic Sino-Himalayan species sometimes in evidence on the show benches at Wymondham.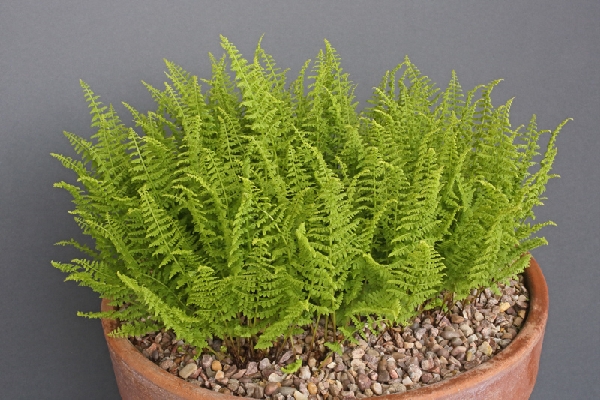 A further rare British native, Cystopteris dickieana, was staged by Don Peace with the fresh green, unfurling 15cm fronds jostling one another skywards, and at an optimum stage of development for exhibition purposes. Found so far in just one location ‒ a sea cave in north-east Scotland ‒ this won the Barbara Tingey Trophy for the best pan of fern. Described in 1848, and said to differ from the local yet widespread C. fragilis in its rugose spores, and sophisticated differences relating to the pinnae and pinnules, it sometimes produces sterile hybrids with the latter pan-European species.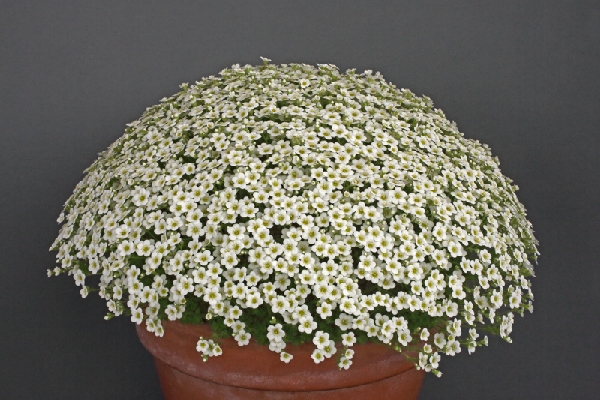 Large pans of Saxifraga pubescens, a variable native of the central and eastern Pyrenees, are regularly seen at this show, in recent years nearly always in the selection 'Snowcap', which forms larger cushions than almost any other. Alan and Janet Cook's large plant formed a perfect dome of fresh white flowers, awarded the Farrer Medal, and thought to be at least 10 years old. It is grown in a mix of equal parts John Innes no. 2, composted fine bark and grit, with potting-on the trickiest time of all when a specimen reaches a comparable age, for the 'neck' is comparatively slender in comparison with the large rootball, and prone to shearing off if not supported throughout this operation.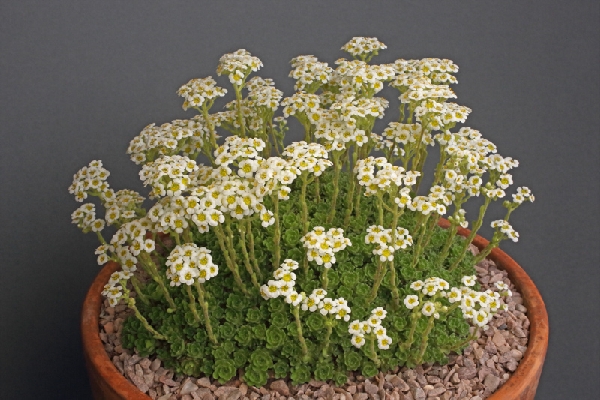 Alongside it was Clare Oates' Saxifraga spruneri, a less showy, rather slow-growing species originally described from Parnassos but also known from a couple of adjacent mountains, disjunctly to the north-east on Mt Olympus, and intermittently across the Balkan Peninsula from Albania to south-western Bulgaria. Normally rather shy flowering, this specimen carried over 50 flowering stems, topped by cymes of 4-12 small white flowers, mirroring the Farrer Medal plant in miniature. Many remarked this plant was the best specimen they had seen, so its Certificate of Merit accolade was thoroughly deserved. Normally repotted every year (though not in 2013, which encouraged a beneficial, slightly pot-bound state), if so treated it needs no supplementary feeding. Cuttings root well from single shoots dibbed into sharp sand in early summer, but damping off in winter is sometimes problematic.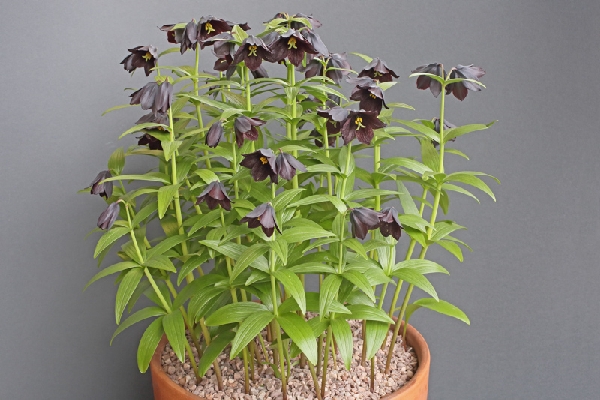 Another of Clare's exhibits, Fritillaria camschatcensis, was received as a single bulb many years ago and has been steadily multiplied by means of its abundant rice grains (Indian Rice is one of its popular names in North America) ever since. Native to the North Pacific rim, in this form it had dark brown-purple flowers on stems to 40cm tall, 20 or more of these now filling a large pan.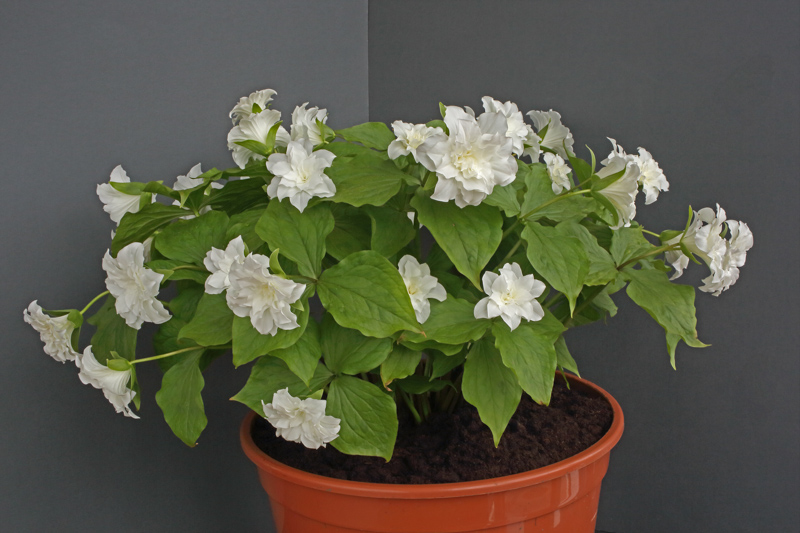 Her exhibit was adjudged the best pan of bulbs, gaining the Sudbury Prize ‒ a useful engraved stainless steel trowel ‒ and triumphing over perhaps the largest pan ever seen of Trillium grandiflorum forma polymerum 'Snowbunting', brought along by Ivor Betteridge. Ivor commented on the double flowers giving the appearance of being very slightly 'top heavy' when fully developed, in the way of some peonies, illustrating his highly attuned eye when it comes to the presentation of show plants.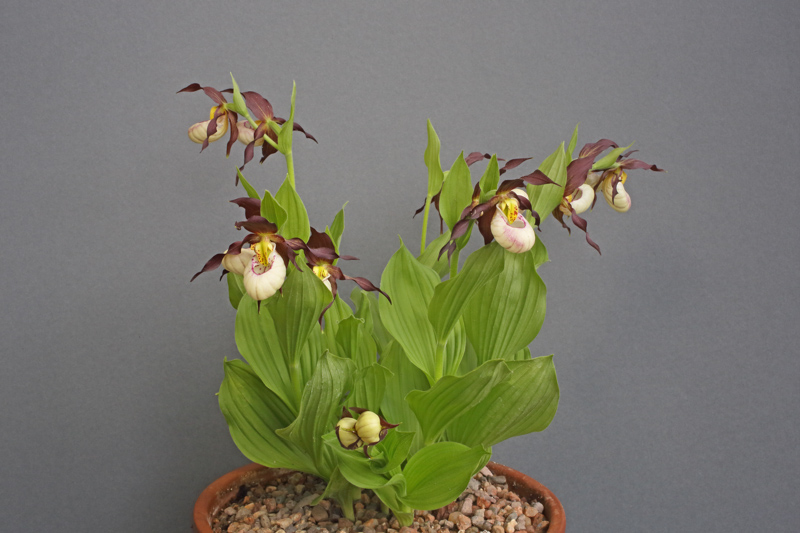 The Intermediate and Novice Sections were disappointingly short of plants. David and Liz Livermore won the East Anglia Trophy for the most first prize points in the Novice Section and Brian Sulman the Ken Aslet Trophy for the most first prize points in the Intermediate Section. The best plant in this latter mentioned section was his Cypripedium 'Parville', purchased last year as a single unflowered spike, which he planted outdoors. Earlier this year he dug up the plant and placed it in a pot, which produced seven flowering stems, most bearing two flowers along the general lines of C. calceolus, and demonstrating the vigour of some of these recent hybrids. The solitary flowering stems give a better presentation as opposed to the crowded multi-flowering stems of some other raisings.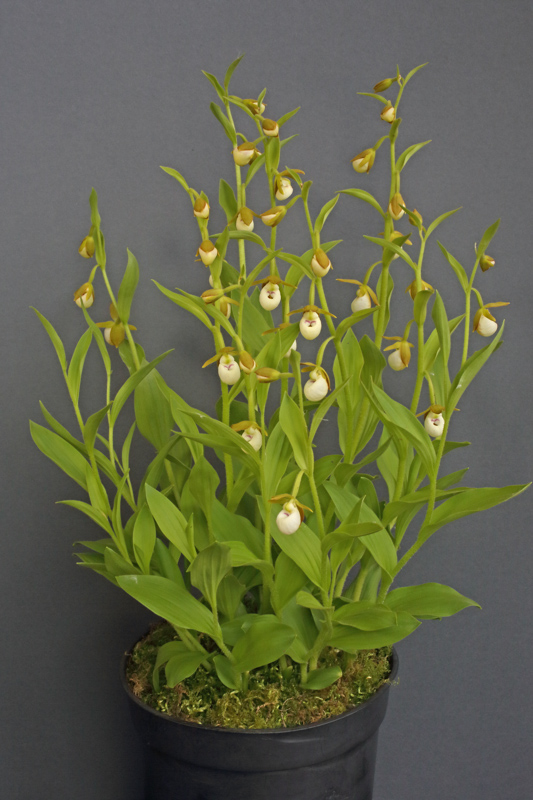 Another plant from the same genus that once appeared at this show courtesy of early champion of these orchids Kath Dryden yet has seldom been seen of late, Cypripedium californicum was shown by Ray Drew. Not a stridently colourful orchid (the slippers are white, the dorsal and lateral sepals lime green, or exceptionally bronze to brownish) but potentially very floriferous, with up to 21 flowers per spike on record, Ray's clump still had flowers to open. Grown against a north wall, this provides a microclimate that he believes assists its cultivation.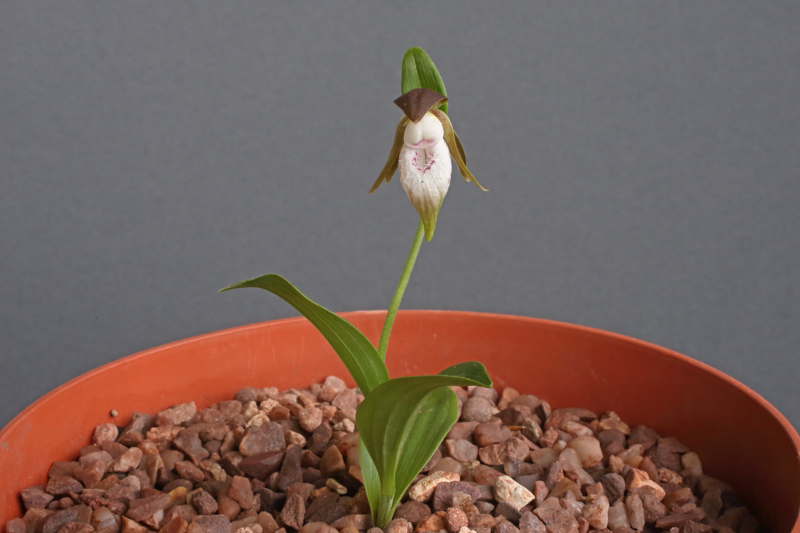 By way of a contrast a minuscule, another plant associated with Kath (and obtained years ago from her onetime Manavlins list), Diane Clement's Cypripedium plectrochilum, an entrant in the new and rare in cultivation classes, resembled in miniature a cobra waiting to strike, fangs to the fore. This orchid is native to mixed forests in Yunnan, often found growing on limestone, in semi-shade, at around 2,000m.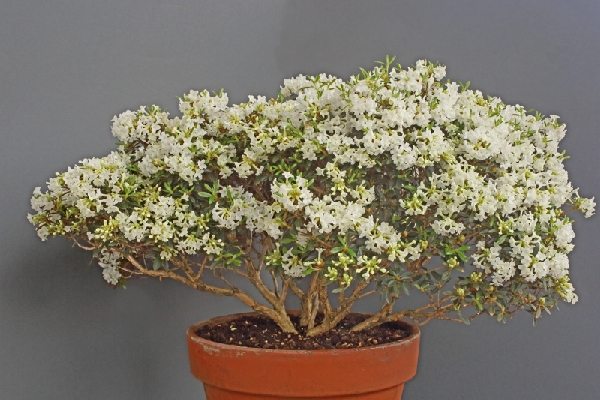 A further plant of Asian parentage, Rhododendron 'Sarled' (sargentianum x trichostomum), was the largest flowering plant entered in the show at around 50cm tall, its main branches bleached and attractively gnarled, with none of the imbalances seen in plants that have not been selectively pruned by their owners in their formative stages. Exhibited by Ron and Hilary Price (Ron's first job in the morning is to nip out onto the terrace and water the free-standing pot daily throughout the summer), it formed clouds of Daphne-like, palest pink flowers, maturing white and long-lasting if protected from the sort of vicious late frost that struck some gardens a few days before the show. This specimen was not quite in peak bloom (it went on to take the Farrer Medal at the Malvern Show the following Saturday) and in your reporter's opinion the smaller leaf and flower size made it more appealing than other dwarf overall but much larger-flowered species.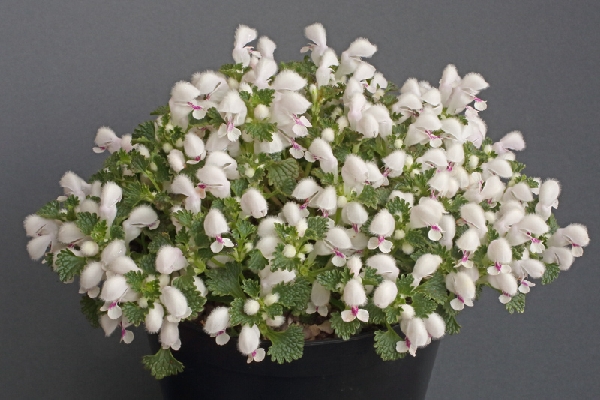 Continuing on the white flower theme, Tim Lever presented a well-furnished, compact Lamium armenum. This showiest of Turkish species tends to flower itself to death, and in any case not long-lived, but removing the flowers as they wither, and keeping the compost moist once growth gains in pace by mid-spring, having repotted two or three times during the previous year, is recommended. Nodal cuttings root well from late spring onwards (but will etiolate unless grown in full light), while seed is often set in quantity, but germinates much better if self-sown in the alpine house plunge than if sown in a pot.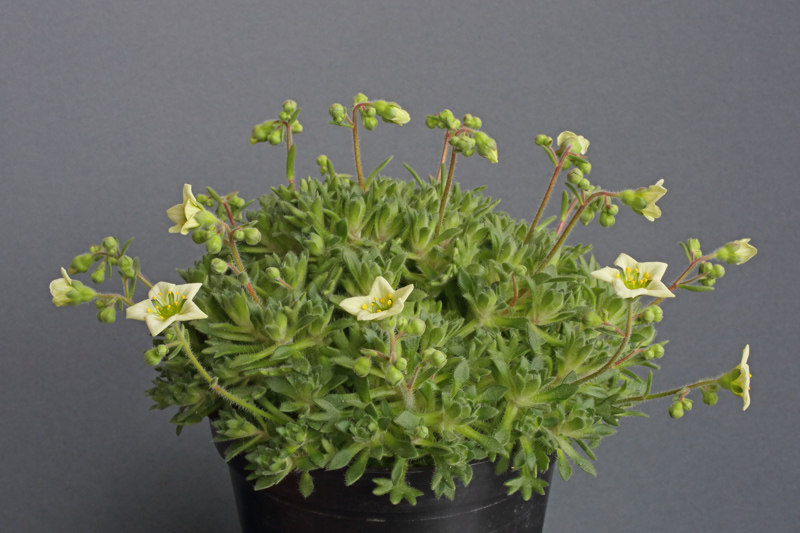 Mark Childerhouse's entry in the class for one pan rock plant native to Europe could equally have also been entered in the one pan rock plant, rare in cultivation. Saxifraga reuteriana, a 'mossy type' from Andulacia, Spain, is summer-dormant, its rosettes turning bright red and alerting the grower that it benefits from dry summer growing conditions. The five-point, star-like flowers, off-white with the petal edges turned back on themselves, have an expansive, attractive campanulate appearance. Another of Mark's mossy saxifrages was what he thinks might well be Saxifraga pedemontana subsp. cervicornis (native to Corsica and Sardinia), although that said, he acknowledges that its appearance matches that of the 'Mt Kazbek' award winning form shown previously by Robert Rolfe.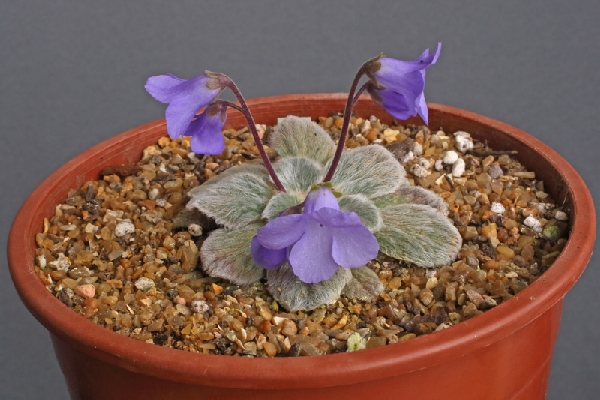 This show is the first of the season to include a class specifically for Gesneriaceae and attracted four entries. That distinguished bigeneric hybrid x Jancaemonda vandedemii is seldom seen at shows. Rod and Shirley Johnson's well flowered plant displayed no browning of the leaf tips ‒ a fault so often seen ‒ despite being grown in an open-weave plastic pot, plunged in an outside peat bed. One of its parents, the Mt Olympus endemic Jancaea heldreichii [left], is usually grown with alpine house protection, for its densely hirsute leaves soak up winter rainfall, to the detriment of the plant. Alan Newton's plant was grown from seed sown during May 2007 (a painstaking business, particularly in the first couple of years) and now has four flowering stems: multi-rosetted plants, many decades old, can occasionally be chanced upon at various altitudes on its famous home mountain, where its flowering reaches a peak in June, but can extend as late as August in its highest, shadiest stations.
Author: Chris Lilley
Photographer: Doug Joyce and Jon Evans