East Anglia AGS Show, 2013
The fields of daffodils close to Spalding were pristine and gleaming in the bright early morning light as I was driven east to the show at Wymondham, its home for the past 14 years. Only a few miles from our destination, where the road runs parallel with a railway cutting, the banks on either side were covered with countless clumps of primroses. A spectacular display, though even within the car there was a tour de force in the form of a mighty Trillium grandiflorum with over 80 flowers. A few hours later, and for the third year in succession, it won a Farrer Medal for Chris Lilley, though this time at a later date than ever before.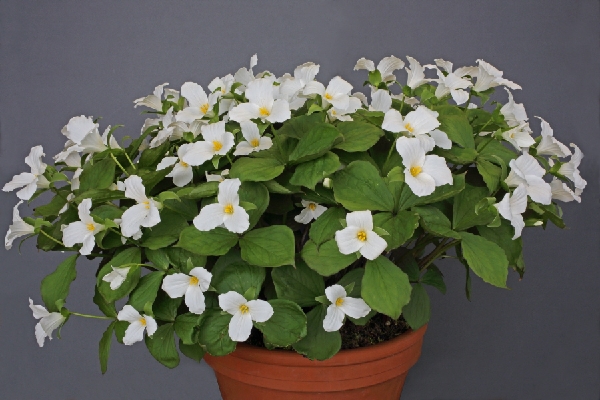 For the week leading up to the show it had been relentlessly carted around his garden to escape strong sun and high winds, with a fine spray-over of rain water every evening to keep the foliage and the mossy topdressing verdant. Seed was produced last year but hasn't germinated so far, and since there are no follow-on pots at present (sales plants inspected to date haven't measured up to this alpha individual), the possibility of detaching a few offsets from the edge of the clump come late summer has been contemplated.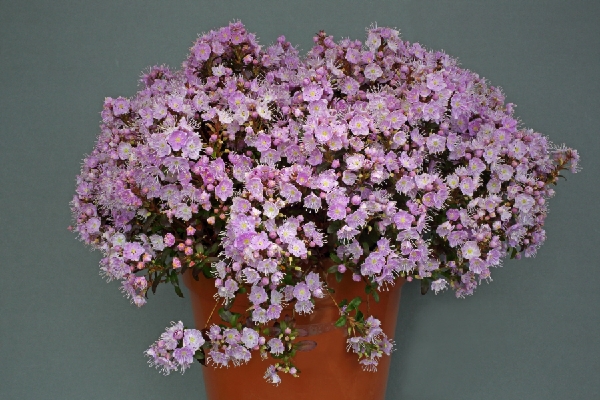 Its closest rival, a Certificate of Merit-winning Kalmiopsis leachiana, was one of numerous strong entries brought over from Aylesbury by Alan & Janet Cook. On another occasion, they might easily have claimed a Farrer Medal with their mature dome of Saxifraga pubescens 'Snowcap', while in the 19cm pan classes, they had another 'mossy', the Turkish S. exarata subsp. adenophora, and another snowy white mound – Androsace vandellii [below] this time – that was labelled as having been raised from seed sourced in the eastern Spanish Pyrenees above Nuria.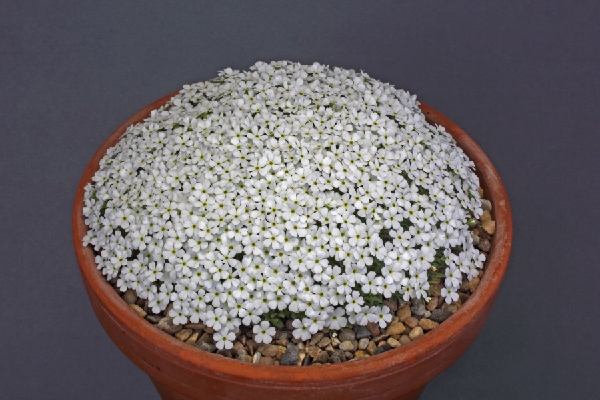 I've seen it there, and the small plants had the squinniest flowers imaginable, whereas these were of a good size, and borne on a cushion twice as large as any I have found there, or anywhere else in its range for that matter. Another of their cushions, identified as Draba longisiliqua but very likely a hybrid between this and D. mollissima in view of its tiny rosettes and their coloration, was victorious among six strong entries in the large cushion plant class. Curiously there wasn't a flower to be seen, and no sign of what would certainly have had to be their very recent removal. With all its fellow car boot neighbours in lavish bloom, it had by restraint and default provided the Cooks with a sophisticated, austere means of winning yet another class!
Although unplaced, another venerable cushion in the same class, Azorella filamentosa, appealed greatly. Unlike the last plant, this one was in flower, although the much-reduced umbels of green-yellow flowers, nestling within rosettes of miniature, grey-green, oval leaves, are far from showy and not immediately apparent. Native to southernmost Chile and Argentina, and also (like a number of plants from there) the Falkland Islands, it is a plant of wind-strafed grassland and rocky places that at these southerly latitudes is considered of alpine affinity, for all that it altitude range is from sea level to c. 100m. The heavy pot was made heavier still – though to good effect – by the liberal deployment of crystalline rock shards as a surround.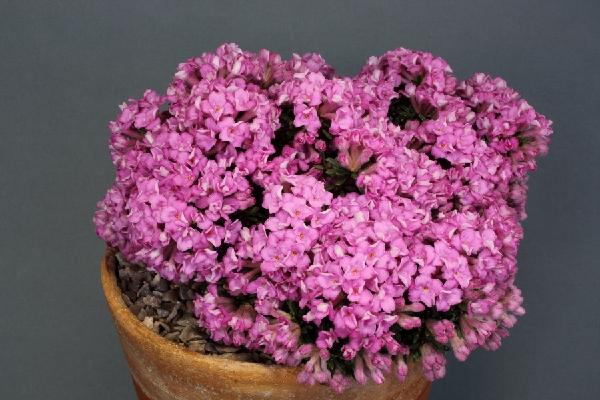 I had first made this particular specimen's acquaintance just three days earlier, at a Derby Local Group Show run by its owner, David Charlton. He brought to the east Anglia Show a number of other good plants, most notably a long tom filled with an exemplary Daphne petraea 'Grandiflora' that had been in promisingly plump bud on the earlier occasion. Not knowing whose plant it was, in my rambIing assessment to the assembled following judging, I suggested that if watered well and kept in a warm place, it would be in peak flower for the Wymondham Show. For just once someone actually listened to me, for there it was, the clear winner in the fiercely contested class for a plant native to Europe, and probable recipient for the best plant in a 19cm pot, had such an award (given at most shows; curiously not here) been available.
But just a day or two earlier, that same accolade might have gone to John Richards' remarkable Primula carniolica, whose count of 18 heads of pin-eyed, substantial lilac-pink flowers with white paste centres is far and away the most I have seen in this rarely-cultivated auricula-relative from a few stations in Slovenia. Originally raised by Brian Burrow, this plant had lived in Newcastle for the past eight years, where it has benefitted from a more shaded position than its near-relatives such as P. marginata and P. hirsuta, appreciating fairly regular repotting to satisfy its healthy appetite. How nice to see its glossy green foliage without a hint of chlorosis... unlike quite a few examples one could cite!
John brought along a good selection of other plants where timing is of the essence, a couple of days making all the difference between a show-stopper and a stop-at-home, spent effort. A handsome clump of the glossy white Sanguinaria canadensis f. multiplex 'Plena' was in full display at the end of one bench, but his stand-out plant was surely a cross between Pulsatilla vulgaris var. rubra and P. vulgaris subsp. grandis, again lifted from the garden (and not for the first time; a brave move nonetheless), whose raspberry-coloured, upward facing flowers, their lemon-yellow bosses of stamens acting as interior lighting, jostled for position on the very shortest of stems.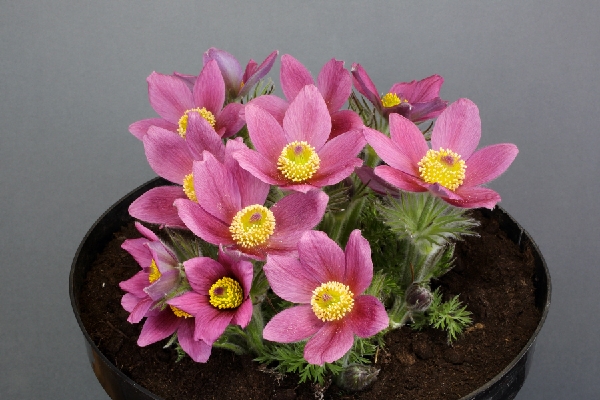 This is a plant that should be grown in the open rather than under glass, for it likes to root down beyond the confines of the average pot, and soon after flowering a ferny flush of foliage greatly increases the circumference of the plant – a growth surge that can bury weaker-growing neighbours very rapidly indeed.
There was a fine array of Fritillaria species, the pick of them Greek, from Peter Erskine's diminutive F. epirotica, through to a sweet-smelling F. tuntasia, and a stately, 50cm tall clump of far from fragrant – except to a fly − F. messanensis (goodness knows how Don Peace managed to cram so many bulbs into such a relatively small pot!) This I judged along with John Richards, who straight afterwards peered at the label and was delighted to find the inscription 'MESE 324, sown 01/01/00', for this referenced the AGS expedition to Macedonia that he masterminded in 1999.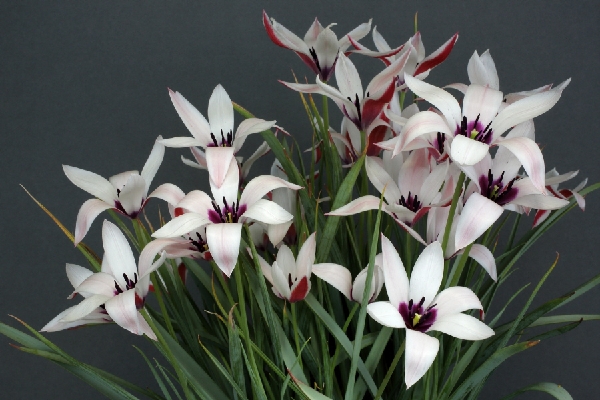 Staying with bulbs a while, Cecilia Coller had a very effective large three-pan made up of Erythronium 'White Beauty', a clump of the very elegant Tulipa clusiana better-flowered than anyone present had ever seen, and an unusual ivory, brown-veined form of the Turkish Iris schachtii, one of the best of the dwarf bearded irises, and a subtle, sympathetic accompanist. It benefits from division every two or three years, and thrives in a gritty, loam-based soil and a sunny position. One again Cecilia won the Norfolk Trophy for the most first prize points in the Open Section, her small six-pan entry including another tulip (Tulipa aucheriana) and another iris (I. babadagica).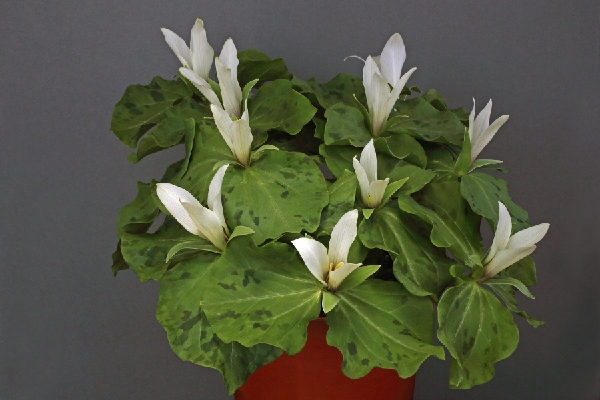 Ian Instone too had some worthwhile bulbs, all raised from seed over the past 20 or so years. A very even, late-flowering group of Narcissus rupicola (from AGS seed sown in February 2007) had bulked up to yield a total of some 30 flowering bulbs, while from the same source, but dating back to 1995, he showed a number of trilliums, the pick of them a couple of well-bloomed, orderly pans of Trillium chloropetalum var. giganteum, the sparingly mottled and purple-dashed light green foliage a likeable foil for the rather slim, vase-shaped, off-white flowers with pinkish-stained bases. Such plants need 'moving on' in their early stages, for if left in their seed pans too long, progress is slow. Grow the seedlings separately after their first summer dormancy, keep them in a sheltered, shady position, and liquid feed them lavishly while in growth.
His wife Georgina entered a distinguished Primula marginata hybrid in the Intermediate Section (in truth, despite the deckled leaf margins, it leaned heavily towards P. x pubescens): almost Victoria plum in colour with a deeper zone towards the centre of the flower. If it represents a home-raised seedling, then a clonal name is merited.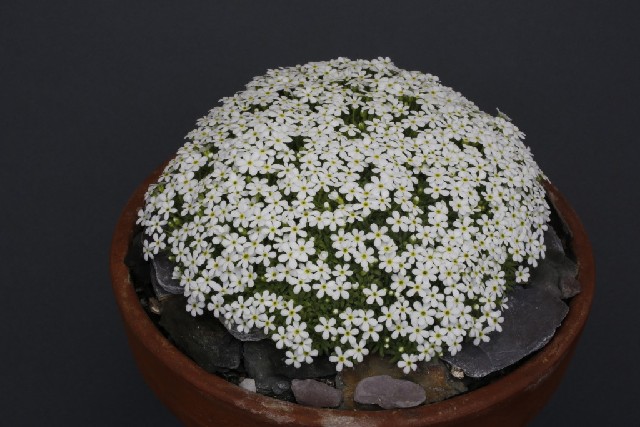 Primulaceae held sway in this Section, with the more thickly flowered (though not the largest) of Michael Sullivan's two Androsace cylindrica x hirtella gaining him the Suffolk Trophy. He had received the seed under other guises. While sent in to seed distributions in good faith, many of the plants seen under the names A. cylindrica, A. hirtella and A. pubescens represent this cross, whatever their labels might proclaim! And Brian Sulman's Primula 'MacWatt's Cream' was a welcome sight, for all that it was no match for the native Oxlip, authentic stocks of which were shown by several exhibitors, with show photographer Doug Joyce a custodian of its Bradfield Woods locality, close to bury St Edmunds.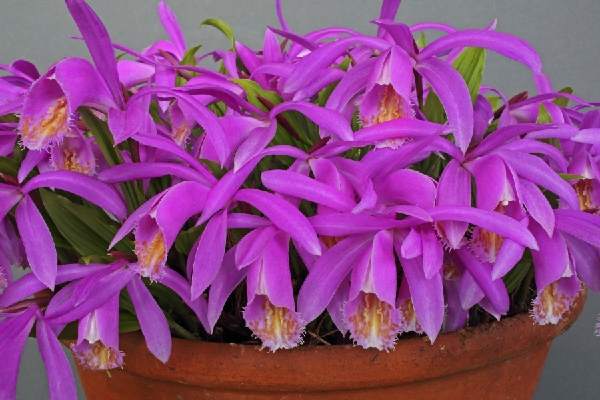 At this time of the year, one would normally expect to admire the first of the cypripediums. None at all (they were scarcely through the ground in some collections) thus far, but a good array of other hardy orchids was evident. The most spectacular exhibit was a large, shallow pan filled to overflowing with hundreds of Pleione Tolima gx pseudobulbs in peak flower. This miscegenation, involving P. formosana 'married' with P. pleionoides, was first registered by Ian Butterfield in 1979, and as such constitutes of his earliest hybrids. Many repeats of the cross have been carried out since, but this unnamed version, with rather narrow-lipped purplish flowers, the labellum with two lemon-tinged, parallel ridges and a sparsely lacy fringe of lamellae, was one of the very best performances one can recall from the genus at AGS Shows over the past 30 or so years.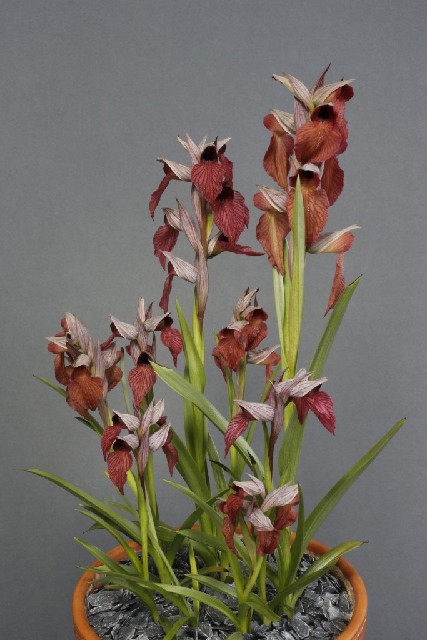 Terrestrial orchid specialist Barry Tattersall had some typically immaculate entries. These included a single spike of the bolt upright, almost woody-stemmed South African Satyrium corrifolium (with orangey-yellow hooded flowers that have fluked, chrome yellow lips: it's hardier than some guesstimating onlookers imagined, and has perhaps been exhibited just once previously); an elegant trio of purple Anacamptis laxiflora (like the foregoing, a very seldom exhibited species, but one that needs much damper conditions, for it thrives in wet meadows and bogland); and a much-praised grouping of Serapias x godferyi (= neglecta x cordigera), representing just two clones raised from seed by Richard Manuel, one with a much deeper, redder lip but both very intricately veined, and complementary in their coloration so that the intermixed spikes didn't jar. This was the third recipient of a Certificate of Merit.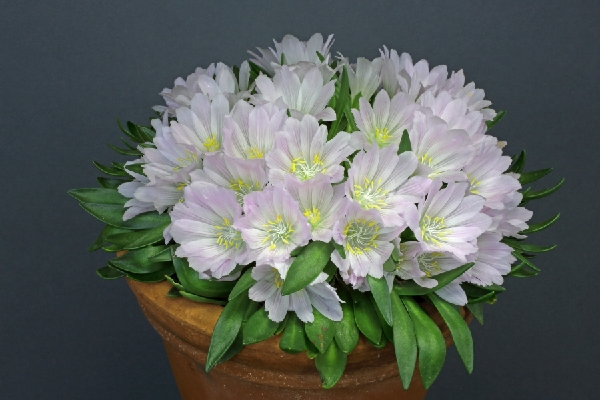 Another such award might have gone to either of Jim McGregor's Lewisia brachycalyx, for with up to 50 flowers apiece they made any of the other Lewisia exhibits present look very modest indeed. Descendants of a plant he regularly showed a decade and more ago at the onetime Harrogate Show, one represented a back-cross with a friend's deeper pink clone, and although the flowers were less inclined to open fully, their darker hue had a dusky allure. The blooms are only at their best for a few days, and bruise easily, particularly when taken on a long-distance journey: be prepared to snip them off by the dozen in the hour before judging commences.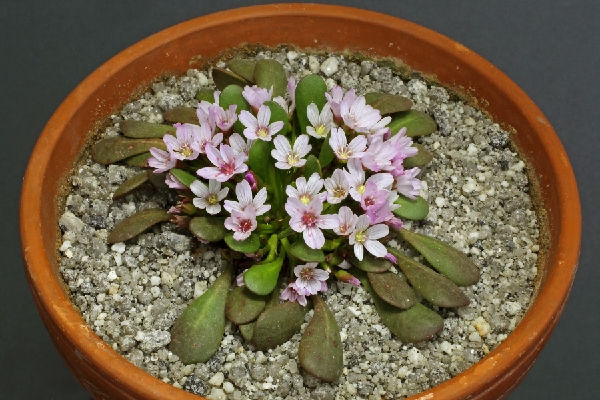 Its relative Claytonia megarhiza, more widely, albeit discontinuously distributed from Washington south to New Mexico, was shown in its lilac-pink, large-flowered form (var. nivalis) but the most fetching representation was Peter Farkasch's diminutive, white/darker veined tuffet of the species without any qualifier. Grow under glass, and keep cool but rather dry after flowering through to autumn, when annual repotting is advisable. One of the show's farthest-travelled participants, he had got up decidedly early in order to drive across country from Cheshire with a contingent of plants that also included a very condensed example of the nowadays popular show plant Draba 'John Saxton (= dedeana x rosularis) and, at the other end of the scale, a mature Rhododendron dendrocharis whose size gave the Farrer Medal plant a run for its money in the outsize stakes.
Author: Robert Rolfe
Photographer: Doug Joyce