East Anglia AGS Show, 2005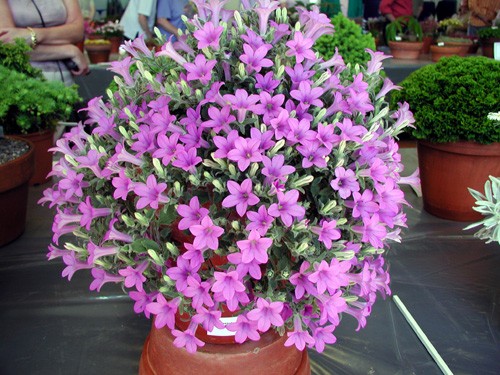 The night before the show the temperature was still 26 C at ten o'clock when we arrived at our motel near the show venue.  I did not know what to expect the following morning.  On arrival at Wymondham eager early-birds were carrying magnificent fresh plants into the show hall. No worries then, the plants had obviously taken the un-seasonal heat-spell in their stride. The hall itself looked light and airy, having been refurbished and enlarged since last year.
An interesting mixture of plants was on display, very much the tradition at the East Anglia Shows.  The Farrer Medal went to a pretty plant of Campanula thessala ex MESE 311 seed, There were two other plants of the same seed strain shown in the open section, all three with slightly different shades of pale blue.  Three certificates of merit were awarded, one for a very large pan of Hermannia pulchella, a strongly-scented yellow-flowered shrub from South Africa, the second for a magnificently flowering Himalayan Stellera chamaejasme with forty six pale pink flower spikes,  and the third for a small pan of Nototriche macleanii, a pale  blue Malva relative from the high Andes.
Once again the Show was a riot of colour from every corner of the alpine world.

Anna-Liisa Sheader