East Anglia AGS Show, 2012
The 2012 East Anglia Show was the largest since it moved to Norfolk 12 years ago. Statistics indicate that entries had significantly increased when compared with 2011, particularly in the Open Section. In some years this event clashes with another AGS Show elsewhere in the country. But not always and not last year, so the comparison is valid. John Foster and his team are to be congratulated.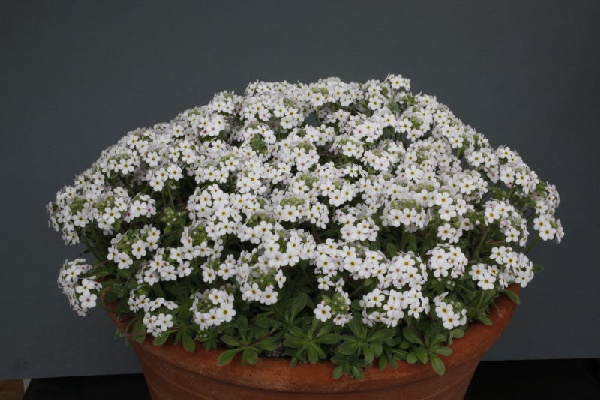 Lee & Julie Martin exhibited two large plants of Androsace studiosorum 'Doksa' in adjacent classes at the top of the schedule. Since both were potential Farrer contenders, judging for the premier award became a two stage process; judges were given an initial task of deciding which one should take on the rest of the field. The favoured plant went on to triumph in stage two, making it Lee & Julie's fourth Farrer Medal with this clone (other exhibitors have also won the medal with 'Doksa'). For a plant that has not been around for that long (Henry & Margaret Taylor introduced it in 1991), this is clearly one with a strong pedigree.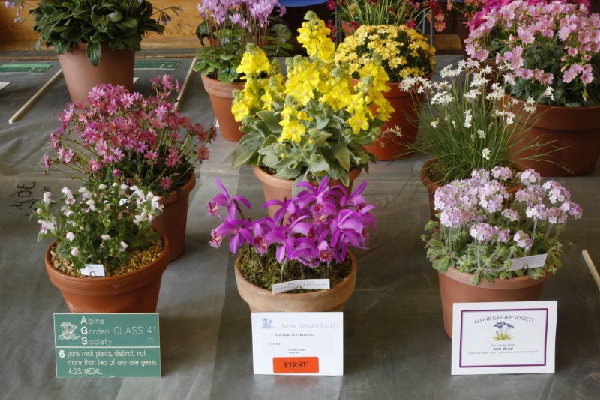 Cecilia Coller won both six-pan, AGS Medal classes, each entry incorporating Pleione El Pico gx. Pleiones are enjoying something of a revival on the benches but often struggle outside of their own dedicated classes. Cecilia however showed that they can contribute very usefully to multi-pan classes, with other (single pan) entries elsewhere in the schedule. Purchased from the members plant stall at one of the shows some years ago, this Pleione proved its value beyond the constraints of dedicated classes.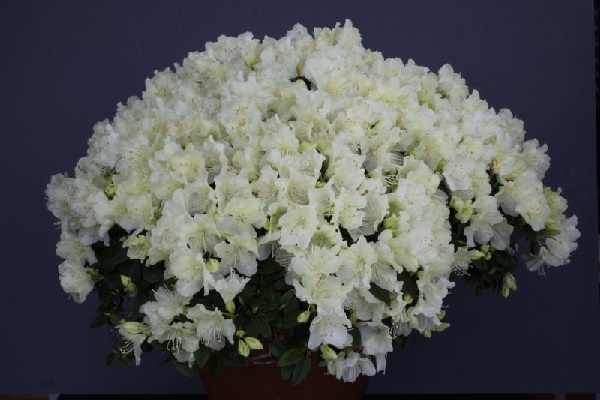 She also gained a Certificate of Merit and the Bill Tubbs Trophy (for the best pan of Ericaceae) with Rhododendron keiskei var. ozawae 'Yaku Fairy'. A great favourite for both exhibition and for the garden, this very showy form shows no sign of losing its popularity.
Two plants unfamiliar to me, both from the southern hemisphere and both sourced from County Park Nursery in Essex, were also from the Coller stable. Rulingia hermanniifolia is a prostrate shrub with small, starry white flowers and very crinkled leaves (the specific epithet means the foliage is similar to the genus Hermannia). This species (indeed the entire genus) receives no mention in the AGS Encyclopaedia, nor the index of the AGS journal. Wikipedia says that it has been recently transferred to the genus Commersonia but that's not in our encyclopaedia either. A quick web search tells me it requires well-drained soils and tolerates at least moderate frost. Cecilia grows it in a lime-free compost and says its only vice is that the stems are brittle and easily broken. Take that as a positive and say that it's self-pruning.
The other southern hemisphere plant was Pelargonium havlasae. Again, there is little coverage in our own publications. Being native to Western Australia, this paucity of references may well stem from doubts about its hardiness and lack of 'alpine' credentials. The delicate flowers, here white, but reportedly sometimes pinkish, have a tracery of black lines and freckles on their upper two petals.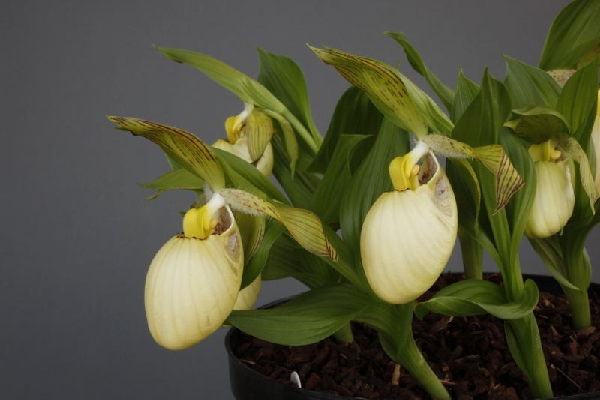 Alan Newton received a Certificate of Merit for a plant of Cypripedium fasciolatum, which was then given an Award of Merit by the RHS Joint Rock Plant Committee. Alan had initially labelled his plant C. farreri, having consulted his reference books, but the consensus amongst the assembled experts was that it represented the former, more often cultivated species. Its label changed, it won its plaudits under that name. However Alan remained far from convinced, pointing to its much shorter stature and the narrowness of its flower 'pouches'. I have to say that a trawl of the web makes me incline towards his viewpoint. Whatever its true identity, it was a splendid plant.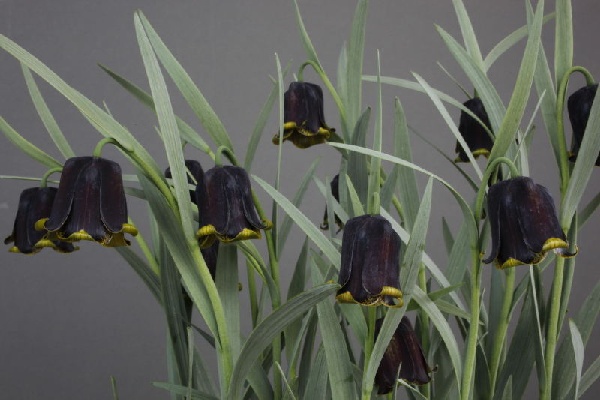 The trophy for the best bulb was awarded to a very dark form of Fritillaria pyrenaica grown by Don Peace. This clump represented the only surviving seedling following a 1998 sowing from the well-known clone 'Cedric Morris'. In common with several versions of F. pyrenaica, 'Cedric Morris' will often produce twin flowers very close together, jostling shoulder to shoulder, at the top of the stem, sometimes even fusing into a Siamese twin arrangement. While this increases flower power, it often spoils the symmetry and can detract from the overall impression. This seedling offspring has always yielded just one flower per stem and so provides a more balanced display. Left to its own devices it bulks up very slowly; fortunately it responds well to 'cracking' (at repotting time − August − the bulbs are simply broken into two halves: two for the price of one!)
The class for one dwarf rhododendron often pits rather blousy hybrids against the quieter sophistication of the (often smaller flowered) species. On this occasion the judges selected an exceedingly well flowered Rhododendron 'Wren' whereas I preferred Dave Mountford's Rhododendron hanceanum 'Nanum'. Exhibitors often grow rhododendrons in the garden, lifting them very briefly for exhibition before returning them to the open ground. But Dave has always grown this particular plant in a pot, its slow growth and dwarf stature making it an ideal candidate for those of us whose garden conditions do not suit many of the genus.
Bigeneric hybrids between Anacamptis (formerly Orchis) and Serapias have been assigned to x Serapicamptis. In every case, Serapias is the dominating parent and the resulting plants look much like a member of that genus. A number have been described, some occurring in the wild. Ray Drew showed us an example of a (as yet un-named) man-made cross. All are summer dormant, emerging in late summer to flower in spring to early summer. Grown in equal parts loam, perlite and sandy grit, it receives regular watering during the growing period. Ray's instructions are to reduce watering with the onset of the flowers, stopping altogether as the leaves die back. Keep dry during dormancy with an occasional light spray of water for small plants to prevent dehydration. Move the plants temporarily outside in late summer (cool nights and rain stimulate them into new growth). It is frost hardy to -10°C.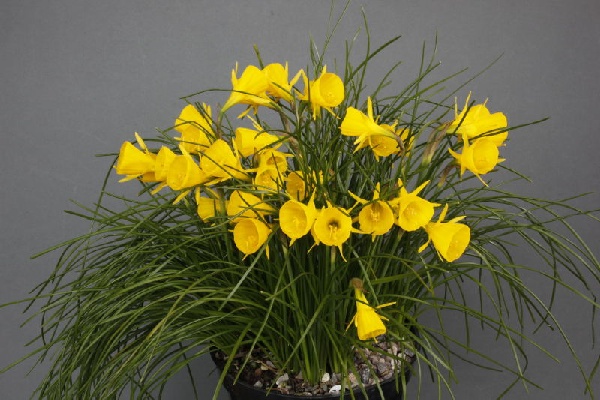 Michael Sullivan won the Suffolk Trophy for the best plant in flower in the Intermediate Section with Narcissus bulbocodium 'Golden Bells'. References suggest this is a seed strain (perhaps with hybrid content) rather than a clone but its impact was undeniable. Bold and spectacular with a very rich colour, Michael's plant would have easily stood its ground had it been given the challenge of competition in the Open Section.
Dactylorhiza fuchsii grows wild very close to my garden, even appearing as an occasional 'weed' in my lawn, though never as lusty as the ones used by Diane Clement in a three pan foliage class. Dug from her garden last year for similar duty on the show bench, then by default left in the pot all year, they demonstrated lateral thinking: orchids as foliage plants!
Author: Don Peace
Photographer: Doug Joyce