East Anglia AGS Show 2011
The East Anglia Show came at the end of a stretch of unusual spring weather - the driest March for 60 years, followed by the driest, warmest April on record. So the sound of thunder and occasional bursts of torrential rain as I prepared my plants the night before were very welcome After weeks of hot dry weather, one might have forecast that entries would be adversely affected. On the contrary, however, the benches were full of colour with some excellent pots of lewisias, dianthus and cypripediums, and strong entries in the classes for foliage and ferns.
The considerable distance entailed in my visits to this venue makes me think of an exhibitor who regularly does the reverse journey on a not particularly fast road in order to attend a large number of shows. Such dedication, combined with a little white van packed full of superbly grown plants, has earned Cecilia Coller the coveted Giuseppi Cup for the most points in the Open Section in eight out of the past 10 years. (She was pushed into second place by Bob & Rannveig Wallis in 2002, and by Ian Kidman in 2004.) Paul & Gill Ranson made a valiant effort this year, remaining at the head of the league table for some weeks, but Cecilia has now taken the lead and is the favourite to win through. Wymondham afforded a slight home ground advantage, for her husband, Mervyn, was able to bring a few extra plants in addition to those filling her van. She was rewarded with the Norfolk Trophy for the most first prize points in the Open Section, no less than 30 of her plants attracting red stickers, including both the large (shown above) and small 6-pan classes and four 3-pan classes.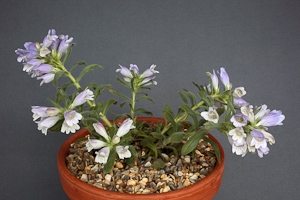 Penstemon eriantherus, in her winning small 6-pan entry, had been grown from NARGS seed sown in January 2009. Pleasingly compact and very floriferous, it had been kept in an alpine house, responding well to a mixture of John Innes No 2 and grit with added leaf-mould. Plenty of water is required when in growth, and even in winter it must be kept just ticking over.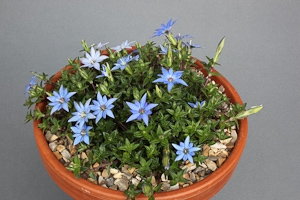 Much interest was shown in Cecilia's half dozen or so pots of Gentiana syringea, with starry flowers of pure sky blue. A biennial species re-introduced into cultivation in the 1990s, it was found in the turf of forest clearings at Juizhaigou in Sichuan at 2100m. Raised from the exhibitor's own seed sown in September 2009, the seedlings had been pricked out in small groups in a humus-rich compost, with each pot containing perhaps half a dozen. These had been reared in an alpine house, but success has also been achieved outdoors, in a well-watered trough.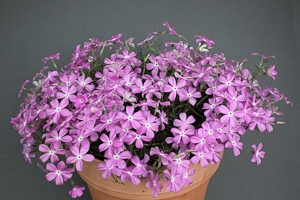 The Farrer Medal went to Joy Bishop's large pot of what was labelled Phlox nana var. ensifolia, a dryland plant from New Mexico and Texas that was a popular choice among exhibitors in the 1960s and 1970s, but has been rarely seen of late. It formed an airy pink scented cloud over a mass of grey green stems, carefully arranged with grit to show off to best advantage, and had been in flower several weeks already – she returned home after attending the International Conference, and found that the numerous buds had burst into flower while her back was turned. There seems to be confusion over the taxonomy, for although this name is valid in the current RHS database, it is elsewhere listed under the synonym of P mesoleuca, and the varietal tag has been raised to species level, i.e. P. ensifolia..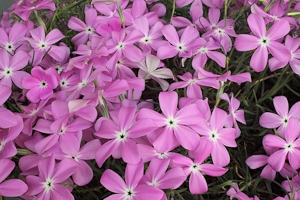 Mystique also surrounds the preferred method of propagation. In AGS Bulletin 58:188-9 (dedicated to Roy Elliott after his death), it is reported that he "complained bitterly" of lack of success, for all his cuttings died and the plant was left weakened. In a 1976 Anthology item, the contributor advocated the use of a pair of secateurs, and half a bottle of whisky to steady nerves. After flowering, he cut the top growth hard back to the woody crowns, resulting in new shoots from below soil level in the autumn. These he treated as nodal cuttings. Joy, who has grown this plant for many years, prefers tip cuttings taken before it flowers, and rooted in sand. She is clearly having success with this method, and did not mention the need for Dutch courage.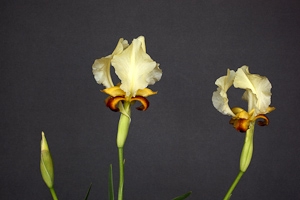 Two novel hybrids caught my attention. Iris barnumiae f. urmiensis x paradoxa f. mirabilis, shown by raiser Ray Drew, was intermediate between the two parents with creamy-yellow standards (typically yellow in the seed parent, cream in the case of its mate), and golden-yellow falls with dense hairs and brownish-purple veining. A dark signal patch occupies the point just below where the fall turns inwards and the distinctive 'V' shape of the beard terminates, as with I. paradoxa and its hybrids.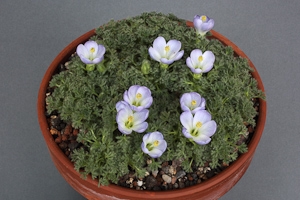 Two pots of Nototriche macleanii x aretioides were shown by Martin & Anna-Liisa Sheader in the new in cultivation classes (N. macleanii itself was shown in the rare in cultivation class. Both species are Peruvian, occurring on high mountain slopes, N. macleanii at around 4300-4600m, N. aretioides at 3700-4400m. N. macleanii forms a tight cushion with large, open flowers, whereas N. aretioides, which is more challenging to keep in character, has smaller-cupped flowers with a longer tube. The aim of the cross was to harness the more refined, shapely flowers of N. aretioides in a seedling with a pleasingly condensed habit.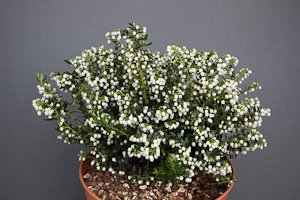 The best plant in the Intermediate Section, which won Clive Dart the Suffolk Trophy, was Gaultheria mucronata 'Mulberry Wine'. Native to southern Argentina and Chile, in volcanic areas of southern Chile the species can form the dominant plant cover above the tree-line. A dwarf shrub with tiny, dark green leaves and covered in small, white, bell-shaped flowers, it is grown in an ericaceous compost plus added leaf-mould and the pots of male and female plants are kept side by side outside through the winter. In common with the South American gaultherias once classified under Pernettya it is dioecious, needing a male to pollinate the female in order to produce berries. In very cold weather the plants are sheltered under a carport. The trophy plant was female, neater and prettier plant than the male (which was also shown).
Fritillaria camschatcensis 'Aurea', grown by Jean Rich, won the Sudbury Prize for the best pan of bulbs. This may best be placed under subspecies alpina from Hokkaido, northern Japan, described as a smaller version of the species. Three bulbs obtained from Kath Dryden's Manavlins list many years ago had bulked up very well indeed, kept moist all year round in cool shade. A cold winter is to their liking − Kath gave instructions to keep them in the fridge from late autumn until early spring, and Jean has not dared to do otherwise until this last particularly cold winter. Left in the car overnight before the show, they had been kept in a sort of portable shade frame made of green cloth.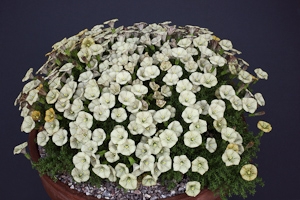 George Young raised three plants of Petunia patagonica from Flores & Watson seed sown in January 2001. The one exhibited not only filled a 18cm pot partially plunged in a sand tray, but the roots had grown through the drainage holes and occupied much of the tray. For exhibition purposes it had been carefully lifted and double-potted in a 36cm pot, which it filled convincingly enough to receive a Certificate of Merit. While it had flowered well in the past, this was by far its best performance to date, and may have been induced by an especially sunny April, during which it basked in an unshaded alpine house.
Diane Clement