East Anglia AGS Show, 2010
A bumper entry brightened the hall at Wymondham. The weeks of warm weather after the long winter had helped many plants catch-up, although evidence of the late spring was seen in pans of Narcissus, a rarity in May this far south. This was a show where no one genus or group of plants dominated. Familiar androsace, lewisia, pleione and sempervivum rubbed shoulders with grotesque dracunculus, sombre asarum and elegant iris. Some regulars such as Campanulaceae were almost missing but the overall range of plants was increased compared with previous years.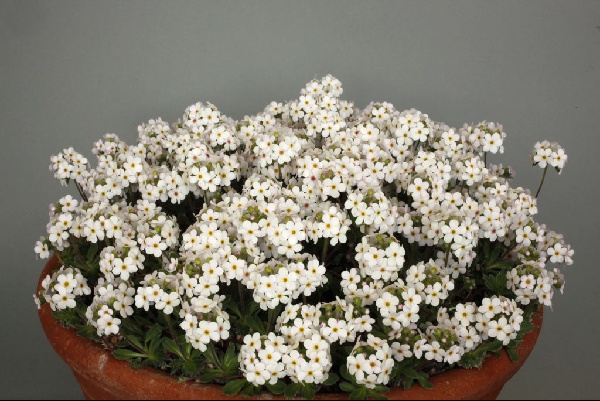 Lee and Julie Martin have supported this show with a strong entry each year since it moved to Wymondham. Not for the first time their efforts were rewarded with a Farrer Medal. The huge pan of Androsace studiosorum'Doksa' dwarfed several other exhibits of this popular form.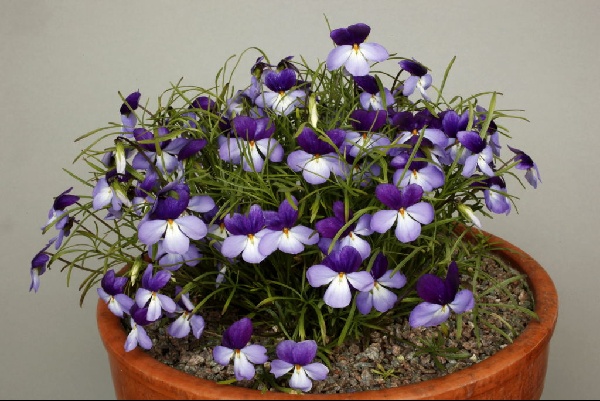 Lee and Julie also supplied a magnificent pan of Viola pedata bicolored form. This clone, which came from Robin White is acknowledged as the most vigorous in cultivation.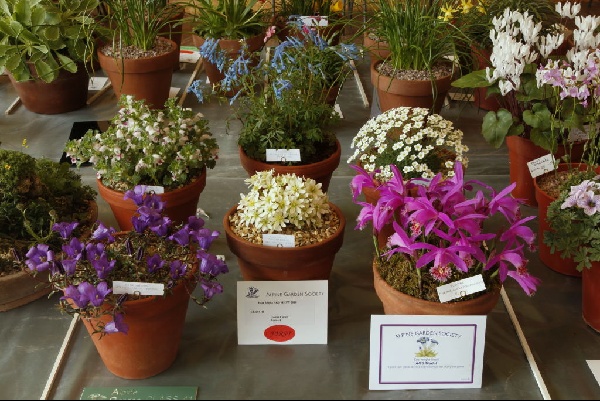 The large six pan class failed to attract an entry but well travelled local Cecilia Coller won the AGS Medal for the small six pan exhibit. Cecilia also won the Norfolk Trophy for the most first prize points in the open section. The well balanced six pans were Lamium armenum, Corydalis cashmeriana x flexuosa 'Kingfisher', Saxifraga 'Snow Cap', Edraianthus serpyllifolius major, Clematis marmoraria, Pleione versailles x P. bulbocodioides 'El Pico'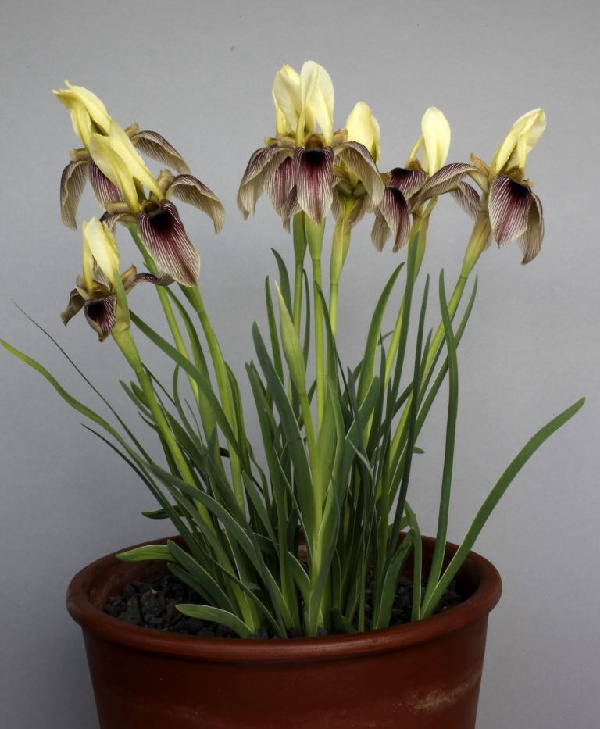 In all there were three Certificates of Merit awarded. One went to Iris afghanica exhibited by Colin and Elaine Barr which was for many the 'plant I most want to take home'. Talking to Colin he made cultivation of this delicate gem sound easy. However a lot of dedication is needed to get a perfect specimen on the bench on show day.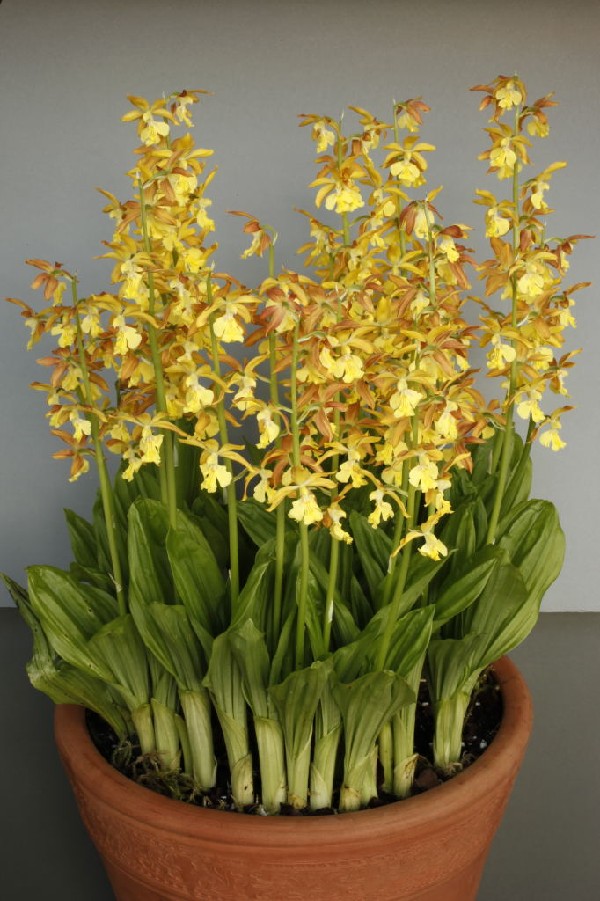 This show is often notable for a good display of Cypripedium but on this occasion Calanthe stole the show. Dick and Valerie Bathe supplied a magnificent pan of Calanthe striata which was also awarded a Certificate of Merit.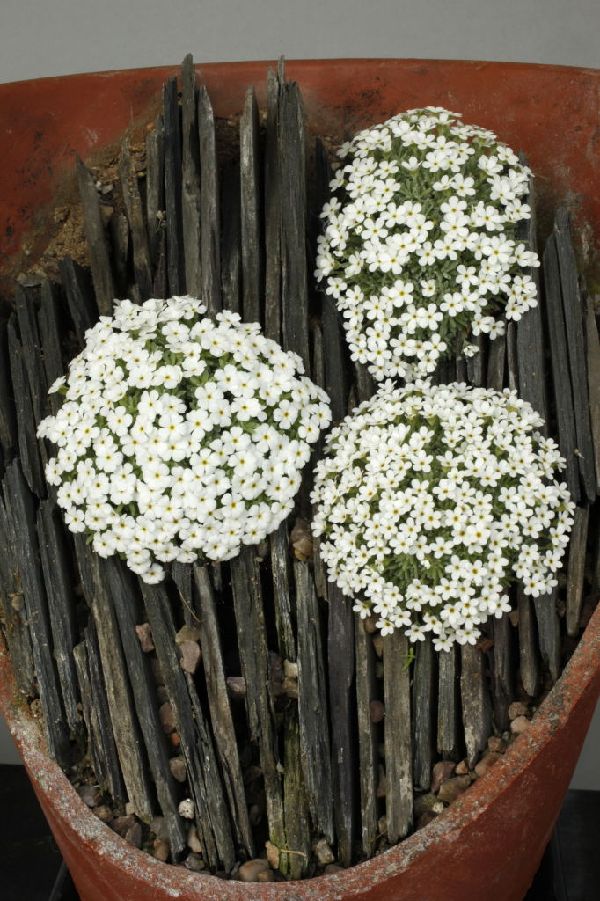 High alpine aristocrats were in short supply but two exhibits stood out from the crowd. Androsace vandelii shown for seedling variation in a broken pot was a real eye catcher. Alan Newton planted three unflowered seedlings between pieces of slate four years ago. The slate is set in an 80/20 mix of gritty sand and leaf mould. Although the plants appear to be growing in natural fashion in a near vertical cliff, the pot is actually sunk in the plunge to allow them a level playing field! By chance the seedlings flowered to show significant variation which served well for the chosen class.
Junellia patagonica is barely in cultivation. Martin and Anne-Lise Sheader brought two plants to the show. Flat mats of congested rosettes produced a ring of pink tinged white flowers around the edges. Martin records that this is how they flower in the wild unless damage in the centre triggers new growth and flowers there. He also noted that plants in the high Andes which have been observed at over 30cm across may be as much as 200 years old. Supplied with this knowledge he sowed seed ten years ago uncertain whether he would live to see the plants reach flowering size!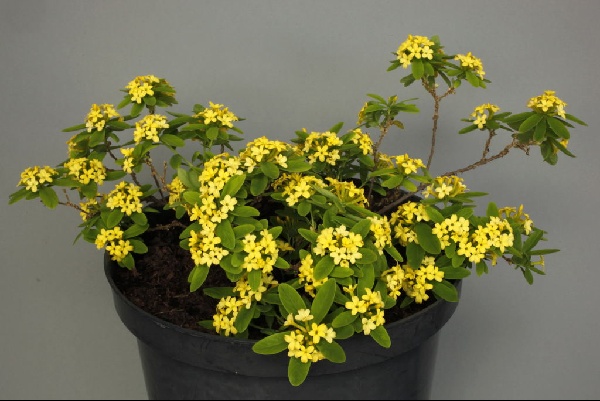 Dwarf shrubs often make a big impact on the benches at this time of year. One that caught my eye was exhibited as Daphne gemmata. There were three plants on display but one in particular stood out. The clone that Ruth and Alan Jones exhibited was much more compact than the other two. Ruth admitted that it was shown double potted, the plant having rooted through the pot into the plunge in a big way. Most of the root had been extracted from the plunge and the plant will soon be repotted into a more spacious home. Having five petals rather than the regular four for Daphne it is sometimes attributed to the genus Wikstroemia.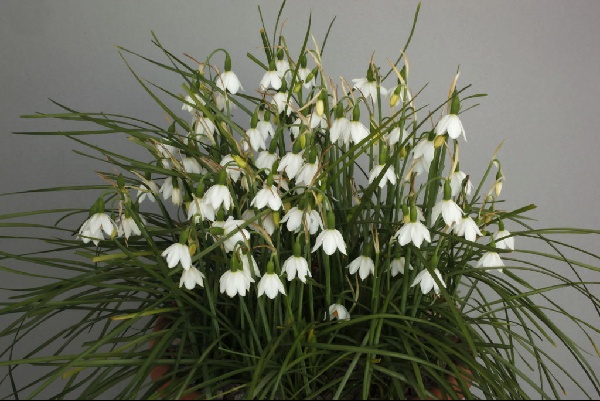 As a keen bulb grower I particularly enjoyed the potfuls of Acis nicaceense, that raised from seed by Jean Rich, being particulatry fine.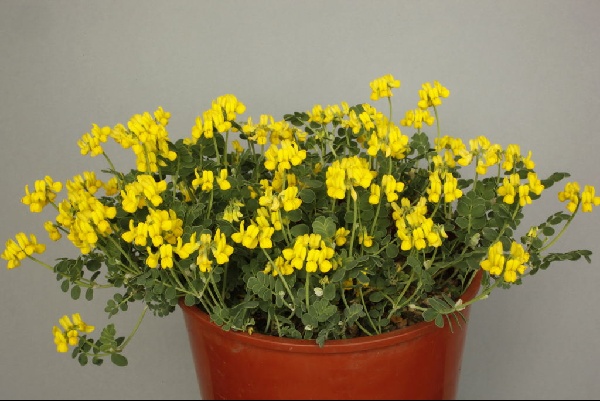 Coronilla minor shown by Tony hale (shown) was judged best plant in Section B while Narcissus 'Hawera' shown by Colin and Sue Buxton was judged best plant in Section C.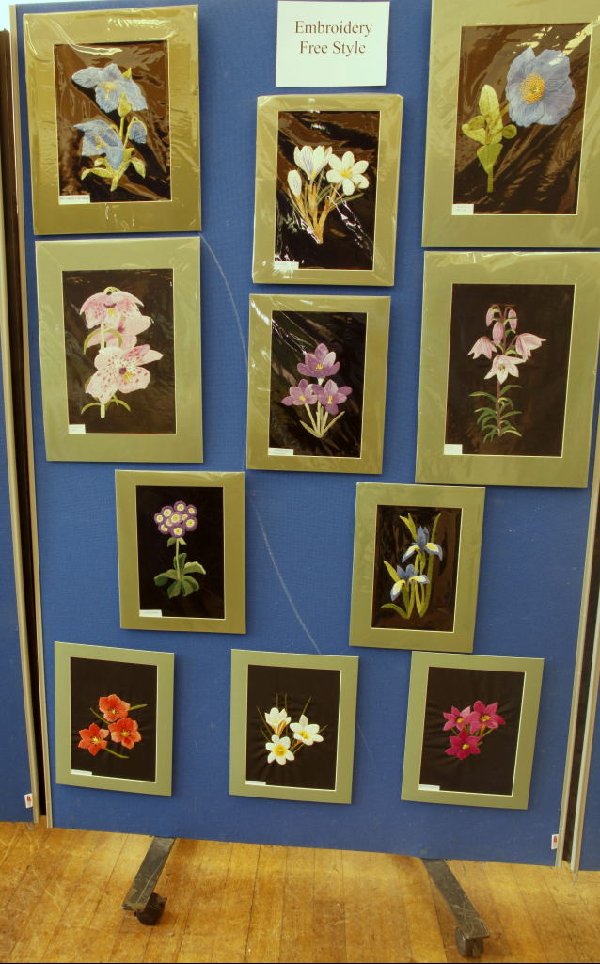 The most magnificent exhibit of the day was Jean Morris' display of Embroidery. From little bookmarks to imposing plant portraits there was a wealth of alpine beauty on display here. Fantastic attention to detail, wonderful colours and many, many hours of careful work combined to make a breathtaking show. Jean was awarded a Large Gold for her efforts but I suspect that the constant stream of congratulations and earnest enquiries into how to do it were just as much of a reward.
John Fosters' meticulous planning and hard work by the team from the Norfolk Group (assisted by a small contingent from Mid-Anglia) put in a lot of hard work and ensured that the day went smoothly. Thanks to the hard work of the exhibitors all were rewarded with a super show.
Tony Goode