Early Spring AGS Show, 2016
When I say that this was the poorest Early Spring Show for many years, this is no reflection on the organisers or exhibitors, but the product of a disappointing winter, the warmest and wettest on record, at least in the south of the country. Virtually no dionysias were present (anecdotes were circulating of leading exhibitors having lost hundreds of plants) and saxifrages were effectively absent, as were allionii-type primulas. Consequently, appreciable swathes of the show benches lay bare. For most growers, crocuses and snowdrops had finished but, due to a cold snap during the preceding week, few later bulbs had taken their place. On the plus side some fine early fritillaries were benched, as were good irises, both reticulatas and junos. Nevertheless, the many visitors would have been glad to take refuge among the excellent trade stands and two Gold Medal-winning exhibits (embroidery by Jean Morris and photos from Turkey to Central Asia by the show secretary, Kit Strange).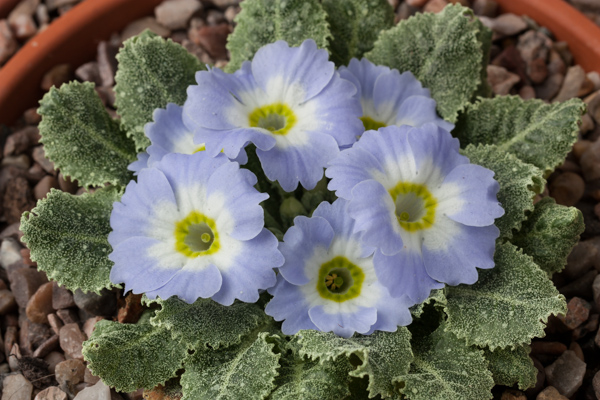 The blue petiolarid primulas from the eastern Himalaya are rarely seen in southern England, so it was unusual to encounter four distinct varieties, largely courtesy of Teesider Don Peace. He has managed to keep the long-serving hybrid 'Arduaine' clean of virus, and shows it to perfection. Furthermore, although this clone has apparently infertile pollen, Don has coaxed it to set seed when pollinated by one of its erstwhile parents, the increasingly scarce Primula bhutanica [right - photo by Jon Evans], suitably exhibited in 'New and Rare'. One of these offspring was also on display, sporting larger, paler flowers than either parent, and with the extensive white 'eye' of its sire.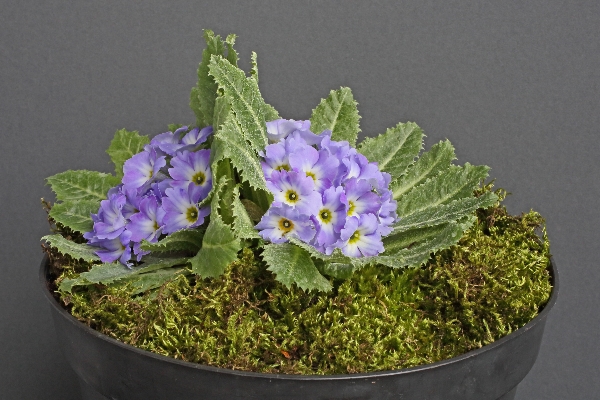 To complete the quartet, your reporter showed Primula 'Soup-Plate', the less than euphoniously-named hybrid that he christened together with Betty Sherriff 40 years previously when they discovered it growing at 'Ascreavie', the Sherriffs' garden. This is a larger plant than its stablemate 'Arduaine', with violet-purple flowers, which might reflect its supposed parentage P. whitei x sonchifolia, as suggested by characters of the calyx and leaves. 'Soup-Plate' was thought to have been lost, but had persisted in the tender care of Ian and Carole Bainbridge.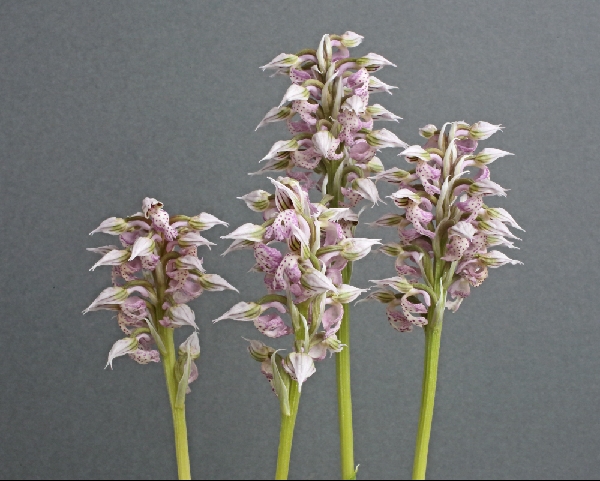 Early Shows rely on Barry Tattersall for high quality specimens of European ground orchids. On this occasion, the eye was drawn irresistibly to four pristine spikes of Neotinea lactea [right], with which many early visitors to the Mediterranean will be familiar. Such orchids flower towards the end of their annual growth cycle, so that it becomes difficult (and praiseworthy) to keep the foliage in such excellent condition as was seen here, the grouping fully deserving its Certificate of Merit. Among Barry's other exhibits was an exemplary pan of Anacamptis papilionacea. This was further delineated as 'subspecies heroica'. When asked by your reporter how this race is differentiated from its two other subspecies, grandiflora and papilionacea, Barry replied that it was intermediate between the two. Well, fair enough, what's in a name?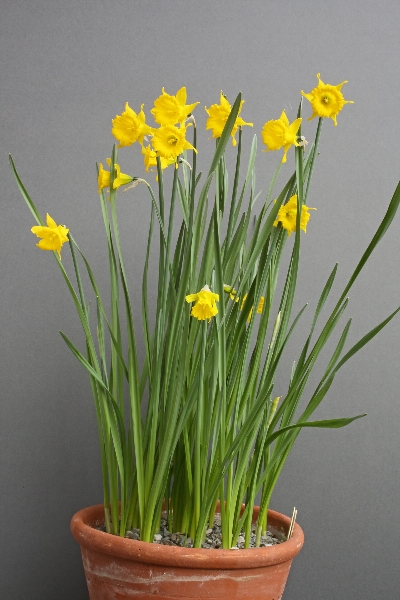 Your reporter was bamboozled further by a rather leggy daffodil labelled 'Narcissus perez-chiscanoi = N. longispathus' (Bob and Rannveig Wallis). Having been greatly exercised by the chaos of Narcissus nomenclature during a visit to southern Spain last March (see AGS website, Northumberland Diary 293) and having some notion as to what the frequently twin-headed N. longispathus should look like (really little more than an elongated form of its geographic neighbour N. nevadensis), I asked for clarification. Apparently this designation, together with its synonymy, had been passed on together with some bulbs by Jim Archibald. It seems to be applied to a mostly single-headed form of N. longispathus. Bob Wallis has kindly provided me with the relevant JJA seed list notes, which read: 'Spain, Ciudad Real, Montes de Toledo near Almaden. Ex an M. Salmon coll. (A recently described central Spanish trumpet daffodil, at first thought to be the original N. obvallaris but actually quite distinct from this in its shorter, twisted, perianth-segments. Like it, however, in proving a good garden-plant in the UK so far.)'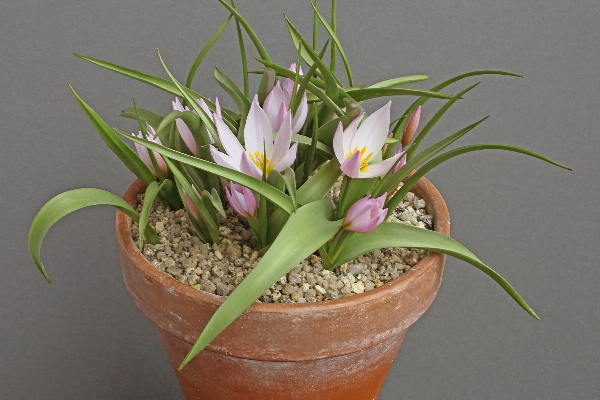 In another illustration of the truism that the products of evolution often fail to fit neatly into the taxonomic boxes we provide for them, a lovely tulip (shown by Ian Robertson) was labelled Tulipa cretica 'Dikti form'. The relatively large, pink-flushed flowers and bright-green shiny foliage resembled the larger, stoloniferous T. saxatilis in many ways, and provided a convincing intermediate in this actively speciating complex.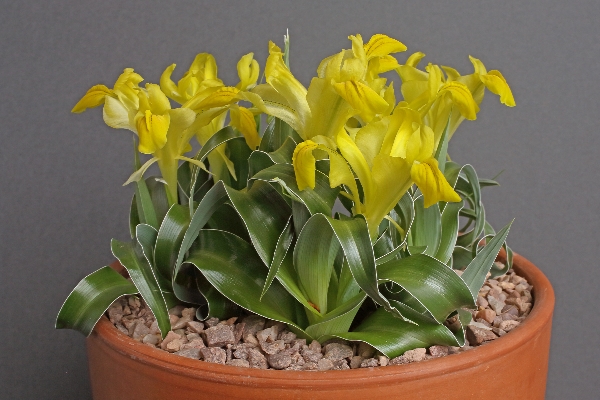 It was fitting, perhaps, that no plant in this poorly supported show was considered worthy of the premier award. Ivor Bettridge's Iris svetlanae, adjudged 'best in show', was one of several fine juno irises he exhibited. This is a dwarf species with chrome-yellow flowers from Uzbekistan (where it is considered endangered, but occurs in an accessible area on the Tahta-Karacha Pass), Tajikistan and Turkmenistan. In a winning three-pan entry of other junos, Ivor showed another fine yellow species in the shape of I. bucharica 'Baldschuan Yellow', rather dwarf and with intriguing oblique brown marks on the golden falls.
Author: John Richards
Photographer: Doug Joyce