Early Spring AGS Show, 2015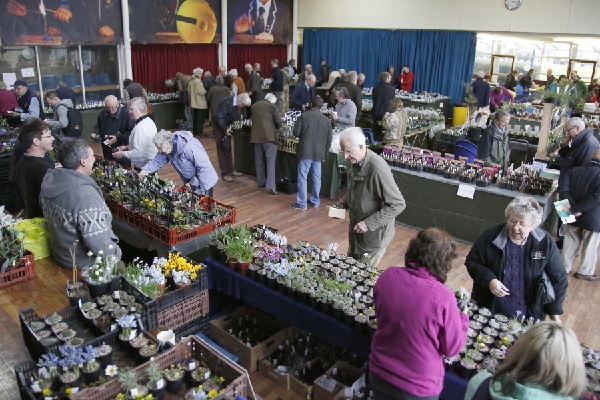 This was an exceptionally well-attended show, and the hordes of visitors will have been well pleased with the number and variety of trade stands, the nurserymen doubtless welcoming the opportunity to offload large numbers of excellent plants. Sadly, this bounty was not translated onto the show benches themselves where the general high quality was not matched by quantity. A grand total of 306 plants in 207 entries from 43 exhibitors did not add up to a vintage display. Participants blamed a slow start to the spring, and while snowdrops abounded, early spring 'bankers' such as dionysias, porophyllum saxifrages and Primula allionii were thinly represented.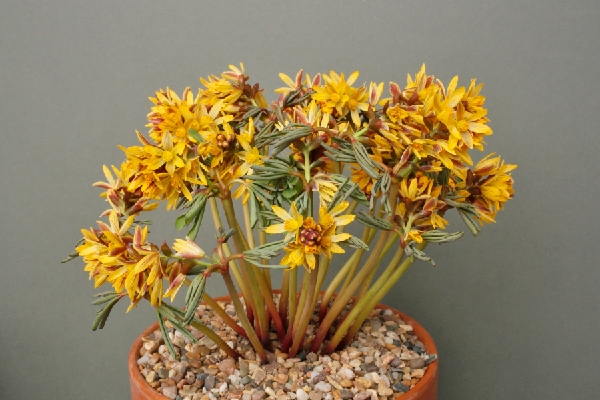 Any such limitations did not stop the alpine department at RBG Kew who staged a magnificent display of early bulbs and tubers that received a Gold Award. Characteristically, a good variety of juno irises and early fritillarias invited inspection, but the eye was drawn to as good a Gymnospermium albertii as has been seen, which deservedly attracted a Certificate of Merit.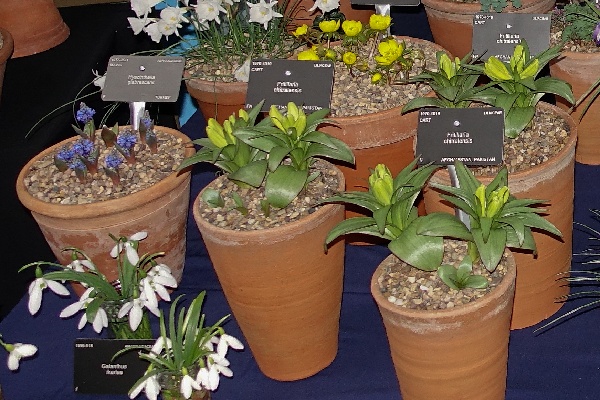 One of the less flamboyant and little-known Kew exhibits was represented by nine spikes of Hyacinthella glabrescens, each like a tiny hyacinth, only 2cm high. This is an alpine from the Cilician Taurus of SW Turkey. None of the six or so Turkish species (there are a couple in Greece too) are large enough for real glamour, but all have a miniature charm.
Jon Evans also staged a Gold Award display, this time of photos ('Display of Recent Images'), the title rather belying some startling digital manipulation, so that the gaping mouth of Cypripedium fargesii bore teeth, while flesh-tinted Biarum marmarisense arose among some half-buried human fingers.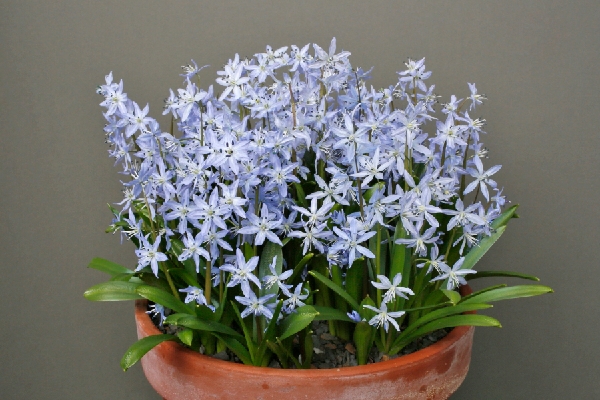 Back on the benches, the Farrer Medal was awarded to Bob and Rannveig Wallis for a mass of Scilla libanotica. Timing such an exhibit must be very tricky. All the rather evanescent flowers were fully open, but judges searched in vain for any that might have started to fade.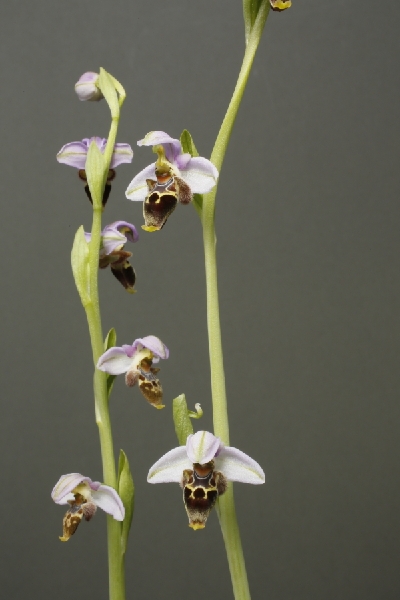 We have come to expect interesting orchids from Barry Tattersall. Ophrys lapethica [right] is an eastern manifestation of the O. oestrifera group, itself not far removed from the more familiar O. scolopax, which is limited to northern Cyprus and the nearby coast of Turkey. Two spikes bore ten flowers in good condition. Gennaria diphylla is, like many orchids, a rather unassuming 'yallery-green'. A plant for the specialist grower, it is most usually encountered on Tenerife, although occasional findings are reported from Minorca, Sardinia and Corsica.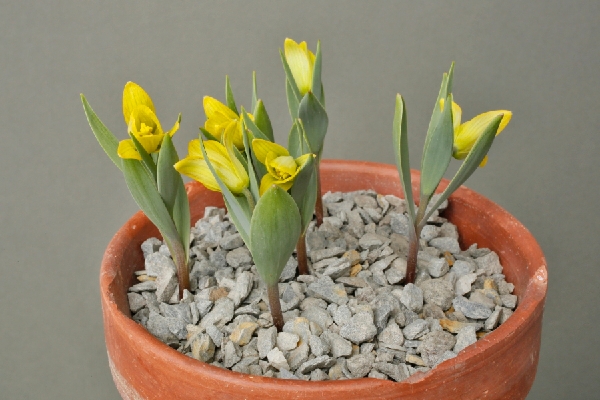 Celebratory or commemorative epithets typically involve a family name, less frequently a given name, but almost never both. However when a botanist's 'binomial' totals only six letters as is the case for Copenhagen Botanist Kit Tan, the temptation is to use the lot, as in Fritillaria kittaniae. This tiny species grows in the Cedar of Lebanon forests of the southern Taurus and is typically brown-flowered, but as in many 'frits' there is a yellowish phase too, as shown by the Wallises.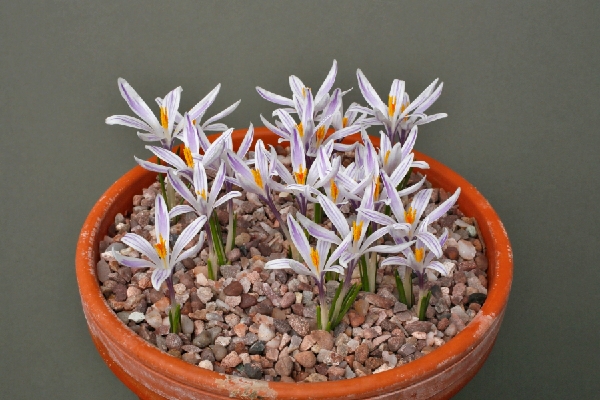 Unravelling the background to some plants can be akin to peeling an onion (if less lachrymatory). Janet Aspland's pan of a remarkable form of Crocus vernus was traced first to Lee Martin, then to John Foster, more than 12 years ago, and had at times borne the appellation neapolitanus, which it certainly is not, although suggesting that it might have been found in southern Italy. The very narrow petals were attractively striped lilac, set off by a dark tube.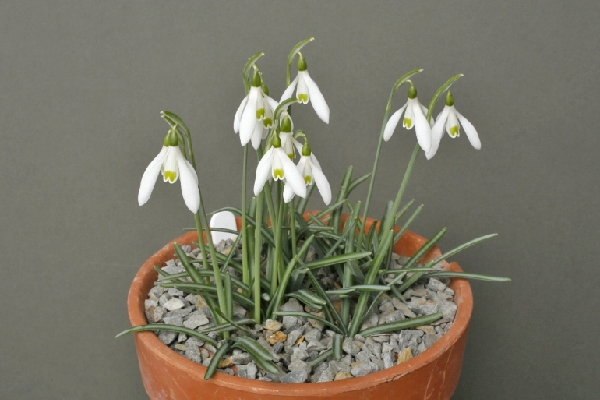 Galanthus reginae-olgae is celebrated as the 'autumn snowdrop' (in fact it is one of several), but remains lesser known in its spring-flowering manifestation which occurs in Greece from Langadia to the Vikos. Greek forms often have very long, narrow, outer tepals, but here we saw the Montenegran introduction Mathew & Tomlinson 4027 with smaller flowers but the same pale-striped leaves (Bob & Rannveig Wallis).
Author: John Richards
Photographer: Doug Joyce