Early Spring AGS Show, 2014
The day began bright and sunny, and so it remained, a fitting backdrop for a show that was equally bright and sunny, with an impressive display of diverse exhibits at their springtime best.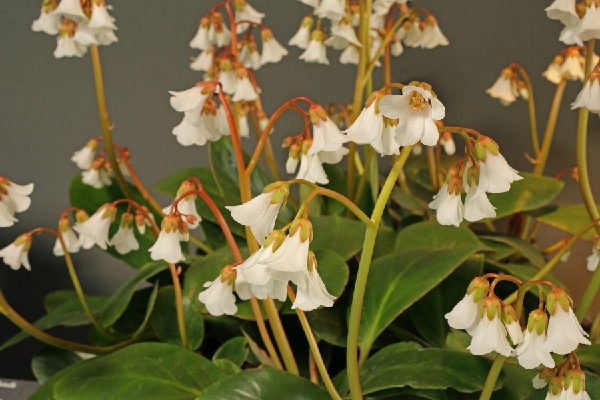 Away from the show hall, there were two other displays, one from Cambridge University Botanic Gardens, and another from long-standing AGS exhibitor Jean Morris. The theme for the display from Cambridge was Features of Alpine Plants, in which the various plant specimens demonstrated particular adaptations to their habitats. Aloe polyphylla, which grows at 3,000m in Lesotho, was an example of a plant with succulent leaves, bulbs were represented by genera such as Tulipa and Corydalis, cushion plants by a group of saxifrages in troughs, and there was a large specimen of the Chinese Bergenia omeiensis [right] representing a plant with thick cuticles that was awarded a Certificate of Merit (the display as a whole received a Silver Award).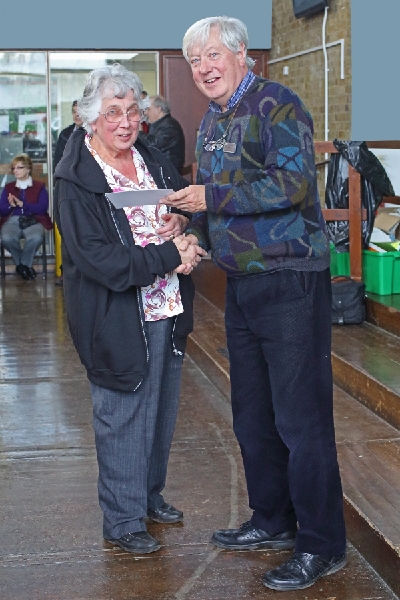 The other non-competitive exhibit comprised Jean Morris's fantastic examples of stumpwork embroidery, which covered many different plants in the alpine growing world, all of them looking uncannily like photographs, at least until the stitches came into view. Each cross-stitch piece takes on average between six and eight weeks to finish, and the freestyle goldwork takes about a fortnight. This display was duly awarded a Large Gold.
Going past the displays and into the show hall, the benches had numerous colourful and interesting plants lined up for inspection, and considering we were emerging from yet another extraordinary winter, all the more reassuring for that.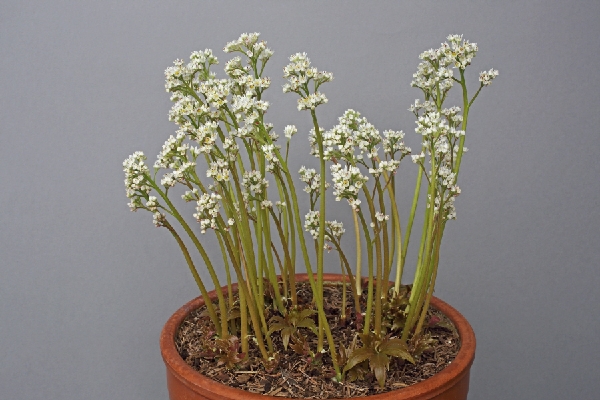 A fine pan of Mukdenia rossii 'Karasuba', shown by Lee & Julie Martin, was showing panicles of dainty white flowers: the emerging bronze foliage of this Asian herbaceous member of the Saxifragaceae could just be seen at soil level.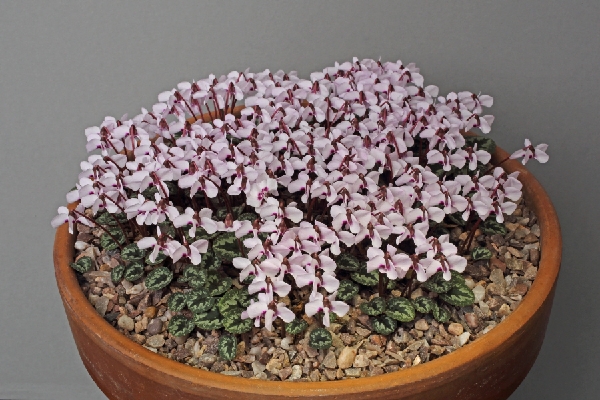 Further down the same bench, Dave Riley's superb pan of Cyclamen alpinum forma leucanthum was in prolific flower, all of the exquisite little blooms at the same level, making for a very neat and tidy exhibit that received a Certificate of Merit.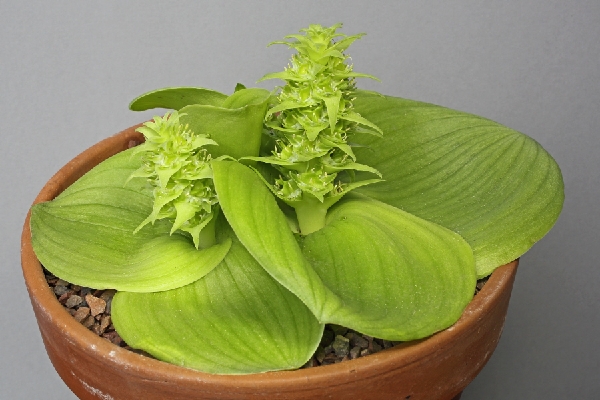 In complete contrast, George Elder brought along from Cardiff a very well-grown example of Massonia bifolia. This had two mid-green leaves lying flat to the topdressing, with an apple-green inflorescence projecting vertically above. One of several South African species shown by this exhibitor, all are grown in a mix of John Innes no. 2, grit and sand, with frost protection in winter, and watering in September after dormancy.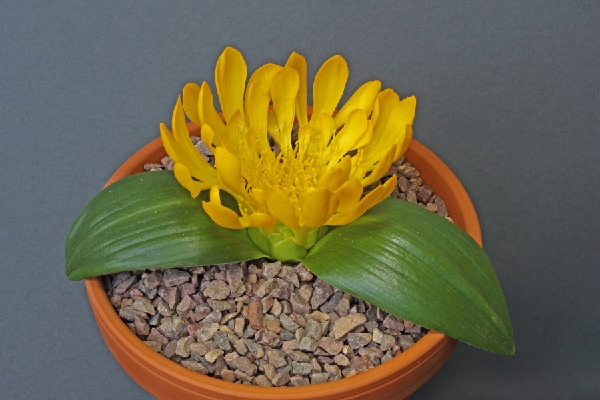 Elsewhere he staged a show-stopping Daubenya aurea [left] with a dramatic, large, bright yellow flower of idiosyncratic construction, accompanied by the beautiful dark purple Lapeirousia oreogena and the rarely seen, soft lemon Babiana vanzyjliae, its blooms slightly fringed. Altogether a most unusual trio of plants.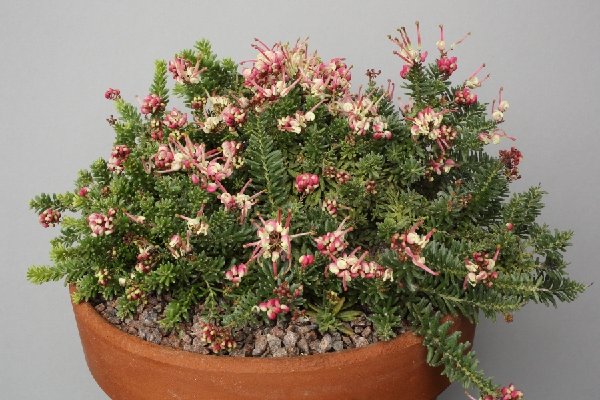 Another southern hemisphere plant was Grevillea lanigera 'Mt. Tamboritha'. This Australasian shrub had tiny leaves, quite soft to the touch (unlike some of its much pricklier relatives), and little curly flowers at the ends of the branches, reminiscent of rhubarb and custard in their colours of pink and yellow. A handsome plant shown by Lee & Julie Martin, it is best grown in a gritty, lime-free compost.
Ian Robertson's Montenegran Crocus dalmaticus was notable among examples of the genus, opening its lilac goblets wider as the sun warmed up the show hall. Not far away, Bob & Rannveig Wallis showed a glorious example of Fritillaria chitralensis. This species has been cultivated for many years, though not in any quantity, and was originally considered a variety of the taller F. imperialis. But it strikes me as much more elegant than its relative, with sleek, dark stems and glowing yellow bells. This plant was grown from JJA seed, and is grown in a polytunnel in a compost of John Innes no.2, grit and sand. It needs a dry summer, after which it is watered from September to May.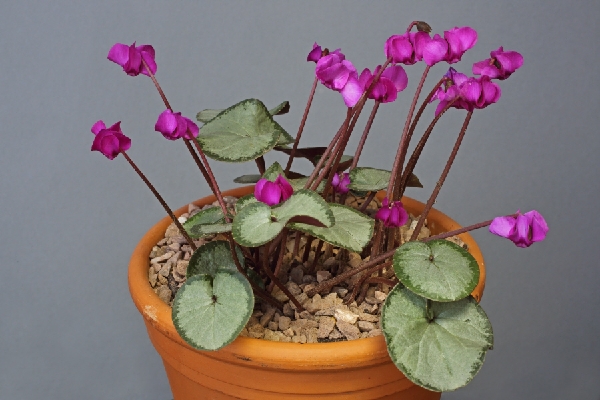 In the Intermediate Section, Duncan Gates' unusual Cyclamen coum, shown as part of a three-pan entry, had silver/pewter leaves with dark green margins, and exquisite, vivid, darkest pink flowers, not often seen in this species. It would look very effective indeed as a massed planting in a woodland -edge setting: we can all dream!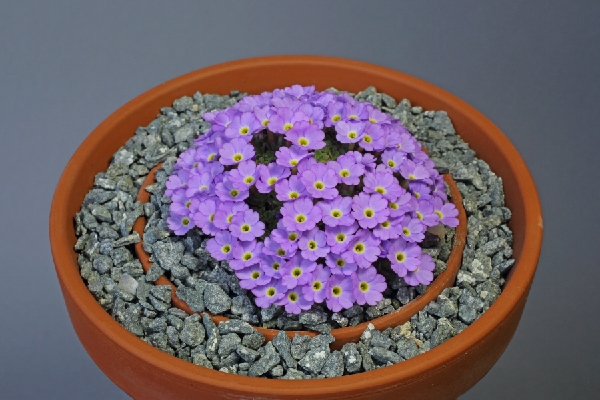 In the same section, Bob Fenwick had a promising seedling of Dionysia 'Charlson Gem'. This was very neat in habit, and evenly-flowered with sessile blooms of bright, luminous purple. The relatively mild winter had triggered many dionysias into spasmodic flowering over the course of several months, rather than the concentrated displays that are sometimes enjoyed: this was a worthy exception.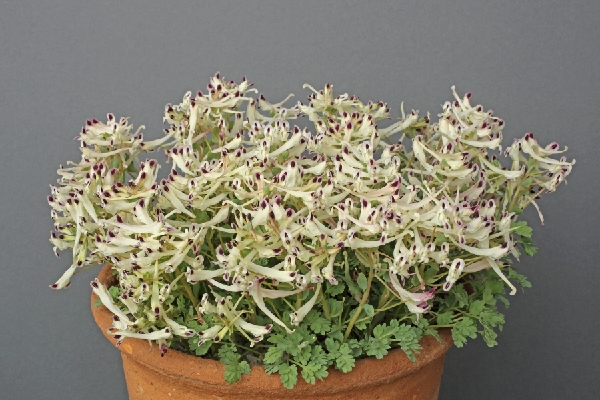 Several plants were considered for the Farrer Medal, which went to a large pan of the Iranian Corydalis verticillaris, one of a number of Section Leonticoides members that Bob & Rannveig Wallis have shown to the highest standards at the early shows this year. This particular species is very variable in flower, with (in this example) flowers of shell pink with a very dark brush mark on each one − a most striking plant. It resides in an alpine house, deeply planted in a gritty John Innes mix and is a snowmelt plant with a long summer/autumn dormancy, so is only watered from December onwards.
Author: Angie Jones
Photographer: Doug Joyce