Early Spring AGS Show, 2013
The cold, even if relatively frost-free weather in the weeks leading up to the show continued to slow the progress of potential exhibits and a sizable number of classes at the higher end of the schedule were devoid of entries. The show was buzzing nevertheless and a goodly number of first rate plants satisfied the collective need for an early-season floral fix. Thanks to show secretary Kit Strange and her team of student helpers from Kew.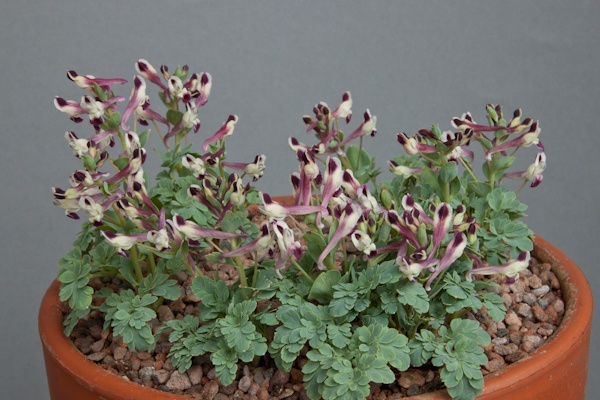 A sizeable number of Corydalis were in evidence and, as one would expect at this early stage in the season, these were almost exclusively from the Leonticoides Section. Most were shown by long-established exhibitors of this particular grouping, but a couple of very well-grown specimens came from a less familiar name. Michael Sullivan, who incidentally achieved his Silver Medal at the show, entered C. maracandica in the Intermediate Section but also made a successful foray into the Open Section; winning with a very nice potful of C. siesumsiana [right].
Sourced from the East Anglia bulb sale, his plants are grown in free-standing deep clay pots that are left unplunged. During the dormant (summer) period a piece of slate is placed atop each pot to ensure that they receive no water until growth restarts in late November to early December. My own plants are kept dry until early October but I know that other growers prefer to hold off until early November. Given Michael's evident success, I may need to rethink my strategy – and curb my enthusiasm to get the growth cycle started again. In common with many allied Corydalis, the above two species show a strong tendency for new growth to run outwards until reaching the pot perimeter, then heading upwards to surface as a ring of growth around the pot's edge. The standard trick is to invert a smaller, bottomless pot over the tuber to thwart this tendency, as such channelling the shoots more centrally.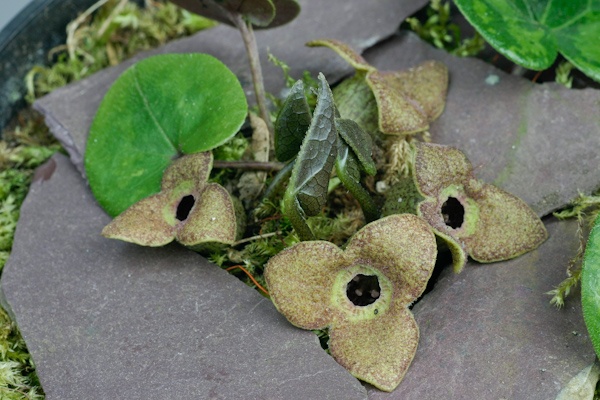 Members of the genus Asarum (from the family Aristolochiaceae), on the whole of Chinese extract, have become fairly popular items on the showbench in recent years, some species providing sizable exhibits. It was, however, a tiny representative that created a talking point at this particular event. Asarum taipingshanianum excited some visitors but left various others wondering 'Why in heaven's name would you grow that?' As its name suggests, this species comes from Taiwan. It is grown in a woodland mix of fairly rich leaf-mould, perlite and coarse sand, and is kept under an unheated alpine house bench all year round.
Another subject that divides opinion is the current proliferation of Dionysia hybrids and the desirability of particular colour forms and colour combinations. Paul & Gill Ranson exhibited Dionysia 'Lysithea' in the 'new in cultivation' class. A seedling from the well-known 'Emmely', the flowers were a very pale version of the parent, being essentially white with a yellow eye. Some would argue that 'pale version' translates as 'wishy-washy' and as such would dismiss this clone.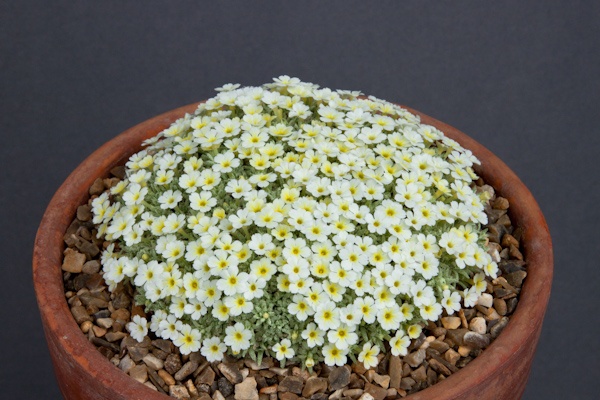 My own view is that this represents an improvement in that the colours of 'Emmely' lack sufficient contrast. The plant is one of four seedlings resulting from a 2003 sowing of seed received from Michael Kammerlander. The notes provided on the day told us the seed parent is promiscuous, but the pollen parent of this particular offspring is unknown. It is grown in a mix of 60% 1-5mm grit, 20% JI2,10% Perlite and 10% Seramis.
It is always nice to welcome new exhibitors, and particularly so when a new exhibitor stages what, for most of us, is an unfamiliar plant. After a little arm twisting, Debbie Leonard brought along her small grouping of Galanthus krasnovii. Bought at a Galanthus Gala a couple of years ago, and originating from first generation wild collected seed, this snowdrop was different from the norm in several respects. The broad and shiny green leaves would make this difficult to recognise as a snowdrop when not in flower. The flower in turn differs from all of the familiar species and hybrids in that the inner perianth segment lacks an apical notch. The species has a restricted distribution at the eastern end of the Black Sea and my copy of 'The Genus Galanthus' (published in 1999) states that this species is 'virtually unknown in cultivation'. The book also tells us that it grows 'in very wet conditions' and 'in some places … [grows] ... in several centimetres of water".
Accordingly Debbie grows it in a plastic pot and sits it in water once growth is well underway, continuing in this manner until the main growth period ends. Her compost mixture is equal parts JI2, sifted leaf-mould (oak), and grit. An occasional watering with Phostrogen completes the treatment. Frost has not been a problem. The specification of oak leaf-mould is more related to local availability than any requirement to control alkalinity; the references state that this species occurs on both calcareous and acidic soils. The small clump was clearly happy, bulking up nicely (at least six bulbs) and responding favourably to the above regime. As one might expect of a plant from marshy locations, the roots remain active all year, so more moisture is needed during the summer period than would suit other snowdrops. It was notable that the plant was grown in a plastic pot.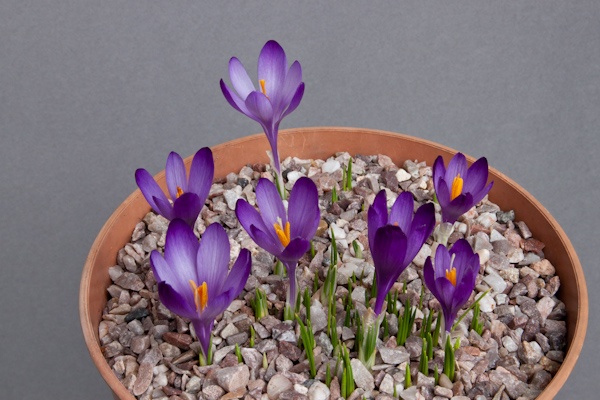 The class for 'one pan bulbous plant grown from seed' was won by John Dixon with a pot of Crocus pelistericus MESE380. These were first generation seedlings, sown in January 2000, that had simply been repotted en bloc during the intervening years. Seedling variability was clearly visible in the flower coloration. Whilst most Crocus species tend to respond quickly to the warmth of the show hall (but start to close as soon as light levels drop), these preferred to move at a more leisurely pace. This is clearly disconcerting when the deadline for staging approaches and, just before judging started, John and his pot were spotted by the windows trying to provide encouragement.
Crocus pelistericus is a snowmelt plant from the mountains of northern Greece and so standard bulb treatment doesn't readily suit. The exhibitor has not been terribly conscientious in ensuring the pot never wants for moisture (he just throws water at it, if and when he is passing), nor does he stand the pot in water as do other growers. I suspect that his definition of neglect is perhaps different to most:– everything is relative!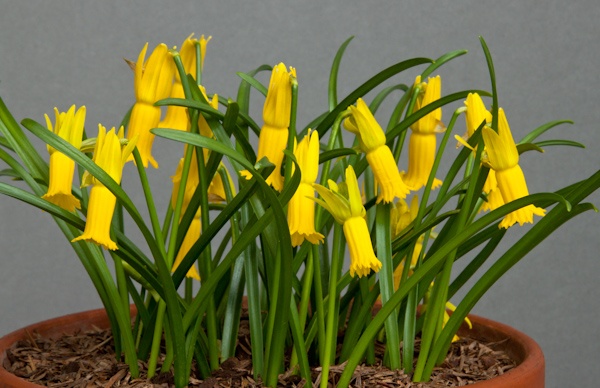 Another splendid plant, again grown from seed, was Lee & Julie Martin's Narcissus cyclamineus. This represented a single seedling survivor that has subsequently proved robust and has shown a willingness to bulk up. This experience amply illustrates the value of growing from seed, allowing nature to select out the individual(s) that best suit one's own regime and growing conditions. In my experience this plant is never easy to please: advice from the owners suggests that perhaps I need to keep it drier during its summer rest.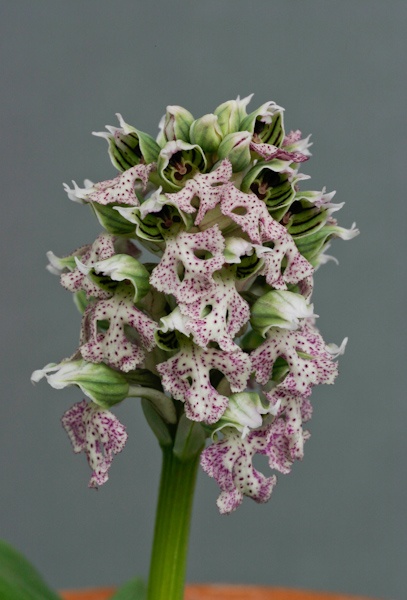 It was perhaps a little early in the season and the classes for Orchidaceae were light on competition but Barry Tattersall ensured that orchid fans were not totally disappointed. I picked out Neotinea lactea (the milky orchid) as worthy of close inspection. The genus is close to Orchis and in the past has bounced between the two. Whilst the species is widespread in Mediterranean regions, Barry says it was difficult to source (but relatively easy to grow). It's another example where he is now incorporating cat litter into the mix. We love to mess about with magic ingredients and cat litter has a number of followers (you have to get the right brand). I was recommended to have a sniff (at the orchid, not the cat litter) but then got diverted.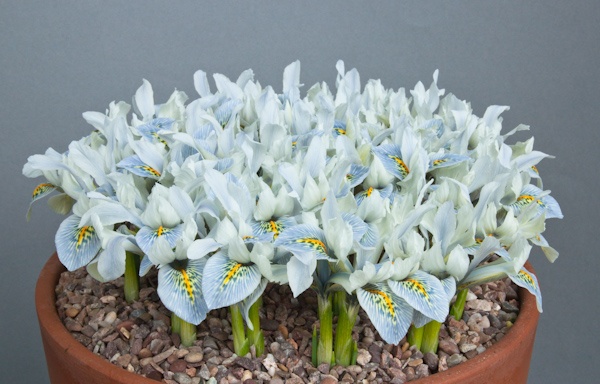 The Farrer Memorial Medal was awarded to a pot of Iris 'Frank Elder' grown by Don Peace. From just a couple of bulbs bought many years ago this has steadily increased; particularly over recent years. The bulbs can easily dwindle if kept too moist during the dormant period. They have fared much better following a change to their summer regime – keeping them completely dry until early September (achieved by leaving the pot free-standing under the greenhouse staging). They then get a complete repot into a moist mixture of two part JI3 to one part grit, at which point they are returned to the moist plunge. Dusting with sulphur or some other fungicide is often advocated for the genus, but this has never seemed necessary, at the risk of perhaps tempting fate!). Similar treatment suits the close lookalikes I. 'Katharine Hodgkin' and I. 'Sheila Ann Germaney', both also on show.
Author: Don Peace
Photographers: Doug Joyce and Jon Evans