Early Spring AGS Show, 2011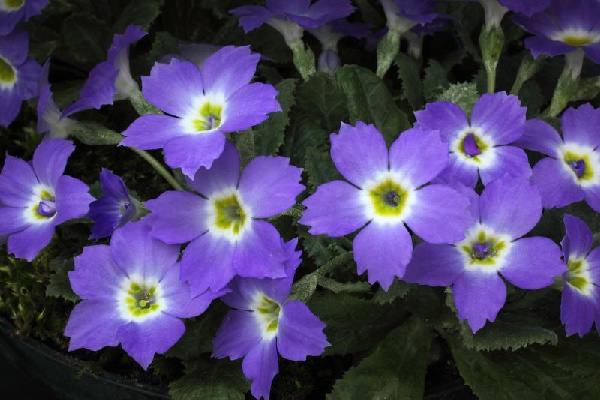 'Early Spring' in name only; outdoors it remained cold, grey and wintry. This fostered a good range of snowdrops, some of the most striking brought down from the north-east of the country by John Richards and Don Peace, who between them also staged most of the Show's Petiolarid primulas. The first-named had a good three pan entry made up of Primula nana, its hybrid (with P. bhutanica, made by Henry Taylor in 1977 and named after the family home) P. 'Tantallon' (shown left) , and P. moupinensis,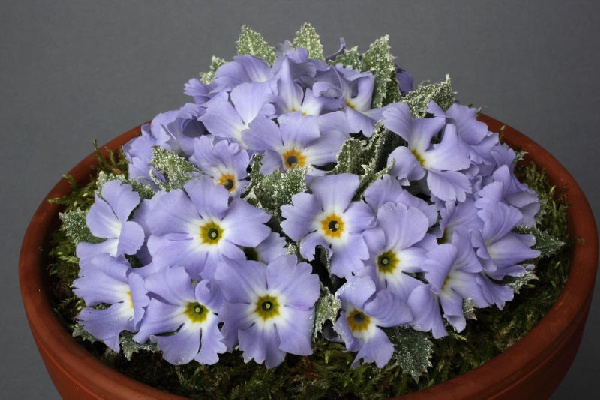 while from Yarm, to the south, Don brought another Scottish P. bhutanica hybrid, P. 'Arduaine' (thought to be implicate P. whitei: it occurred by chance at Ascreavie, and dates back at least 30 years - shown right) in pristine form. These plants hate hot summers and hard winters: Professor Richards prefers to grow them in the open ground, but also stows pot-grown plants under mature shrubs in the summer, the cool, dampish micro-climate provided keeping them in good health.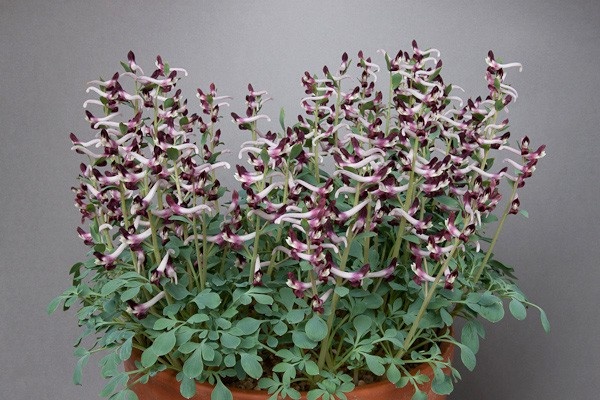 Quite the opposite conditions are required by most Corydalis grouped in Section Leontocoides, and one of the earliest of them all into bloom, C. popovii, displayed its easily-recognised, darkest crimson-nosed flowers in profusion, earning Mike Chadwick (who has exhibited the same specimen at this Show several times previously) a Farrer Medal. Although the misshapen, long-lived tuber often divides if you wait long enough (though never freely), you will need to buy two from any of the few nurserymen currently listing the species in order to produce seed, or if not persuade a generous friend to let you share their crop, better sown straight from the pod, but sometimes germinating even from a late autumn or winter sowing. In well-drained sites some growers have established self-seeding populations outdoors, but alpine house or cold frame cultivation is far more usual, and more reliable. At its highest stations in the mountains of Central Asia, blooming has been witnessed as late as July, depending largely on aspect and snowpack.
RBG Kew, whose exhibit of this had received a Preliminary Commendation in 1979, marshalled other Corydalis species (from a different grouping: Series Helicosyne) as highlights in a well-displayed mix of predominantly bulbous and cormous plants near the entrance to the showhall, which was awarded a Gold Medal. The western Caucasian, ivory white C. vittae and a lovely clump of the Crimean C. paczoskii ('of little garden merit' according to some references, but in fact the rich purple-tipped flowers were a delight: just as well that it is self-compatible and easy to grow) stood out especially.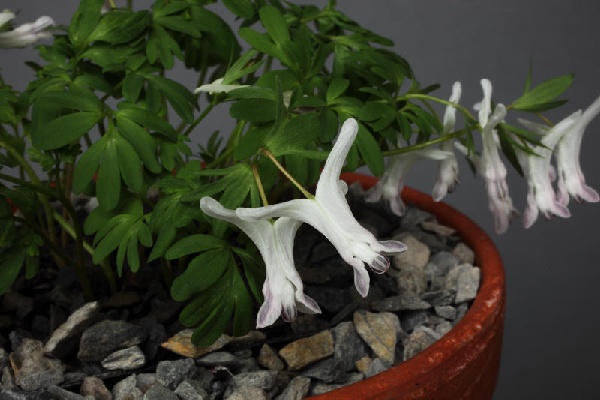 The other side of the doors, a closely-related species, C. angustifolia, provided one of the gathering's foremost novelties, for in the selection 'Gemini Group' (Bob & Rannveig Wallis) the white, purplish-nosed flowers are not just twinned but symmetrically fused, and as such decidedly Dutchman's Breeches-like, after the fashion of Dicentra cucullaria. Seedlings of an Iranian find from the eastern Elburz have inherited this parental quirk, but this aberration is not recorded from the rest of the distributional range (NE Turkey and the Caucasus) where, on the other hand, cream and lilac-flushed, orthodoxly-shaped variants can be found. This was a second generation potful, acquired more quickly than with most tuberous species, for seedlings are capable of flowering in their second year from a late spring sowing.
Ranunculaceae is renowned for the doubled and pom-pom-like flowers produced by normally single-flowered genera: celandines, 'Fair Maids of France', hellebores, aquilegias, Japanese-selected hepaticas (quite a few of these were on display), Clematis hybrids aplenty: the list is longer than for almost any other family. But a semi-double, pink Callianthemum anemonoides came as a surprise, pleasant to many, a minor affront to a few others. The owner, Robin White, is famously skilled in precisely selecting such variants and, chiefly by line breeding, fixing their qualities, as seen in other entries where he presented the recently-named Hepatica x schlyteri (maxima x nobilis) in pure white, royal blue and raspberry-coloured, home-bred versions. He also brought along a much larger black plastic pot filled with a mature Callianthemum, again a good pink (white is far more usual) but narrower of petal than some forms: this had around 100 flowers at their peak, for all that the stems had elongated very slightly, and easily deserved its Certificate of Merit. As a further flourish he had an abundantly-flowered Hepatica americana (with rounded leaflets and shortish-stemmed, bluish-pink flowers, though it has been proposed that the acute-leaved, limestone-loving populations until recently treated as H. acutiloba should be incorporated as subsp. acuta).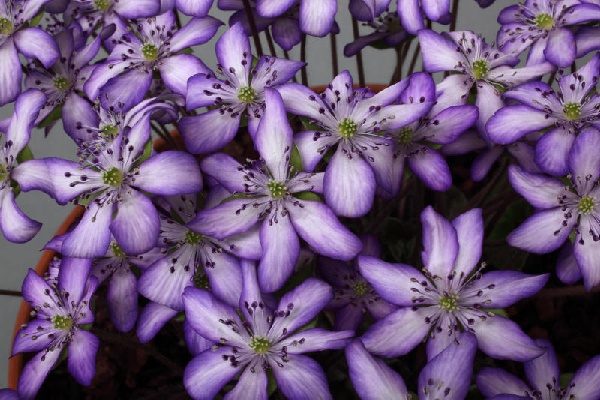 Rosina Abbiss and Jean Rich between them had some of the best forms of Hepatica nobilis var. japonica, whether they happened to be named - shown is Jeans plant of 'Utyuu' - or not (this becomes H. asiatica subsp. japonica if you accept the conclusions referred to above). The singles, with their contrasting stamens and simple flower form, were to many eyes as covetable as their generally much slower-growing and always more expensive 'fancy' selections.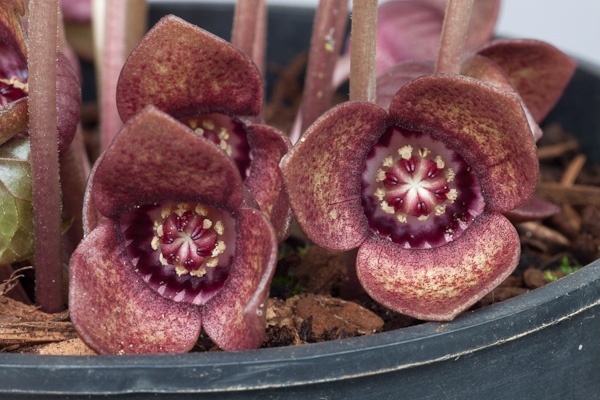 The number seen increases year on year; a comment also applicable to another part-Japanese genus, Asarum. The newcomer here, A. heterotropoides var. mandschuricum, an exclusively southern Chinese representative of a two-way split species (the other element restricted to northern Japan), is from forested mountain slopes and valleys, usually in moist shade, across the provinces of Heilongjian, Jilin and Liaoning). A neat flush of lime green leaves was held well above the basal cluster of small, liverish deep purple flowers. The Chinese have long used it in traditional medicine and market it as 'Manchurian wild ginger', but its uses obviously extend to the ornamental. It has responded well to a compost of equal parts leaf-mould, gritty sand and fine bark.
Ray Drew, newly-appointed Director of Shows, has long specialized in such woodlanders, but his interests encompass many other groups of plants, rare bulbs for example, one of which (in the same three pan entry) was making its showbench debut. A Turkish grape hyacinth from altitudes around 1100 m in the mountains south-west of the capital, Ankara, was found in 2002, but perhaps not introduced until the early stages of the 2005 LST enterprise (Latvian, Swedish Turkey Trip, sometimes dubbed the 'Long, Strange Trip'). This small, part inky, part paler blue species with white-mouthed bells has unarguably the longest name in its genus, Muscari sivrihisardaghlarensis. The rock type, gypsum, associated with this plant is one that augurs a high level of endemism, and such plants do not always settle down well in gardens. No indication of this with a batch of seedlings flowering well in their third year, yet unlikely to rampage with the enthusiasm sometimes unleashed by M. armeniacum and M. neglectum, its larger, closest relatives.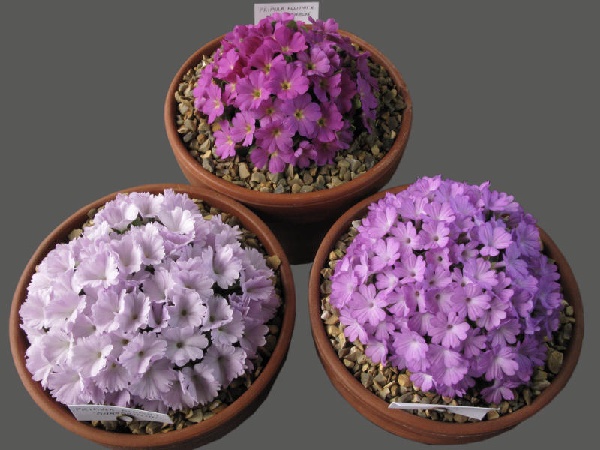 Finally, it was at least a week too early for a really good display of Primula allionii yet Peter Erskine had a sophisticated, well-chosen trio, identified only by coded identities, with the pale pearl pink, thrum-eyed H93/BS memorable. Cecilia Coller countered in another class with long-esteemed, named ones such as the often virused but still prime performer 'Anna Griffith').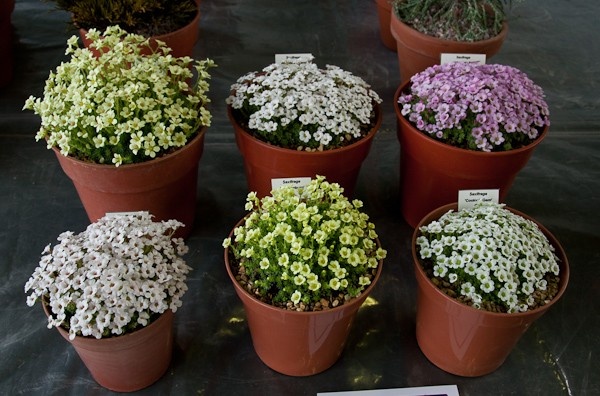 There were some large pans of Porophyllum saxifrages (David Hoare's Iranian S. wendelboi originally sent to Jack Drake as living material in 1966, seemingly never since, nowadays little-exhibited, and many years older than a generous, snowy mound of S.'Allendale Charm',its offspring match with the Himalayan S. poluniniana which is likewise seldom seen unhybridised), while a six pan of well-established modern-day hybrids won an AGS Spoon in the Intermediate Section for Stevenage stalwart Tony Hale, who further won the Epping Trophy for the highest tally of points therein.
Best of all were the dionysias. Choose between a large-flowered Dionysia zschummelii (Nigel Fuller), in essence a microform of D. archibaldii, and emphatically at the trickiest-to-manage end of its variability, hence its Certificate of Merit;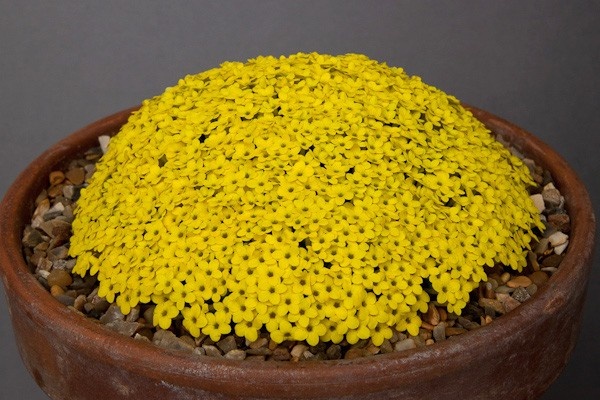 a model example of the efarinose, abundantly-flowered D. tapetodes 'Brimstone', slightly more 'and fire' in colour, also a Certificate of Merit recipient, and a key small six pan component that helped gain Paul & Gill Ranson the Elliott Bowl (Jack E. championed the genus in the 1960s and 1970s especially – he would have been delighted) for most first prize points in the Open Section;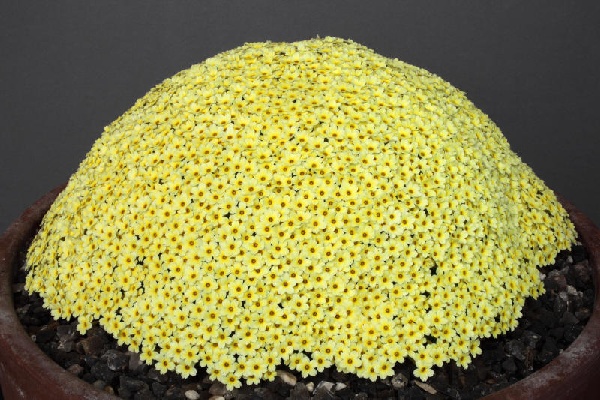 or (Nigel Fuller again) a weighty, impeccable potful of that two-tonal, citrus-flowered trouper D. 'Monika',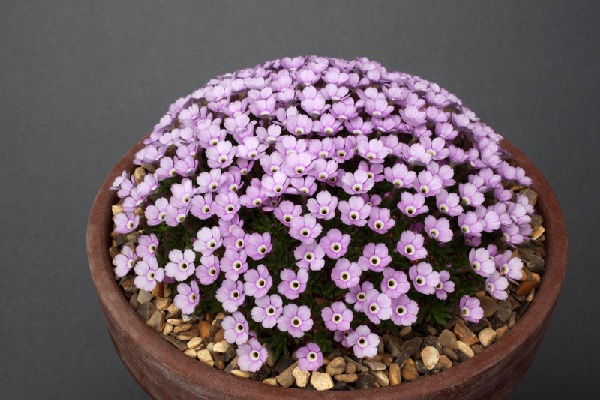 and a similarly mature plant labelled Dionysia freitagii EGW 91/9 (the Ransons again), which like others of Eric Watson's rearings of this vintage no-one can quite make their mind up over whether there is a subtle element of hybridity, for all that their worth as exhibition plants goes unchallenged.
Geoff Mawson/Robert Rolfe