Early Spring AGS Show, 2005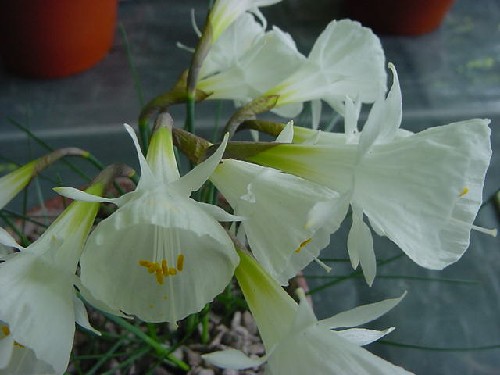 Many concerns were felt about the Arctic snap in the week prior to this Show. Nevertheless many fine plants were staged. Usually the dominating factor at this Show is the great mounds of Dionysias but this year the yellow sunburst came more from the wide range of Narcissus, from fifteen inch Mitzie to five inch Minicycla. There were far fewer pans of N. bulbocodium than usual but much greater variation of both species and hybrids overall. The delicate creamy hoop petticoats of Narcissus albidus ssp. albidus contrasted with a lovely bicoloured trio of N.'Mitzie', 'Candlepower' and 'Sennoke'.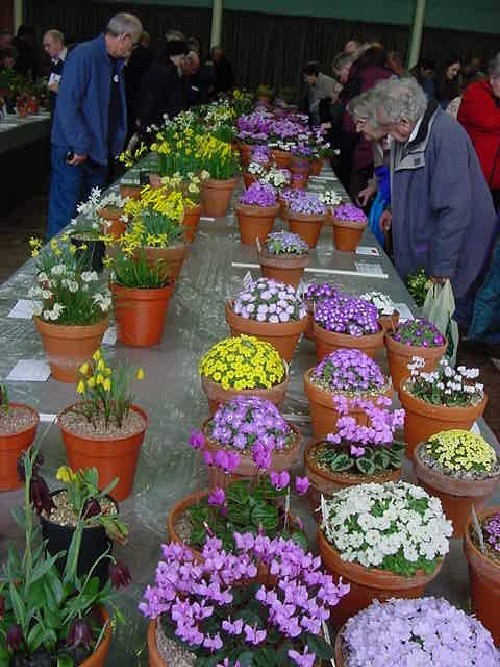 Another great splash of colour came from the range of enormous plants of mainly Cyclamen coum staged in the Open section. They ranged from white through pale pink to a brilliant rose red, while scattered elsewhere in the Show were the taller C.persicum and some excellent pans of tiny, delicate C.alpinus. A wide range of bulbs was staged in the sales hall by Cambridge Alpines.
Mary Randall