Dublin AGS Show, 2008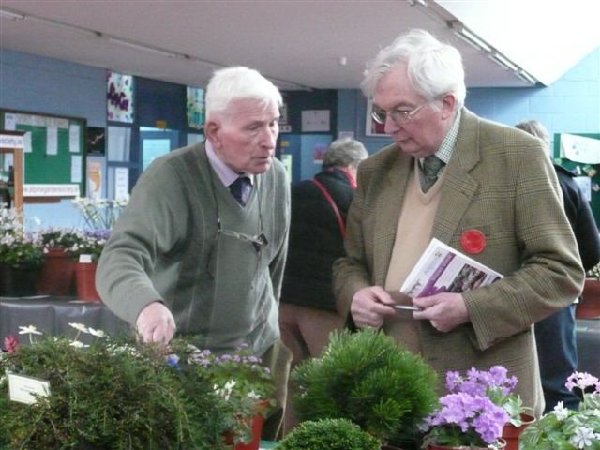 An exceptionally early Dublin Show, coupled with miserable weather during much of March, might have been expected to result in a dearth of plants on the benches. In the event, exhibitors north and south rallied round and the Community School hall in Cabinteely was well filled with a colourful display. However, several genera of plants were not represented. Notable among these were Androsace (except for a single A. [Douglasia] montana) and Gentiana. There were very few Narcissus, perhaps as a result of the high rainfall and lack of sun in the previous summer. The Open section was well supported but we badly need new exhibitors in B and C sections to maintain a reasonable level of competition and to slow down the progression of relatively inexperienced growers upward to the Open section, where they may be deterred by the large pots and the standards expected. The artistic section was excellent and is always thoroughly enjoyed by the general public. (Picture: Michael Upward & Bob Gordon at the Dublin Show)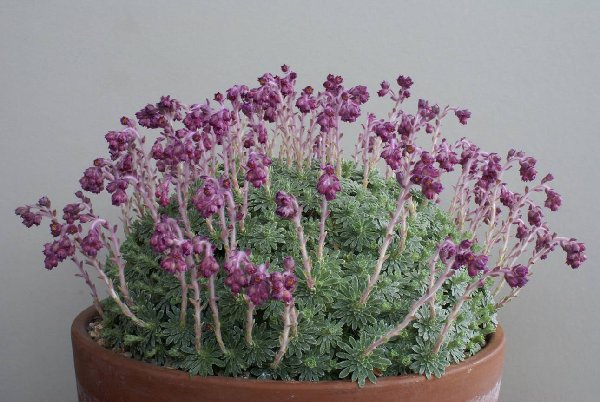 It is always a cause for celebration when an exhibitor gains a Farrer Medal for the first time. On this occasion, Raymond Copeland from Newry, County Down was successful with a fine Saxifraga porophylla. The plant was acquired several years ago as S. stribnyi, from which it is clearly distinguished by its unbranched inflorescence and dominanly sessile flowers. It had made its debut at the Ulster Group's Local Show a few weeks earlier, where it similarly had been judged best in show.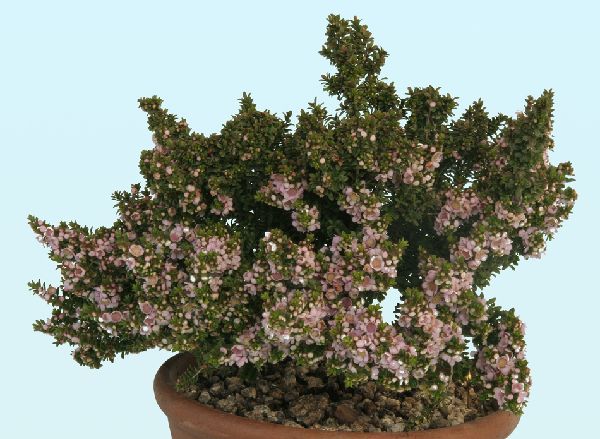 Two exhibits in the class for plants rare in cultivation appeared for the first time on the bench in Dublin. Harold McBride, Lisburn had coaxed a small pad of Eritrichium nanum into flower and Liam Byrne, Dublin introduced us to Thryptomene saxicola (right), a southwestern West Australian native. It is a small leaved shrub in the Myrtacae with mases of small pink flowers and has been used as a cutflower in Australia. It is reported to come from granitic areas and to be moderately frost hardy. It grows to a metre high and is certainly a plant which should be tried in Dublin gardens.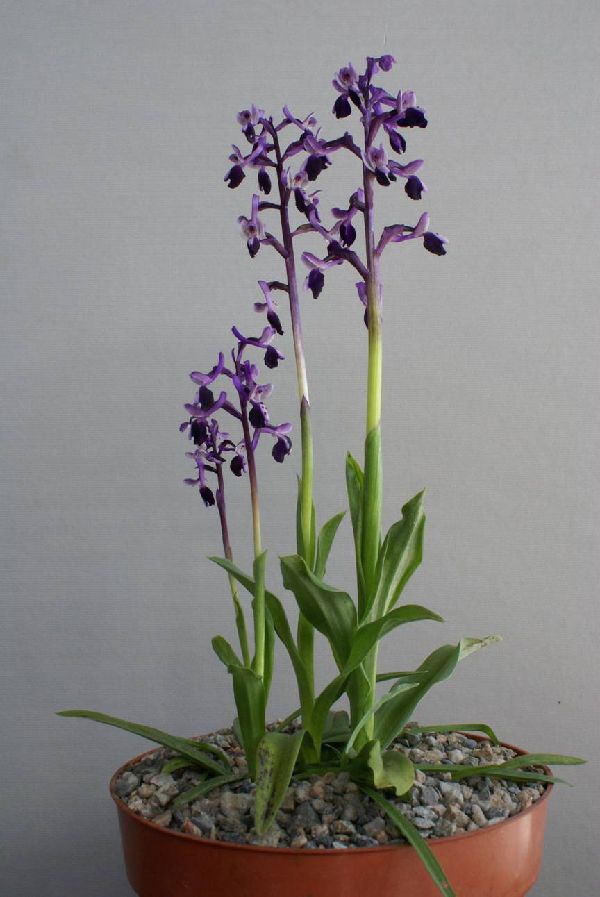 Apart from Pleiones, orchids have not featured stronly in previous Dublin shows but a much admired Anacamptis longicornis, exhibited by Bob Gordon, Portglenone, led to several enquiries as to where such a plant could be acquired.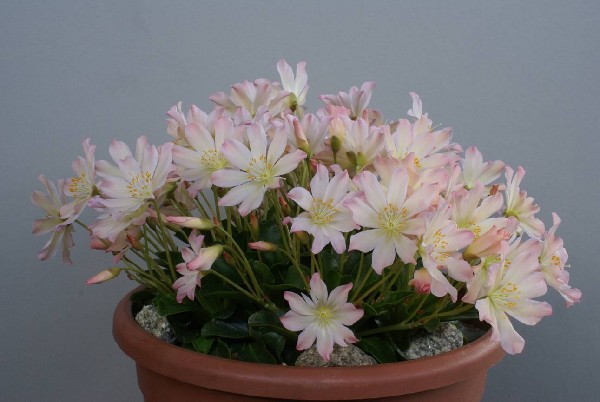 Dublin and Ulster shows are almost always graced by large pots of Lewisia tweedyi in rude good health and bursting with flower – the output of our show grower par excellence, Liam Byrne. This year they did not disappoint. The ancestor of the current crop was grown from seed. The plants get well fed and are moved on into larger pots twice or more during the growing season.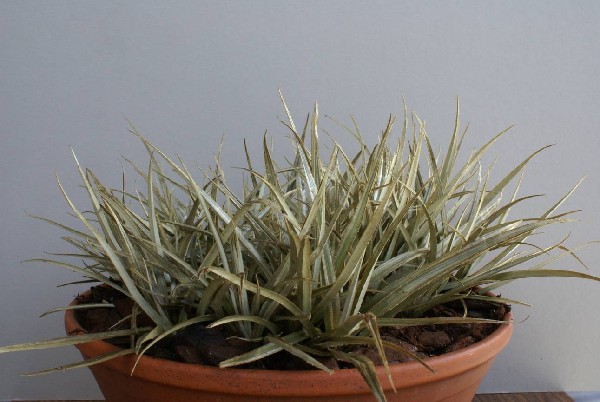 Plants grown for foliage are commonly eclipsed by those in flower in the confines of show reports. Billy Moore, Dublin showed a most attractive form of Astelia nivicola, which appears to be much dwarfer than in illustrations of the typical plant in its home, South Island, New Zealand, and which has a pleasing silver sheen on the upper surface of the leaves and a bronze tinge on the reverse.
George Sevastopulo