Dublin AGS Show, 2007
The news that gentians were in full flower in the Burren, a month ahead of their due season, coupled with the later-than-usual date of the Dublin Show must have filled the Show Secretary, Valerie Keegan, with trepidation. In the event, entries were only marginally down on the previous year and the benches were generously covered. The Artistic section was enormous and of an extremely high standard. Surprisingly, relatively few plants new to the Irish shows benches were on view, reflecting the restricted range of plants we grow for exhibition. This is probably because of the proximity in time of the Dublin Group and Ulster Group spring shows and the lack of a summer show.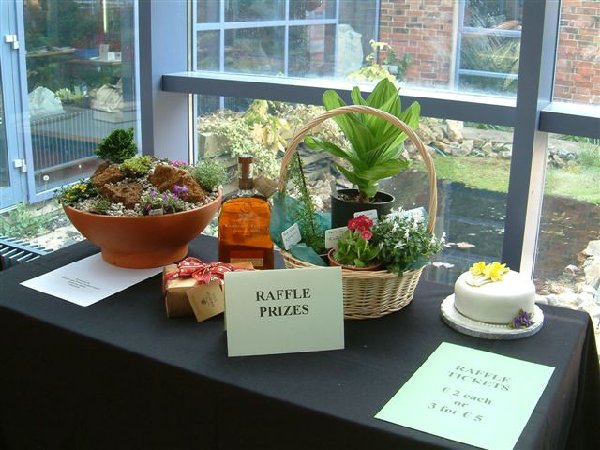 AGS shows are, quite rightly, about plants. There are, however, other facets of a show, which are much appreciated by visitors and exhibitors alike. The Dublin Show has built an enviable reputation for the quality of the refreshments on offer: seated on a stage overlooking the exhibition area, you can plant- or people watch, while drinking a cup of tea and eating an excellent home made cake. The raffle provides a vital source of income; this year the prizes included a pot decoratively planted with alpines, always popular with visitors, and a basket of four classy plants –a Turkish Lamium, Primula 'Rufus', Tropaeolum azureum, and a handsome Veratrum – to tempt exhibitors to part with their euro.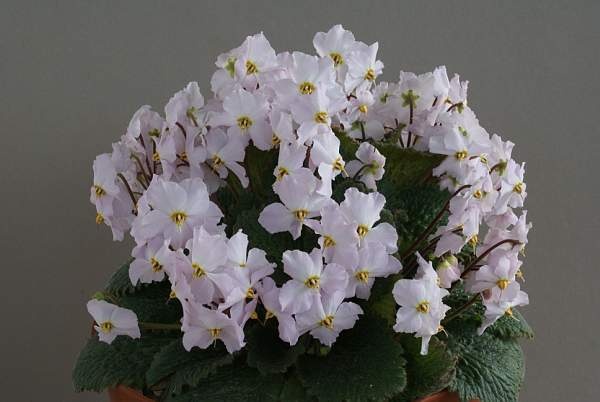 And now for the plants: the Farrer Medal was awarded to an immaculate Ramonda myconi grown by Liam Byrne, Dublin's premier exhibitor. The plant, raised from seed sown some ten years ago, and grown in a 1/1/1 mixture of loam, grit and leaf mould with two to three feeds of tomato fertiliser per year, formed a dome of immaculate leaves topped with white flowers with the barest flush of pink. It was in marked contrast to the same species in the walls in my garden which are toasted to a crisp.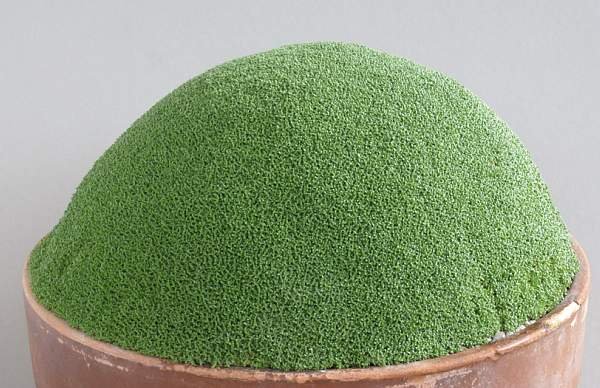 A venerable cushion of Gypsophila arietioides,shown by Billy Moore and awarded a Certificate of Merit, has reached the limits of its current 30 cm pot. Any clues to the whereabouts of a 36 cm pot (are such pots made - they are certainly not in evidence in Ireland) will be gratefully accepted.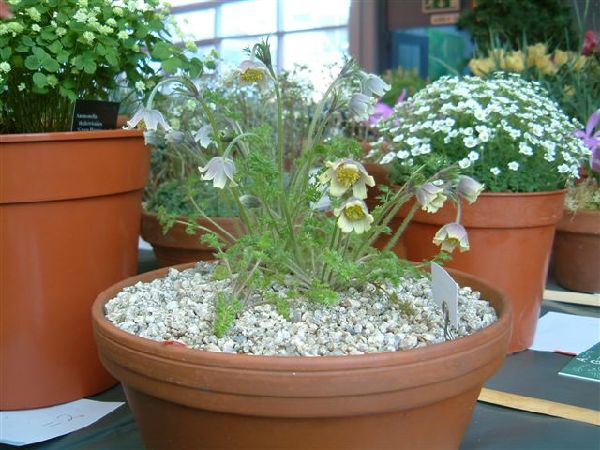 The same exhibitor received a Certificate of Merit for an attractive pan of Pulsatilla patens in its yellow form. I also admired Billy's small plant of the hardy Californian Dudleya cymosa in flower and made a mental note that in time it might break the tyranny of Crassula socialis in the Class for Crassulacea. The National Botanic Gardens, Glasnevin exhibited Grevillea alpina, a nice form of known provenance (the late Mrs Guinness, Howth), which is now extremely rare in Irish gardens; and a magnificent plant of the dwarf Tasmanian conifer Microcachrys tetragona, which gained a Certificate of Merit.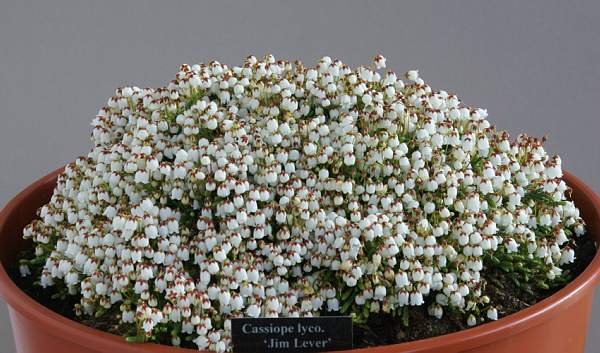 Certificates of Merit were also awarded to two plants, Cassiope lycopodioides 'Jim Lever' and Fritillaria affinis, exhibited by Susan Tindall of Magheratimpany Nursery, County Down. Susan's trade stand has been a feature of the show for many years and is a magnet for visitors.
George Sevastopulo