Dublin AGS Show, 2016
This was the 31st Dublin Group Alpine Garden Society Show, and as my wife Pat and I drove south the temperature hovered around freezing. Consequently I wondered how the plants would have fared, as a mild winter and a very cold spring make a dangerous combination. Entering the show hall at Cabinteely it was clear that I need not have worried unduly.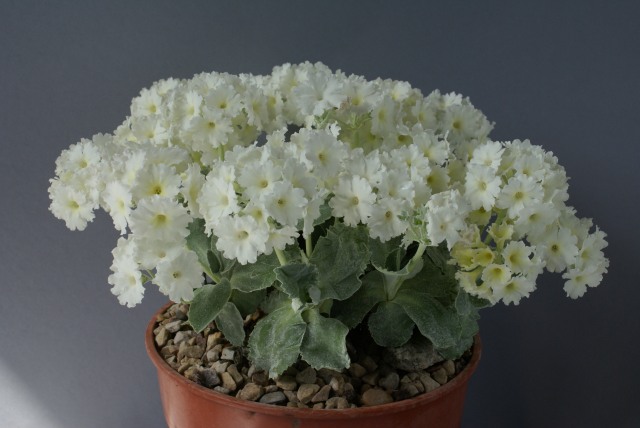 The benches were packed, with Liam Byrne's large six-pan entry in the Open Section the first group of plants anyone entering the show hall would have seen. An eventual AGS Medal Winner, it was a very welcome sign of things to come. Liam has been a mainstay of Ulster and Dublin Shows for many years. Amongst his other award plants, a Certificate of Merit went to Primula 'Wharfedale Village'. Around seven years old, it had been grown in a shaded greenhouse in a mix of equal parts leaf-mould, peat, John Innes and grit.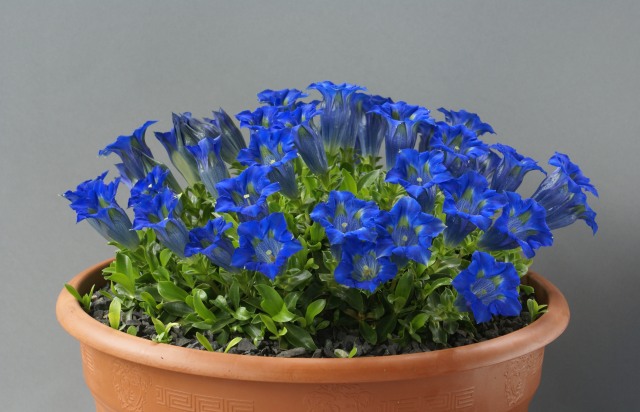 The Farrer Medal, against stiff competition (seven plants were brought up by the judges) went to Paddy Smith for a superb pan of Gentiana ligustica. This was Paddy's third such award for his spring and trumpet gentians. It had been grown from 2008 SRGC seed and is kept in the open all year round. Coming from the Maritime Alps, it had been given a benison of lime, mixed with Vitax Q4, added to fertile garden soil. Paddy's advice for growing these gentians to such a standard is moisture and sun, but I am sure many of us would struggle to produce gentians of this quality even with both.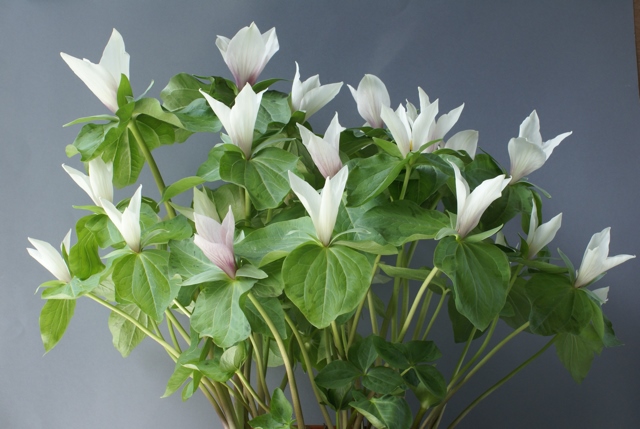 Trilliums are a typical feature of Irish Shows and there were plenty of them on display, mainly T. chloropetalum and T. rivale. We had another opportunity to see Billy Moore's yellow-petalled Trillium chloropetalum 'Bob Gordon'. Gordon Toner has consistently produced show standard trilliums from his north Londonderry garden and his Trillium albidum [right] was awarded the best plant from North America. Grown from seed it was only three or four years old and had been grown in leaf-mould and garden soil fed with blood, fish and bone. Kept in the open for most of the year, it had only been sheltered under glass shortly before the show.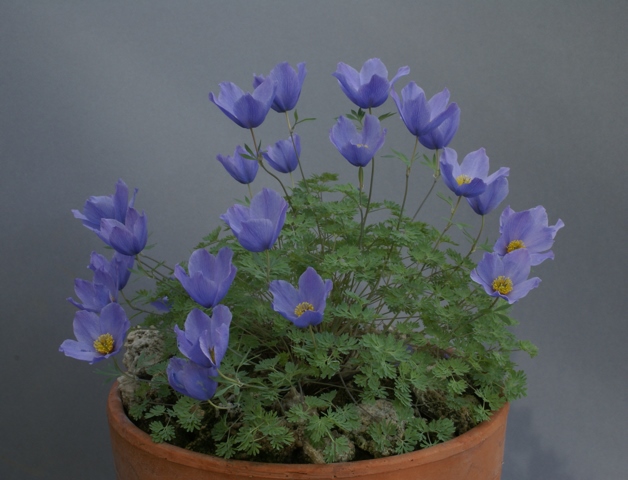 Billy Moore's six-pan entry of 19cm pots in the Open Section was eye-catching and comprised Saxifraga cinerea, Lewisia brachycalyx, Dodecatheon 'Sooke variety', Paraquilegia anemonoides [left], Anemone obtusiloba 'Pradesh' and Androsace vandellii. It is always difficult to get six pans to such a standard simultaneously, so the AGS Medal it received was well-deserved.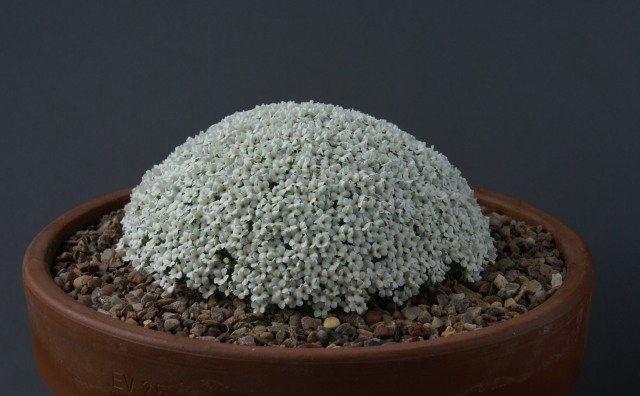 Don Peace has been a regular visitor to Irish Shows for several years now, always bringing a wide selection of his beautifully grown plants. Two in particular caught my eye. The first was a large Androsace vandellii from seed sown in 2008 [right], grown in one part leaf-mould, one part John Innes no. 3 and two parts grit. Don had two other plants from the same sowing on display but this one had outstripped its siblings – one of the advantages of growing from seed. This was awarded the David Shackleton Trophy for the best pan of Primulaceae. David Shackleton was a direct descendant of Ernest Shackleton and appropriately its icy white flowers had the look of Antarctica about them. The other plant was SE Turkish Fritillaria alfredae subsp. glaucoviridis whose narrow tubular flowers exactly matched its blue/green foliage. It had been grown in two parts John Innes no. 3 and one part grit. Kept out in a cold frame it had been re-potted annually. Amongst other awards (including the most points in the Open Section) Don received a Certificate of Merit for Corydalis macrocentra.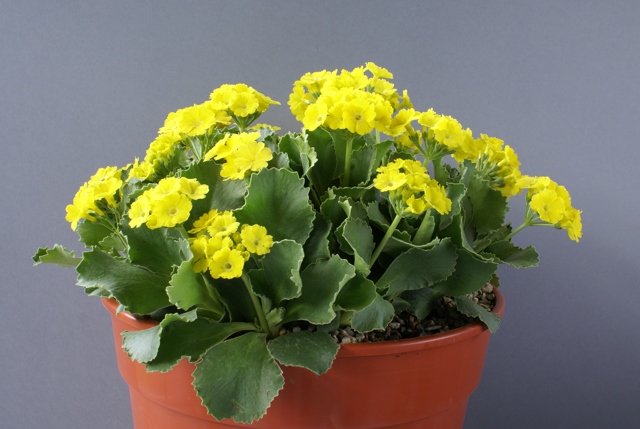 Susan Tindall had a fine Cassiope wardii hybrid, awarded the Jacki Troughton-Smith Trophy for best pan of Ericaceae. Given to her as a rooted cutting many years ago it had been re-potted annually. Slow to increase, it showed none of the browning on the lower stems so characteristic of these crosses. Like all cassiopes you need to keep them well watered, especially in the hot summer months. Susan also had Primula 'Lindum Rapture' [left] now filling a pot following its acquisition in 2008. She considers it an easy plant that increases well. This was a single plant (not several off-sets) and would be a good beginners' plant with its yellow flowers and efarinose green leaves.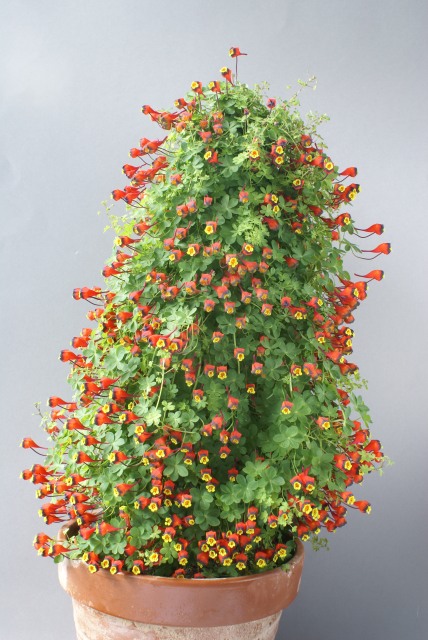 Two Certificate of Merit plants sat adjacent to one other on the benches but could hardly have been more different. Val Keegan's climbing Tropaeolum tricolor [right] with its vivid scarlet flowers comes from Chile and was visible from afar. I wonder what the pollinator would be in nature? In the same class Tim Lever's Sebaea thomasii, a member of the Gentianaceae from the Drakensberg Mountains, completely filled a large pot with its strongly scented, long-lasting yellow flowers. This was a year younger than his previous Farrer Plant and, since seed is rarely set, it had come from a cutting reared in a mix of loam, sand and grit (with minimal humus as this can lead to overheating in the pot). Given a haircut in late May after flowering, it is never allowed to dry out.
Harold McBride had a tall Ranunculus cortusifolius with buttercup-yellow flowers. Coming from the Azores it had been grown in a cool greenhouse and allowed to dry out in summer, with a close eye kept out for aphids and powdery fungus.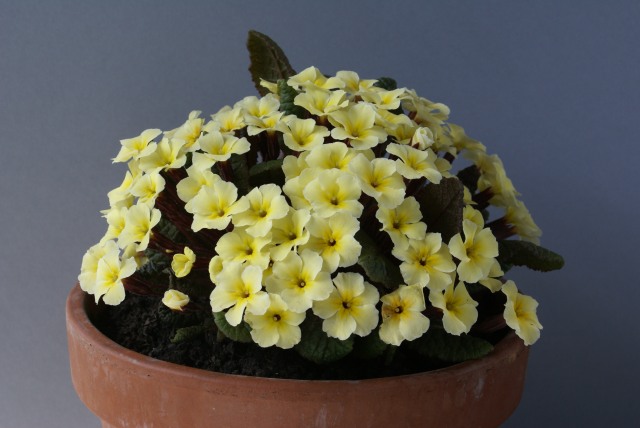 Following his success at the Ulster Show two weeks previously, Liam McCaughey was awarded a second Gold Medal for his inspiring photographs of 'Alpines on Five Continents'. With his wife Joan, Liam also received the award for best plant in the Intermediate Section with Primula 'Maisie Michael'. This is one of many Primula crosses raised by Joe Kennedy, some sadly now rarely grown. 'Maisie Michael' however has stayed the course (in no small measure thanks to Aberconwy Nursery). It had been lifted from the garden and its sturdy flowers showed no signs of having suffered in consequence.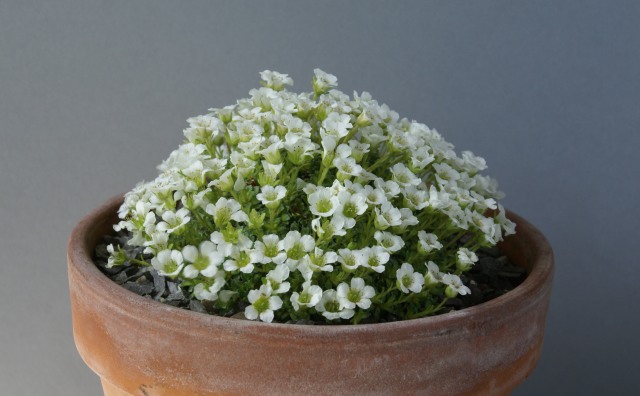 The best plant in the Novice Section was a Saxifraga sp. shown by Fionnula Broughan, who also was awarded the most points in that Section. It was an encouraging sign that four plants were brought up by the judges for the best plant, recipient of the Termonfeckin Trophy.
This show was directed under the watchful (and amiable) eye of Martin Rogerson, and attracted a large and appreciative crowd. I have always found the Dublin Shows very friendly and this one did much credit to the Dublin Group of the Alpine Garden Society.
Author: George Gordon
Photographer: Billy Moore