Dublin AGS Show, 2015
I arrived at the Dublin Show when staging was in full swing, my host having left with his own plants an hour earlier. A few steps inside the door and I already had been greeted and shaken by the hand several times − the usual warm Irish welcome. The new show Secretary, Gavin Moore, presided over the process with all the calm of a veteran, calmly answering questions from exhibitors as he staged his own plants.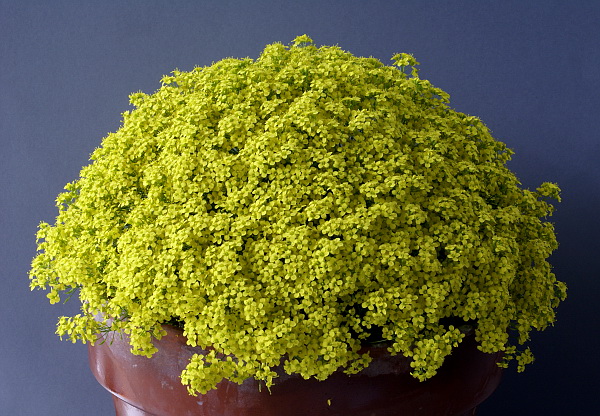 It was particularly pleasing to see the Farrer Medal for the best plant in the show awarded to Val Keegan, who was herself the show secretary here for many years. Her large and particularly well-flowered Draba longisiliqua had been grown for five years in a gritty compost, receiving occasional feeds of tomato fertiliser as well as occasional dressings of blood, fish and bone! This species from the Caucasus needs a draughty position under glass and resents humidity, which can result in the downy leaves being attacked by mildew. Val also received a Certificate of Merit for a pot of Tristagma (Ipheion) 'Alberto Castillo', a very good garden plant that can flower for three weeks or more, in this case belying its sometimes slightly untidy nature and standing up proudly in the pot.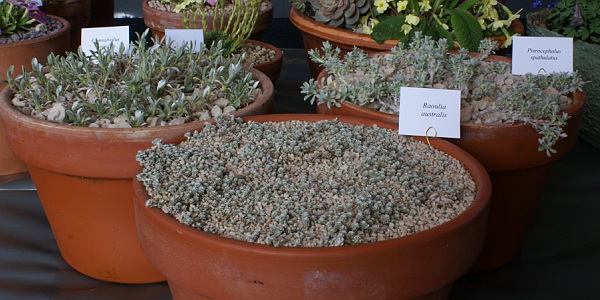 As I had the national show records on my laptop, I was able to process the show results straight after judging and tell Gavin that he had just won his Gold Medal. He had no idea that he had been so close to this achievement. One of his exhibits that caught the eye was an entry in the class for three pans rock plants with silver/grey foliage. Very often, there is heated debate between judges about whether the foliage of all three plants meets the requirements of the class, but not so in this case. His Raoulia australis, Pterocephalus spathulatus and Convolvulus boissieri glistened with good health. Like most silver-leaved plants, these had been given the protection of an alpine house to keep the leaves in immaculate condition.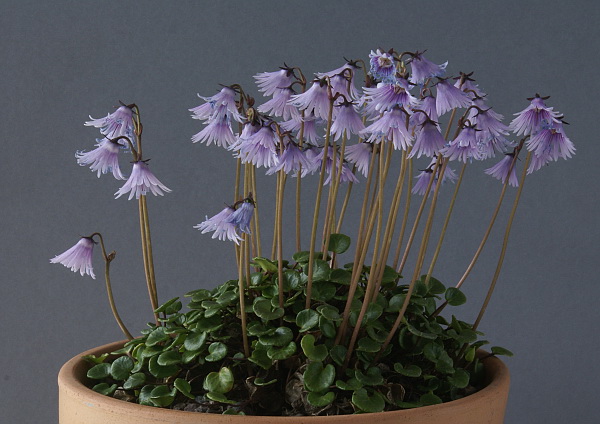 There is always strong support for this show by exhibitors from Northern Ireland and this year was no exception. The Waverley Trophy for the best plant in the Intermediate Section was awarded to Soldanella 'Sudden Spring' exhibited by Joan & Liam McCaughey. This hybrid between S. carpatica and a hybrid of S. pusilla is more vigorous than either parent, and flowers far more generously than the latter. It needs a moist, well-drained soil in sun until after flowering, light shade thereafter.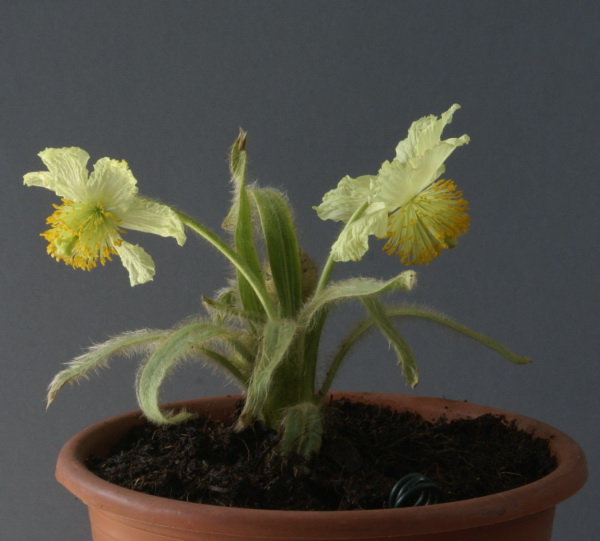 Another exhibitor from Ulster, Harold McBride can always be relied upon to bring some interesting plants to the show. The first of his plants to catch this reporter's eye was the diminutive Meconopsis integrifolia subsp. lijanensis (or possibly M. integrifolia subsp. souliei), received in 1993 from Stella & David Rankin as a seedling raised by them and grown on to flowering size by Harold. The seed came from a population in S.W. Sichuan found at 3,500m on open hillsides, among grass and rocks. To quote the Rankins: 'Cultivation is as for other integrifolia types - well drained, moist, plenty of feeding, and prayer morning and night. And even then nothing is guaranteed'.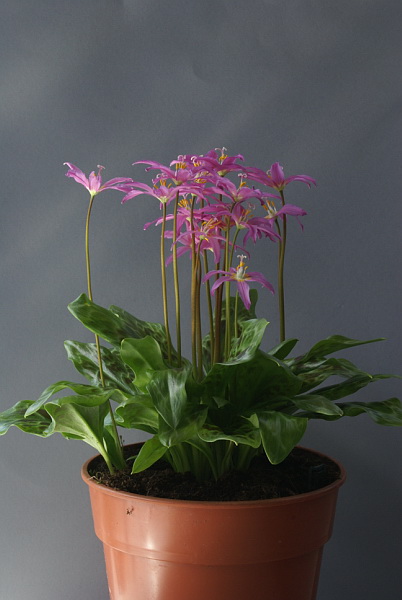 Another of Harold's plants, Erythronium revolutum 'Waverley Stargazer' was awarded a Certificate of Merit. This unusual variant, first exhibited at the Ulster Show in 2014, was selected by Harold from his own seedlings and has upwards-facing flowers that obviate the need to get down on hands and knees or to turn the flowers over by hand in order to admire the details. This species does not normally increase readily by division, and the flowering is anxiously awaited of several seedlings from this plant to see if the stargazing habit has been inherited.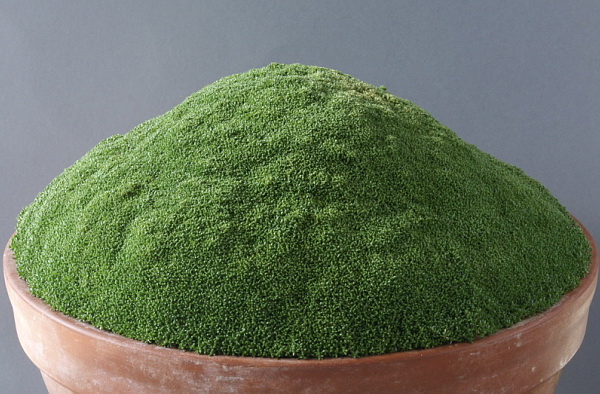 One of the oldest exhibitors at the show, Liam Byrne, was delighted, in his 80th year, to win the ACC Cup for the most first prize points in Open Section. Among his many plants, his entry in the class for one large pan cushion plant was nudging the maximum pot size. Gypsophila aretioides 'Caucasica' is often seen at our shows but seldom, if ever, as big or as good as this. Liam has grown this plant for over 25 years and there was no trace of yellow foliage nor of any 'burn off'. The plant had been sprayed two or three times a day in hot weather and had been soaked occasionally. Its days as a show plant are numbered as it is becoming too heavy to lift!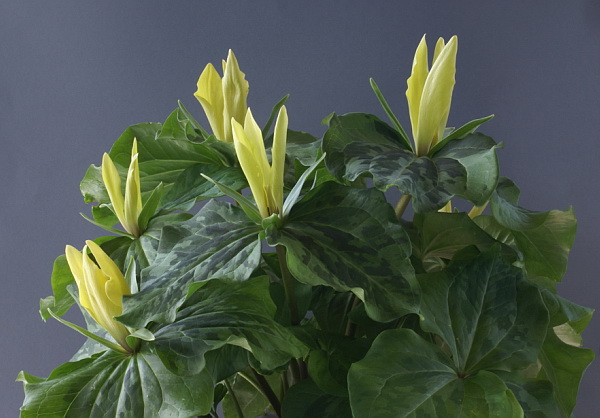 We can always expect to see excellent trilliums at the shows in Ireland. Notable at this show were Gordon Toner's Trillium chloropetalum (which won the Margaret Orsi bowl for the best plant from North America) and Billy Moore's striking yellow-flowered plant of the same species, T. 'Bob Gordon' [right], which was written up by Billy himself in the Ulster Show Report for 2014, and was given an RHS Award of Merit by the Joint Rock Committee meeting at the same show.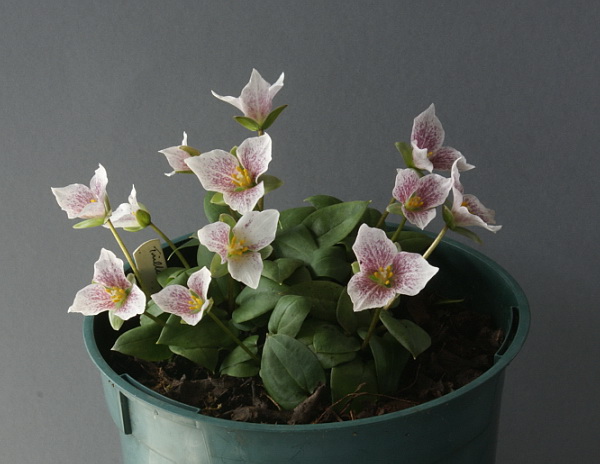 In the Novice Section, Janet Wynne won the Millennium Cup for the best plant with Trillium rivale. This three/four-year old occupied a deep pot to accommodate its long roots. While top-dressed with bark, it was actually growing in a mix of John Innes no. 3, grit and leaf-mould (Janet makes her own from beech leaves).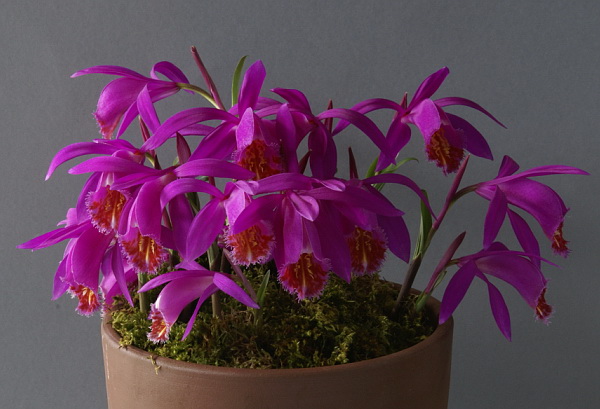 I am pleased to be able to finish this report with a mention of my host from the night before, Frank Lavery, who won the Barney Johnson Trophy for the most first prize points in the Intermediate Section. Notable among his plants was a lovely pan of Pleione Tongarino grex which had been carefully built up over several years.
Author: Jim McGregor
Photographer: Billy Moore