Dublin AGS Show, 2014
The overriding impression from my first Dublin Show was that, in contrast with my own frenzied activities, everyone else seemed remarkably calm. The entire day was conducted with an air of relaxed tranquillity that even extended beyond the official 4 p.m. closing time. This came and went with just a gradual start to the removal of exhibits - unlike the 'Le Mans' style stampede that we usually experience on my own side of the Irish Sea!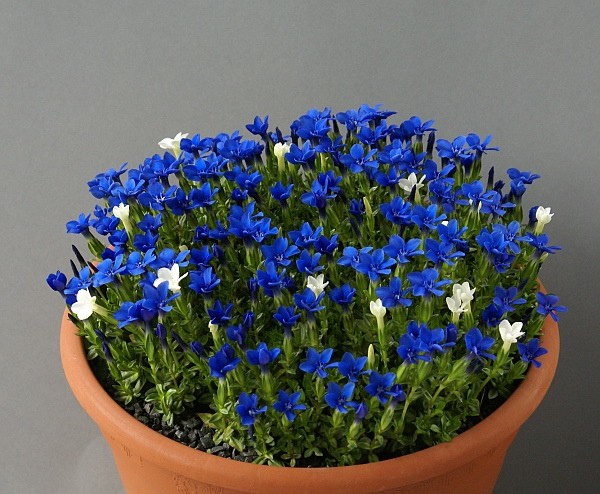 Paddy Smith won the premier award with a super potful of Gentiana verna staged in the Open Section (1) grown from seed class. This had been sown in the summer of 2009 and demonstrated that, in the case of this species, seedling variation can involve a stark contrast of colours. A few white flowers intermingled with the more usual blues. These seemed to highlight the blues in much the same way that a bed of Fritillaria meleagris is enhanced (and much more noticeable) when interspersed with a proportion of white seedlings. Several people expressed their delight that the award went to a plant that is native to Ireland.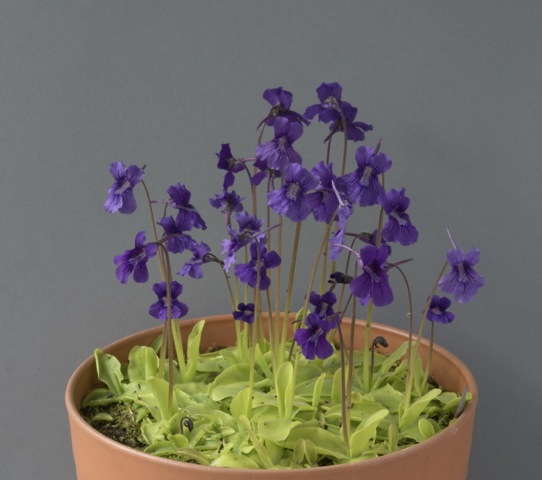 Sticking with native plants ‒ and coincidentally also with those raised from seed by the exhibitor – a fine example of Pinguicula grandiflora was shown by George & Pat Gordon. Native to the south-west of Ireland, this exhibit was from seed sown in January 1994 and as such was now 20 years ago – a plant with staying power! Initially sown onto sphagnum then potted into 'old garden loam' that had been covered with new sphagnum (which had been put through the blender), it lives in a plastic pot with an inch of water in the tray at its base. Kept outside all year apart from a brief period early in the season when it is taken into the greenhouse for protection prior to its duty on the show bench, this was a good panful and had already captured a generous supply of fungus gnats. The exhibitors have been fortunate to see it growing wild, in a remote area of County Kerry, where there are reportedly "hundreds of them" growing on open flat ground.
Three Certificates of Merit were awarded, two of them going to Tim Lever of Aberconwy Nursery. His Sebaea thomasii had won the Farrer Medal at the Midland show two weeks earlier but was still in fine condition, impressing the Dublin judges and deserving this further accolade. Tim's second Certificate was achieved with a plant of another southern hemisphere alpine, Petunia patagonica which was much better flowered than in previous seasons. Quite what had prompted/provoked it into such a display was the subject of speculation and debate, with the predominant theories centring on seasonal temperatures at some critical (but undetermined) point during the previous year's growth cycle.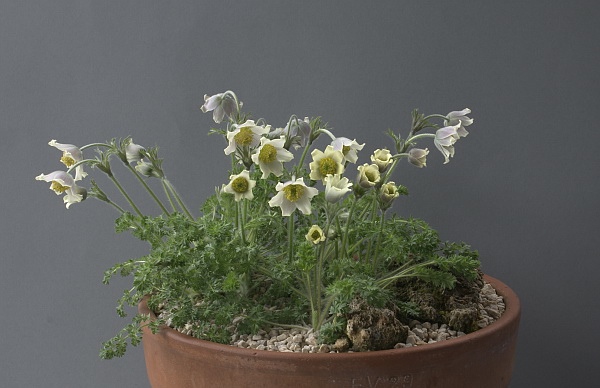 The third Certificate of Merit was awarded to Billy Moore's Pulsatilla albana "lutea" (Ed. According to Kit Grey-Wilson's recent treatment of the genus, this should be P. albana without any further qualification, incorporating the former subspecies flavescens as a synonym, with one-time subspecies violacea now considered a species in its own right) which had been pipped to the position of best in show by the Farrer-winning Gentiana verna but nevertheless was thought by the judges to be worthy of special recognition.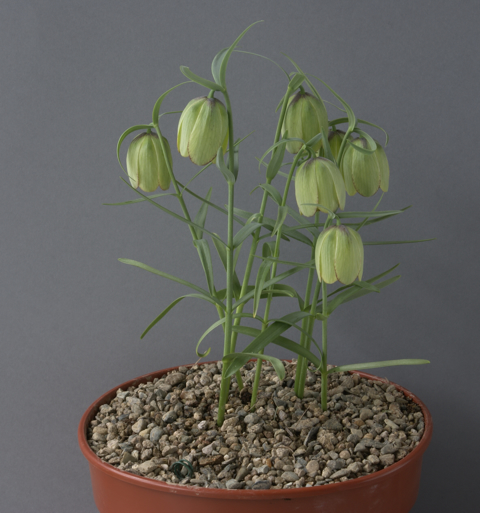 My favourite in the class for Fritillaria was a pot of F. involucrata that struck me as being shorter and less exuberant than others I have seen. Grown by Susan Tindall from her own seed sown in 2007 (the original bulbs assumed lost) in a compost of equal parts peat and grit with Osmacote slow-release fertilizer, they are kept dry during the early summer months, then repotted in August when watering starts again. Grown on the benching in a tunnel with Rokolene/windbreak sides, while not pampered they clearly thrive. This species is one of those fritillarias that produce small bulblets (rice grains) which are potted separately to grow on for a few years and gradually increase the stock.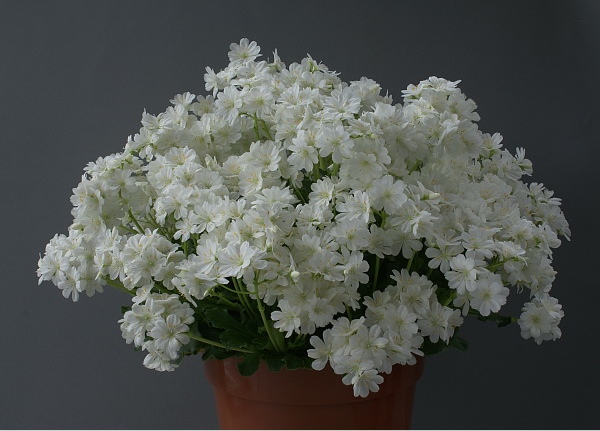 As April draws towards a close, the big, blousy and gaudy lewisias march forward to claim attention. I'm content with all three attributes: don't knock them! Declared the best of the bunch and winning the Margaret Orsi Bowl for the best plant from North America was Raymond Copeland's Lewisia cotyledon forma alba. These large lewisias need a measured regime and can often become bloated and etiolated if overfed and kept short of sunlight, whereas this plant was a fine example of how to get the balance right.
Two of the entries in the class for plants native to North America struck me as being remarkably similar. Val Keegan had Phlox 'Chattahoochee' next to Gordon Toner's Phlox divaricata subsp. laphamii. Were they really different plants? Gordon subsequently enlightened me: they were indeed from the same stock and their correct (but long-winded) identifier is P. divaricata subsp. laphamii 'Chattahoochee'. Personal choice dictates how this is rendered on the limited space of a plant label!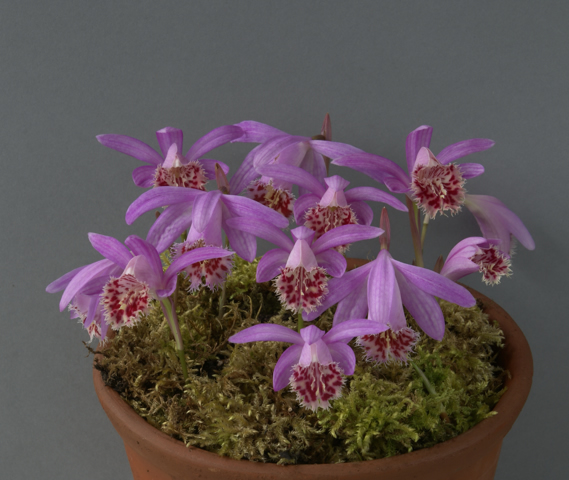 George & Pat Gordon won the large pan Pleione class as well as the small pan Orchidaceae, with Pleione Vesuvius gx and Pleione Volcanello gx [left] respectively. Initially I had assumed these were the same stock, since they were very similar in appearance. It was only later in the day that I registered they were sporting different (but rather similar!) names. Since both of these are grex rather than clonal names, it is difficult to pin down precisely what each might be expected to look like. A quick look on the web told me that Pleione Volcanello gx is Pleione bulbocodioides x Soufrière gx, whilst Pleione Vesuvius gx is P. bulbocodioides x confusa). In turn, P. Soufrière represents the cross P. Versailles gx x confusa, so there is clearly a fair amount of common blood between the two. In both exhibits, the flowers were all dutifully pointing forwards, an effect that is relatively easy to achieve by repositioning the pseudobulbs just prior to the show. They have very little (if any) root at this point in their growth cycle.
George tells me he grows his pleiones in three parts Verve Soil Conditioner (from B&Q) to one part perlite. Whilst the exhibits were both in half-pots, they are normally grown in full pots, since vigorous plants like Vesuvius gx have an extensive root system and easily fill a full pot. They spend the summer in a shady part of the garden, where they receive little in the way of care except for an occasional feed.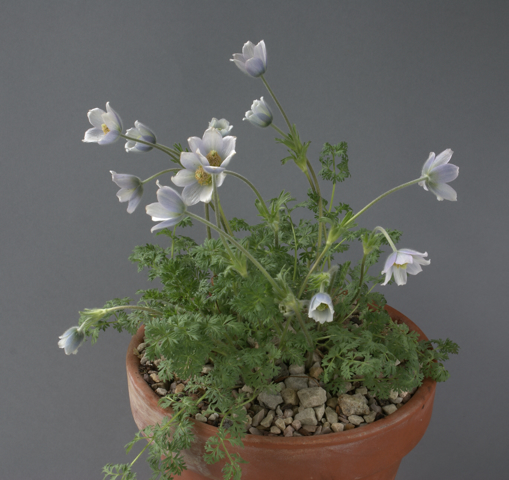 The Intermediate Section was extremely well supported with 101 plants in total and four entries in the six-pan AGS Award class. Pat Kennedy's entry triumphed and one component of this winning combination was also judged to be the best plant in the entire section. This was labelled as Pulsatilla 'Budapest Seedling' but most observers favoured changing the label to read P. albana – it was certainly very similar to Billy's Certificate of Merit plant.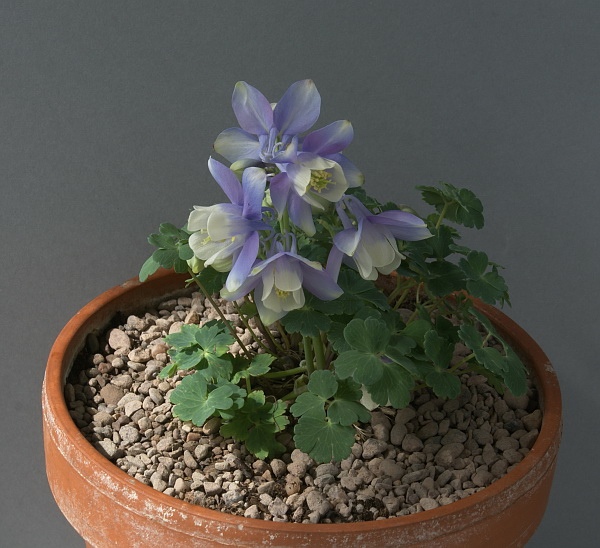 As with most shows at present, encouraging new participants is not easy. But four exhibitors rose to the challenge in the Novice Section with Elizabeth Ross taking three awards. Her unidentified Aquilegia, shown simply as "dwarf form", was judged to be the best plant in that section. Perhaps the promiscuous nature of the genus was the reason why none of the judges felt moved to suggest a more precise label. I would perhaps stick my neck out and hazard a guess that A. flabellata var. pumila featured prominently in its parentage.
Author: Don Peace
Photographer: Billy Moore