Dublin AGS Show, 2013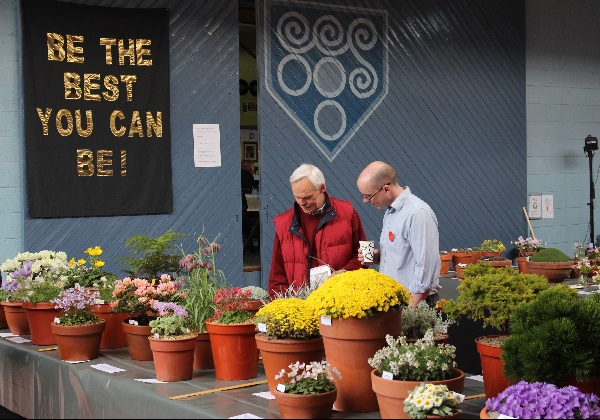 We left Ulster early on Saturday morning with the BBC announcing that the temperature at nearby Aldergrove was -7oC. Snow was still on all the mountains, making the landscape look more like Switzerland than Ireland. And after the coldest March for 50 years, we wondered if there would be any flowers at all in bloom for the Dublin Show. We needn't have worried. While cold outside, the sun shone all day through the windows in the hall at Cabinteely on a kaleidoscope of beautiful plants and a warm welcome. Whatever the weather, AGS members always manage to rise to the occasion.
Rising to the very top, and described in the International Rock Gardener as 'the Irish Master', Harold McBride showed his experience and skill by winning many awards, including the ACC Cup for most first prize points in the Open Section, and it is a pleasure to highlight three of his plants.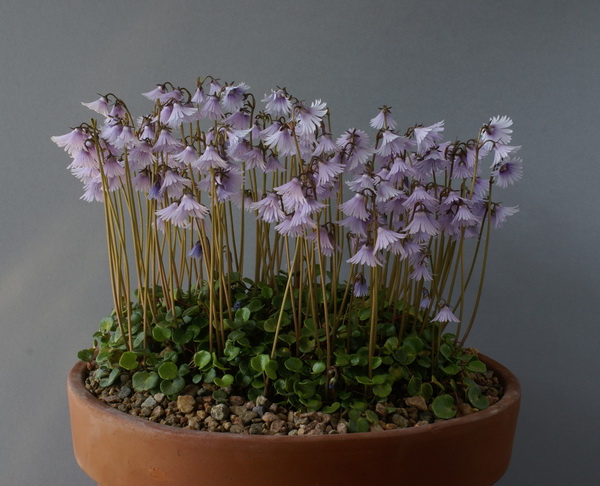 Firstly, his Farrer Medal-winning Soldanella carpatica x pusilla, grown over the past 7-8 years from Harold's own seedling of S. 'Sudden Spring', had just reached the peak of perfection after being shown at the Ulster Members' Show, flowering slightly later than the parent plant and producing even more flowers. It is grown in a compost of equal parts John Innes no. 2, three year-old leaf-mould and grit, and over-wintered in a well ventilated cold frame. Watering recommences as soon as the plant reawakens, and like all soldanellas, it needs maximum light in spring to prevent the flower stems from etiolating, coupled with vigilance to keep slugs at bay. This plant was also awarded the David Shackleton Trophy for the best pan of Primulaceae,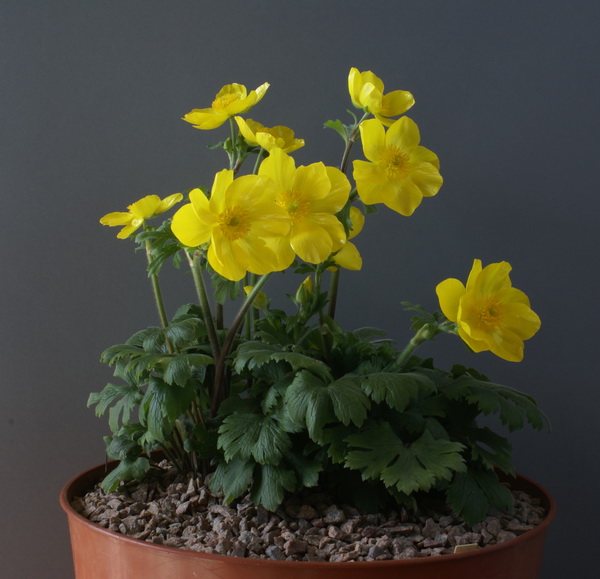 Harold thought his most interesting plant was a Ranunculus species, which was awarded a Certificate of Merit. The seed came from the late Jim Price and was sown in 2000. It will be interesting to learn its true identity (guesses concerning its origins range from Crete to China), but this golden buttercup really shone, reflecting its light onto AGS President David Haselgrove as he inspected it.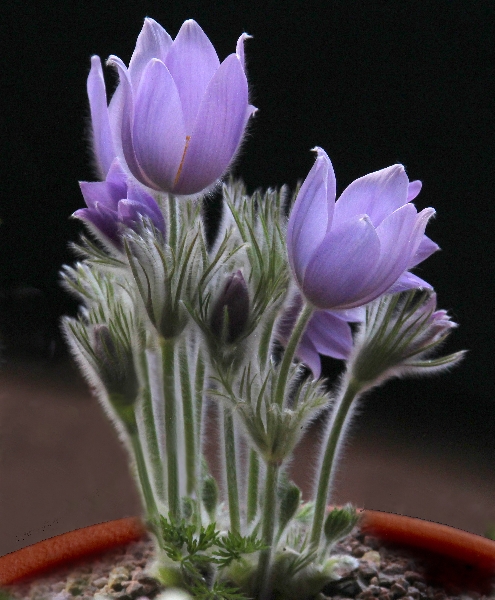 Harold's much-admired Pulsatilla grandis 'Waverley Budapest Series', sown in July 2008, formed part of his AGS Medal-winning six-pan entry. His original plant came from the late Dr Molly Sanderson, who received it from David Shackleton, who had his plant from Lady Moore. She in turn it received a plant from Valerie Finnis, who had been given the original by a lady in Hungary where the plant grew wild on the hillsides, its flowers used to decorate the breakfast table. What an interesting provenance and what a lovely way to keep alive the memory of some of our most famous gardeners. Other seedlings from the same source made their way to England to become prize-winning plants there.
It is not only the prerogative of plants to pass on good genes. Gavin Moore follows in his father Billy's footsteps, inheriting a talent for growing good alpines. His very large specimen of Dionysia aretioides 'Bevere', some six years old, received a Certificate of Merit. It had come from Aberconwy Nursery, but the clonal name commemorates another notable alpine nursery, once run by Ron & Joan Beeston on the outskirts of Worcester.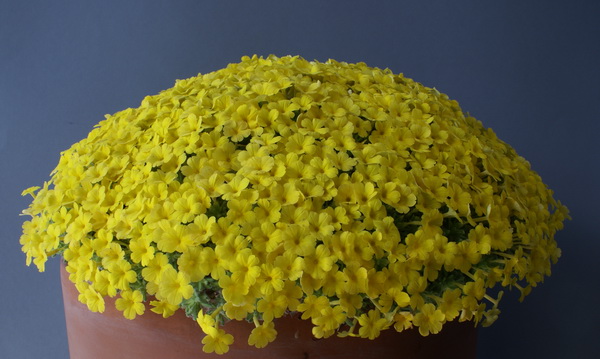 Four years ago, much of the plant withered away as a consequence of scorching, drought, or both. Instead of discarding the remainder, Gavin removed the dead material and transferred the tidied-up Dionysia to a covered frame, watering only via the plunge, where it made a full recovery. It is important to provide shading in the summer, and to repot regularly using a very lean, gritty compost. Gavin reckoned the pot was around 30cm in diameter but he did 'know for sure that it is heavy'.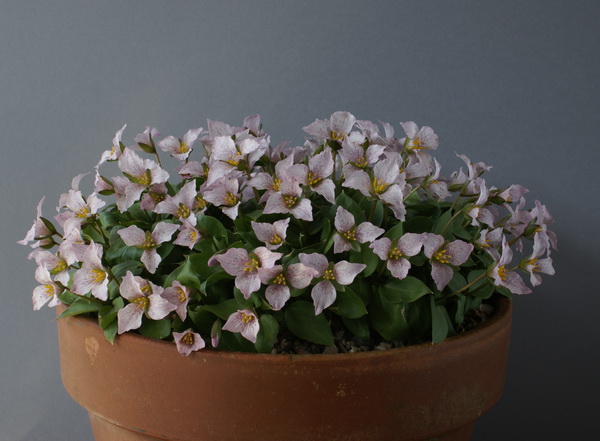 The Margaret Orsi Bowl for the best plant from North America was won by Val Keegan with a large plant of Trillium rivale, a gift from Helen Dillon at least 15 years ago. Unlike many trilliums the leaves are a matt green. It grows happily outside in an open frame and very occasionally is given a liquid feed, when Val remembers.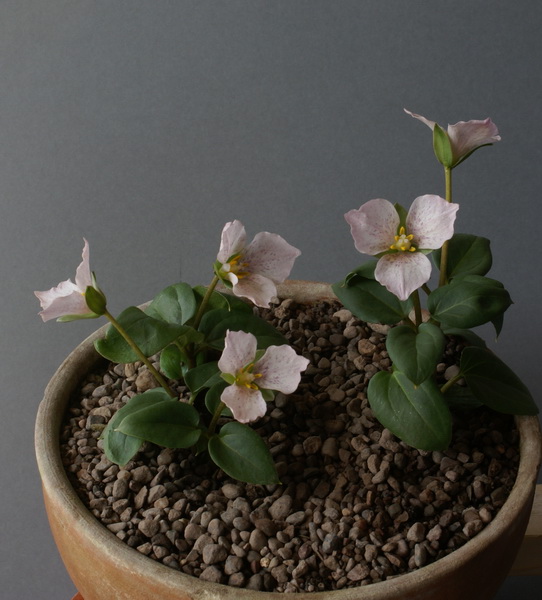 Another plant of this species won the Millennium Cup, awarded to the best plant in the Novice Section, for newcomer Elizabeth Ross. Once again it has an interesting history, for it came from Woodfield and was handed to her by late Dr Keith Lamb eight years ago. She grows her plant outside in a free-draining, slightly shaded area. I find that the origins of many Irish plants as interesting as their cultivation, with the importance of spreading plants around a recurrent theme.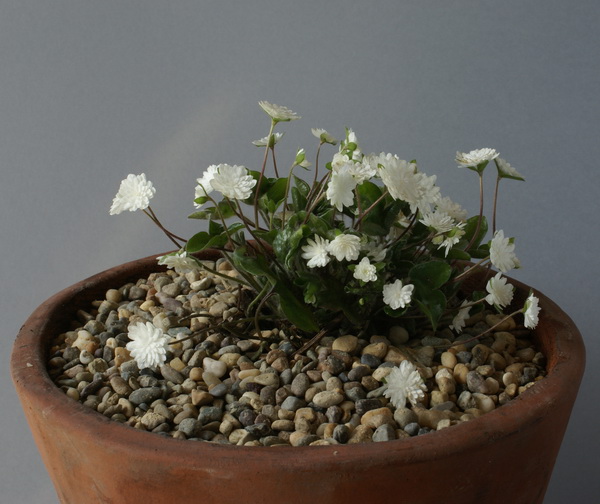 The Waverley Trophy for the best plant in the Intermediate Section went to Frank Lavery's Hepatica japonica 'Takumi'. Frank travels a lot, so all his plants have to survive outside. The winning plant, which he covers over in winter with leaf-mould and old manure, had its old leaves cut off, was brought inside and then set on top of the under-floor heating. This induced a flush of new leaves and flowers − surely a novel way to grow alpines! Frank also grows plants outside in tufa columns, and passed on his tips on drilling tufa to Janet Mathias who, against experienced competition, won the class for a pan planted as a miniature garden. Her tufa originated in North Wales but unfortunately the quarry has since closed down and stocks are currently difficult to source.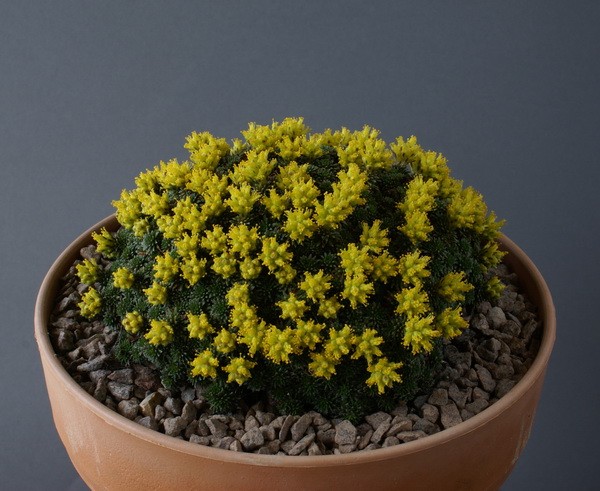 It is very welcome to have competition from across the water and Ian Leslie, as usual, showed some exquisite plants. Particular attention was paid to Saxifraga desoulavyi which was awarded a Certificate of Merit. Ian bought this slow-growing species 10 years ago from Dutch nurseryman Ger van den Beuken, and grows it in an open, part-shaded cold frame. The species is native to the limestone screes and rock crevices of the central Caucasus. Although not conventionally attractive in the manner of many kabschia saxifrages, its fresh and original appearance was very appealing.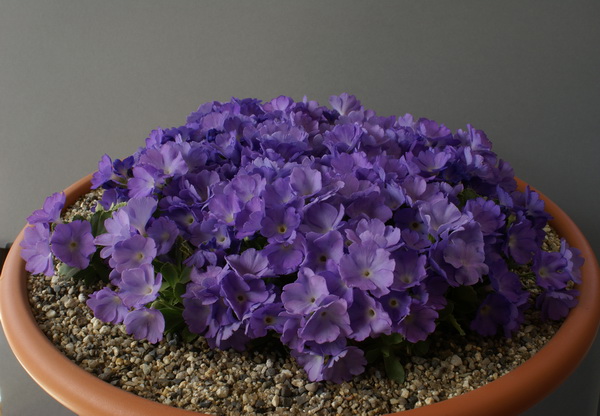 Paddy Smith again showed many lovely plants, an immaculate Primula 'Clarence Elliott' deservedly earning him a Certificate of Merit. The original plant dates back to 1982 when this cross between P. allionii and P. 'White Linda Pope' occurred in Joe Elliott's main alpine house. This specimen was the best and most floriferous of three that Paddy planted up several years ago, though he modestly ascribes success to the merits of the cultivar rather than the skill of the grower! To keep it in character it is grown 'hard' in a 'lean' compost − 60% grit, coarse sand, and perlite, and the rest homemade compost fortified with Vitax Q4, but no other feeding. Water is given when the leaves lose their turgidity, and the plant is kept where there is good air movement, which helps to prevent Botrytis.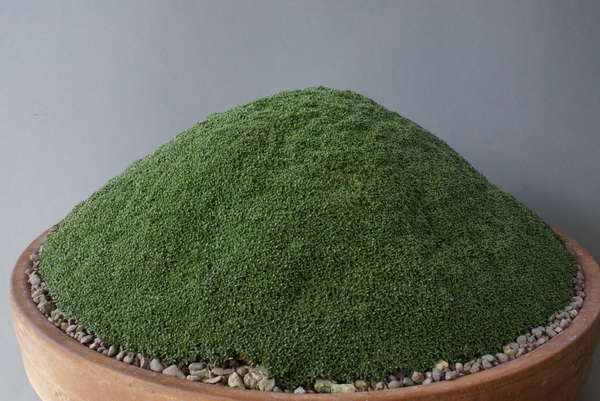 The Dublin Show would not be complete without exhibits from Liam Byrne who also favours a 'lean' compost of equal parts John Innes no. 2 and grit for his Certificate of Merit-winning Gypsophila aretioides 'Caucasica', now 26 years old. Kept in an alpine house which is shaded from May onwards, it is sprayed regularly and fed once a year with a weak solution of tomato fertiliser.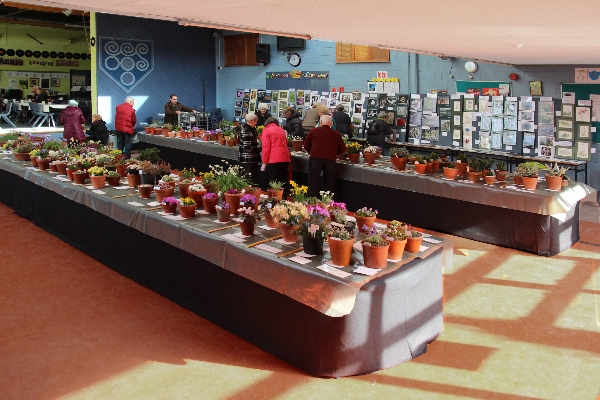 Many more plants by exhibitors both North and South deserve descriptions but there is just space to comment on the large artistic entry under the supervision of Maeve Spotswood. The judge commented that the standard is going up and up, with entries uniformly of such a good standard that deciding which ones to award red stickers is a difficult task.
Congratulations to Show Secretary Michael Higgins and his team for a very successful show where attention to detail paid off. As well as the ever-popular members' plant stall there was a varied collection of commercial nurseries offering interesting and unusual plants. Gwenda Wratt had beautiful cards for sale, and the raffle prizes were tempting. George Sevastopulo attracted much attention with his trough planting demonstration; praise is no less due to the ladies who provided afternoon tea. The Ritz could not have offered more delicious home baked treats in the colourful setting of alpine plants, and all to the accompaniment of tasteful background music from their own in-house pianist!
Authors: Liam and Joan McCaughey
Photographers: Billy Moore and Liam McCaughey