Dublin AGS Show, 2005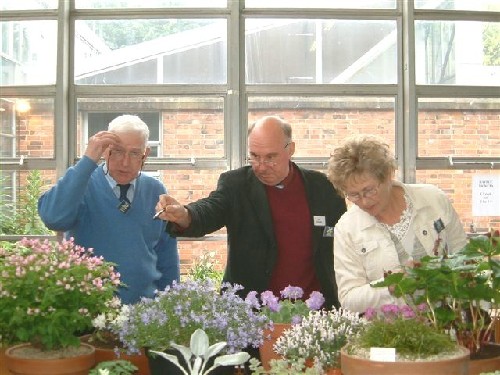 As my host drove me to the Show, 'a soft day', as it is known locally, meant that the Brent Geese which lingered near Bull Island could scarcely be discerned through the fine drizzle. Several notable Irish exhibitors had been prevented from attending by injury and bereavement, but others had travelled for up to three hours from every extremity of Ireland, so a fine array of plants were provided for the general public, albeit slightly damp (plants and visitors!). There was also an outstanding Artistic display. Because entries can be posted, the artistic competitions are genuinely bilateral and competition can be fierce. The photographic judge, Edwin Davison, did an excellent job in classifying the exhibits. Ancillary services were just as you would expect at the best AGS Shows, with an excellent members plant sale stall, four local nurseries, teas with a mouthwatering array of the best Irish baking, and two non-competitive exhibits.
In this context, it was good to see an exhibit from the National Botanic Garden, Glasnevin which resides at another Dublin suburb. Still more encouraging were the plants which the Garden had entered at the Show, winning the prize for most points in the Open Section. For instance, an excellent foliage exhibit introduced most of us to the enchanting Ephedra equisetina with its blue-grey jointed stems. Such liasons between the AGS and Botanic Gardens are mutually beneficial, welcome publicity accruing to both parties. In addition the Show benefits from the additional interesting plants, and one hopes that many of the other excellent plants on display will one day grace the Garden.
A second display was deservingly awarded a Gold Medal. Joe Kennedy has married Irish heritage with English history, having bred old Irish primroses, notably the famous and persistent Garryard hybrid 'Guinevere' with the 'Hose-in-hose' and 'Jack-in-the-Green' mutants which were already established in Elizabethan times. The dazzling array of new breaks glowed with health and potential. In many cases, the dark bronzy leaves of 'Guinevere' had been accentuated and married with well-proportioned 'Jack' flowers in lovely pale pastel shades. Hopefully some of the best strains can be stabilised and introduced commercially.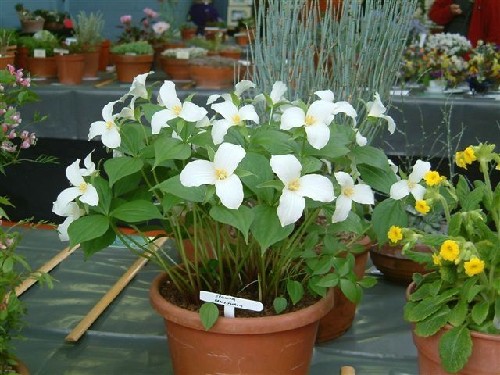 Dublin is a Show with a considerable history and a number of trophies. A fine Androsace sarmentosa was adjudged best Primulaceae (Raymond Copeland), and the award for the best Ericaceae went to Andromeda polifolia (Jim Price). A very interesting Cassiope mertensiana var. californica would have been a strong contender a few days later. The very pink flowers of the latter '(are) more evident when the plants are grown in a cool climate' (AGS Encyclopedia), not perhaps what one would associate with this Atlantic climate. The Margaret Orsi bowl for the best plant from north America went to a creditable white-flowered Trillium grandiflorum with about 40 flowers, and this plant was subsequently awarded the Farrer Medal for the best plant in the Show, giving us another new holder of the medal, Jim Price from Newtonabbey.
Two excellent plants were awarded Certificates of Merit, a superlative Gypsophila aretioides (Billy Moore), and the best Saxifraga exarata that this observer has seen for some time, the massive exhibits of yesteryear having largely been replaced today by the somewhat less problematic S. pubescens 'Snowcap' (Liam Byrne).
John Richards