Cleveland AGS Show
The route to the Ian Ramsey School in Stockton-on-Tees is familiar to regular exhibitors, as is the tendency for this show to coincide with a variety of weather conditions that conspire to make either setting up or packing away difficult. But this year, despite the snow and gales earlier in the week, the worst thrown at us involved a few spots of rain and the odd ray of sunshine. By judging time the hall contained a magnificent display of colour and an interesting mix of plant species, though with no single genus dominating. The return of cold weather had proved fortunate for some, with a number of plants seen the previous week at Hexham still in their prime and earning their owners a second red sticker. Any plant capable of such a sustained performance is worth its space in any collection.
For an exhibitor to be repeatedly successful, dedication (some would say obsession) is necessary. Should you wish to chase a seasonal aggregate trophy, a willingness to rise very early in the morning is obligatory, so too an acceptance of swelling the Chancellor's treasury chest as he gleans his fuel duty from the many miles you travel. Such dedication was clearly displayed by Andrew Ward who had travelled from Wisbech to claim the Novice Section aggregate trophy, the best plant in the Novice Section trophy, and the Aileen Harness Memorial Cup.
The class for seed-raised plants in the Intermediate Section contained a number of interesting plants, the pick of them a pot of Fritillaria pontica var. substipetala, a native of the island of Lesbos, grown from AGS seed sown in 2006 by Tony Taziker. Rivalling it for beauty, Sue Flanigan's young plant of Polemonium viscosum with a single inflorescence of large mid-blue flowers and contrasting bright yellow stamens, promised well for future showbench appearances.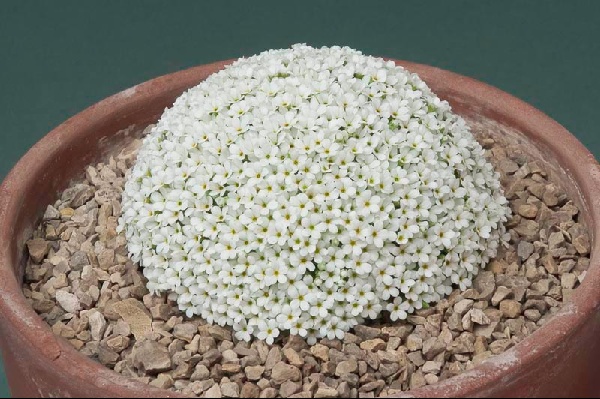 She also won the Intermediate Section trophies for the best pan of Primulaceae and for the best plant therein with a fine example of Androsace vandellii. The Ryan Trophy for the most first prize points in the Intermediate Section was hotly contested, with Barry Richardson staving off the challenge from five other growers to take the prize.
There is almost always a plant at a show you know little or nothing about. At Cleveland it was Mukdenia rossii'Karasuba', shown by Joan Bradbury. A member of the Saxifragaceae, this herbaceous Chinese woodlander is probably grown as much for its foliage as its flowers, although on this occasion the racemes of starry white flowers, deep red in the throat, were what drew attention, for the leaves had only just emerged.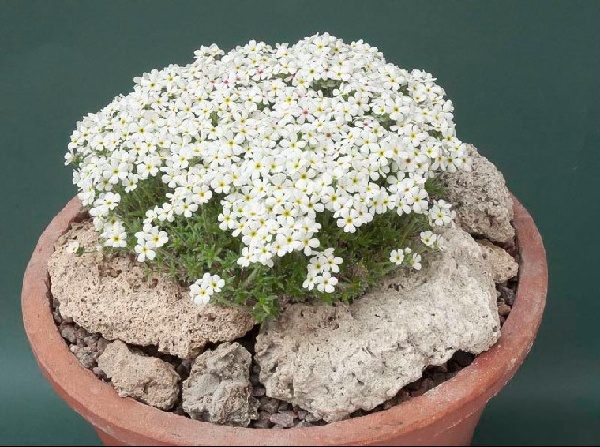 Moving up to the Open Section, let's get the formalities out of the way. Ian Kidman took the Woodward Challenge Cup for the most first prize points and a Certificate of Merit for a plant of Androsace villosa var. taurica. Certificates of Merit were also awarded to a compact and floriferous (maximum UV light as soon as it's through is the grower's advice) Anemonella thalictroides 'Oscar Schoaf' (Don Peace - below left), an extremely dwarf Salix reticulata (Brian Burrow - below right) and a particularly well-flowered Primula rusbyi (Mala Janes).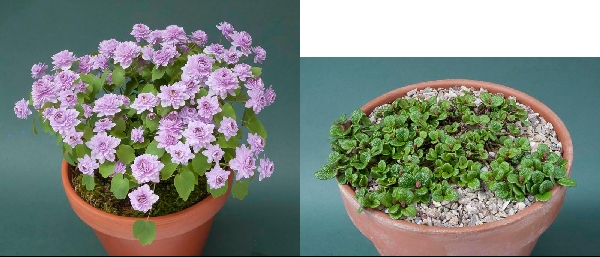 This was generally accepted to be the best Primula rusbyi seen on the show bench in recent years. Mala uses what strikes me as a slightly unconventional compost, starting with pure leaf-mould at the bottom of the pot, followed by a layer of mixed John Innes and leaf-mould, topped by a deep layer of grit to keep the crowns well drained. Having seen her results, I might give my own ailing P. rusbyi a dose of this treatment!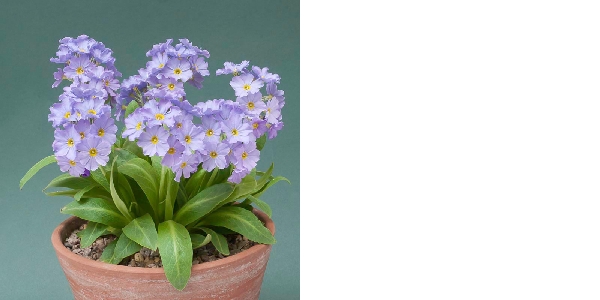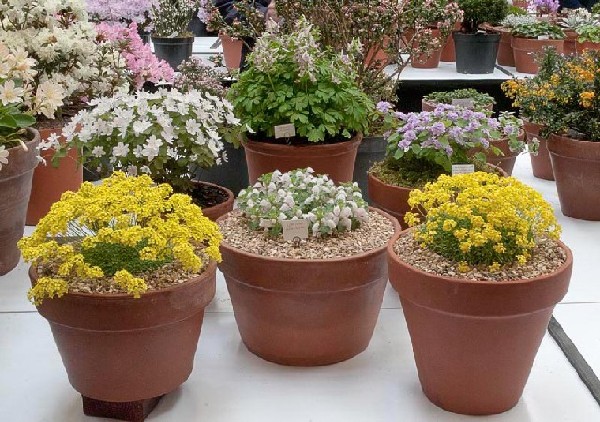 The large six-pan Sewell Medal was won by Tommy Anderson, fending off a strong challenge from Barry Winter. Despite losing out to George Young in the small six-pan class, Tommy appeared to be floating about six inches above the floor for much of the day. I hope that his wife Pamela managed to 'earth' him well enough to drive home.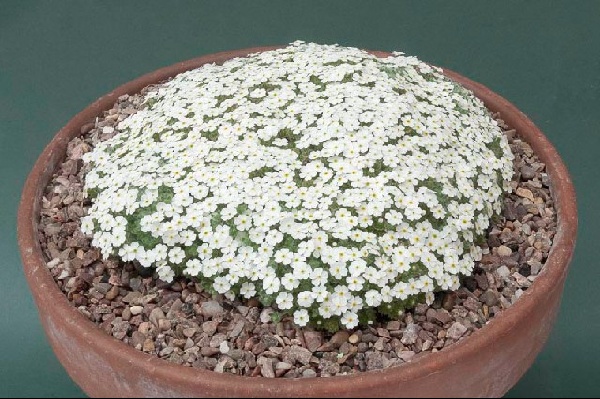 The Farrer Medal was won by Don Peace with a substantial plant of Androsace muscoidea, almost completely covered in small white, greenish-yellow eyed flowers. This 10 year old plant had been grown in a compost mix 'a bit richer than you'd use for A. vandellii' and kept a just moist at the roots during winter. A native of the Himalaya, on stony slopes, it had been raised from seed of Androsace muscoidea 'Schacht form', which dates back some 40 years.
A number of pans of Androsace lehmanniana were exhibited. The best of them, shown by Geoff Rollinson, was awarded the David Baker Vase for the best plant from North America. A little research to ensure the name was correct left me with a headache, I'll let others with greater knowledge decide whether this should be accorded specific rank or else be considered a subspecies of A. chamaejasme. Whatever its name it was a beautiful plant with flowers which appeared to be a delicate creamy yellow rather than the textbook white and had a delicate scent of marzipan.

Sticking with Androsace, a 'communal' exhibit of Androsace vandellii (George Young) attracted many complimentary remarks. While pricking out seedlings some four years ago, George got fed up potting up individual plants and decided to plant a number of seedlings in a large pan, constructed to look like a patch of scree, with a surface dressing of various sized stones. The effect created by the varying seedlings created a very convincing, pleasingly natural look. Indeed I doubt if the real thing would be as convincing.
The raised from seed classes always have something interesting to catch the eye. A 2010 seedling of Primula (allionii x carniolica) x albenensis, bred by Brian Burrow (the P. allionii x carniolica itself being one of his efforts), stood out. The colour combination of the flower, with a large white eye and yellow stamens set off by broad, lightly farinose leaves, was entrancing. One to watch for at future shows. Brian also showed, as part of his three-pan entry, a small plant but floriferous of Primula daonensis from wild collected seed, sown in late 2006: this is clearly not a fast grower. Finally, in the seed-raised classes, Dave Riley's Gentiana brachyphylla (white form) from the Alps, rarely seen in cultivation, opened fully by midday: it had been grown in a mix of one part John Innes no. 2, one part composted bark and two parts grit.
I must briefly mention two more exhibits which caught my attention. Cassiope wardii x fastigiata (Trevor Harding), had shortish, upright stems wreathed in bells that were held horizontally and flared with pointed tips, giving a star-burst effect. This is one of a number of rewarding, experimental crosses raised by Mike & Polly Stone when they gardened at Askival, close to Fort Augustus, before moving to Ireland.
Finally, Phlox kelseyi 'Lemhi Purple' (Edward Spencer), was completely covered in dark violet flowers of a shade the camera finds hard to reproduce. I have a plant from the same source but alas have been unable, so far, to produce the quality of flowering Eddie regularly achieves.
Author: Martin Rogerson
Photos: Peter Maguire
Martin Rogerson