Cleveland AGS Show, 2008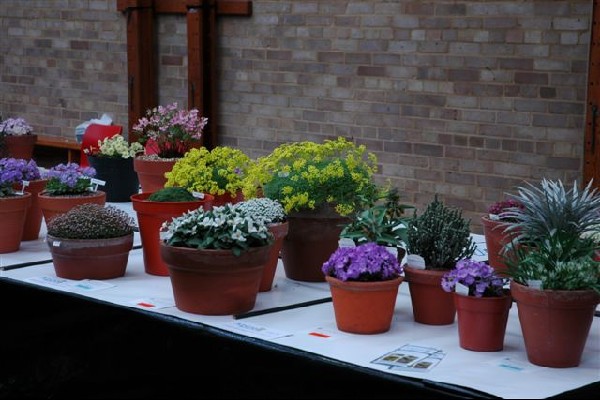 In March low pressure weather systems crossing northern Scotland with their associated northerly airflows and allied cold fronts often bring heavy falls of snow in off the North Sea, especially over the north and north-eastern slopes of northern England. Those exhibitors heading for the Cleveland show early on Saturday morning were not to be disappointed with many finding their journeys hampered by significant, if often localized, amounts of snow blown in on to often untreated roads. For those exhibitors that did get there reminiscences of real snowfalls in the past and the year the heroic stalwarts held up the snow laden tent at Harrogate were all part of the early morning banter.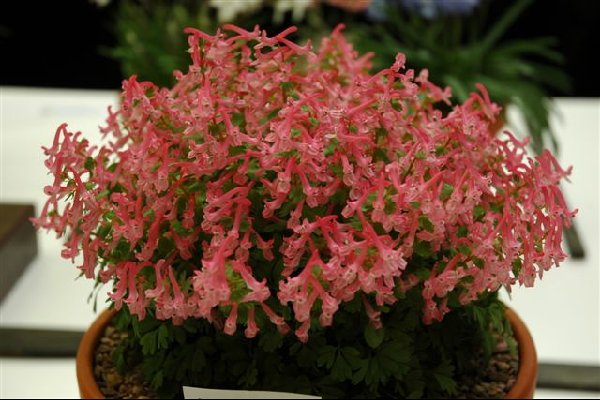 In spite of the loss of a few exhibitors, the plants for which this show is noted were much in evidence – an abundance of corydalis across the genus with a particularly full range of Corydalis solida forms in all shades of pink and red.
Many large drabas were prominent , especially D. longisiliqua; but smaller cushions of the white Caucasian D. ossetica and the rarely shown D. exunguiculata introduced into cultivation in the U.K. by John Richards from the Mosquito Range, Colorado in 1991. This is a plant that forms a rather irregular cushion covered with an abundance of 4mm, cup shaped, acid yellow flowers in an umbel of 6 to 8 on a 2cm stem.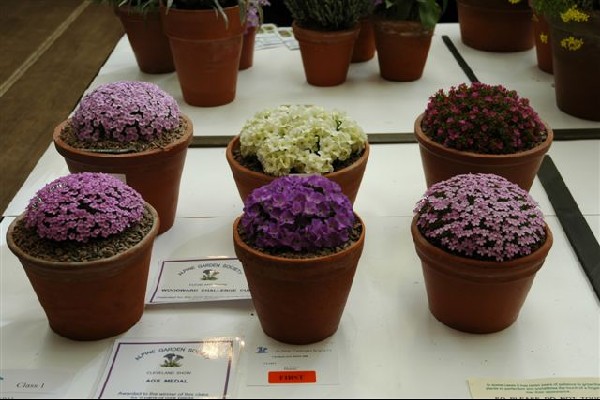 Elsewhere the benches glowed with a full range of Primulaceae, with the European primulas and hybrids being especially eye catching. (Ian Kidman's AGS Medal entry composed of Primulaceae is shown here.)

Of the primulas I pick out two forms of Primula marginata. P. marginata `Holden Clough` has been around for almost 60 years and is named for the still thriving ( although several owners on ) Pennine alpine nursery. This is a plant often exhibited in the foliage classes because of its tight rosettes of relatively small, deeply serrated leaves heavily coated with pale yellow farina and, whilst not having the largest flowers of the genus, the exhibited specimen had over 20 tight clusters of 6/8 deep mauve flowers on short 3cm stems. The other; P. marginata `Casterino` is a large flowered white form introduced in 1989 from the Vallon de Casterino and is still not particularly common in cultivation. In some respects its very large flowers on relatively week stems make it difficult to exhibit well as the flower heads tend to droop over somewhat. I now have numerous unflowered seedlings from plants raised from `Casterino` seedlings. Hopefully more whites might be forthcoming.
Increasingly, the numbers of Asiatic primulas in our shows seem to dwindle year on year. Certainly the last decade has seen them become more challenging to grow well, and it is interesting that the species most commonly seen these days, Primula bracteata and its dubernardiana sub-species, seems to prefer growing conditions akin to that of the many European species which are still shown in abundance. In that context were four seedlings (as a 3 and a1 in two classes) shown as P. bracteata hybrids or more accurately intra-specific hybrids and the result of a crossing between the pink/mauve P. bracteata and the cream/ cream flushed pink P. bracteata subsp. dubernardiana. All the young plants were variations of the colour and farination ( is there such a word! ) of P. bracteata.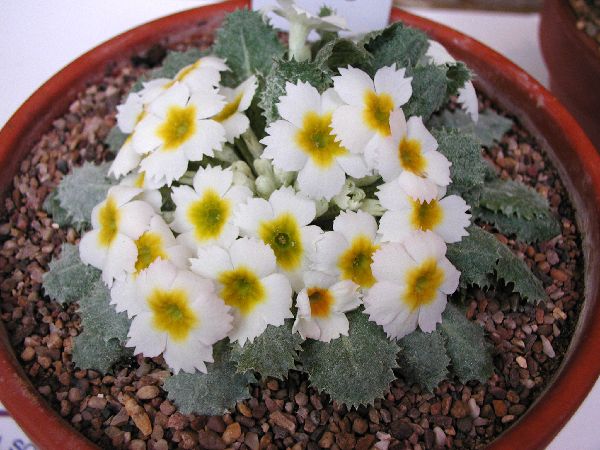 In sections B and C two very good plants of Primula x `Netta Dennis` both won their respective trophies awarded to the best plants in those two sections of the show. P. x `Netta Dennis` continues to be one of the most vigorous, disease free and floriferous asiatic hybrid in current cultivation and was the best of a batch of seedlings resulting from a crossing of P. aureata with P. gracilipes by John Dennis of Doncaster in 1988.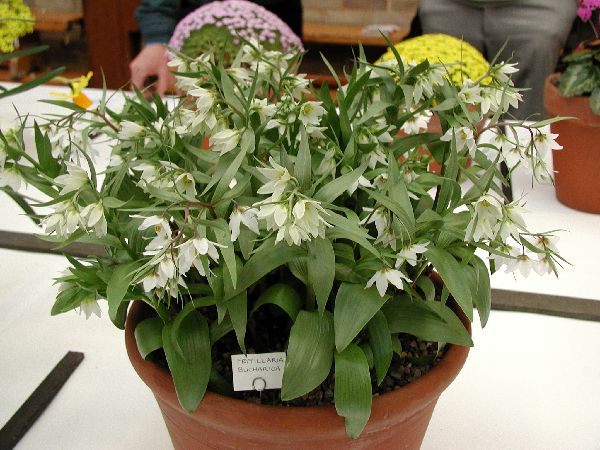 Fritillaria bucharica was awarded a Certificates of Merit in this show. The fritillary was runner up to the Farrer medal plant by a short head and though a commonly grown bulb and not difficult to grow the multitude of silvery white flowers on stocky stems filling a 36cm pan had been grown to a level of perfection that could not be bettered. F. bucharica is one of those fritillaries that does not produce `rice grain` bulbils and the trick ( and patience ) lies in being prepared to split and re-split the bulbs of a good clone over many years.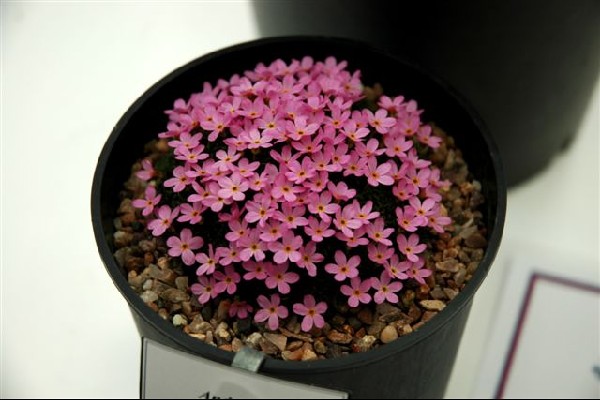 Androsace ochotensis awarded the David Baker Vase for the best plant from North America, is a very different kettle of fish. It is still a relatively rare plant in cultivation and is one of those arctic tundra plants that have always tested the skill of the grower. As a wild species it grows in western Alaska and across the Bering Strait into N.E. Siberia. The exhibited plant had formed an 8cm cushion covered in sessile, deep pink 7mm flowers. It is an achievement to keep it alive, never mind flower it to " a level of perfection that could not be bettered ". Indeed two very different plants that summed up perfectly the philosophy of the award i.e. a " plant or exhibit of outstanding merit ".
Alan Furness