Cleveland AGS Show, 2005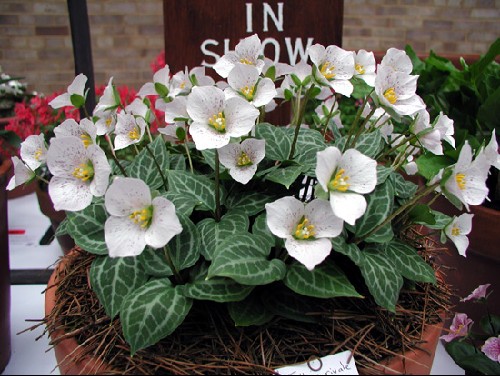 This was the best AGS Show held at Stockton-on-Tees for a good few years, with the stop/start March weather inducing a telescoping effect (in local gardens, crocuses bloomed alongside the first tulips, overlooked by magnolias in full display) that resulted in a large, particularly diverse entry. While strongly supported by exhibitors from the surrounding area (Newcastle grower Ian Kidman won the Woodward Challenge Cup for most first prize points in the Open Section with a battery of plants predicated on Primulaceae), others came from much further afield, with the long-distance record set by Peter Korn, who travelled over from Sweden with a fine plant of the Chinese, Shortia-related Berneuxia thibetica.
Held a fortnight earlier than last year, the Show had few plants making a repeat appearance. One exception, a floriferous clump of Narcissus scaberulus (Ian Leslie) was awarded a Certificate of Merit, as was Geoff Rollinson's Primula 'Broadwell Milkmaid', now occupying a 25 cm pan and well into its teenage years. Other examples of this fortuitous raising won classes throughout the Open Section. There was a strong entry of European primulas across the board, with just a few representatives of their Asiatic counterparts, including the first P. bracteata of the year, and a lusty P. denticulata that saw off several more sophisticated rivals.
A prodigious Helleborus niger (David Boyd) sat close to mid season trilliums (T. rivale the most favoured of these, with at least 25 examples, including a reticulate-leaved example that gained Assistant Director of Shows Geoff Mawson the Farrer Medal) and other North American woodlanders such as Sanguinaria canadensis and erythroniums. These, together with Corydalis solida 'George Baker' (which also scooped the R.A. Hodgson Trophy in Section B for Russel Hall), an assortment of dionysias and the ever-popular Tecophilaea cyanocrocus, provided a riotously colourful assembly, while a notably varied cohort of fritillarias - everything from the rarely-seen F. drenovskyi and F. recurva to the commonplace F. meleagris - chiefly opted for more muted, sometimes near-sombre flower colours.
Robert Rolfe